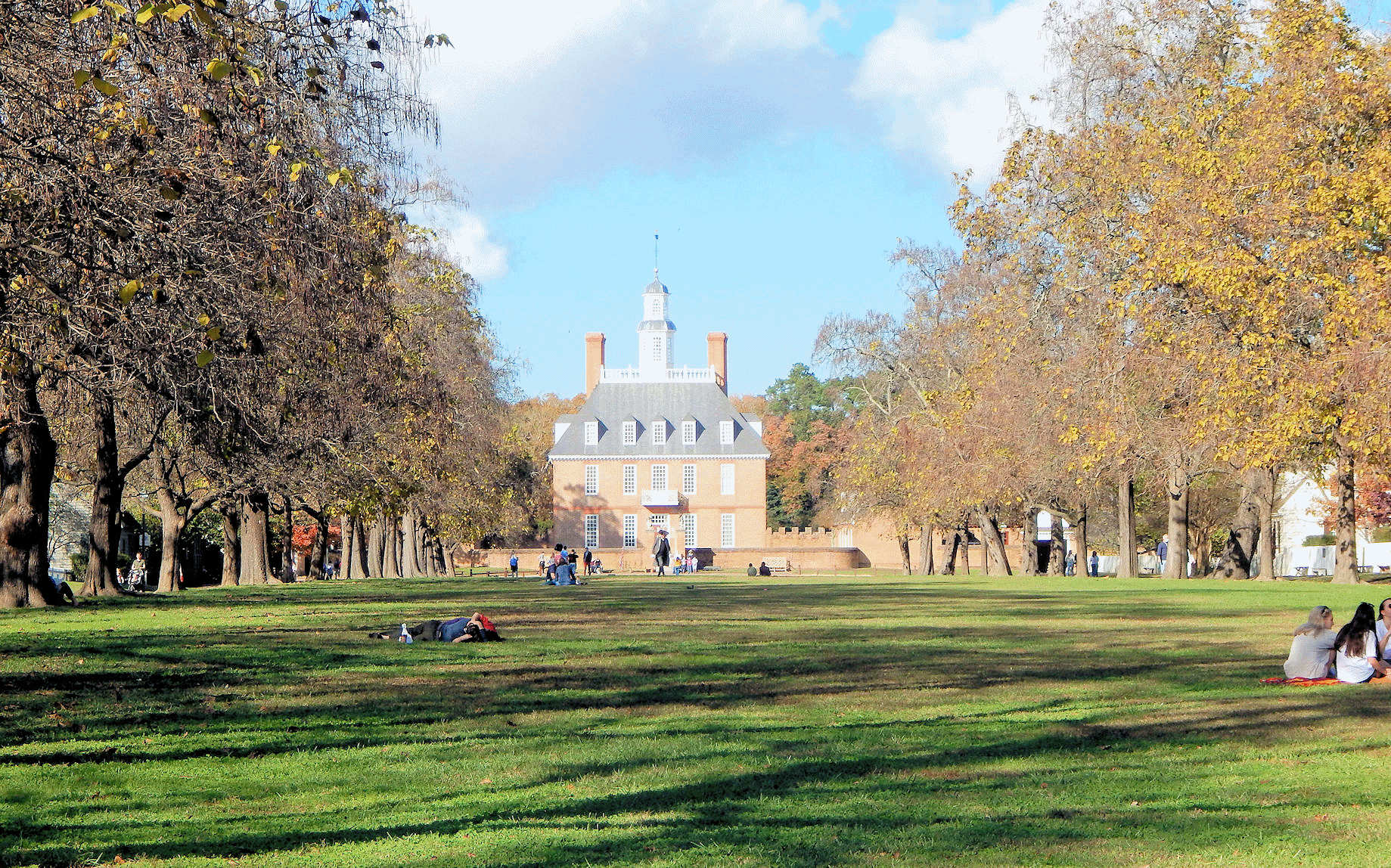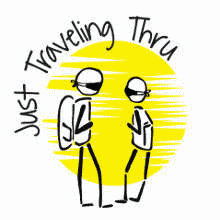 Williamsburg & Vicinity
The image at the top of this page is the "Governor's Palace", home for all Virginia Governors until the Capital moved to Richmond in 1780.
Williamsburg was founded as the capital of the Virginia Colony in 1699. The original capital, Jamestown was the first permanent English-speaking settlement in the New World founded in 1607. Colonial leaders petitioned the Virginia Assembly to relocate the capital from Jamestown to Middle Plantation, after a devastating fire destroyed most of Jamestown. For a more in-depth discussion of Williamsburg, you should visit the Wikipedia Page.
As can be seen on our provided Google Map, Williamsburg is located convenient to a number of interesting sites; Historic Jamestown is 7.1 miles, Busch Gardens is 5.2 miles, Yorktown Battlefield Park is 12.1 miles, and Norfolk is 45 miles via I-64.
The entire Williamsburg Colonial Center area is heavily forested, and the buildings are all either original, recreations or rebuilt original buildings in order to preserve the colonial "look & feel". For example, within the boundaries of Colonial Williamsburg are more than 500 original (restored) and reconstructed buildings. Colonial Center employees are all dressed in colonial style clothing.
Parking: Payments are only via a cell phone Application, available here. Part of the App Registration requires your license plate number, which allows them to monitor who in a parking area has properly indicated that they are using a parking spot. As you can see in the image to the left, these signs are scattered around the parking lot to make it simpler for you to follow the correct protocol; it is simple, fast and allows you to not have to worry about cash just to park!
Tickets: Take a look at Colonial Williamsburg Tickets as there are multiple ticket types you may purchase. You do not need tickets just to walk about and enjoy the area or shopping, however, having at least a single-day ticket allows you to enter all of the buildings in the Colonial area, especially if you enjoy history and want to be able to see how people lived in Colonial Times. In addition, you will be contributing to the maintenance and care of Colonial Williamsburg.
Shopping in Williamsburg
You can find shopping of all types in the area, including shops in the colonial old town, several malls and numerous small shops scattered throughout the colonial area;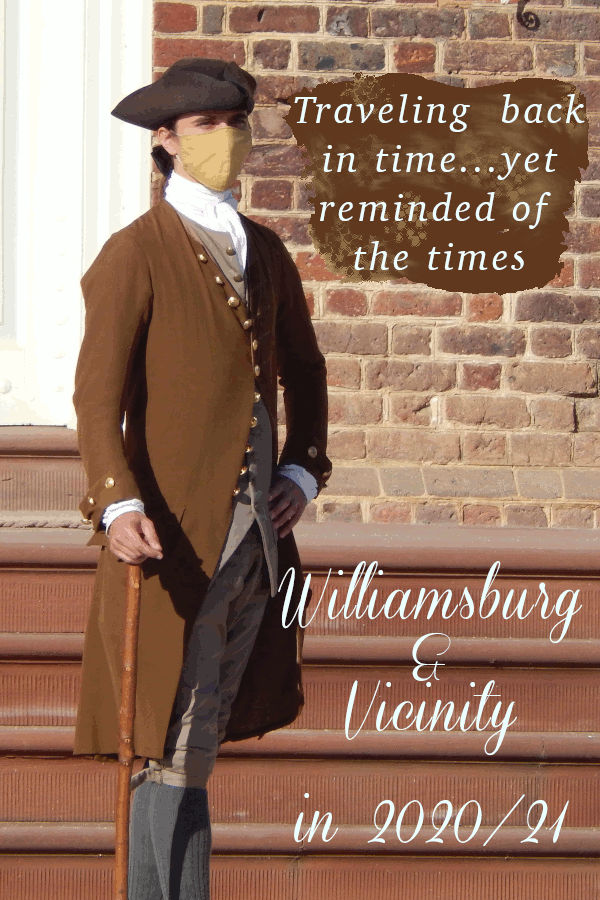 Williamsburg is located in southeastern Virginia, U.S., on a tidewater peninsula, between the James and York rivers, 27 miles (43 km) northwest of Newport News and 51 miles southeast of Richmond, VA.
Click the map link (above) to see the area.
All of the above images are from the shops near the intersection of the Duke of Gloucester Street and South Boundary Street. This is a nice area to explore, with various amounts of shade and benches to sit with one's dog.
Just about everywhere you look (see below images), you are going to see various examples of colonial architecture. Not all of these buildings are "original" - some are restorations and some were built as re-creations.
For a good article on how Williamsburg was rebuilt/restored, click here
Walking about Williamsburg (see below images) is entertaining all by itself, you are going to see various individuals dressed in a colonial manner, shops & restaurants where colonial decor & clothing is in use, etc. The entire area is very walkable, note that cars are not allowed in the "colonial area".
Click here to view a Google Images set for Williamsburg.
Virginia Beach is an independent city located on the southeastern coast of the Commonwealth of Virginia in the United States. As of the 2010 census, the population was 437,994; in 2019, it was estimated to be 449,974. Although mostly suburban in character, it is the most populous city in Virginia and the 44th most populous city in the nation. Located on the Atlantic Ocean at the mouth of the Chesapeake Bay, Virginia Beach is included in the Hampton Roads metropolitan area. This area, known as "America's First Region", also includes the independent cities of Chesapeake, Hampton, Newport News, Norfolk, Portsmouth, and Suffolk, as well as other smaller cities, counties, and towns of Hampton Roads.
This visit came about as a day-trip from our hotel in Hampton, VA primarily because it was a beautiful day and secondarily because we had visited here often in the past.
---
Our dog Maggie relaxing on the beach next to the Boardwalk
A surfing contest was in progress on the beach, surf was not great but the competitors were working what was there.
Looking north along the Virginia Beach Boardwalk
Staying near the Hampton, VA Convention Center allowed us a considerable amount of flexibility in that there were a number of interesting places to visit. Our first expedition was to drive to the Norfolk side of the James River/Hampton Roads to visit the USS Wisconsin Museum. The Museum complex is on the Elizabeth River (north shore - Norfolk side), and even though there is no parking there, a public parking garage is immediately across the street on West Main Street.
The Museum is comprised of an indoor exhibit showing various aspects of the Wisconsin's design, construction, WW2 actions, Korean War actions and it's Desert Storm action. The ship itself comprises the second portion of the Museum, and portions of the ship are designated as "public accessible".
NOTE: There is no parking available on the museum property, however there is a parking lot across the street; West Plume Street Garage, 135 West Plume St, Norfolk, VA 23510. If you arrive via Waterside Drive, watch for East Plume Street and you will see the garage on the corner of Waterside Drive & East Plume Street.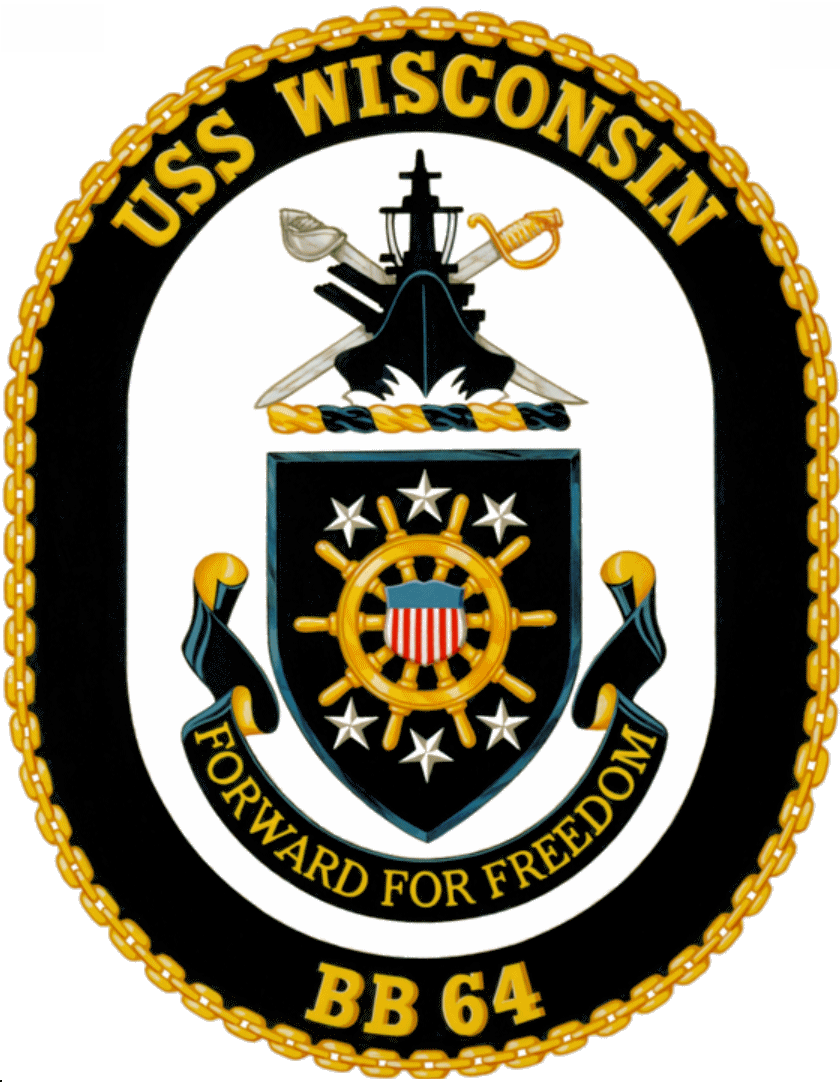 Image is the property of the U.S. Navy.
All of the above images are the property of Just Traveling Thru, LLC.
This is a beautiful ship and in very good condition, considering that it was commissiioned in 1944 ! This class of ship is not likely to ever be built again, so I have included below a list of the ship's specifications. Note that the armament was extended in 1988 to include missles, which were used during the First Gulf War. Click here to visit the Wikipedia Page.
During the eight months the Wisconsin spent in the Persian Gulf during the first Gulf War, she flew 348 UAV hours, recorded 661 safe helicopter landings, steamed 46,000 nautical miles, fired 319 16 in (406 mm) rounds, 881 5-inch (127 mm) rounds, 5,200 20 mm Phalanx CIWS rounds, and launched 24 Tomahawk cruise missiles.
For a complete Wisconsin ship's history, click here
Yorktown and the Battlefield Center are located just a few miles from I-64, so we decided to visit that area as we drove back to our cabin at Lake Anna, VA. As you can see in the images below, the Battlefield has some military items that represent weapons utilized by Washington's Continental Army.
The town is most famous as the site of the Revolutionary War siege and subsequent surrender of General Charles Cornwallis to General George Washington and the French Fleet on October 19, 1781. Although the war would last for another year, this British defeat at Yorktown effectively ended the war. Yorktown also figured prominently in the American Civil War (1861–1865), serving as a major port to supply both northern and southern towns, depending upon who held Yorktown at the time.
You can easily see how in our provided Yorktown Map, that the Battlefield Center is located immediately adjacent to the Village of Yorktown, and we initially just walked over to see the Battlefield Monument. However, we then realized that lunch sounded like a good idea, so we took our car into the village, parked next to the river and found a nice restaurant. We selected Carrot Tree Kitchens and enjoyed our lunch.
---
Below you will find a set of useful links that we utilized while researching this trip. Each link listed will bring you to the relevant website.
---
Disclosure: Some of the links on this page are Affiliate Links, meaning, at no additional cost to you, that we will earn a commission if you click through and make a purchase. So we would appreciate any click throughs, if you are inclined.
Note: All images on this page are the property of Just Traveling Thru, LLC unless otherwise noted.
Note: If you are interested in our European Travel Tips & Warnings, Click here. Or to take a look at our methods for Trip Planning click here.

To view our entire set of images from Williamsburg & Vicinity, click here
---
To review any of our content, make suggestions and/or comments, please click the "Info" menu button at the top of this page. You will find our "Contact Us" link on that drop-down menu.