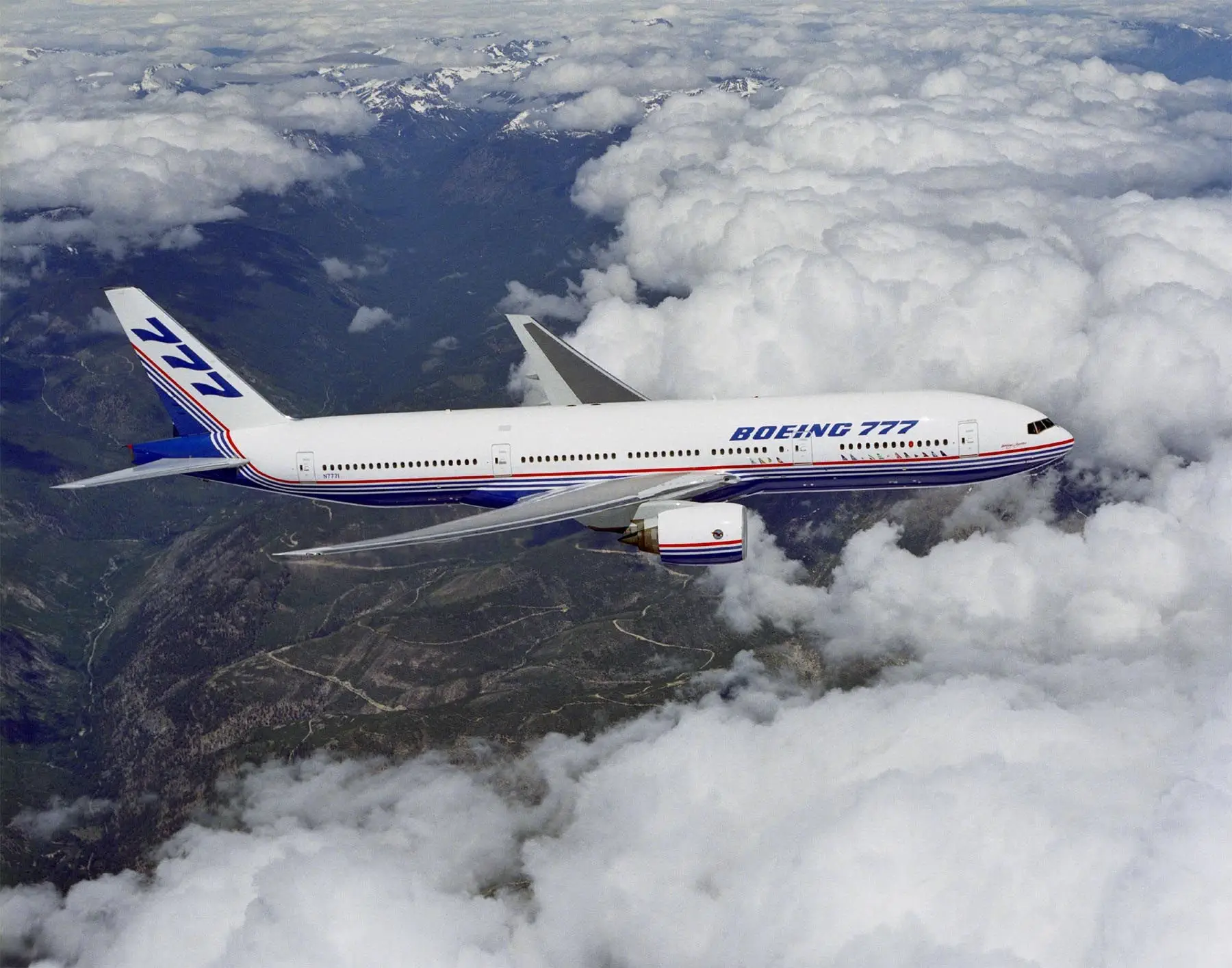 Flying Business Class for Fewer Miles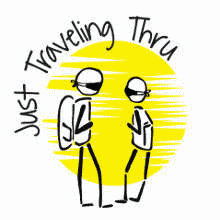 When we travel overnight or on extremely long flights we try to find ways to fly business class without having the expense of flying business class. Are business class flights worth it? We think so. The difference between business and economy class is huge from a comfort perspective. The newer airplanes that fly long hauls frequently have fully reclining seats that allow you to actually get some rest on long flights and it's easier on your body and mind. We've been on some pretty lousy transatlantic coach flights. One year we flew Air France which was included in our Viking River Cruise fare. It was one of the worst flights we've had from a comfort perspective. I think there were ten or eleven seats across and they were smaller than normal. The seats were like torture for Terry. After that, we decided to find a way to fly business class when viable and avoid getting the cheaper airfare included with tours. The challenge is that the prices for business class flights are outrageous and would put us over our budget so we look for how to get discounts on business class flights. We've hit upon a strategy for using points for business class flights that allow us to use fewer points than the standard requirement.
We belong to several frequent flyer programs but settled on United as our primary airline because we used to live near a hub for United Airlines. They frequently have direct flights to Europe and elsewhere and are partnered with numerous airlines via the Star Alliance program. The miles that we collect on United Airlines can be used on those partner airlines as well.
I'm going to focus on United Airlines since that is what we are the most familiar with. However, the strategy may be used on other airlines as well. United, as do most airlines, offers different award levels. You can get business class flights to Europe for as little as 60k points. There are also partner awards through Star Alliance partner airlines for about 77k. The nerdwallet website has some interesting specifics about how to reserve on partner airlines for even fewer points. The standard awards require many more points for a one way ticket… something like 155k which is more than double the requirement for the saver awards. The trick is finding flights that work for you that require the least amount of points.
You must be willing to book in advance and to spend some time searching and be flexible with regard to the airports that you leave the U.S. from. We've found that you can typically find the awards for less points from major cities and hubs in the U.S. to major cities and hubs for that airline in Europe. For example, we were able to get business class tickets from Miami to Vienna, Austria for 140,000 miles round trip (70k each way) for each of us. This required us to rent a car to get to the Miami airport and back but we think the comfort of business class and reduced miles requirements were worth the effort. Once we were in Europe we could take lower cost airlines to get to the cities that we want to be in…. Et Voila! Business class to Europe for less than half the standard miles.
The United Airlines search capability (see example image below) allows you to specify that you want to search with points. You can select the class of services and then switch to the calendar view to see the number of points required on specific days. Sometimes you will see one random day that offers business class for fewer points. In the example below I searched Washington DC to Geneva Switzerland and found that on June 1st there was a business class flight for only 60k points. That is a good deal!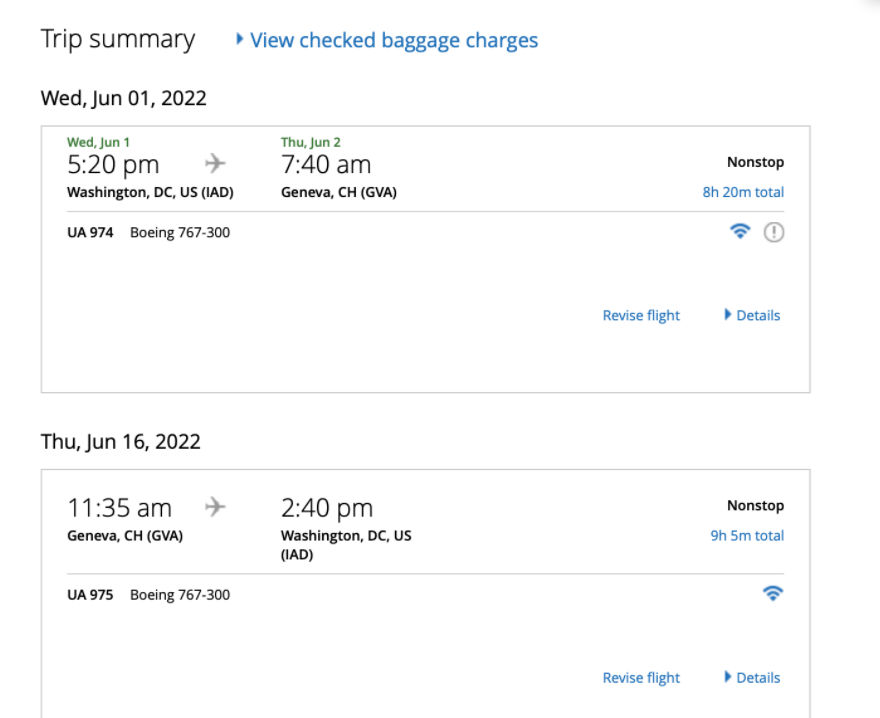 Note in the above image, the aircraft type is specified as "Boeing 767-300"." Make sure the airplane is one of the more modern airplanes with a modern business class that has seats that lie flat. Otherwise, to us, it's not worth it. The other perks in business class are nice but being comfortable is the most important. A good tool to utilize can be found at the "Seat Maestro" website. They allow you to specify what Airline, what Aircraft and then they provide you with an image of that plane's seat configuration.
Recently, United also introduced the "Excursionist perk". If you book a trip with three or more one-way awards you will be eligible to receive one of those one-way awards for free. So, for example, you could book a business class flight to Zurich using points and then a flight from Zurich to Paris and then from Paris to back to the U.S. The flight from Zurich to Paris won't cost you any points. We haven't tried this yet but it seems like a great perk and we might try to work it into our next European trip.
Click here to read more about this new United Airlines feature.
One other nice feature is that you can currently combine Money and Miles to pay for your flight. Which allows you to pay for a portion of the expense out of pocket but then upgrade with miles.
Tips for Accumulating More Frequent Flyer Miles;
Look for frequent flyer programs that make sense based on where you live. Which airlines fly to where you want to go and offer a nice sign on bonus.
We use our frequent flyer cards for as much as possible; purchasing food, gas, restaurant and some bills that don't charge a premium to use the cards, etc.
When the price of airline tickets is reasonable on our preferred airline we pay for the tickets and don't use miles This allows us to accrue more miles for our long haul trips.
We choose our preferred airline even when we can get flights on other airlines cheaper when viable. Sometimes if the other airline has a more convenient direct flight when our preferred airline doesn't we will go with the cheaper, direct flight.
We actually each have two United Visa Cards because the newer card allows us to get free baggage and we received a huge sign on mileage bonus. Our older cards accumulate more miles on daily purchases. So we keep them both.

Suggested further reading for United Airlines
There are many other sites, try your own Google search.
To review any of our content, make suggestions and/or comments, please click the "Info" menu button at the top of this page. You will find our "Contact Us" link on that drop-down menu.