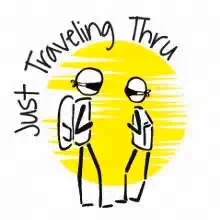 Practical Travel Clothes
It can be challenging to come up with what to wear on vacation. Whether it's coming up with travel outfit ideas for what to wear on a beach vacation, a European tour, or a winter ski vacation. Each scenario requires picking clothes that are flexible and varied enough to accommodate your needs but to also keep your footprint small enough to fit in your suitcase. Below we provide some ideas for clothes to bring including a few of our current favorite online merchants and packing tips for vacation travel.
Keep it Simple: When we travel we like to keep packing as simple as possible but no simpler. That means that we want to have everything that we need but we don't want it to be a chore to carry those things around. When riding on trains and on planes and in small cars and when lugging suitcases up multiple flights of stairs (this happens often in Europe) we don't want huge suitcases and multiple bags that are difficult to maneuver. We strive for one suitcase and one backpack each.
Layers: For trips that involve both hot and cold environments we prefer layering clothes for diversity rather than taking up prime luggage space with big bulky clothing or coats. So, for example, on a trip to the Swiss Alps in August you will need clothing for both hot days in the lower elevations and very warm clothing for the higher elevations. Layers are key. By layering an undershirt and long sleeve shirt underneath a warm zip up fleece sweater and wind blocking rain gear we essentially have an outfit that will work for extremely cold weather (such as when visiting glaciers and ice caves). Simply shed some layers when you head back down the mountain. These same clothes can also be used on a warm and rainy day. In which case your t-shirt will work with just the rain jacket. If you pack in this way you will have clothing to accommodate most circumstances. Leggings are very popular these days and are worn everywhere. On airplanes, for pajamas,, while out and about shopping and even under pants in cold elevations. This is good news for your travels as they take up very little space in your suitcase.
Wrinkle Free and Easy to Wash: Frequently, when we take trips of more than a week in length and that usually requires that we find somewhere to wash our clothes. When we go to Europe it's highly likely that we won't find American style washers and dryers. If you haven't been to Europe you may be surprised by this. Hanging laundry out the window is very common in Europe and it's very rare to have a large washing machine and dryer. They can sometimes be small combo machines that both wash and dry your clothes but they usually only accommodate a few garments; think one outfit at a time. These combo units take forever to dry clothes and it's often easier to wash them in the sink and just hang them out. So when we travel we look for clothing that won't wrinkle and will dry quickly. We take the same approach when traveling in the states because it's just easier than dealing with clothes that require ironing.
Some of our Favorite Products: We've hit on a few products that we both like that we wanted to share. One of the things that we like about modern shopping is that you can find things online that you can't find in local stores. Small boutique stores that try to fill a particular niche can be up and running with a nationwide presence very quickly giving us consumers lots of options.
Below are two quality products that we love that we discovered recently that are perfect for traveling.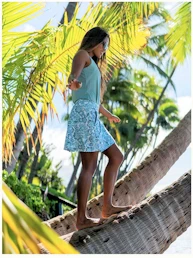 Ripskirt Hawaii is a small business run by women and they sell tops and versatile skirts in a large number of prints at a reasonable price. Each skirt pattern comes in four length options: lotta leg, little leg, nice shins and sweet feet. The skirts don't wrinkle and can be used at the beach as a cover up or can be dressed up to be used in a nice restaurant or when going out for the evening. They have pockets and are wonderfully easy to wash and dry. I found them because I was looking to replace a favorite skort that I had and couldn't find a suitable replacement in local stores.
Ripskirt Hawaii does not have an affiliate program and we do not earn money by mentioning them on our website. We are sharing their products because we like them and want to help a small business succeed.
Click the image below to go to their website.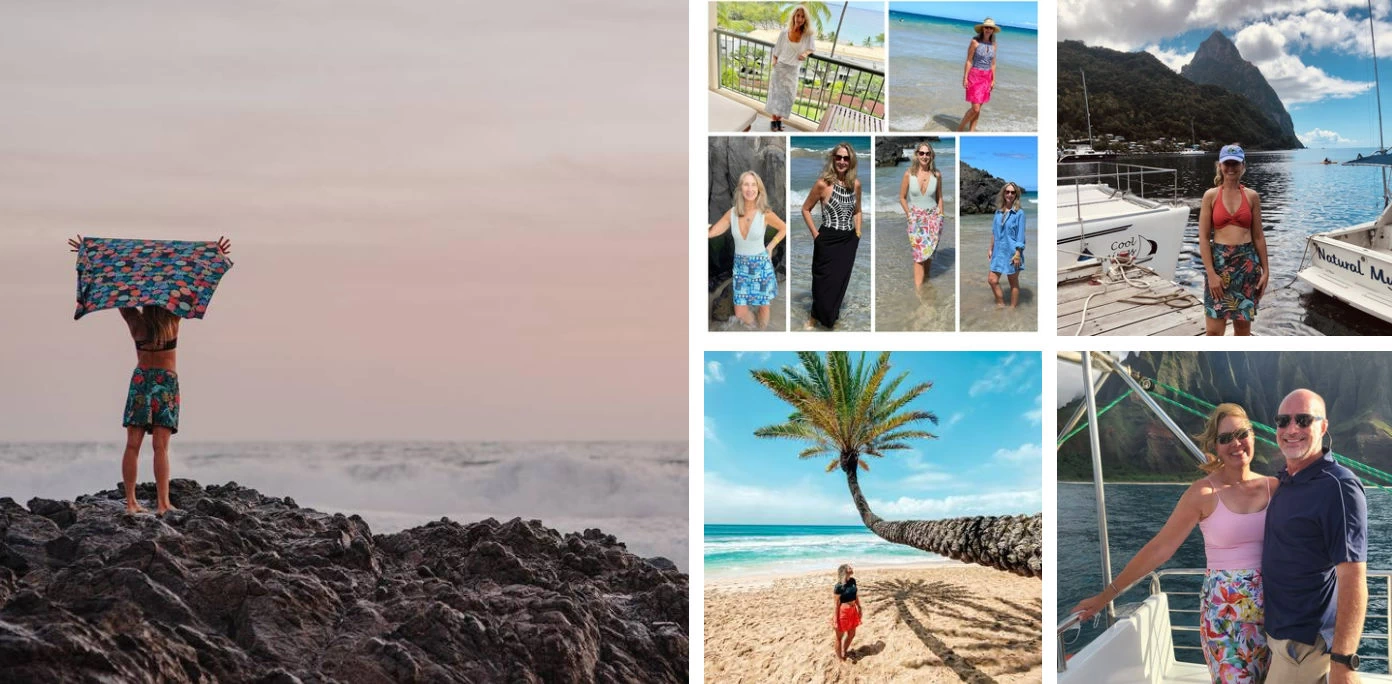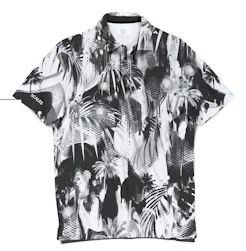 Scales Gear is an online store that markets themselves and an Apparel, Fishing and Watersports gear company. They cater to both men and women. We found them at the Miami Boat show of all places and the offshore country club shirts they carry caught Terry's eye. They are a nice weight for warm weather, they don't wrinkle and they have pretty cool patterns. They are moisture wicking. They are great for outdoor activities like golf and fishing but also perfect for traveling. You can wear them on a hot day or when you go to a nice dinner. Terry receives compliments wherever he goes with them.
We are not affiliates of Scales Gear and do not receive any compensation if you shop in their store - we mention them here because we use their products and they are well made and good to travel with.
Click the image below to go to their website.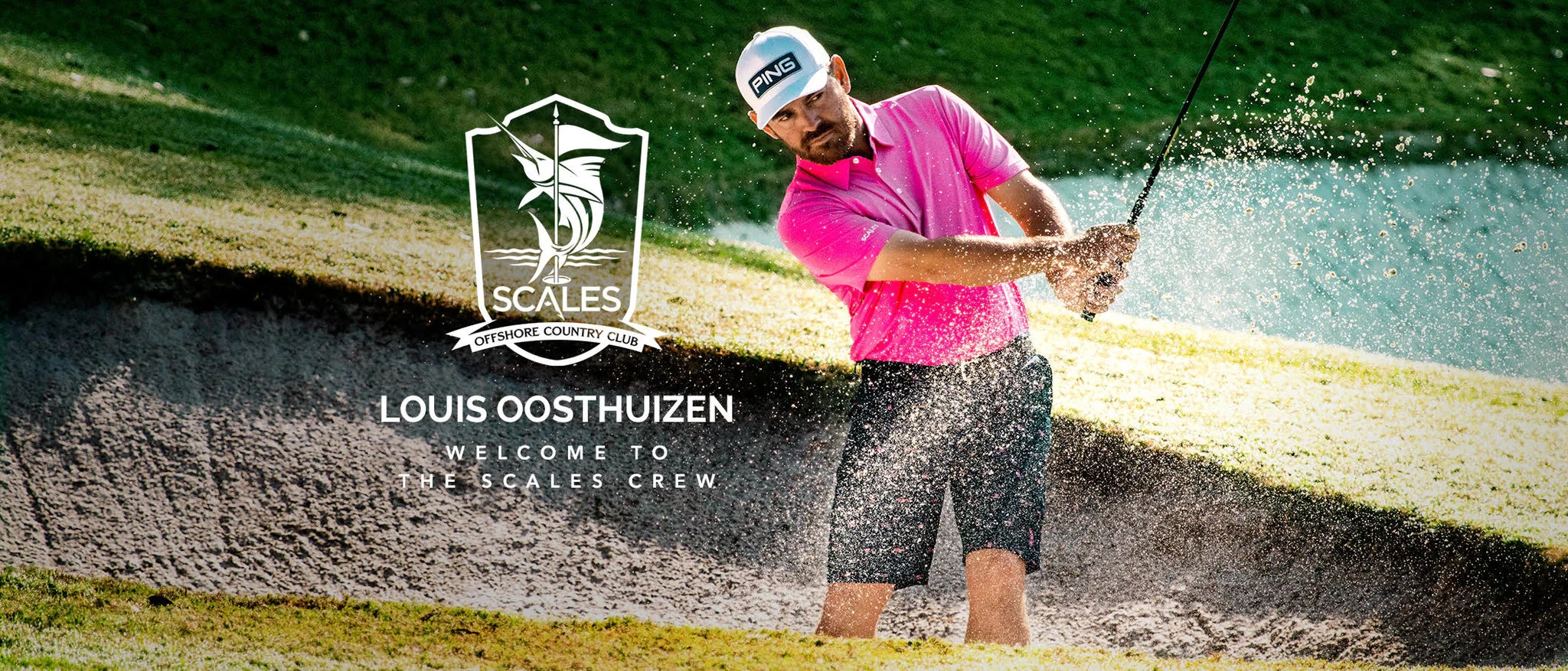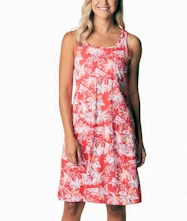 Columbia obviously doesn't fit into the small entrepreneur category but they do have some versatile products that work very well for traveling. I purchased the Women's PFG Freezer III dress last year and it works at the pool or beach over my swimsuit and when we are out and about. It's lightweight, quick drying and doesn't wrinkle. They also have a large range of Men's and Women's clothing, jackets and rain gear in all shapes and sizes. The zip up fleece jackets are perfect for wearing on an airplane and layering on your trip. They have an extensive selection of raingear too which is essential on any trip for protection against the rain and wind.
Please note that we are not affiliated in any way with Columbia Sportswear, and are only pointing them out because we have had good experience with their products.
Instead of shopping in higher priced stores our daughter says that she finds better quality and prices on Amazon and at Costco. These items are comparable to the high end stores from a quality perspective but are a much better value. She particularly likes CRZ Yoga clothing on Amazon.
Packing for Travel Checklist
When we travel we always create a checklist to avoid forgetting something. On one weekend trip recently I tried to just wing it and completely forgot to bring underwear! That reminded me that winging it was not in my best interest.
For most trips we carry the same things. I have a generic list that I can use for most trips and then customize it for the specific trip we are taking. I like to lay the clothes out before putting them in the suitcase so I can see what I have and consider the outfits I'll need. I usually select more than I need and have to reduce that number in order to get things to fit in the suitcase. Your generic list might look something like this:
Pants
Shirts
Skirts
Dresses
Swimsuit/coverup
Hat
Underwear
Bras
Shoes
Raincoat
Walking Sticks
Work Out clothing (depends on wear we go)
Bathroom items (toothbrush, soap, shampoo, hair products, razors, deodorant, etc).
Keep a bathroom bag for travel that has these things already in it. We keep a wine bottle opener in a prepacked bathroom bag for those occasions where the room we are staying in doesn't have one.
Shoes can be the most challenging due to their bulk. Wear your biggest shoes on the plane… ie: boots, or sneakers. Dress shoes and flats or flip flops fit easily in a suitcase
Our good friends at the Condé Nast Traveler website recently posted an excellent article about how to pack for any type of trip. They have allowed us to provide you with a link to that article, click here to read it.
Carry in Backpacks or bring on the plane
Phones
Cords
Kindles/Cords (or books/magazines)
Tablets/Chords
Computers/Chords
Cameras (and accessories and any cords or chargers)
Medicines (always carry these on the plane in case luggage gets lost)
Glasses (reading, sunglasses, prescription glasses)
Sweater/Sweatshirt/Fleece zip up
Jacket/Coat
Snacks (healthy snacks to avoid buying junk)
Cane / Walking Sticks
Consider bringing an HDMI cable and Streaming device depending on where you are going. We've had numerous occasions where one has come in handy. On a recent ski vacation the kids used it to play video games. It's also nice to have access to your favorite streaming shows when you are relaxing in your room.

To review any of our content, make suggestions and/or comments, please click the "Info" menu button at the top of this page. You will find our "Contact Us" link on that drop-down menu.