Copper Mountain Ski Trip
We had been to all of the other Summit County Colorado Ski Resorts except Copper Mountain, and we had read a lot of good things about it. So this trip was planned to go find out if those reports we had een reading were accurate. The secondary reason was that our son was eager to switch from skis to snowboard (as his Mom & Dad now only snowboard) and we had read that the snowboard instructors were good at Copper Mountain.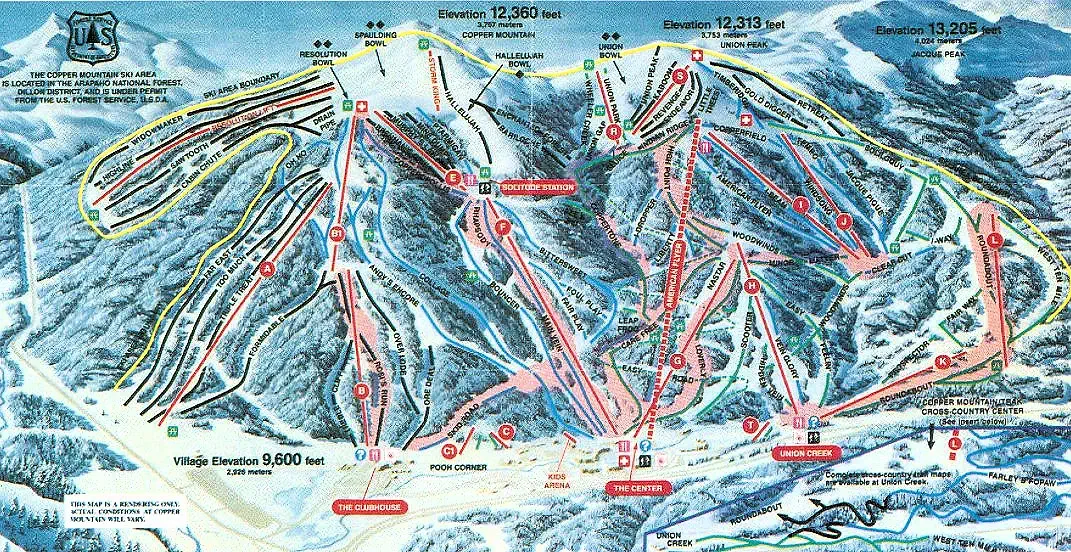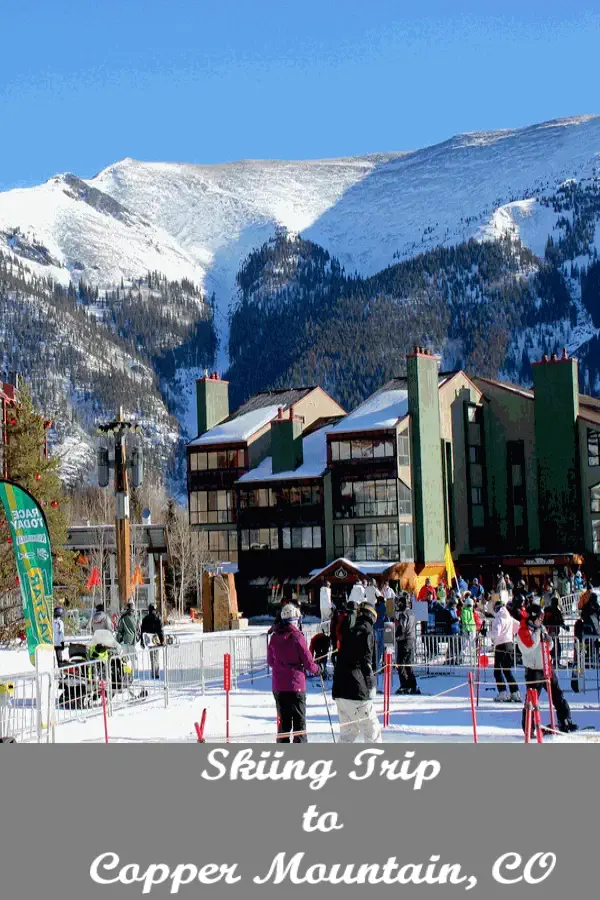 As you can see in the Copper Mountain trail map above, it is spread out across several mountains. However, as Jeremy had just switched from skis to snowboard, we spent most of our time on the trails to the right.
We had started our planning for this trip, in September 2009, in order to find not only a nice place to stay, but to find the best air fares, etc. The issue that got in the way, was the fact that we were trying to sell our Great Falls, VA house in order to relocate to Sarasota,FL.
Once we received an offer on the Virginia house, we realized that our relocation would be taking place in mid-December, which would make the Colorado trip occur rather soon after we had moved into the Florida house.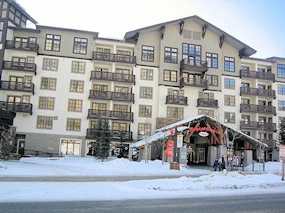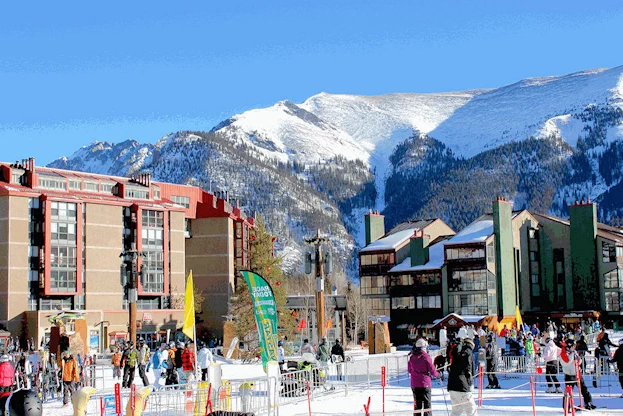 Condo Rental Area
We selected a condo in Copper Mountain via the VRBO web site (see pic to the left), based upon the condo's proximity to the central area of Copper Mountain, as well as to it's proximity to the bus stops that ferry everyone to & from the various lifts
Part 2 of our game plan, was that our son Jeremy was eager to switch from skiing to snowboarding, and we wanted him to take lessons near where we would be snowboarding each day. That way, we could come collect him each afternoon when his lessons were done, and either continue back to the hill, or head back to the condo
We did a combination of both, and on the third day, Jeremy's instructor told us that Jeremy was ready to be on the hill and that there wasn't much more he could teach him as a recreational snowboarder. So we took him back to the lifts, went up the hill, and rode with him to observe first hand how his technique was going to be.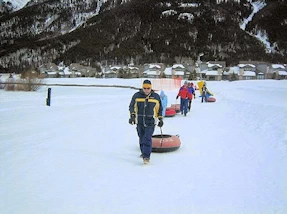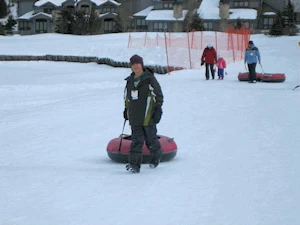 Snow Tubing Area
Of course, if you tube down the hill, then you have to pull your tube back up the hill. But the motivation is right there next to you! Or in other words, all the way up the hill, you are walking next to the tubing lanes, where people are going back down!
That is me going back up to the top on the left, and Jeremy is in the pic to the right.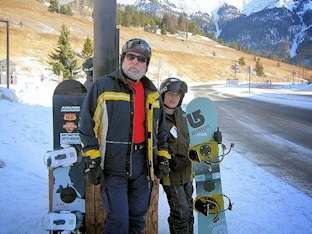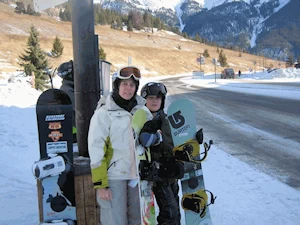 Condo Rental
The condo rental we selected was adjacent to the "central courtyard resort area" where most restaurants, ski shops, etc, could be found. It was also perhaps 50 yards away from the main road that takes you to all of the ski lifts, and where the bus stops could be found (see pics to the left & right).
Because all of the ski lift parking lots filled up rapidly each morning, we decided that riding the bus made so much more sense, as we did not have to cruise for a parking spot, the buses run frequently, and we didn't have to do anything but get on and off the free bus!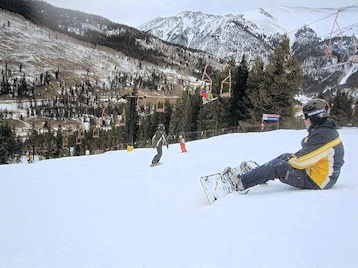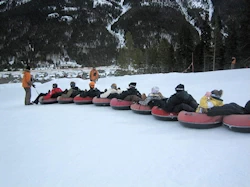 Resting Up
One of the nicest advantages of snowboarding versus skiing, is that you can sit down on the slopes, anytime you feel like it and then just get up and continue boarding! Or, you can watch less skilled snowboarders fall down all over the hill, although in this picture (see above), I was watching Jeremy make some linked turns.
If you really want to have fun "sitting down", then take a look at image # 2. Copper Mountain has a nice snow tubing area and we enjoyed our visit.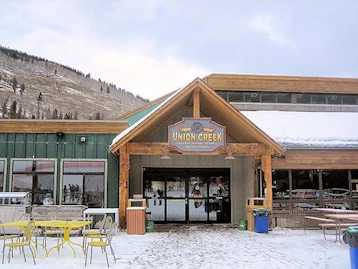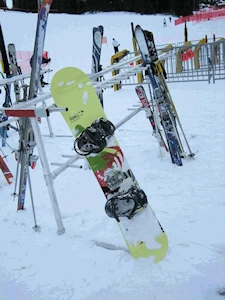 Mid-Mountain
Copper Mountain has some great mid-mountain places (image # 1) where you can eat lunch, or grab a hot drink, or just come in and have a snack and catch your breath & warm up.
Image # 2, shows Celeste's snowboard waiting for her to come back outside from the mid-mountain shop. We were inside enjoying something warm to drink and a quick snack.
Since Copper Mountain is further west than Keystone, Breckenridge and Arapahoe Basin - but not as far out as Vail, it is usually less crowded than the other Summit County areas.
Each condo area provides their own parking, and there are plenty of restaurants and grocery stores, to keep one's condo stocked.
Using the Copper Mountain bus system, saved us a lot of time and parking anguish. This is the way to go, and the bus service was free. All of the parking lots fill up quickly and early!
There isn't much difference in lift ticket prices between any of the Summit County areas compared to Copper Mountain or Vail. We would recommend the Epic Ski Pass, because if you acquire a multiple day (or season pass) early enough in the year prior to your trip, they are very reasonably priced. Again, if you buy "early enough", their pricing is considerably less expensive than anyone else.
---
Disclosure: Some of the links on this page are Affiliate Links, meaning, at no additional cost to you, that we will earn a commission if you click through and make a purchase. So we would appreciate any click throughs, if you are inclined.
Note: All images on this page are the property of Just Traveling Thru, LLC unless otherwise noted.
Note: If you are interested in our European Travel Tips & Warnings, Click here. Or to take a look at our methods for Trip Planning click here.
To review any of our content, make suggestions and/or comments, please click the "Info" menu button at the top of this page. You will find our "Contact Us" link on that drop-down menu.