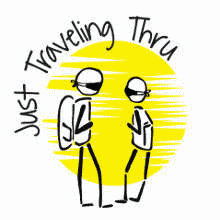 3 Days in Miami
Our daughter who is a graphics designer for a large Yacht Company mentioned to us that the Miami International Boat Show was going to take place in Miami Beach during February 16 - 20th. We'd been hoping to visit Miami again and this would give us a good excuse to have a fun weekend with our daughter and granddaughter.
We've visited Miami several times over many years for catching a cruise at the port, visiting the Passport office (another story), and just for fun. Miami is known for its beautiful weather, parties and nightlife and long sandy beaches. One of our favorite areas is Española Way which reminds us of areas in Europe. It's multi-national vibe with sidewalk cafes, etc. We didn't get to visit Espanola Way this time but we highly recommend it for anyone visiting. The best time to visit Miami is really any time because the weather is beautiful year round. It rains more frequently in the summer, which is the rainy season but it usually only lasts for an hour before moving on. People call it hot in the summer and it is hot and humid but it rarely gets above about 94 degrees even on summer days. Stay hydrated no matter when you visit.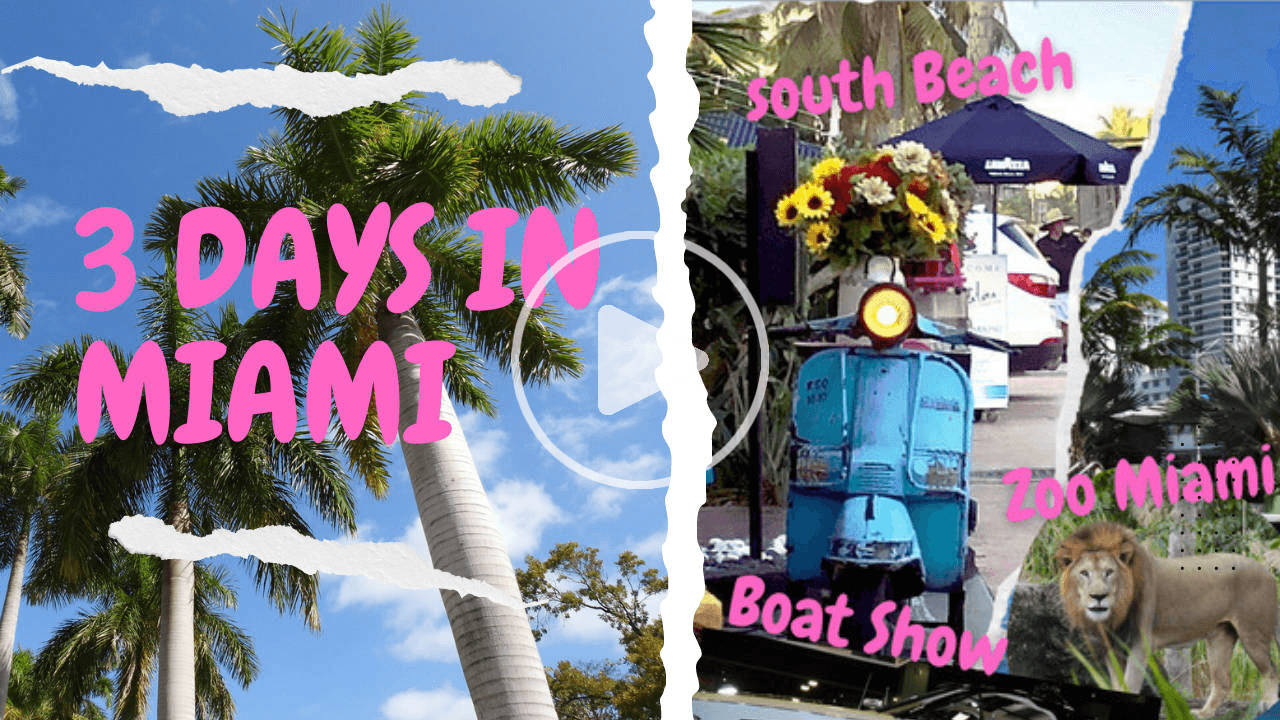 Click this image to watch a great video of our Miami Adventure.
This video is the property of Just Traveling Thru, LLC.
If you like our videos, click here to subscribe to our Youtube Channel.
Our goals for this trip included visiting the boat show, checking out the beach and the zoo with our granddaughter. There are numerous ways that one could explore this area in a 3 day timespan, we had diverse goals for this trip and this itinerary fit out available time.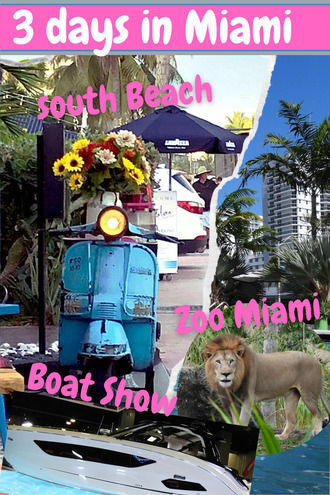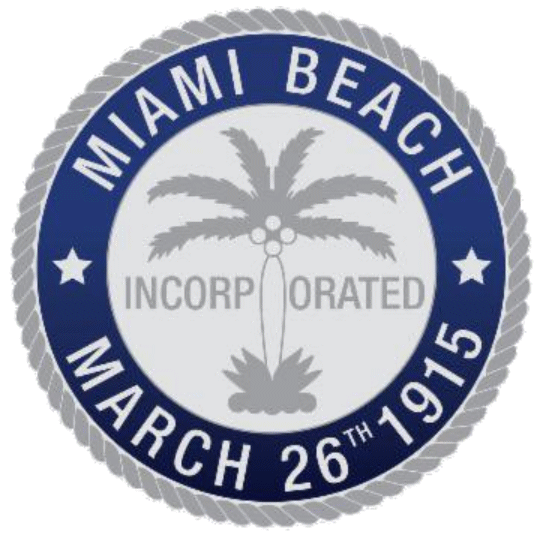 Miami Beach City SealImage is the property of Miami Beach City Government
We arranged to stay at The Gates Hotel South Beach - a Doubletree Hotel by Hilton, which showed up when we looked for good Miami boat show hotels. It was in the heart of south beach Miami and gave us easy access to Miami's South Beach Boardwalk and was within walking distance to the Miami Convention Center portion of the boat show. We waited a bit too long to reserve our room and the prices were high due to it being the boat show weekend so we pulled the trigger on our annual Hilton free night award for being an elite member of the Hilton Honors program.
We arrived early and were able to use the pool area and facilities while waiting for our room. The pool area had a lot of energy and our granddaughter immediately made friends with some other girls at the pool. They had a DJ by the pool and a henna artist. We played ping pong, were able to get some drinks at the poolside bar.
The hotel rooms were clean and large enough for the four of us. There wasn't much of a view but we liked the facilities and location. They had valet parking onsite (in a very secure location) for $42 per day. There was no self parking. There were plenty of restaurants within walking distance and South Beach was just across the road. We would definitely stay here again when visiting South Beach.

To view our entire set of images from the Miami South Beach, click here
Miami's South Beach is known for attracting beautiful young people and the rich and famous and for its trendy and quirky and over the top nightlife. South Beach is a barrier island along the Atlantic Ocean that is about 9 miles long.
The Miami Beach Boardwalk extends from 5th street to 46th street which is about 4 miles long. It's perfect for walking, jogging, skating or riding bikes. Although the signs indicated that electric vehicles weren't allowed we saw many electric scooters and bikes which made walking with our granddaughter a little more interesting because we had to remind her to watch out for people zooming by. There was a cast of characters hanging out the afternoon we were there. Scantily clad women, dudes with dreadlocks, rollerbladers, skateboarders, runners and joggers, families and just about everything in between. We smelled marijuana along the boardwalk more than once. There were a few pop up parties with drink specials and tents that looked like they were set up for a raucous evening ahead. There is no lack of energy in South Beach !
There is metered parking along Ocean Drive or public parking facilities at three locations along Collins Avenue. A Map of Miami's South Beach Boardwalk and Miami South Beach Public Parking can be found here.
For those of you who are not familiar with Miami's famous Haulover Inlet it's an inlet on the northside of Miami beach that is widely known for being treacherous on rough water days (see static map below, or click the Google Map link above). It is also the location of Haulover Beach which is dog friendly and an official nude beach to the north. There are recreation areas and a marina in the 99-acre Haulover Park. There are a number of Youtube videos that show just how treacherous it can be to go through the inlet out to the open ocean and we put it on our list so that we could see the inlet beaches and park before heading to our hotel.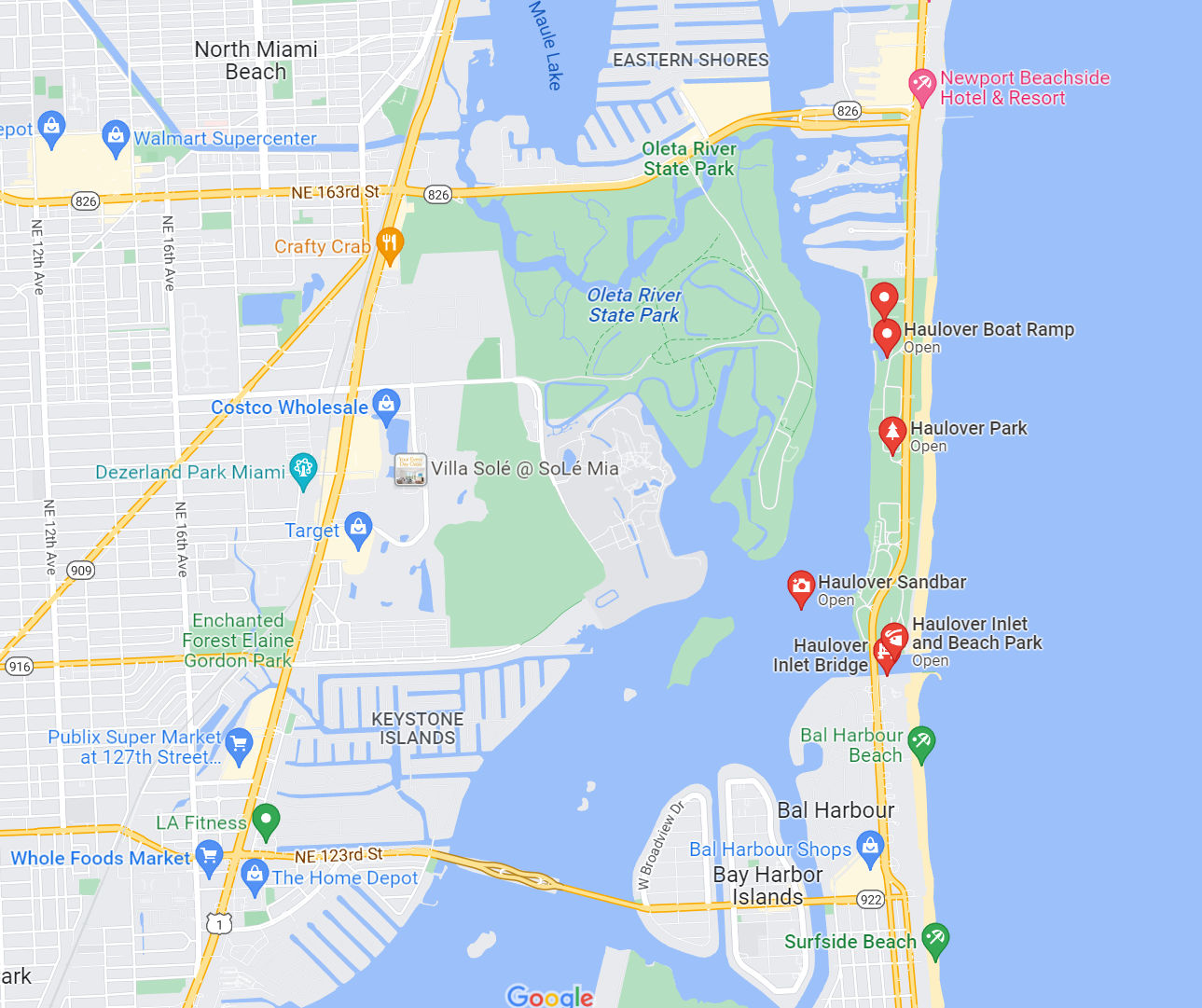 Where is Haulover Inlet Located
Haulover Inlet Florida is located in North Miami. We arrived from the west and north and took route 826 to A1A and then drove south on A1A until we saw signs for "Haulover Point Marine Store" to our right (west side of A1A) and "Fisher Pier" on our left (east side of A1A). We could see that there was a lot of parking available in the Marine Store area, so we took the exit prior to the bridge. You should be aware that you will not find public parking on the south side of the bridge, as there are only commercial buildings there.
What makes Haulover Inlet so Dangerous?
From a "Sport Fishing Magazine" article; "A powerful outgoing tide streaming through a narrow channel and a strong onshore wind tend to pile up steep seas, combine these two factors with shoaling, and you have big, breaking waves at the inlet, resulting in very dangerous conditions." The shoaling here is a big factor in the danger, the inlet channel is constantly changing. For those of you who are not familiar with Miami's famous Haulover Inlet click here to do a YouTube search for that subject. Some of those amazing boating videos on very rough water are frightening and sometimes catastrophic!
Of the more than 60 inlets in Florida, Bakers Haulover Inlet is one that requires experienced local knowledge or just stay away from it, say most captains in the area. If you are looking for good advice on how to get through this inlet, we would recommend reading this site.
Although we enjoyed our visit to the Haulover Inlet area, the weather that day was beautiful and the Ocean and Bay was very calm, resulting in boating conditions that were perfect. Or in other words, we did not see any boats having trouble traversing the Inlet!
Haulover Inlet Beach
Haulover Beach Dog Park and Haulover Beach co-exist immediately north of the Inlet and extend north to the "clothing optional section" of Haulover Beach. The beach is wide and was not crowded the day we were there, the Dog Park was busy with pets having fun in & out of the water! There are picnic tables next to the inlet which make for a great place to eat lunch and enjoy the view.

To view our entire set of images from the Haulover Inlet, click here
This 2022 Miami International Boat Show was spread out across five separate locations, including the newly renovated Miami Beach Convention Center. There were more than 1,000 vendors of all types (click here for a complete vendor list), including most of the larger Boat & Engine (outdrive & inboard) manufacturers.
To facilitate visitor movement between the various locations, the Miami Boat Show offered charter bus transportation to & from each of the locations. When you consider that the Convention Center is in Miami Beach, and the other Boat Show locations are on the western side of Biscayne Bay - you can see why the bus transportation was so useful. Besides which, it allowed visitors to not have to search for parking !!
Miami Boat Show Water Taxi
There was also a water taxi for visitors to move back and forth between the Miami Convention Center & One Herald Plaza and IGY Yacht Haven Grande. The water taxi and bus services were complimentary if you already had a Boat Show ticket. Due to our time schedule, we utilized the bus services, they were comfortable, quick & dropped you off at the front door of the destination facilities.
Our visit to the show this year opened our eyes to how much horsepower is being put in the new boats and how expensive boating has become. We've owned three waterski/wakeboard boats in the past but the current price of them has put them out of our reach. I'm afraid it doesn't look like we'll own another boat unless we win the lottery! There seemed to be no shortage of buyers though. One dealer we spoke to had over 20 boats under contract in just three days of the show.
Check out our Miami Boat Show pics and some videos below:
There are a million places to eat in Miami and Miami Beach. We hit on two that we thought we'd share with you if you are in the area.
Click here to view a map of Miami's South Beach Boardwalk and Miami South Beach Public Parking.
La Sandwicherie
A big shout out to La Sandwicherie in Miami Beach. We wanted to find a healthy place to eat lunch on the way to our hotel and stopped at La Sandwicherie which had good reviews. They are a casual takeout and eat in at the dinner style bar kind of place. They had sandwiches, wraps, salads and healthy smoothies, milkshakes, veggie juices and coffees. It was just what we were looking for! The bread was fresh and everything was wonderful including the service. We highly recommend eating here if you are in the area. They have expanded and have two other locations as well.
True Baristas Specialty Coffee Food Truck
We ended up staying in downtown Miami for our second night in town which was in the Brickel area of the city. Right around the corner from our hotel was a specialty food truck called True Baristas. The Coffee was fantastic. We are coffee lovers and we voted that it was better than Starbucks plus you couldn't beat the ambiance and sitting in front of the adorable truck on a nice day.
Is Miami Zoo worth it? We think so. We wanted to bring our granddaughter somewhere fun and hadn't been to the Miami zoo in a long time. Miami Zoo, also known as Zoo Miami or the Miami-Dade Zoological Park, is the largest zoo in Florida. The animals are split by content including Australia, Africa, Asia and the Americas.
There are a wide range of animals and a huge amount of ground to cover. We remembered that there was a monorail at the zoo which would allow you to shorten the walking requirement. However, when we arrived we found that it was turned off due to COVID and they had no plans to turn it back on again. Instead, they offer a tram tour of the zoo in addition to multi person bikes called Safari Cycles that you can rent for a fun way to get around. These are the types of cycles with a steering wheel and two or four person seats with pedals. The whole family can peddle while the toddler sits in the special toddler seats up front. They also have specialty tours and VIP tours if you are interested in a personal experience or have someone with you that has trouble getting around.
Being there in March, the temperature was perfect! I imagine that being there in the summer is very hot.
Some tips for visiting the zoo:
The tram car is a nice way to get around if you have someone who has difficulty walking and you don't want to rent a safari cycle. The tram car is an extra fee and can be purchased at a kiosk just before the tram area. They leave every half hour. The only downside is that you won't always get the best view of the animals as you drive by.
Bring water or purchase water. It will likely be hot and even though there is lots of shade there is lots of sun too.
There are water spray areas that you can use to cool down.
Wear sun tan lotion (lots of sun)
Consider renting the Safari Cycles. It will make getting around more fun.
Be patient. Animals aren't always active when people are visiting. Just accept this and be happy with the animals that you do see.
There are plenty of places to eat lunch just outside the park. We ended up staying for just the morning and we ate at Panera before heading back to Sarasota.
You can get tickets and more information at the zoo website.
---
Disclosure: Some of the links on this page are Affiliate Links, meaning, at no additional cost to you, that we will earn a commission if you click through and make a purchase. So we would appreciate any click throughs, if you are inclined.
Note: All images on this page are the property of Just Traveling Thru, LLC unless otherwise noted.
Note: If you are interested in our European Travel Tips & Warnings, Click here. Or to take a look at our methods for Trip Planning click here.

To view our entire set of images from our Miami Trip, click here
---
To review any of our content, make suggestions and/or comments, please click the "Info" menu button at the top of this page. You will find our "Contact Us" link on that drop-down menu.