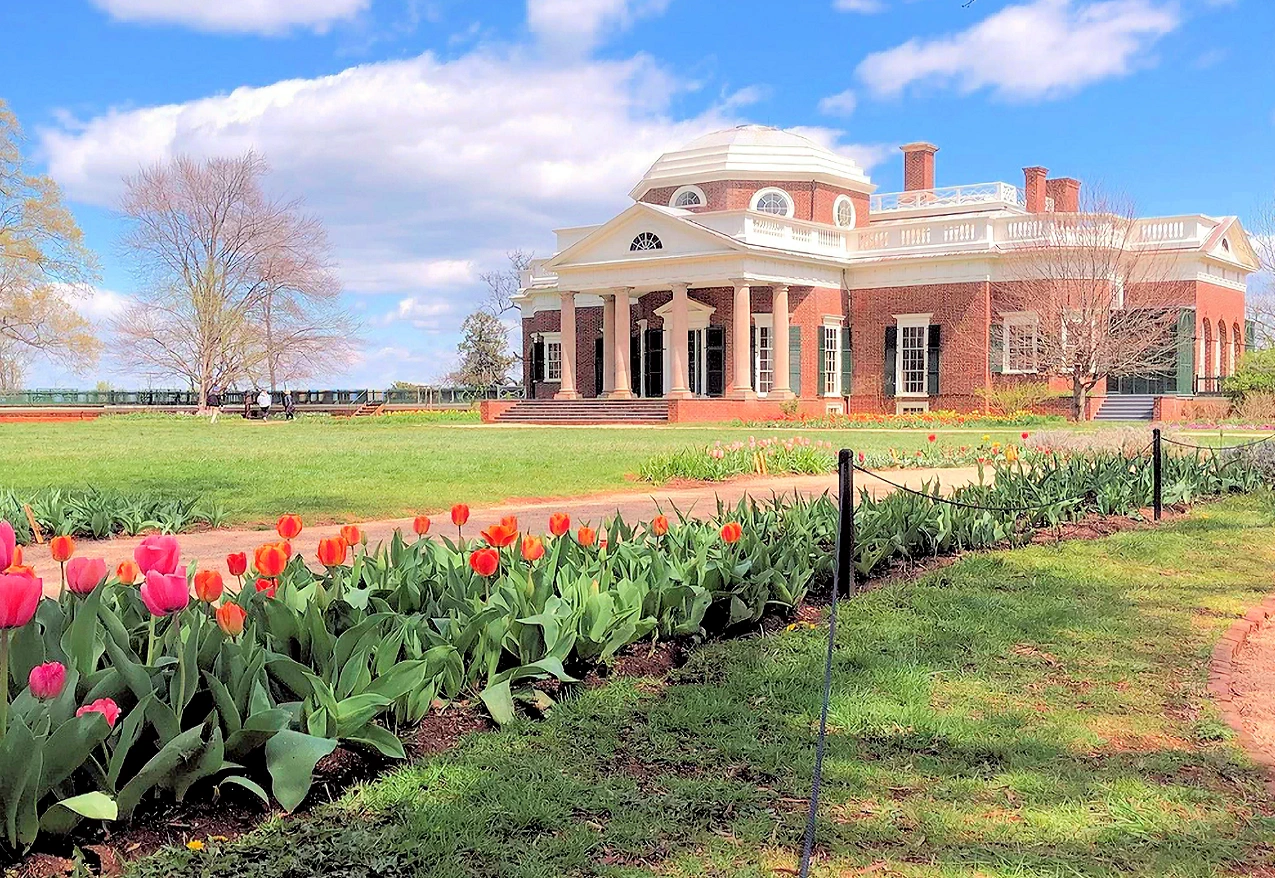 Monticello National Historic Landmark
Designed by Jefferson himself, Monticello is a stunning architectural marvel that seamlessly blends classical European influences with innovative American design. The sprawling estate features a neoclassical mansion adorned with intricate details, meticulously maintained gardens, and sprawling grounds offering breathtaking panoramic views of the surrounding landscape.
Monticello serves as a testament to Jefferson's diverse interests, showcasing his passion for horticulture, architecture, and intellectual pursuits. Visitors can explore the meticulously restored rooms filled with personal artifacts, libraries stocked with Jefferson's extensive book collection, and an underground passage revealing the enslaved community's daily lives.
This is an interesting place to visit; the history of Jefferson, the estate itself is beautiful and surrounded by a rich forest with several nice hiking trails - but to see some of the agricultural experiments that Jefferson created is fascinating and well worth a visit.
How to get to Monticello
Just a few minutes drive from Charlottesville and just beyond the Michie Tavern on the Thomas Jefferson Parkway. Exit 121 on I-64, turn south onto Virginia route 20 to route 53 (Thomas Jefferson Parkway) and drive up the hill. There are numerous signs, so it is a simple short drive.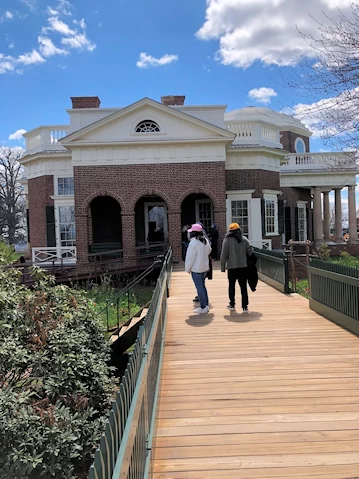 North Terrace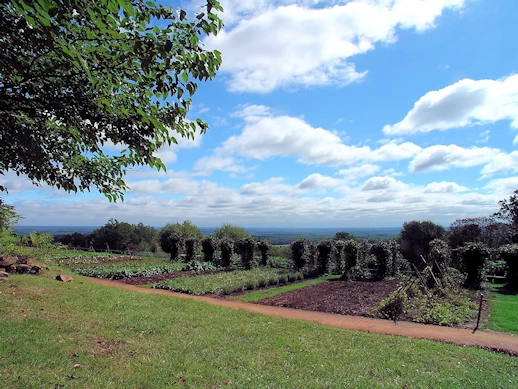 Jefferson's Garden Area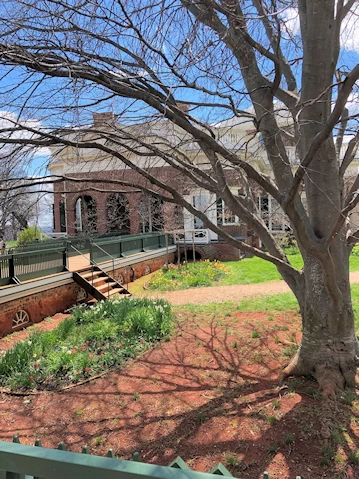 Rear Area facing North Terrace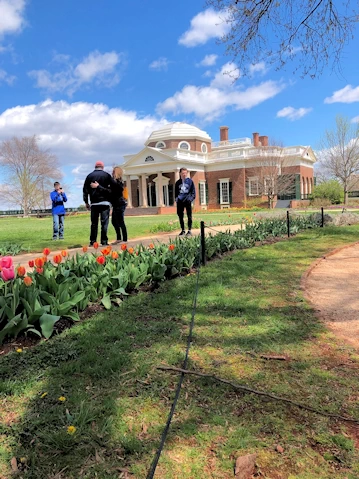 Front Area facing Entrance
Visitors can explore the meticulously preserved rooms that reflect Jefferson's intellectual curiosity and progressive ideas. The expansive gardens and grounds offer a glimpse into his passion for horticulture and landscape design. The Monticello National Historic Landmark also delves into Jefferson's complex relationship with slavery, providing an opportunity for a deeper understanding of America's history.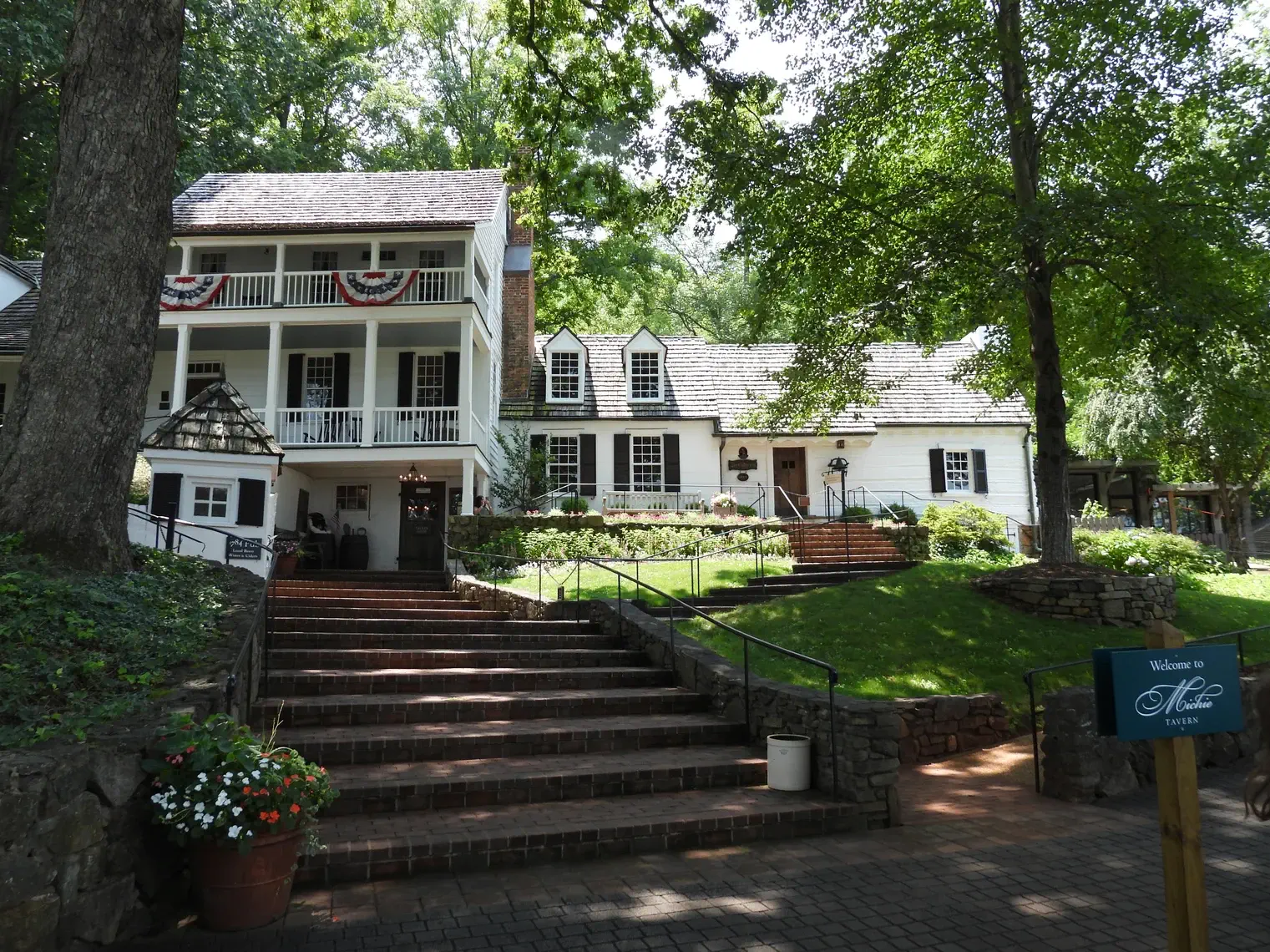 This restaurant (actually it is buffet style) has what we consider to be the best fried chicken (southern style) we have ever had anywhere in any state. We will create opportunities to have lunch here, and have taken a number of guests who have seriously enjoyed the fare here. Fried chicken, corn bread, delicious apple cider and other side dishes! You do have to be careful about when you arrive here, because it is very popular and the parking lot fills up quickly at traditional eating times.
As guests step through the doors of Michie Tavern, they are transported back in time to a period when the tavern served as a gathering place for travelers and locals alike. The tavern's interior showcases period furnishings, including a cozy fireplace, wooden tables, and benches, creating an atmosphere that evokes a sense of nostalgia.
The tavern's menu features traditional Southern fare, such as fried chicken, country ham, and cornbread, cooked using authentic 18th-century recipes. Visitors can savor these delicious dishes while immersing themselves in the rich history and charm of the tavern.
The tavern is located just below the hill where Monticello is located, on Thomas Jefferson Parkway. The food here is quite good, and we've taken a number of people here to have lunch after visiting Monticello - all who will tell you that the food is worth the stop.

---
Disclosure: Some of the links on this page are Affiliate Links, meaning, at no additional cost to you, that we will earn a commission if you click through and make a purchase. So we would appreciate any click throughs, if you are inclined.
Note: All images on this page are the property of Just Traveling Thru, LLC unless otherwise noted.
Note: If you are interested in our European Travel Tips & Warnings, Click here. Or to take a look at our methods for Trip Planning click here.
---
To review any of our content, make suggestions and/or comments, please click the "Info" menu button at the top of this page. You will find our "Contact Us" link on that drop-down menu.