Steamtown National Historic Site
We were on our way to New England to visit family, and decided to spend the night in Scranton, PA. This allowed us to not have to drive 7 additional hours and so we were able to visit the Train Museum at Steamtown. At Steamtown, we were able to explore an impressive collection of historic locomotives, railcars, and other artifacts. The site offers a comprehensive glimpse into the intricate workings of steam-powered trains, allowing enthusiasts and curious visitors alike to appreciate the engineering marvels of the past.
How to get to Steamtown
We were staying at the Hilton Scranton & Conference Center on Adams avenue, so we drove to Spruce Street, left on Mifflin avenue, right onto Lackawana avenue, left onto Cliff avenue and then followed the signs to Steamtown. If you are on I-81, you would take the President Biden Expressway exit and proceed to route 11 and Bridge street.
Tips on how to explore Steamtown
Guided Tours: Joining a guided tour is a great way to delve into the site's rich history and learn from knowledgeable interpreters. These tours provide insights into the significance of various exhibits and locomotives.
Train Rides: Don't miss the chance to take a ride on one of the vintage trains. The immersive experience of chugging along the tracks offers a unique perspective on the past.
Exhibits and Museums: Explore the well-curated exhibits and museums to understand the evolution of steam-powered railroading and its impact on the nation's development.
Live Demonstrations: Witness live steam demonstrations to see the engineering marvel of these majestic locomotives in action.
Ranger Programs: Engage in the ranger-led programs, which often include talks, demonstrations, and interactive activities for visitors of all ages.
Plan Ahead: Check their schedule for special events, themed days, and operating hours of the trains to ensure you make the most of your visit.
Comfortable Attire: Wear comfortable walking shoes and dress appropriately for the weather, as you'll likely spend a considerable amount of time exploring the expansive site.
The site is run by the National Park Service and there are rangers in various areas to answer your questions or provide you with additional information.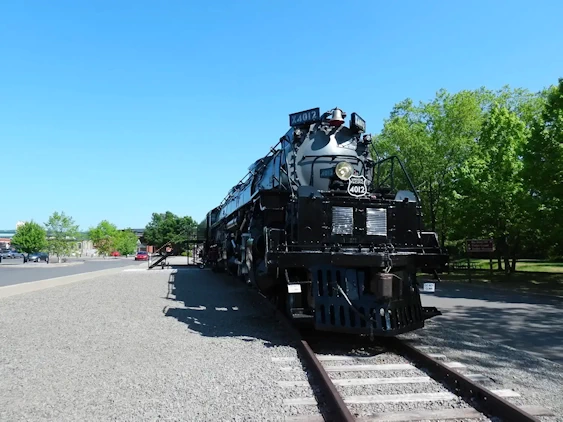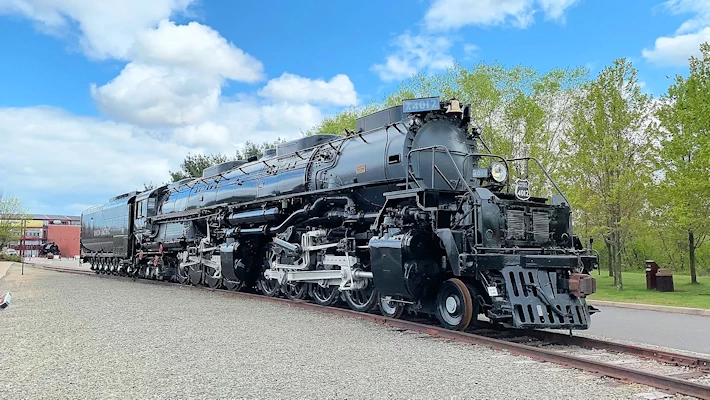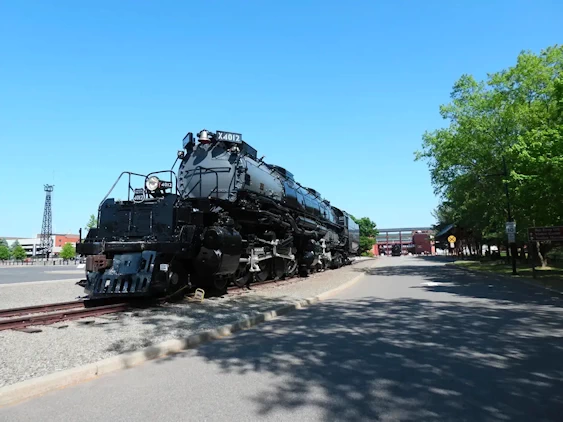 Union Pacific 4012, nicknamed "Big Boy", is a 4-8-8-4 type locomotive built by American Locomotive Company in November 1941. It is among the world's largest steam locomotives. One of 25 built, No. 4012 is one of eight of its type to survive the advent of the diesel era. Referred to as an "articulated" locomotive, because it has more than one set of drivers, Big Boy weighs 1,250,000 pounds (570,000 kg). This locomotive worked for 21 years hauling freight between Cheyenne, Wyoming, and Ogden, Utah, logging over 1,000,000 miles (1,600,000 km) before its retirement in 1962.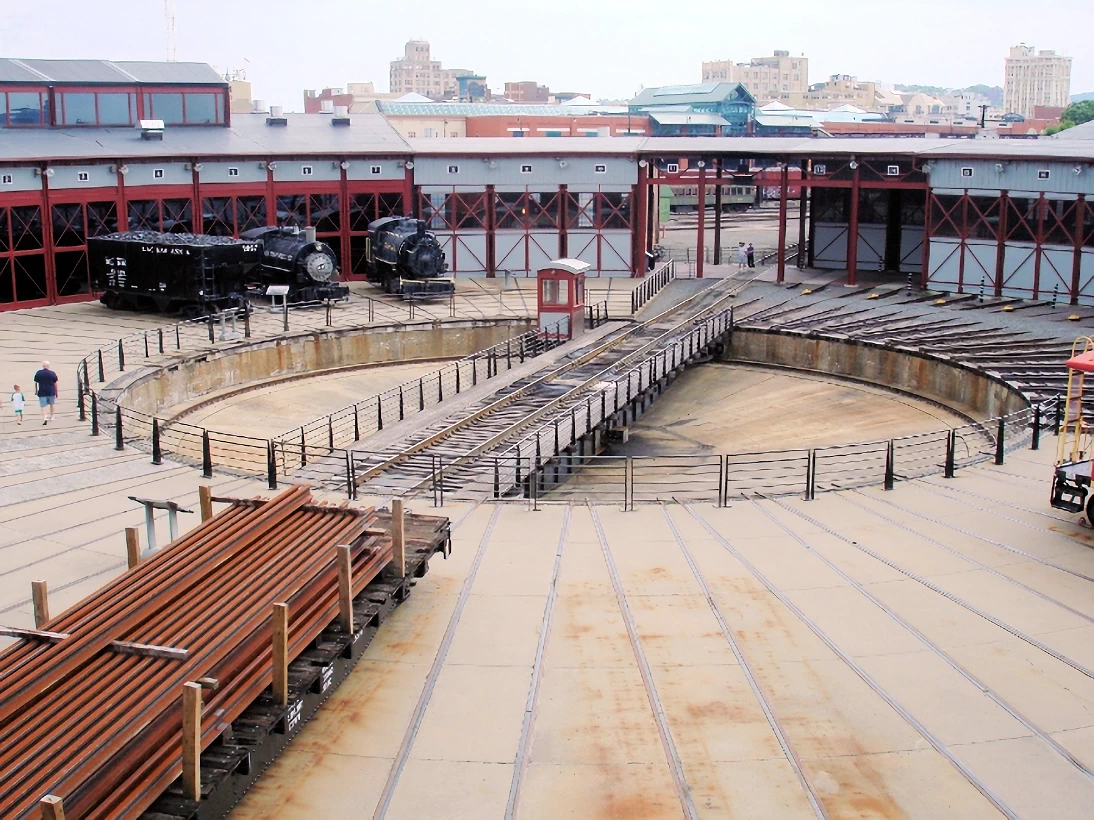 Round House Turntable
Image property of Stilfehler via Wikimedia Commons and the GNU Free Documentation License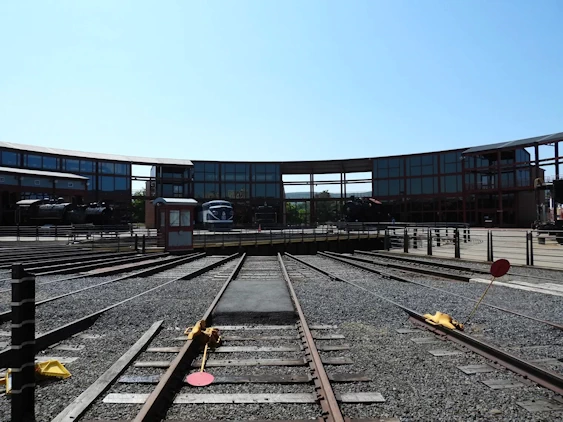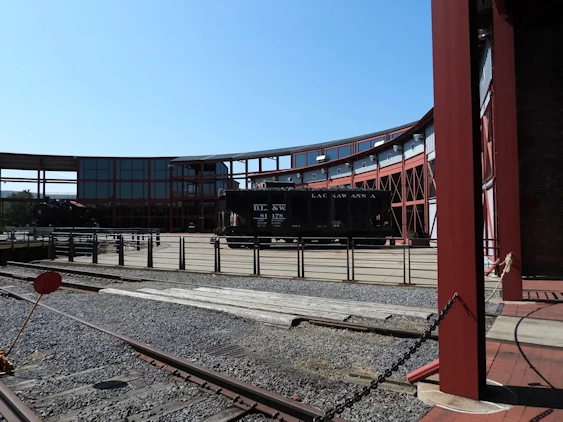 The Steamtown Scranton PA Roundhouse stands as an iconic structure, a testament to the golden age of steam locomotives. Nestled in the heart of Scranton, Pennsylvania, this magnificent roundhouse has captured the imagination of railroad enthusiasts and visitors alike. With its impressive 22-stall design, the roundhouse served as a hub for locomotive maintenance and repair during its operational days.
When the Steamtown Park was under development, the National Park Service decided to use the existing portions of the Roundhouse (dating from 1902, 1917, and 1937) as a part of the Museum Complex, while adding a Visitor Center, Theater, Technology Museum, and History Museum. The Roundhouse was adaptively rehabilitated to allow Steamtown's mechanics to care for the locomotives with light-duty maintenance and repairs.
In the center area of the round house, there is a "turn table" that allowed the Railroad engineers to bring in equipment and then be able to select which round house shop the equipment would be placed into. The round house is essentially a number of large "garages" where repairs or maintenance work took place.

---
Disclosure: Some of the links on this page are Affiliate Links, meaning, at no additional cost to you, that we will earn a commission if you click through and make a purchase. So we would appreciate any click throughs, if you are inclined.
Note: All images on this page are the property of Just Traveling Thru, LLC unless otherwise noted.
Note: If you are interested in our European Travel Tips & Warnings, Click here. Or to take a look at our methods for Trip Planning click here.
---
To review any of our content, make suggestions and/or comments, please click the "Info" menu button at the top of this page. You will find our "Contact Us" link on that drop-down menu.