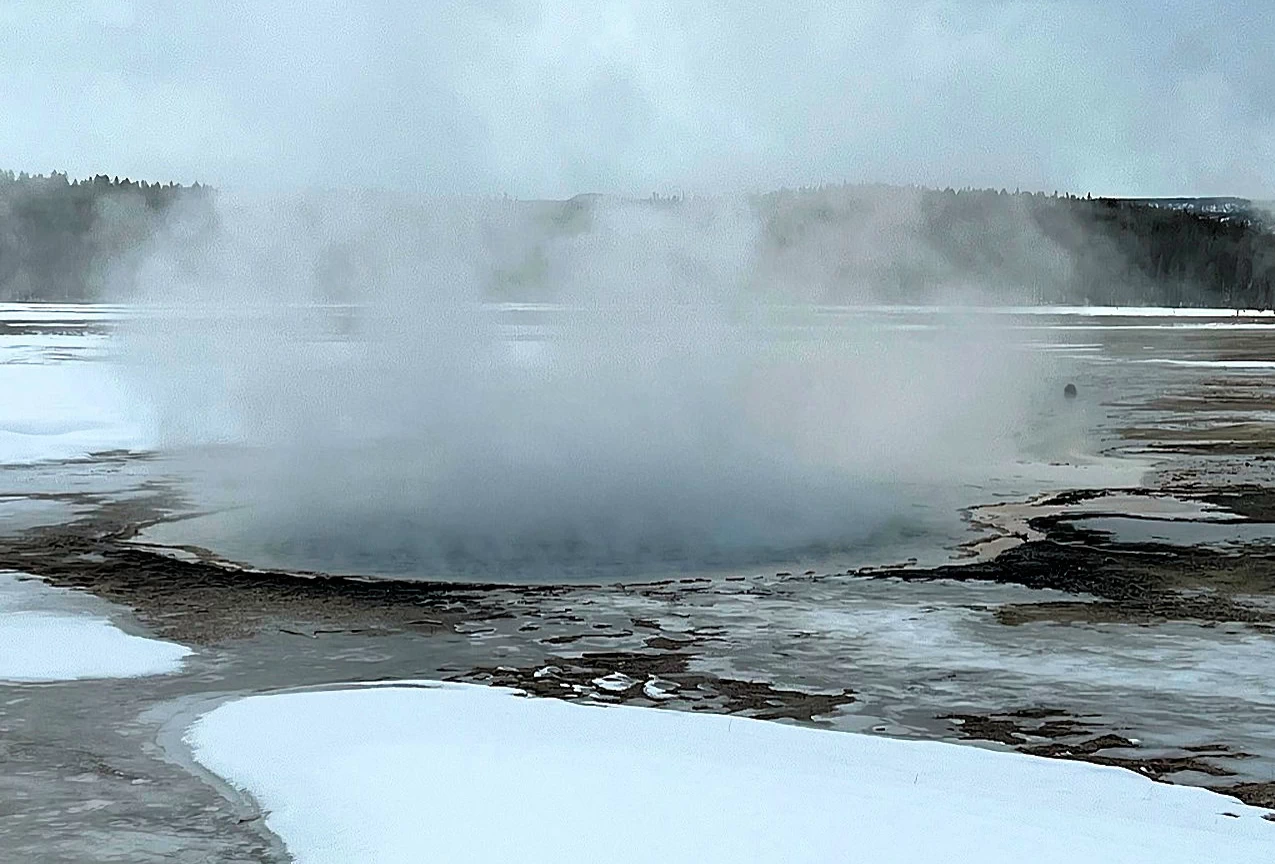 Yellowstone National Park
This is one of the most incredible National Parks; 3,500 square miles of wilderness mostly in Wyoming with portions in Montana and Idaho. It is also the world's first National Park which first opened on March 1, 1872. Visitation here is consistently near the four million visitors per year mark, varying slightly down due to the COVID pandemic.
The park's geothermal wonders are legendary, with iconic sites like Old Faithful, a geyser known for its punctual eruptions, and the Grand Prismatic Spring, showcasing vibrant hues of blue and orange. Yellowstone is also home to numerous hot springs, mud pots, and fumaroles, creating a surreal and otherworldly landscape.
Wildlife enthusiasts flock to the park to witness a diverse array of animals, including bison, elk, wolves, grizzly bears, and eagles. The Lamar Valley is often called the "Serengeti of North America" due to the concentration of wildlife.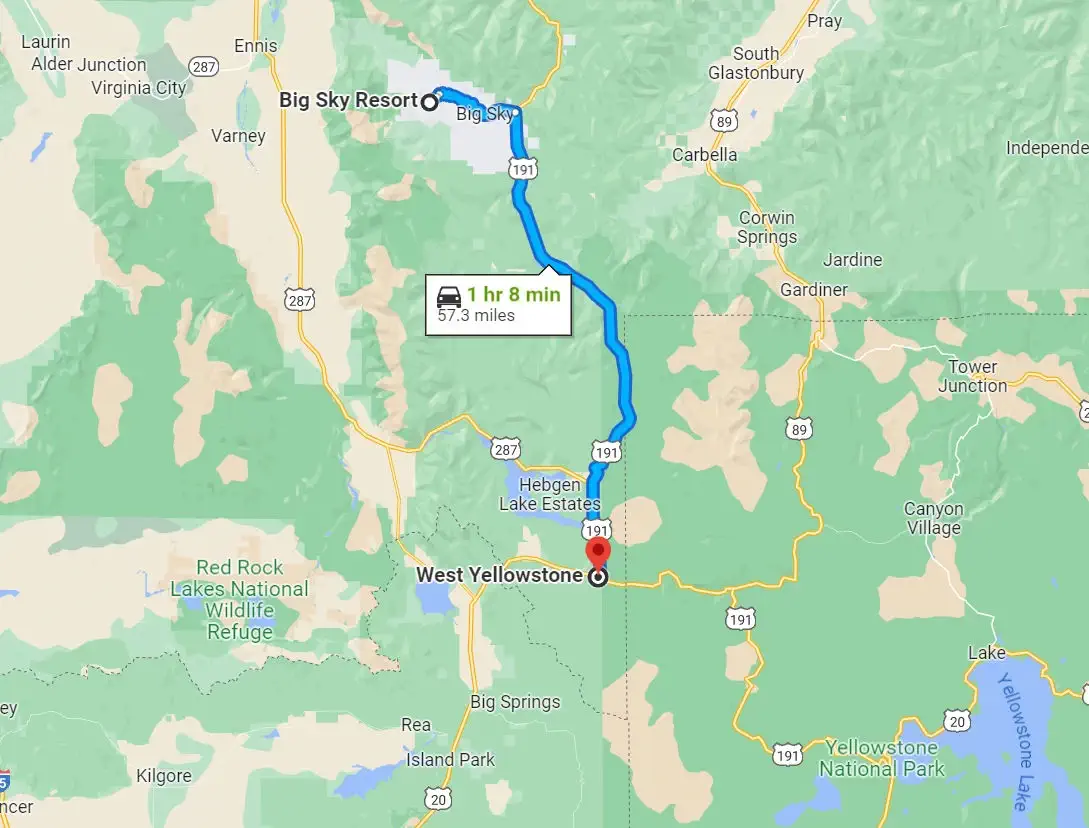 Click the above map to view a larger Google Map
For our first trip to Yellowstone, we had been skiing at Big Sky, MT and decided to drive down to Yellowstone to see the park. It is a 60 mile drive from Big Sky Resort to the park and since our snocat tour was scheduled for early morning, we drove there the afternoon before and got a hotel.
Yellowstone is a large park that occupies 3,472 square miles. Even though the official address is to the state of Wyoming, Yellowstone is actually in three states. The majority of Yellowstone (96%) is in Wyoming. A small section of the park (3%) to the north and northwest is in Montana. And a small section of the park (1%) to the west is in Idaho. I mention this fact because you need to know where the nearest entrance is (and there are 5 entrances to the park) for your purposes. As you can see on our map, we entered via the west entrance.
Most roads inside Yellowstone National Park are closed to all automobile access (during wintertime) and only "Oversnow Vehicles" are allowed. Click here to view the National Park Page where these rules are documented.
Our game plan was to take a snocat tour of the park, which would terminate at the Old Faithful Snow Lodge where we could observe an Old Faithful eruption.
There is an excellent "frequently asked questions" page on the Yellowstone Park Website. They answer just about every question that you could possibly have and then they answer a few more. Click here to view that page.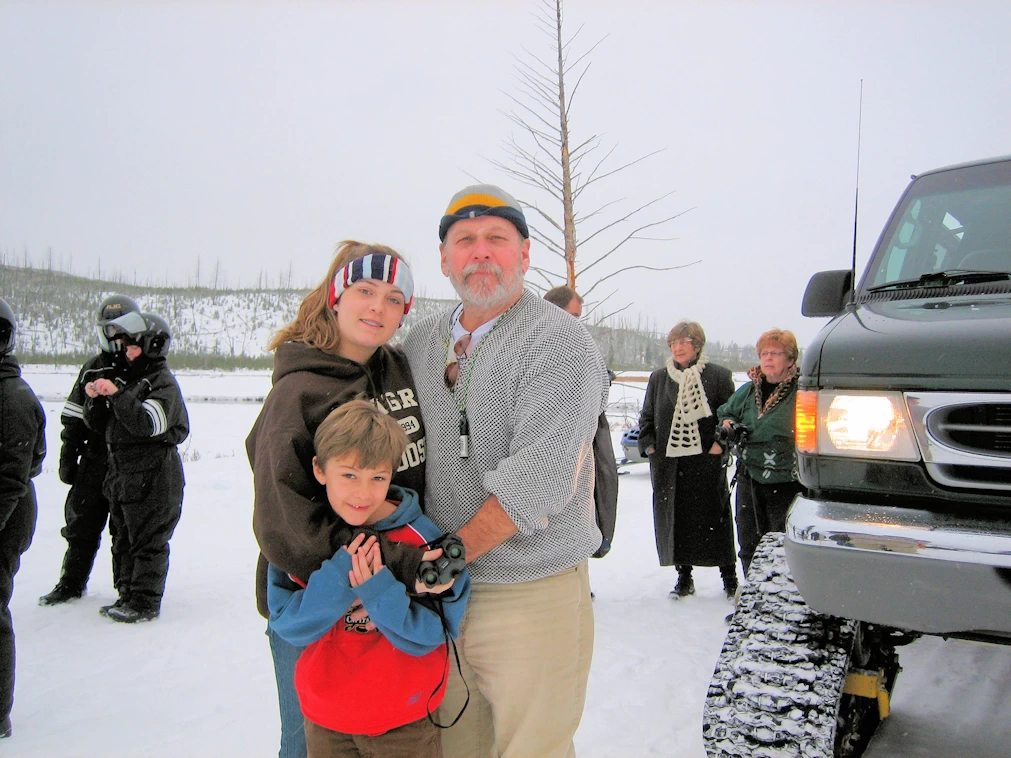 Snocat (Snowcoach) Reliability
After our snocat tour had been on the road for several hours, it snapped the "axle to track" shaft. Here we are after waiting for a new snocat to come and get us. The one we were on for our tour of the park requires track repairs and so everyone had to wait until they could send us a new vehicle.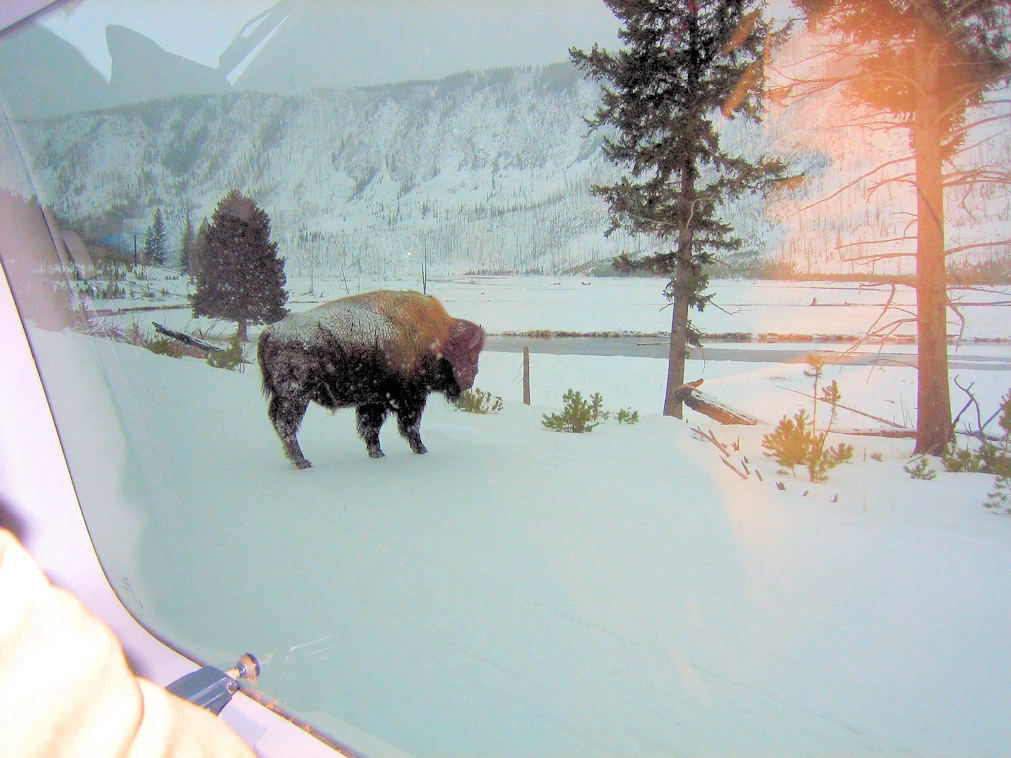 Bison are Everywhere
The bison in Yellowstone, were obviously dressed for the weather, and were no doubt much warmer than we were! Of course when you are over six feet tall and weight in excess of 2,000 pounds and wear a heavy fur coat, staying warm is easier for them than for humans!
There were several large bison herds that our snow cat drove by, these guys were everywhere. And as you can probably see, this picture was taken from inside the snowcat, as Bison are tempermental and sometimes take exception to humans approaching them on foot.
There are approximately 5,000 buffalo in the Park, but the Park Service has a program that reduces the herd size each year. This is a controversial program because bison were nearly extinct at one point.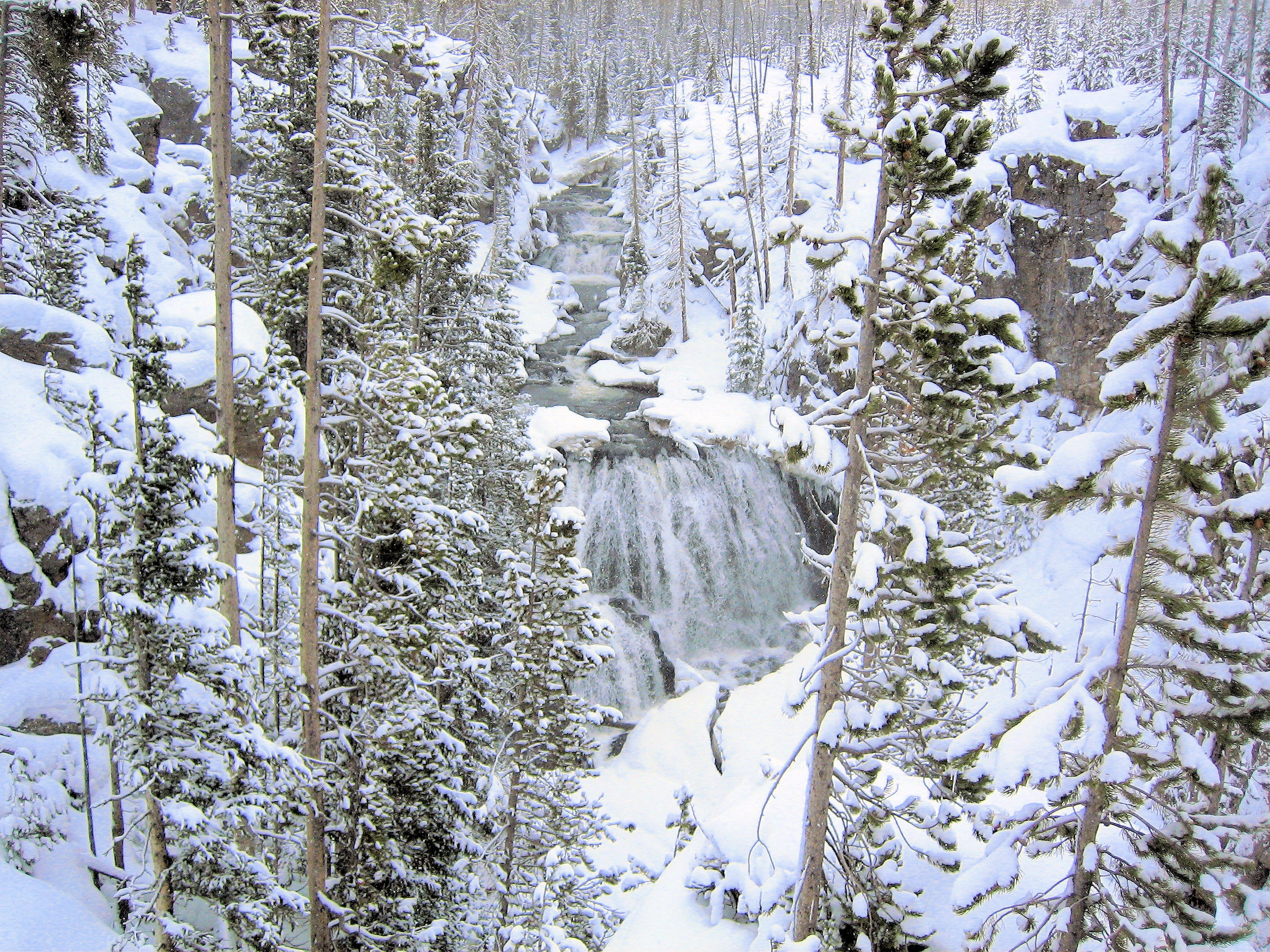 Yellowstone Geography
Throughout Yellowstone Park the geography is highly variable, and as you can see, very rugged country. 96% of Yellowstone's land is within the state of Wyoming, while 3% is in Montana and 1% is in Idaho. Rivers and lakes make up 5% of the park's land area and the largest body of water in Yellowstone is Yellowstone Lake, which covers 87,040 acres and is up to 400 feet deep. Yellowstone Lake has an elevation of 7,733 feet which makes it the highest altitude lake in North America. The remainder of the park is mostly covered by forest and a small percentage of grassland. Mountains and deep canyons also dominate much of Yellowstone.
The park covers an area of 3,472 square miles (8,987 sq km) that is made up of various geothermal features like geysers, as well as mountains, lakes, canyons, and rivers.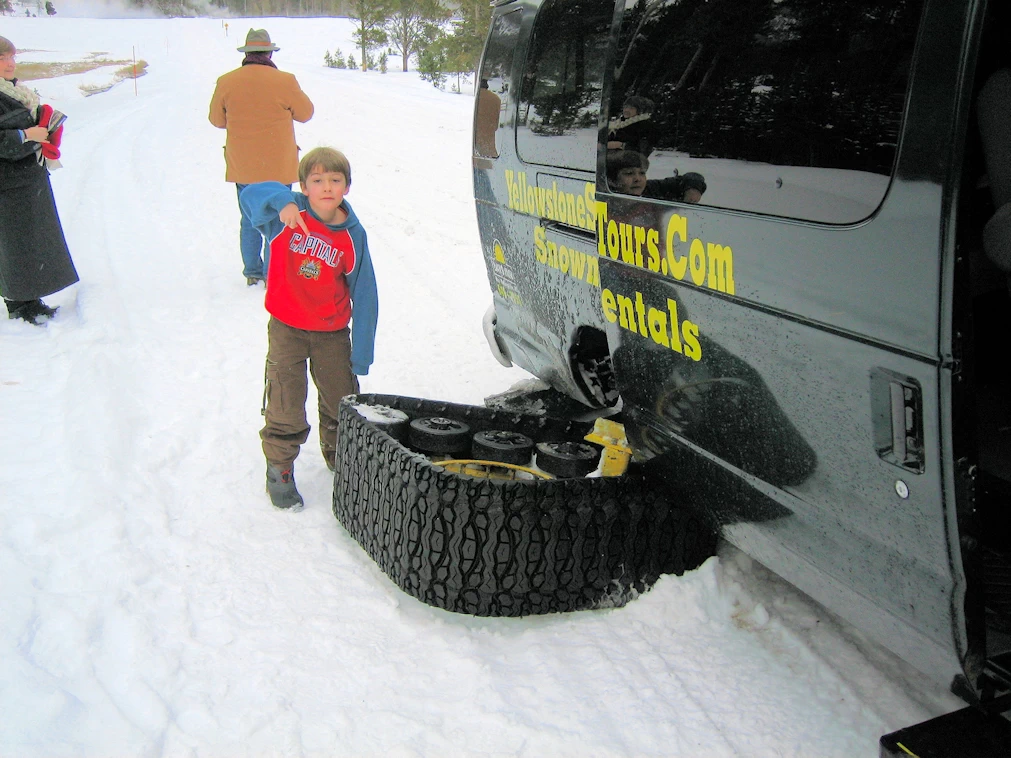 Snowcat Failure
Did I mention our snow cat broke down? As you can see in this image , the track mechanism has completely sheared off from the drive axle.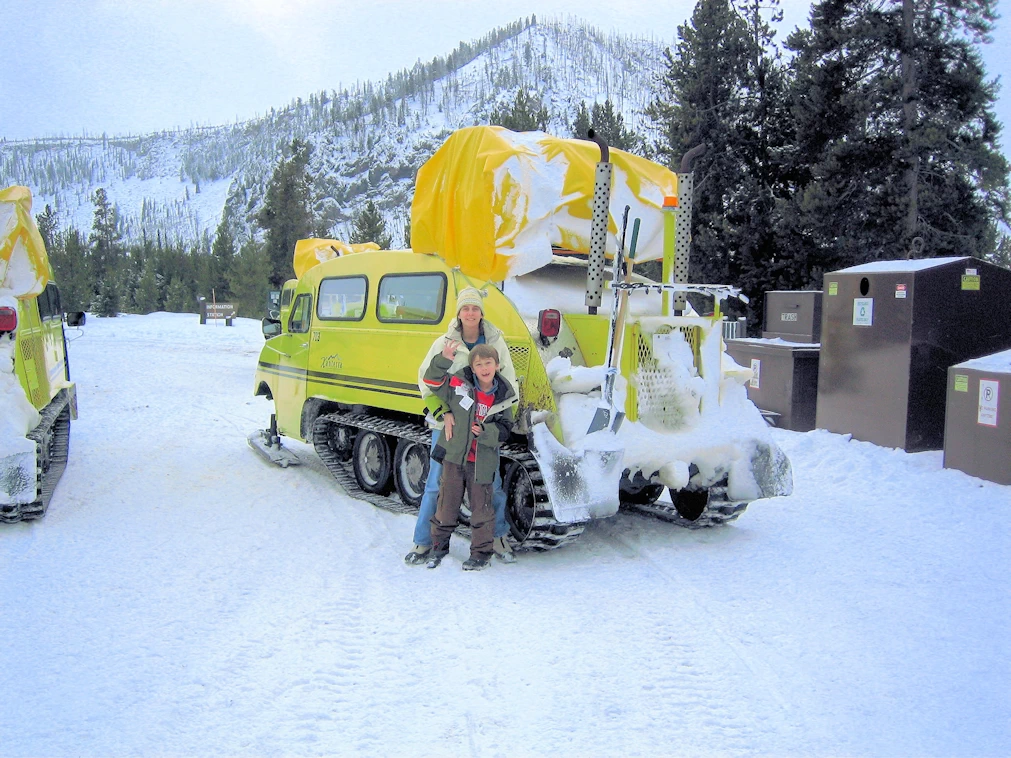 New Snowcat Requested
Since the original Snowcat was going to require a new axle, the driver had radioed in and had the tour company send out a replacement snowcat. That was good news indeed, because as you can see, the snow and cold were not going to get better anytime soon.
For our second trip to Yellowstone, we had been skiing at Grand Targhee and decided to drive north to Yellowstone to visit the park. We were renting a house in Driggs, WY which meant that the drive to Yellowstone was 95 miles. We had a similar game plan to our first trip there, drive up the afternoon prior and stay overnight in a hotel to be ready for a snocat tour the next morning. Oddly enough, we had a similar experience while in the park as our first trip.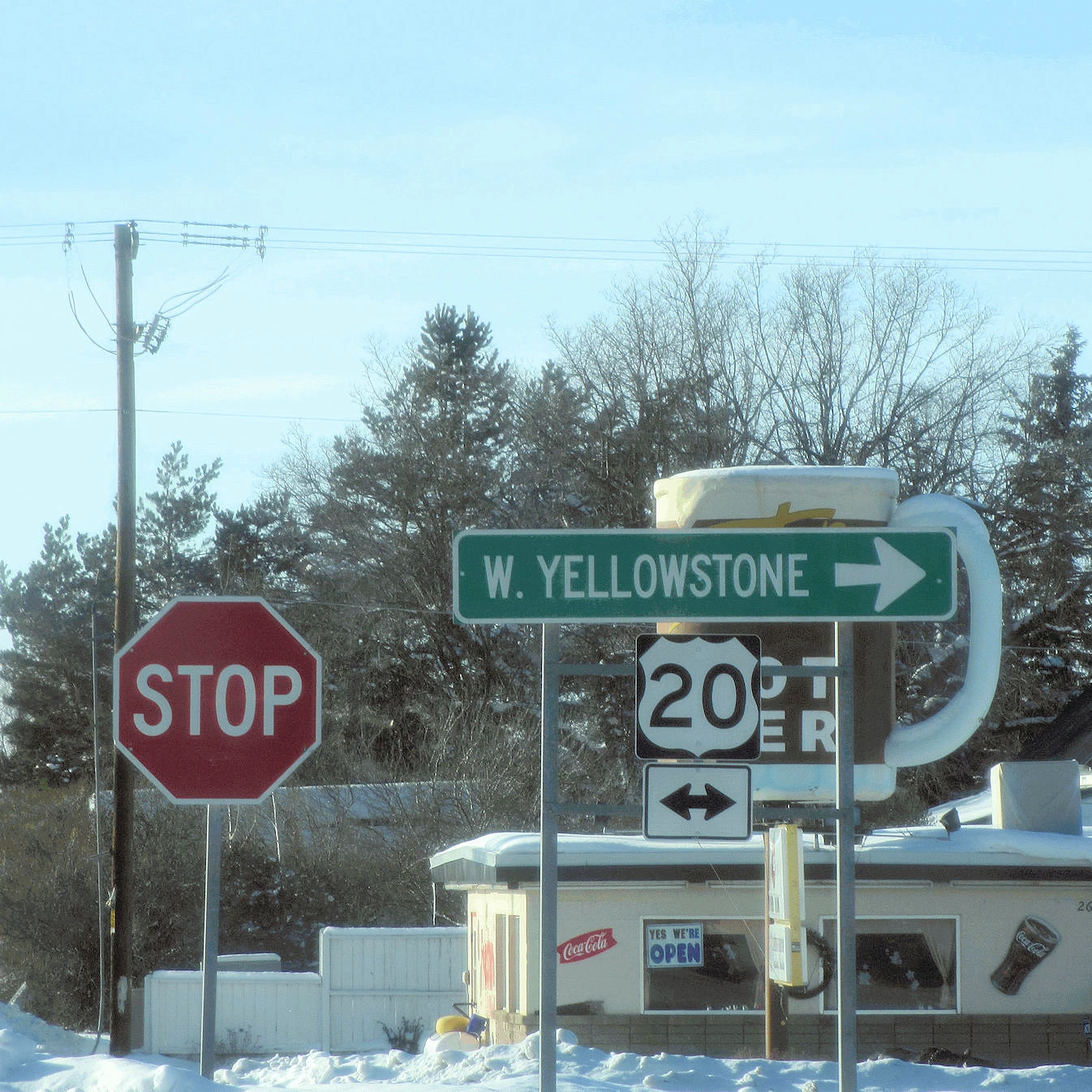 Lets go visit Yellowstone Park
We decided to take everyone up to Yellowstone, and because we wanted to take a sno-cat tour, we got a motel for one night. The next morning, it was minus 27 degrees! I cannot put into words how cold it felt!
Even though it is only 104 miles from Driggs, ID to Yellowstone Village, we thought that it would be more fun to drive up the day before, because all of the Snowcat Tours all get an early start.
Yellowstone Snocat Tour
Everyone is enjoying the Snocat tour, and by now, it had "warmed up" to zero degrees. Fascinating how good zero degrees felt after we had experienced -27 degrees!
The snocat would stop at various places, and we would all get to go out and explore that area. Chelsea is explaining that it is really cold. The inside of the snocat would warm up in between stops, but the would get very cold inside while everyone went outside to explore.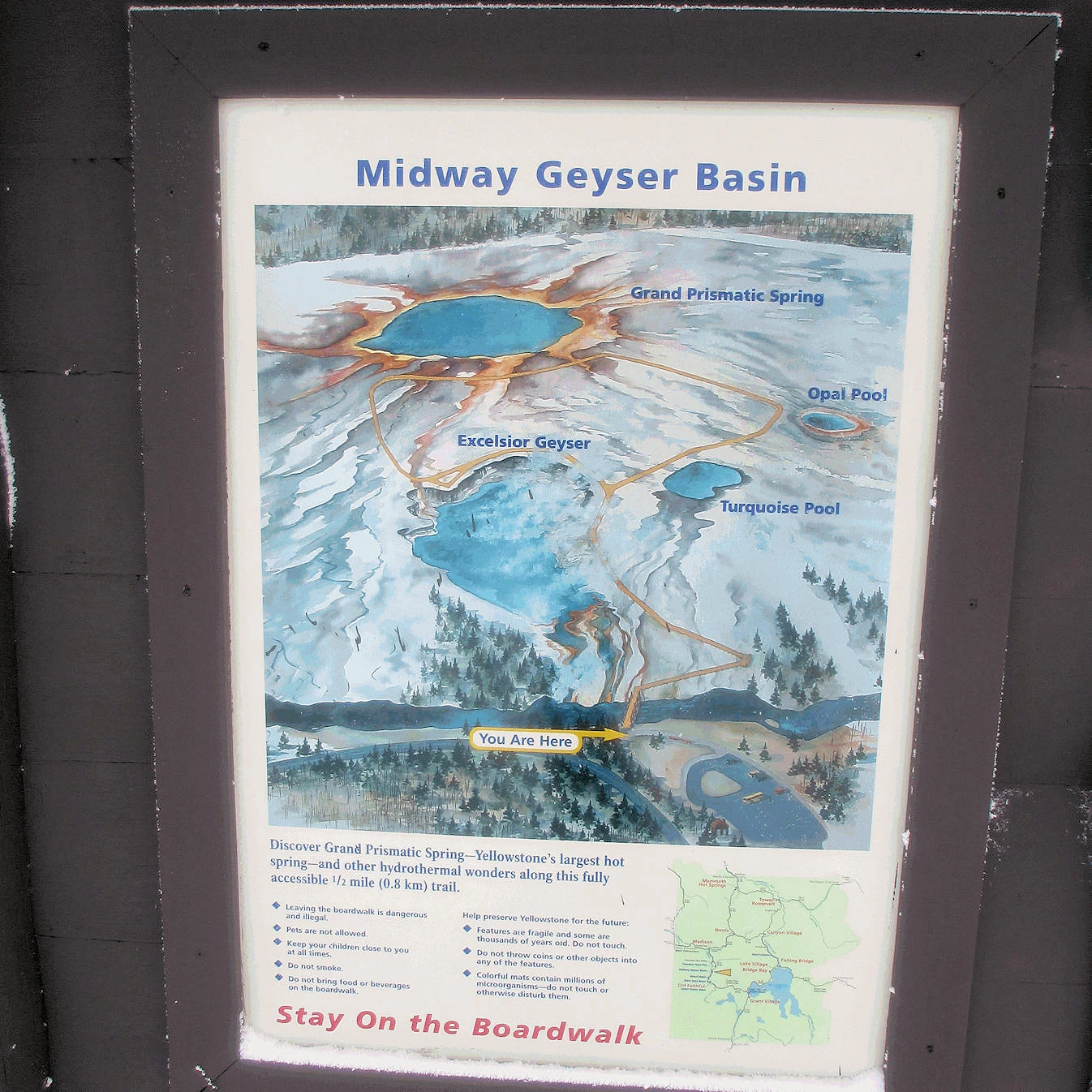 Yellowstone Geography
Yellowstone is full of geysers, bubbling hot springs, bubbling mud pools, and everywhere you look is steam rising from ponds or streams. Click here to read more about the Yellowstone Caldera and find out about the gigantic volcano that lies beneath the park.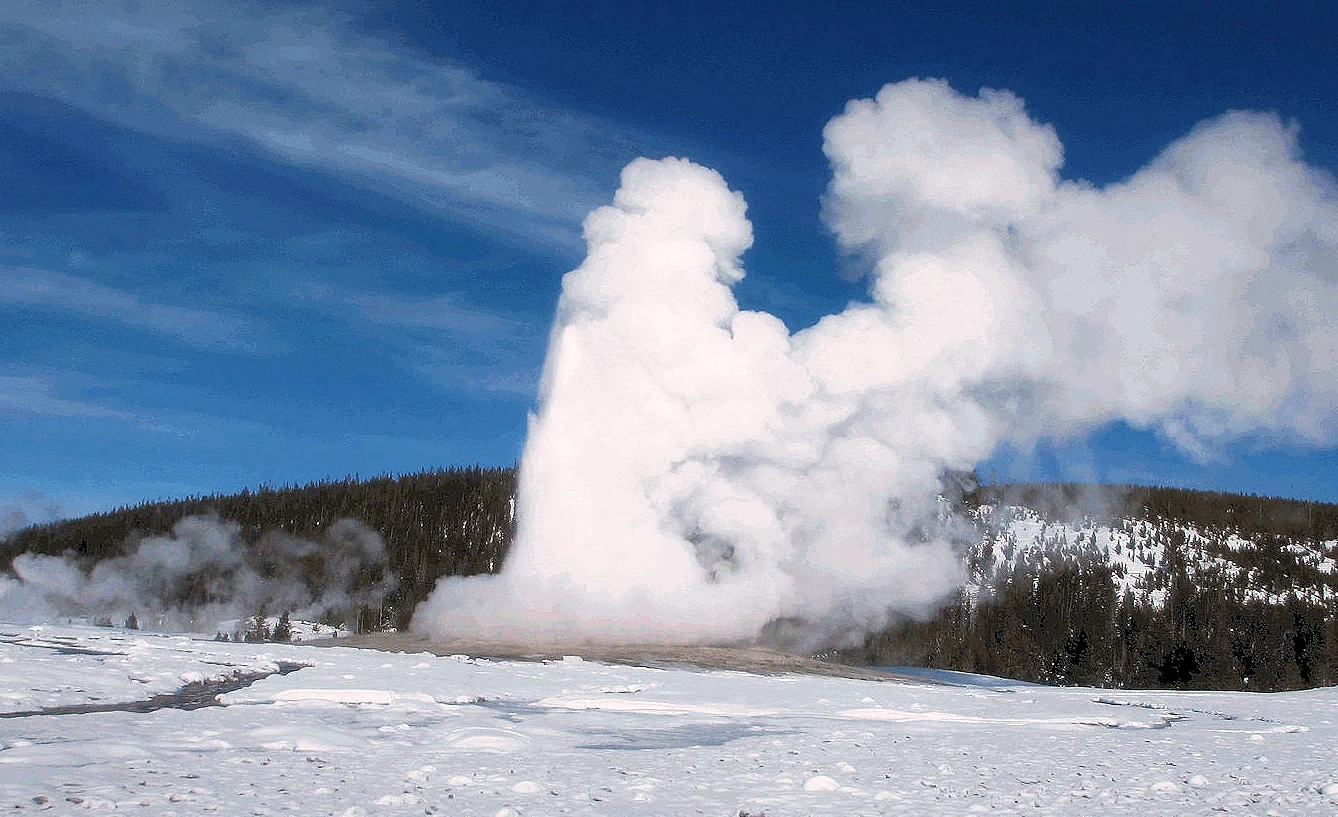 Everywhere you look is steam rising from the ground or the water. The entire Yellowstone area sits atop an ancient caldera referred to as the Yellowstone Super Volcano.
Covering an area of roughly 2.2 million acres, the Yellowstone Caldera is a massive volcanic feature characterized by a vast, sunken volcanic crater. The supervolcano has had several major eruptions in its geological history, the most recent being around 640,000 years ago. These eruptions were among the largest on Earth, with the potential to cause global climatic impacts.
Today, the Yellowstone Caldera remains geothermally active, resulting in the park's famous geysers, hot springs, and geothermal features. The most iconic of these is Old Faithful, a reliable and frequent geyser. These geothermal phenomena offer a glimpse into the immense geological forces lurking beneath the Earth's surface.
Quick Facts: The Yellowstone caldera formed during the last of three super eruptions over the past 2.1 million years: the Huckleberry Ridge eruption 2.1 million years ago (which created the Island Park Caldera and the Huckleberry Ridge Tuff); the Mesa Falls eruption 1.3 million years ago (which created the Henry's Fork Caldera and the Mesa Falls Tuff); and the Lava Creek eruption approximately 630,000 years ago (which created the Yellowstone Caldera and the Lava Creek Tuff).
The above information was extracted from Wikipedia, click here to view their page.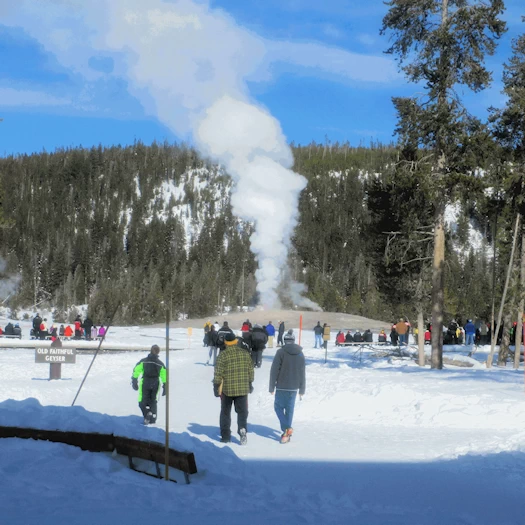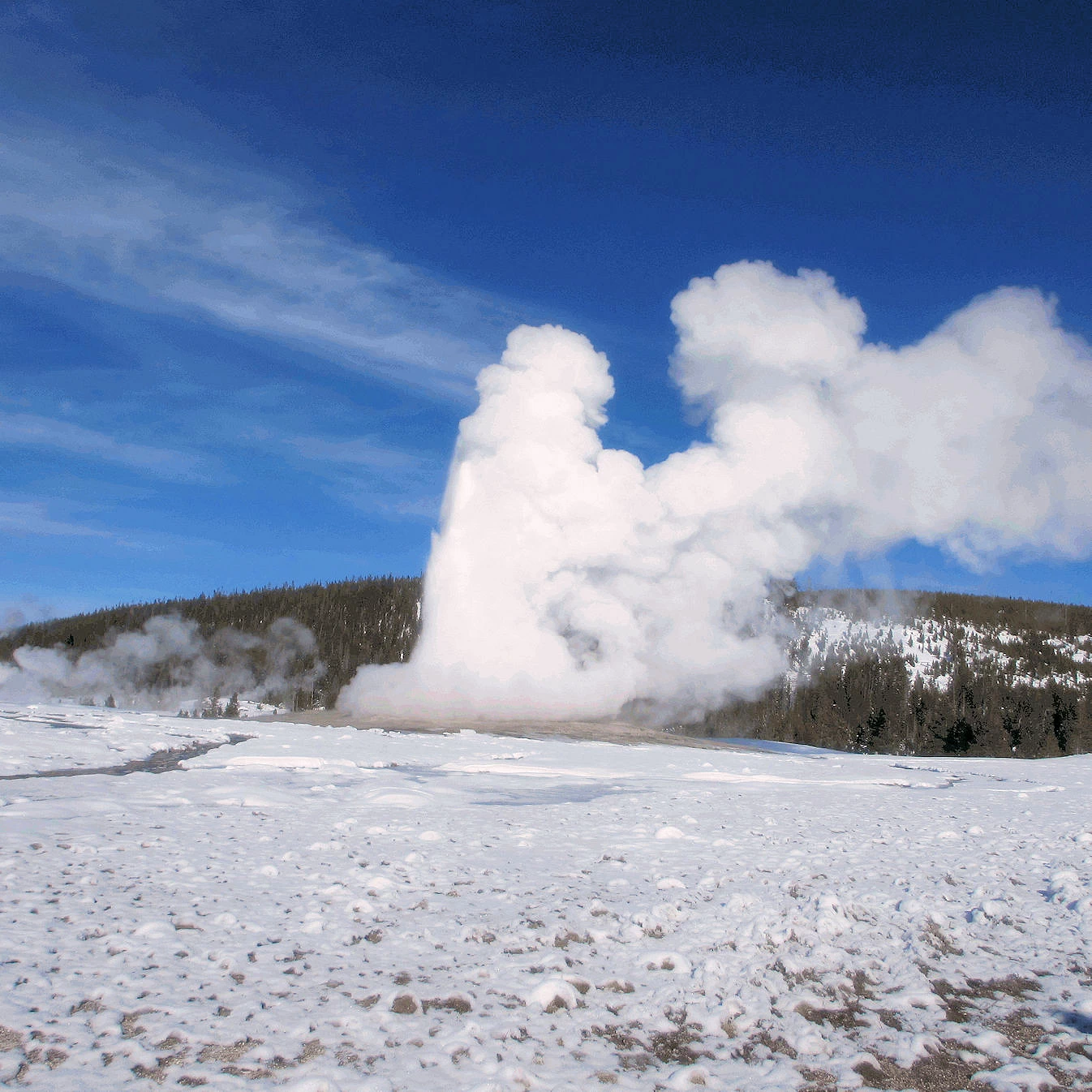 Old Faithful
Eventually the snocat tour brought us to the Yellowstone Visitor Center, where you need to be to see the most famous geyser of them all.
Here we are walking over to the Old Faithful viewing area, waiting for it to put on a show. This area is directly in front of the Yellowstone Park facilities, including; Old Faithful Lodge, Old Faithful Cafeteria and Visitor's Center. Gave us a chance to use the restrooms and grab a snack.
The Geyser is working up to generate the "full blast", so there are frequently some initial smaller displays until the full display starts.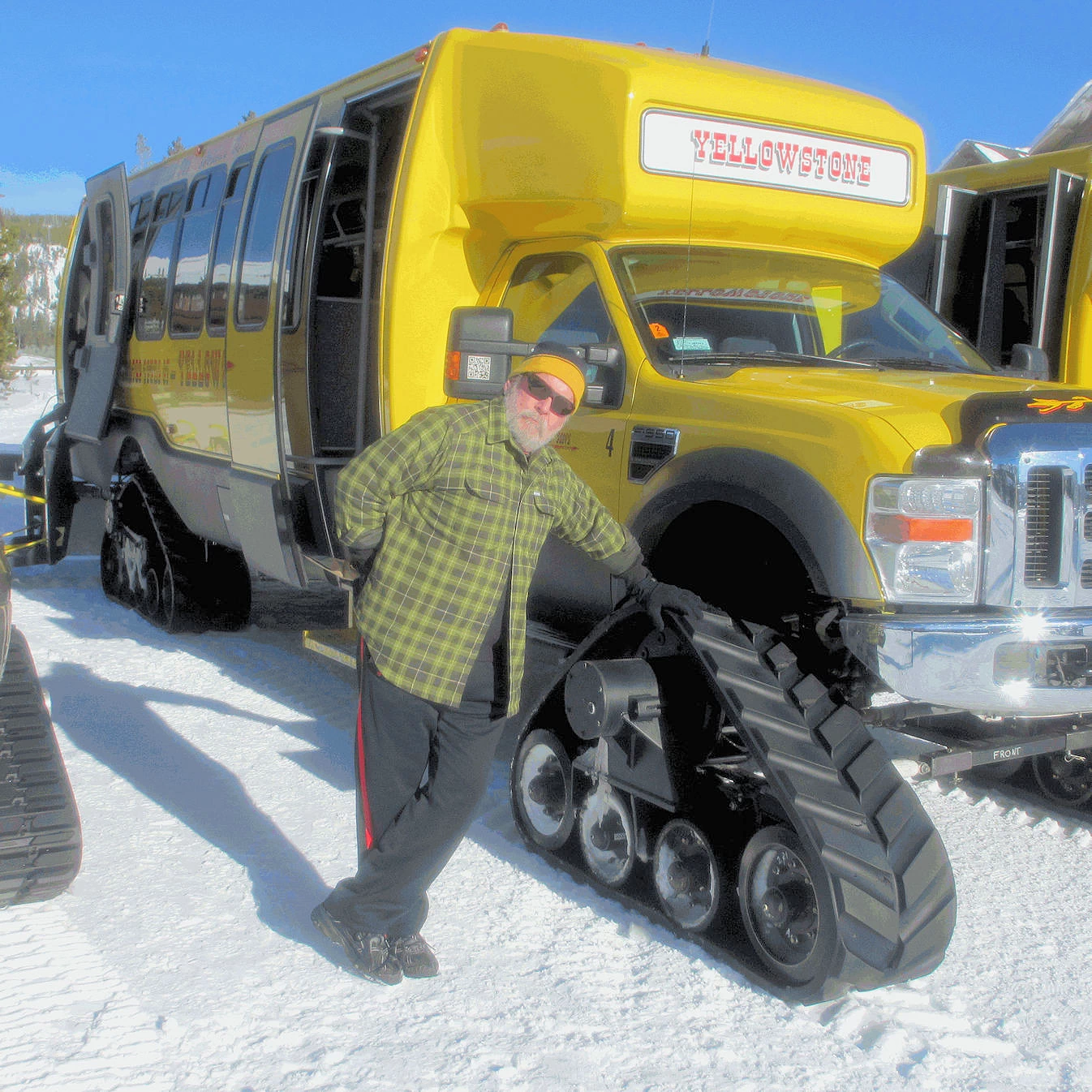 Is the Snowcat Okay?
I thought that I better check the Snocat hardware, to make sure it is ready to take us again. For the record, the park does not allow automobiles to traverse the roads in the winter, only these snocats and snow-mobiles are allowed to use the roads.
Quick Facts: Old Faithful is a cone geyser located in Yellowstone National Park in Wyoming, United States. It was named in 1870 during the Washburn-Langford-Doane Expedition and was the first geyser in the park to receive a name. It is a highly predictable geothermal feature, and has erupted every 44 to 125 minutes since 2000. The geyser and the nearby Old Faithful Inn are part of the Old Faithful Historic District.
The above information was extracted from Wikipedia, click here to view their page.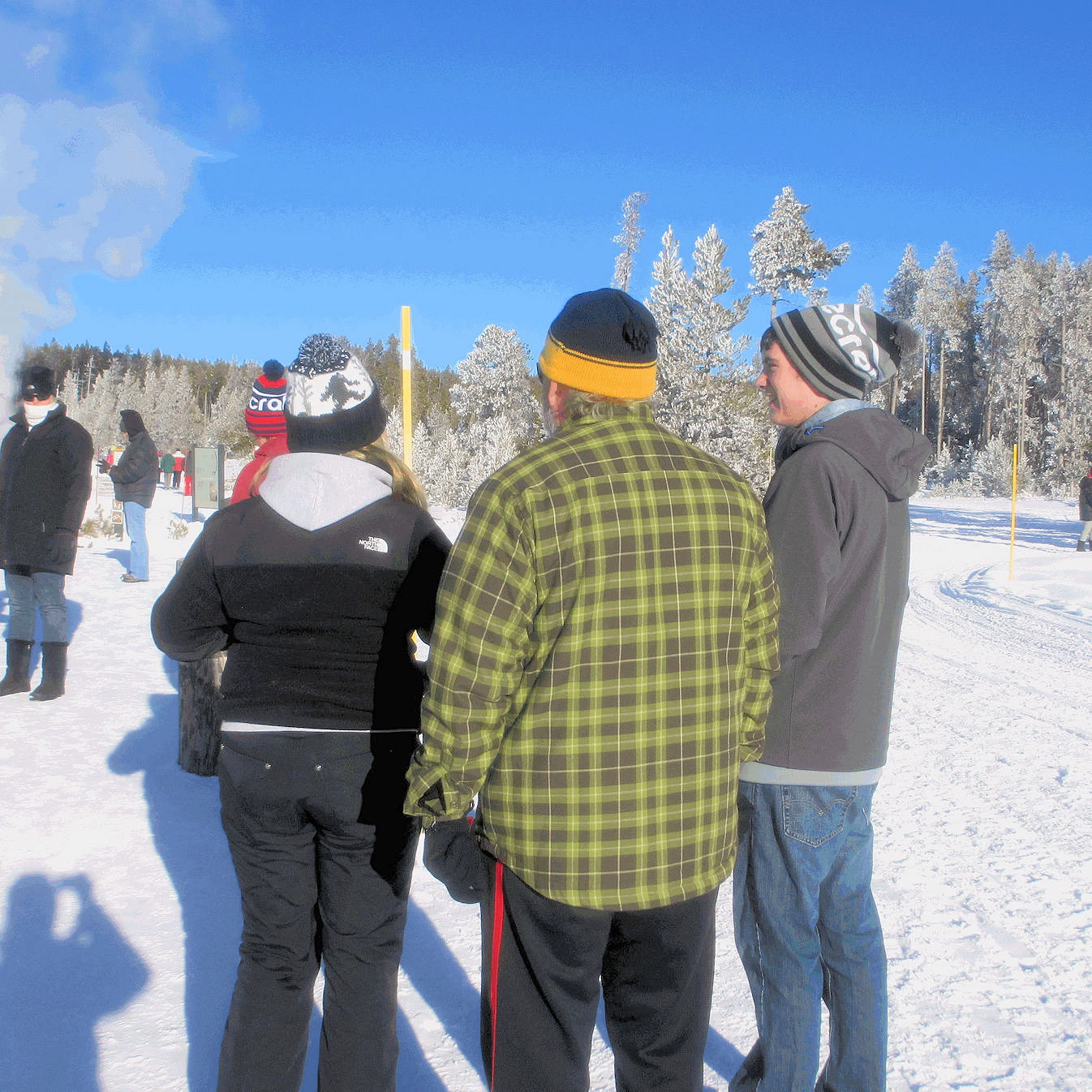 Waiting for the Old Faithful Show
Not sure whether we are discussing how cool Old Faithful is, or maybe how much warmer it feels at 3 degrees than it did at -27 degrees. The real answer is that you have to get in position prior to the geyser eruption in order to get a decent spot, because the crowd gets larger prior to the show.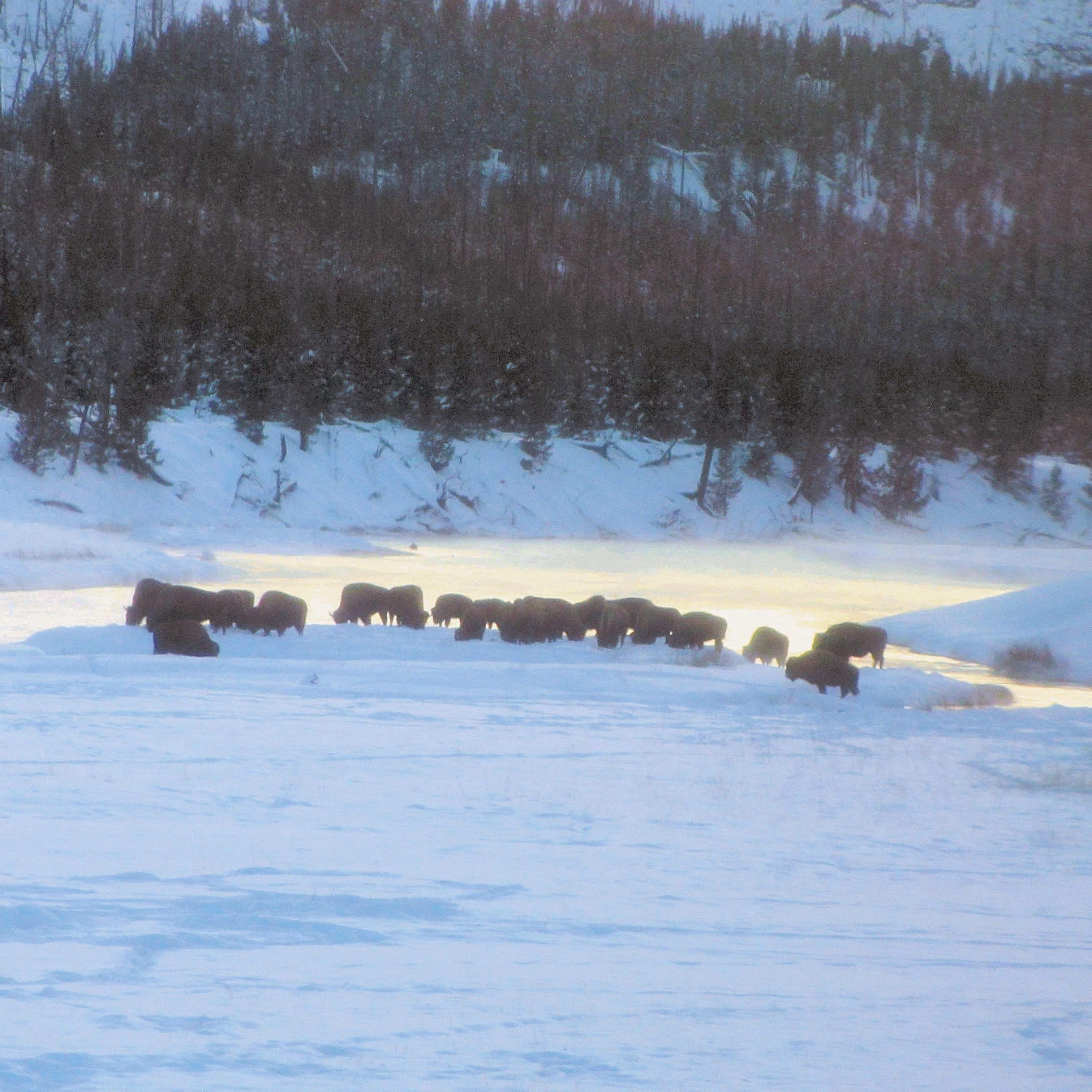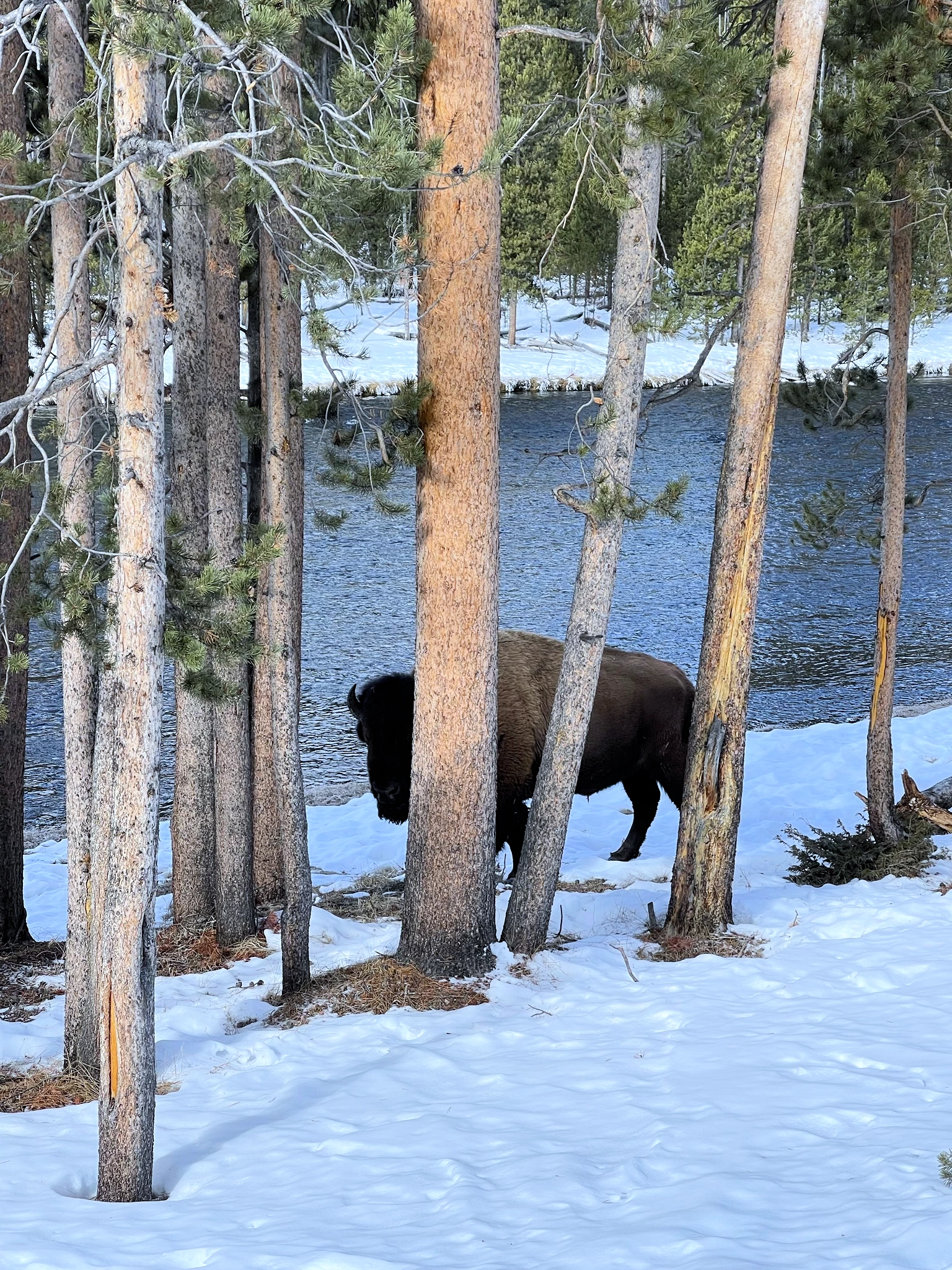 There were a number of Bison herds in Yellowstone, and none of these guys seemed to feel the cold like we did! The bison pretty much wandered where ever they wanted to, including sometimes marching down the center of the road. The snocat driver told us that they were required to pull over and park on the side until the bisons would finish walking by, or the bison would take offence and attempt to put a horn into the snocat!
Quick Facts: An estimated 20 to 30 million bison once dominated the North American landscape from the Appalachians to the Rockies, from the Gulf Coast to Alaska. Habitat loss and unregulated shooting reduced the population to just 1,091 by 1889. Today, approximately 500,000 bison live across North America, including approximately 5,000 in Yellowstone Park.
The above information was extracted from Wikipedia, click here to view their page.
---
Disclosure: Some of the links on this page are Affiliate Links, meaning, at no additional cost to you, that we will earn a commission if you click through and make a purchase. So we would appreciate any click throughs, if you are inclined.
Note: All images on this page are the property of Just Traveling Thru, LLC unless otherwise noted.
Note: If you are interested in our European Travel Tips & Warnings, Click here. Or to take a look at our methods for Trip Planning click here.
To review any of our content, make suggestions and/or comments, please click the "Info" menu button at the top of this page. You will find our "Contact Us" link on that drop-down menu.