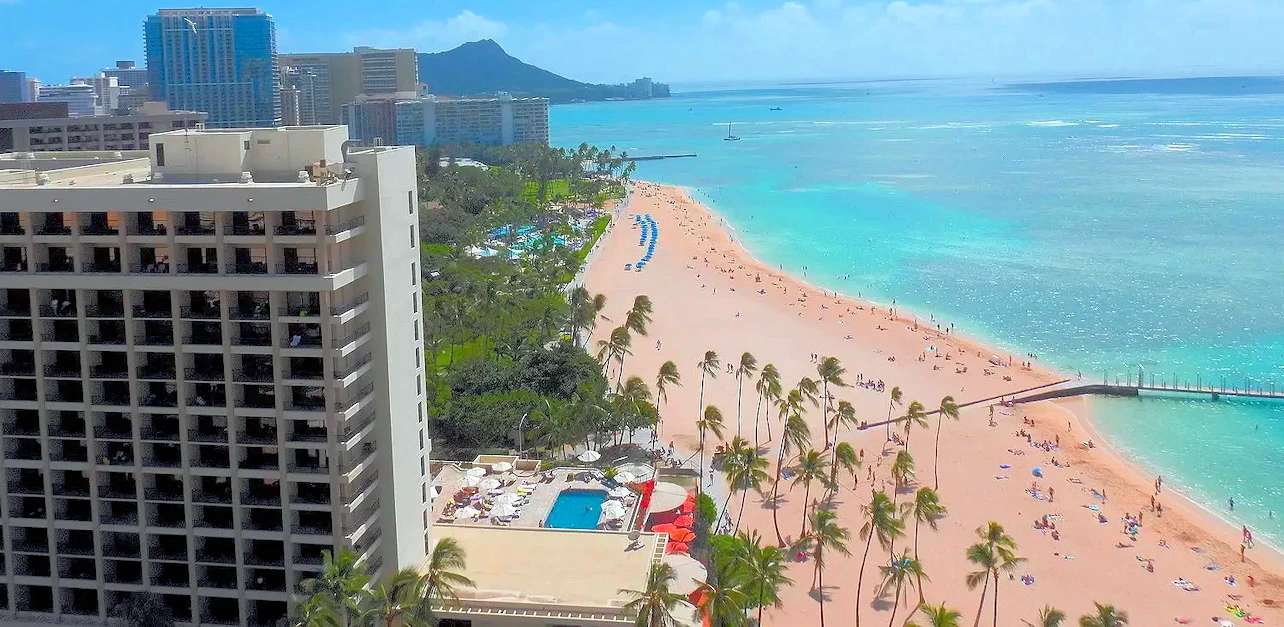 1 Million Hilton Honors Points
How we did it in 17 Months - the inside scoop
Before we jump into how we earned 1 million points we'd like to say that we are not associated with Hilton or American Express in any way and we do not get compensated in any way for writing this article. If you click on a Hilton ad on our page we could get affiliate compensation only if you actually book a stay.
Since we like to travel we carry credit cards that offer travel related points. Up until seventeen months ago we carried two United Airlines Visa cards. Those cards allow us to gather enough miles to fly business class using miles when we fly on long trips - such as to Europe. As we get older it's become extremely uncomfortable to sit in coach on long overnight flights and we are wrecked when changing time zones and not getting enough sleep so we look for ways to try to fly on business class when flying overseas. We have some tips on how to fly business class (on United Airlines) for fewer miles here.
About seventeen months ago we started looking at hotel chain credit cards since we were flying less due to COVID, and we expected to travel more in the United States and expected that to continue for a while. We have been Hilton Honors members for quite some time but never focused on gathering points. I stumbled upon the Hilton Honors American Express Aspire card.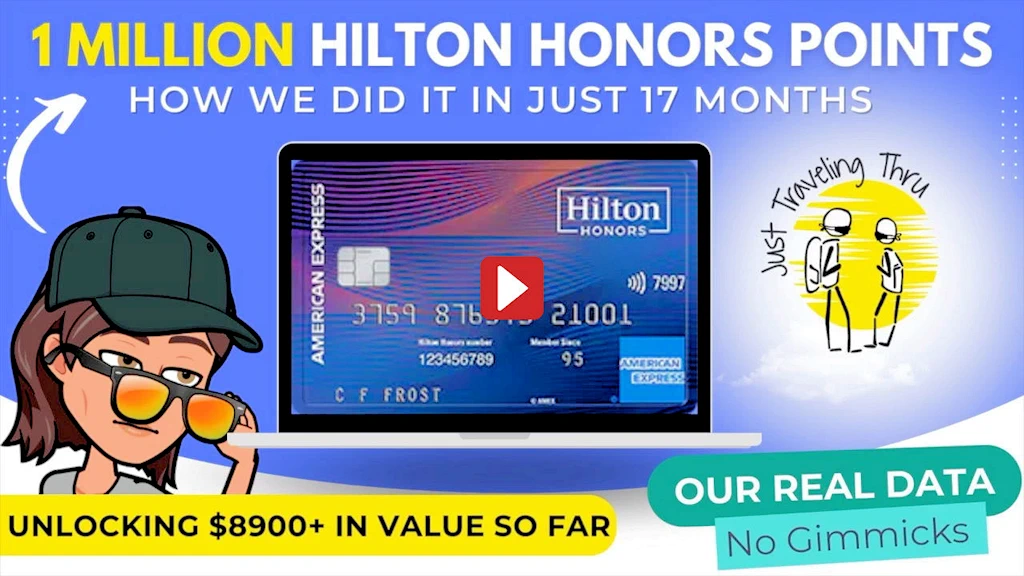 Click this image to watch a video of our Million Points adventure. This video is the property of Just Traveling Thru, LLC.
If you enjoy our videos click here to subscribe to our Youtube Channel.
They were offering the following perks for an annual fee of $450;
150k sign up miles
Immediate diamond status
14x points on spending at participating Hilton hotels
7x points on restaurants
3x points on other expenditures
One free weekend night annually
$250 airline credit (at an airline of your choice)
$250 Hilton resort hotel credit
$100 credit when staying at Waldorf or Conrad Hotels
Free upgrades upon availability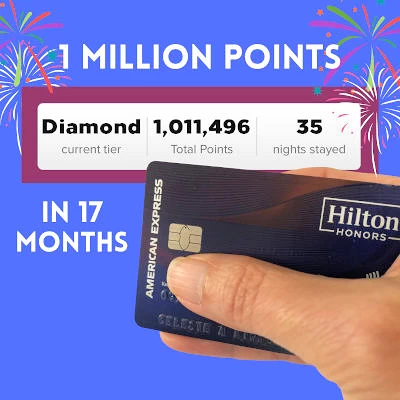 Doing some quick math, we figured with the free night stay, diamond status and resort credits it would be worth the annual fee. We had an old green American Express card but had stopped using it due to our focusing on airline miles so it was an easy decision to replace the old green card with this one. I don't like having too many cards but like to have a variety in case there is an issue with one card or a merchant doesn't accept a certain type, etc.
We obtained the card in October of 2020 and decided to make this card our primary card for everything we typically purchase including; gas, groceries, clothes, restaurants, gifts, travel and anything else that came up. We didn't start out with a goal of earning a million points but the points added up so quickly when we got to about 600k points we thought we would see how long it would take to get to a million as a milestone before we started using the points.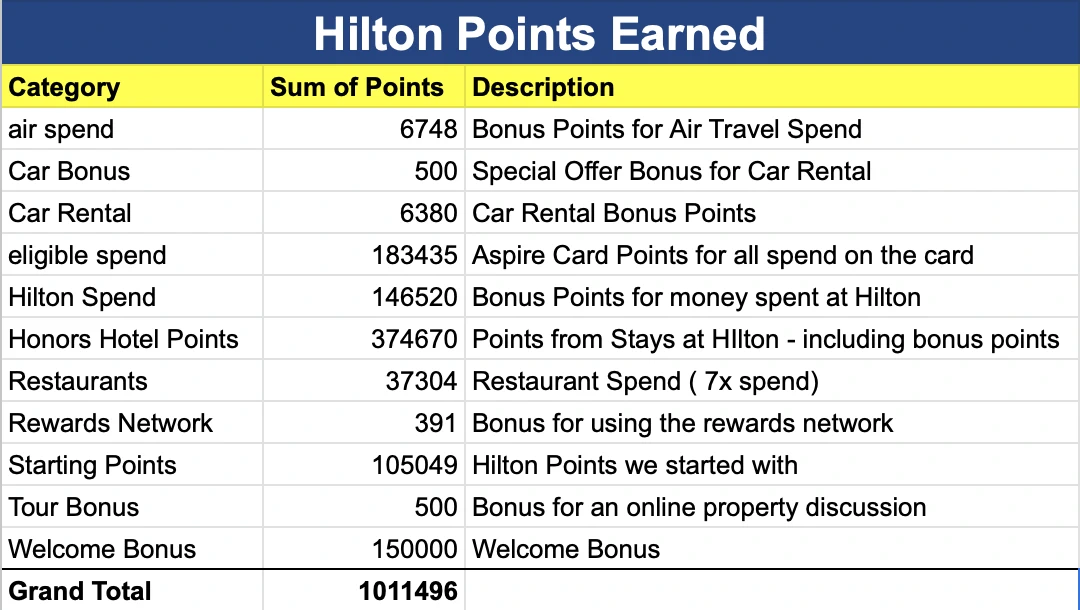 Over a period of seventeen months we spent about $65k on our American Express Aspire card. We took two major trips during that period of time; one to New England and one to California. We also spent some time in Orlando and traveled back and forth from Florida to Virginia. We chose to stay at Hilton properties when it was viable but not in every location. Of our total expenditures, we spent 35 nights at Hilton properties totaling $9,831.
This chart (left) shows the points that we earned in each category for the money that we spent along with bonus points we received. You will notice that it doesn't add up to exactly one million. The interesting thing is that I went through the numbers several times. There are a few months where I can't get the real data from the Hilton Honors site because it only goes back twelve months. In any case, Hilton says we have over 90k more miles than I calculate - however - I'm not complaining… More points are good points.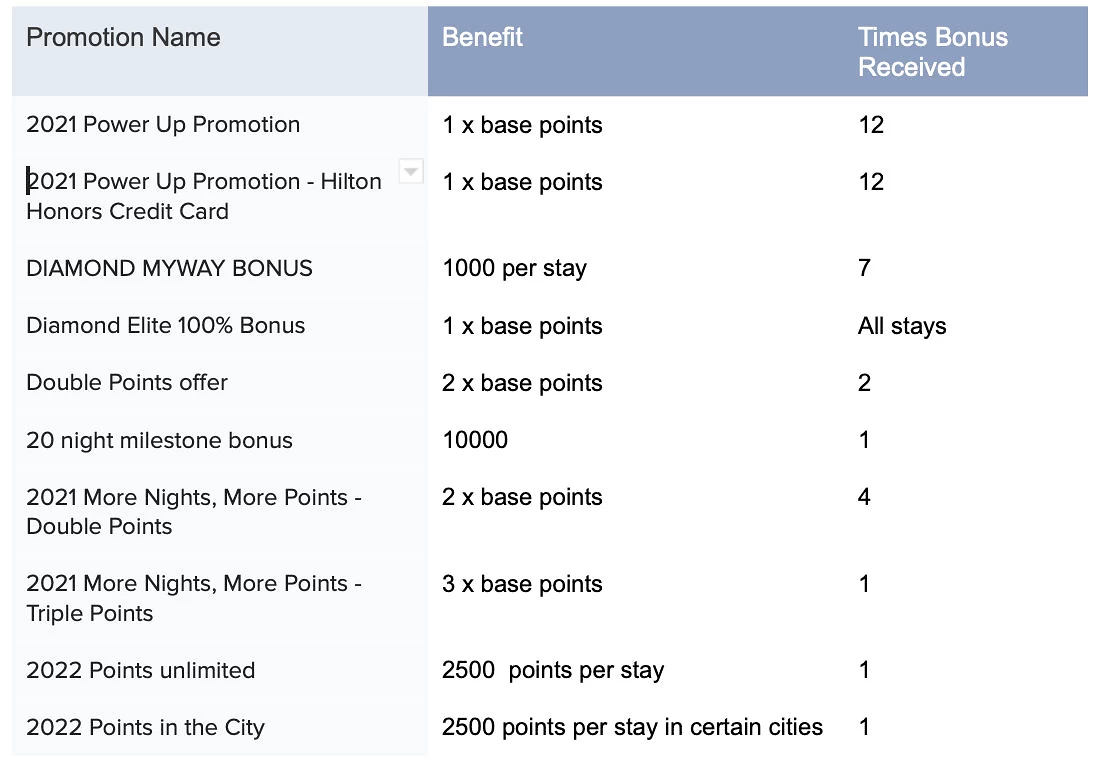 It's important to understand that in addition to the earnings on the Aspire card, the Hilton Honors program also gives points when you spend money at Hilton properties. The Aspire card gives 14x points for money spent at Hilton, 7x points for money spent on restaurants, 3x points for everything else. In addition to the points that you get with the Aspire card you get at least 10x points for every dollar spent at Hilton properties from the Hilton Honors program. When you have diamond member status they double that. It's called the "Elite Status 100% Bonus Program" which gives you an additional 10x points for every dollar spent.
Now you can start to see why the points added up so quickly. In addition, Hilton Honors has promotions throughout the year which can give an additional bonus. Sometimes the bonuses are a fixed amount, and sometimes they are double or triple the base points. You have to pay attention when these are announced and make sure to sign up for them or you won't receive them. I added up how many times we received additional promotions over the 17 month experiment. These special offers greatly accelerated our point collection.

I've put together some specifics for one of our stays so you can see how quickly points add up; We stayed at the Hilton Orlando Buena Vista Palace at Walt Disney World and we spent $809.44 in total for our stay (granddaughter birthday trip). The total without tax was $734.20. Hilton Honors gave us 10x points for every dollar spent (not including amount spent on taxes). So we received 7,342 base points. Then we received another 7,342 for our Diamond Elite status. In addition to that we received the power up promotion twice. The additional promotion seems to be because we have the Hilton Honors Credit Card. On top of all of that we received the "Diamond My Way Bonus" of 1000 points. Also keep in mind that we got our standard 14x points from the American Express Aspire card.
This one Hotel stay resulted in a total Hilton Honors points of 30,368 and a total American Express Aspire Hilton Honors points of 11,332. That gave us a whopping total of 41,700 points for one stay!
Milestone bonuses: There are also bonuses that you can receive for the number of nights stayed. In 2021, they cut the requirement from 40 nights to 20 nights for the first 10000 point bonus. For every 10 nights stayed after that you will get an additional 10000 points. There was no cap for this offer in 2021.
Daily food and beverage credit: While staying at certain Hilton branded hotels you can receive a daily food and beverage credit for up to two people when you eat or drink on site and charge the expense to your room. This gives you additional value for your stay. We estimate that we received close to $200 for food and beverage credits.
$10 - Hilton Garden Inn
$15 or $18 - Hilton Hotels & Resorts, Curio Collection, Signia, Doubletree, Tapestry, Canopy, MOTTO
$25 - Waldorf Astoria, LXR Hotels & Resorts, Conrad Hotels
We also took advantage of the following American Express offers:
Resort credit - $250 just shows up when you spend money at the resort and charge it to the room.
Restaurant Promotion - special promotion when spending at least $20 in a given month at a restaurant, American Express deposited $20 into our account. We received $100 in credits over 5 months. We were happy to take advantage of this one.
Sirius radio credit. When we switched our Sirius radio account to our amex card we started getting $5 back. This one lasts 6 months.
There are new offerings every month so you need to pay attention to see what is applicable to you. We only sign up for the ones I think we will use… but you have to enroll to get the credit with the exception of the resort credit. That one just shows up.
We do think that more perks were offered in 2020 and 2021 due to COVID. We don't know if they will continue. I do know that right now there is a Hilton Honors 2500 point bonus for every stay and we will be keeping our eye out for more bonuses.
Now that we have a million points our next step will be to figure out how to use them and get the most for our points. The point requirements vary tremendously. I've seen standard rooms for 20k points in non-interesting locations. Most places we have looked at are about 60k points and they can go up a lot if a hotel is in high demand. So, we expect some planning to be required. We will post about how we used our points at some point in the future.
We hope that some of you have found this analysis useful. I have not compared the program to other rewards programs so I can't tell you which programs are better. I can tell you that we are ecstatic with how this has worked out for us and we are excited for our travels over the next year.
Celeste and Terry
Just Traveling Thru - take the trip - get the shirt.
---
Disclosure: Some of the links on this page are Affiliate Links, meaning, at no additional cost to you, that we will earn a commission if you click through and make a purchase. So we would appreciate any click throughs, if you are inclined.
Note: All images on this page are the property of Just Traveling Thru, LLC unless otherwise noted.
Note: If you are interested in our European Tips & Warnings, Click here. Or perhaps our methods for Trip Planning Click here.
---
To review any of our content, make suggestions and/or comments, please click the "Info" menu button at the top of this page. You will find our "Contact Us" link on that drop-down menu.