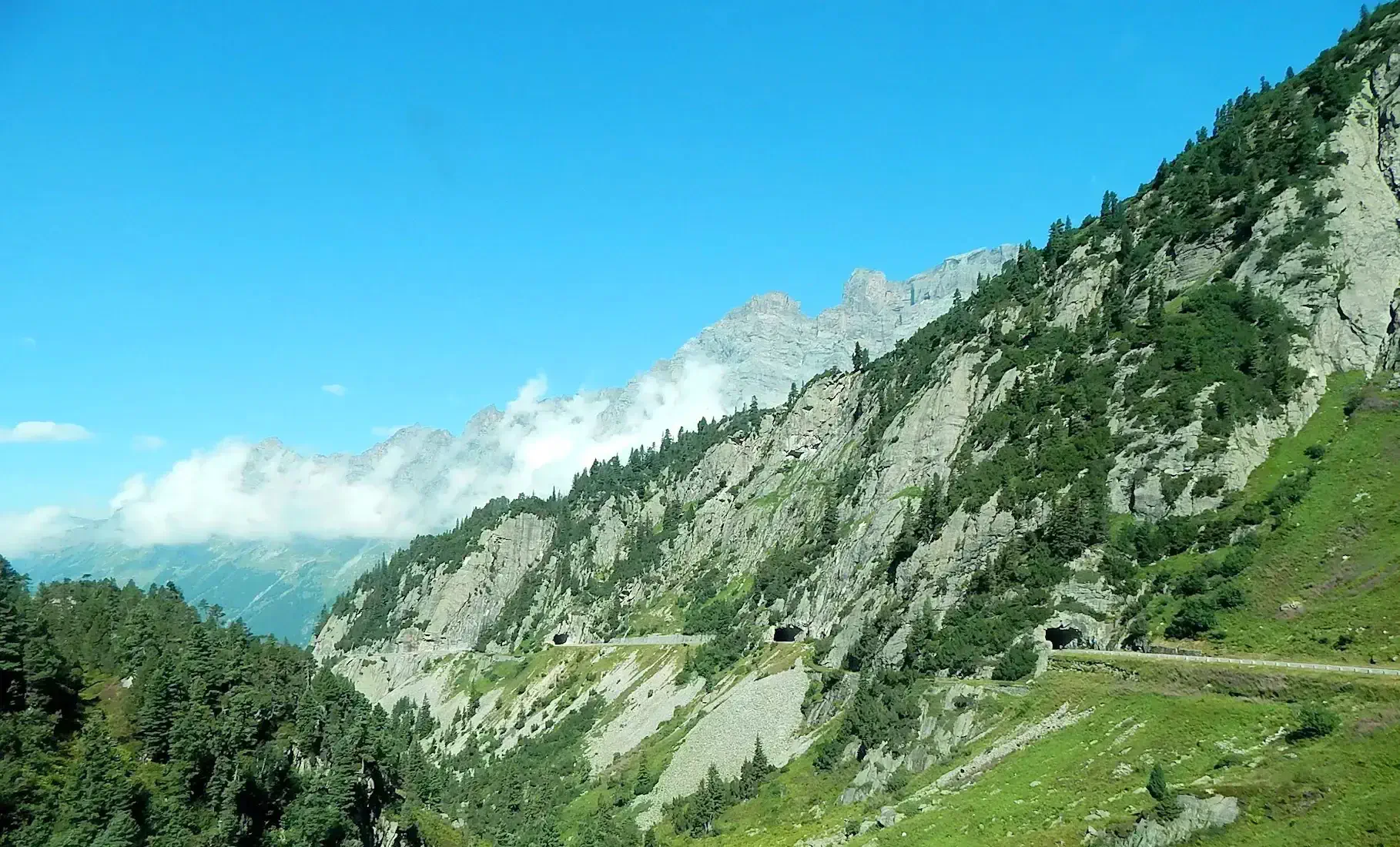 Susten Pass Switzerland
Switzerland is well known to be a paradise for driving enthusiasts, motorcycle riders and even mountain cyclists. The Susten Pass is a mountain pass in the Swiss Alps and was built between 1938 and 1945. It runs for 46 kilometers / 30 miles between Wassen and Innertkirchen and is frequently listed as one of Switzerland's most scenic drives. If you want to check out other amazing European drives, then you should check out "Top 10 European Drives" lists.
Our next stop on this particular trip (Click here to view our Trip Overview page) was Lake Como, Italy and lucky for us the Susten Pass was the most direct route. Driving along this highway fulfilled one of my bucket list items (although, admittedly it would have been better in a Porsche - I'll have to save that for another trip!).
Where is the Susten Pass?
Route 11 starts in Château-d'Oex and is the same road as route 8 as it proceeds north to Innertkirchen where route 11 proceeds north to Gadmen and route 8 proceeds southeast to Guttannen. You will find route 11 mentioned on various sites that suggest beautiful drives in Switzerland, ie; Expert World Travel Site, and The Epik Drives site.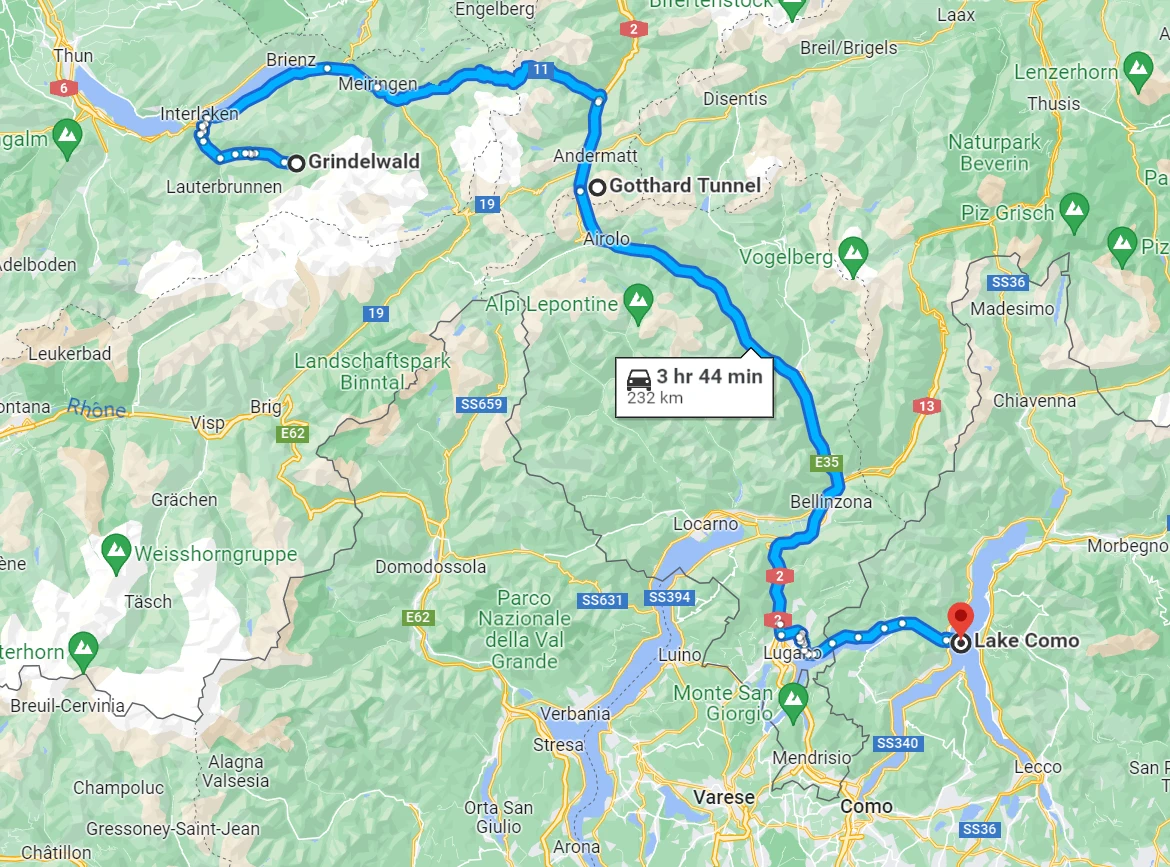 Click Image to view larger Google Map
We drove west from Grindelwald (route 6) and then north to reach the Susten Pass (route 8 and then route 11), because there is no other highway available to get you to the northern entrance of the Gotthard Tunnel. In fact, Google Maps may suggest that you do not drive across the Susten Pass and instead continue north on route 8 and route 2 on the southern side of Lake Lucerne. The pass is usually only open during the summer and early fall so It's possible that it won't be open if you visit outside of those times. If driving the incredible Swiss Alps is one of your goals then make sure you visit when it's open. The Susten Pass drive is unique & unforgettable!
There are 26 bridges and tunnels and the average grade is about 5.8% with the maximum being about 9%. Seems steep doesn't it? Yet we continuously saw bicycle riders headed up & down this highway! The peak of the pass is at 7,414 feet above sea level and even now, I cannot believe that those bicycle riders were able to cross that pass at that altitude and not just keel over from lack of oxygen!
NOTE: For a great video of the drive from Grindelwald to Lauterbrunnen click here -- Many thanks to 7ze3 Travels for this great video.
This drive showcases the natural beauty of the region, with every mile providing a new postcard-worthy view. It's a perfect blend of serenity and adventure, allowing travelers to soak in the tranquility of the Swiss countryside while experiencing the thrill of navigating mountain roads. Whether in summer or winter, the Grindelwald to Lauterbrunnen drive is a must for those seeking an immersive encounter with Switzerland's stunning alpine landscapes.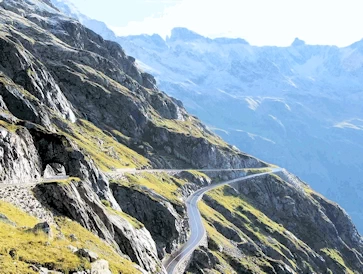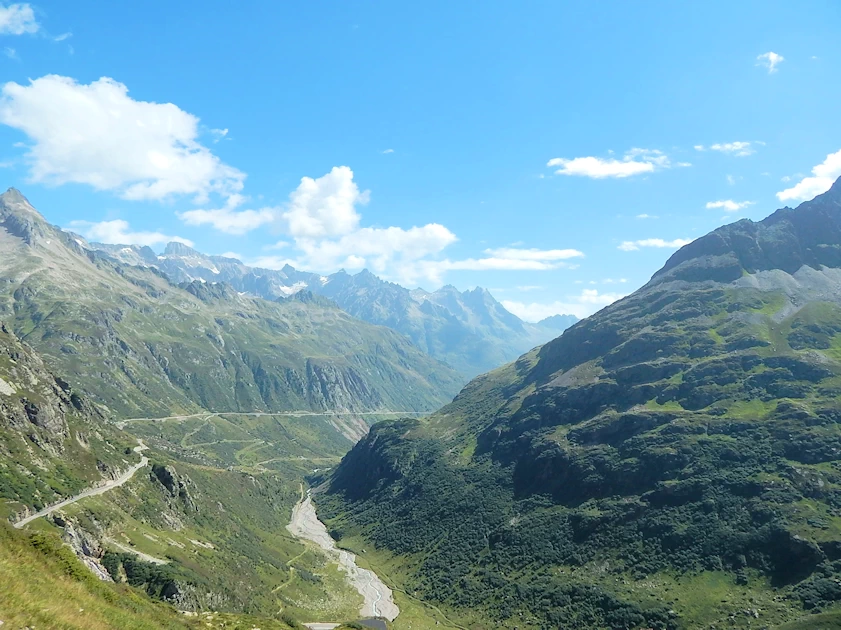 Susten Pass Route 11 Switchbacks
These are the types of views you get as you ascend to the top of the pass, the road that you just came up displays it's switchbacks and incredible geography. This route might not have the amazing switchbacks of the Stelvio Pass, but the ascent is steep and the curves are challenging!
NOTE: Image # 1 is the property of Epik Drives
Click here to visit the "Epik Drives" Website as their images and narrative about various European Drives, is very good. This link will bring you to their Stelvio Pass page.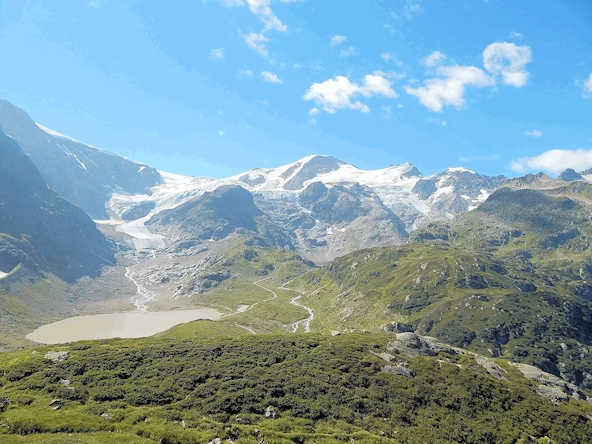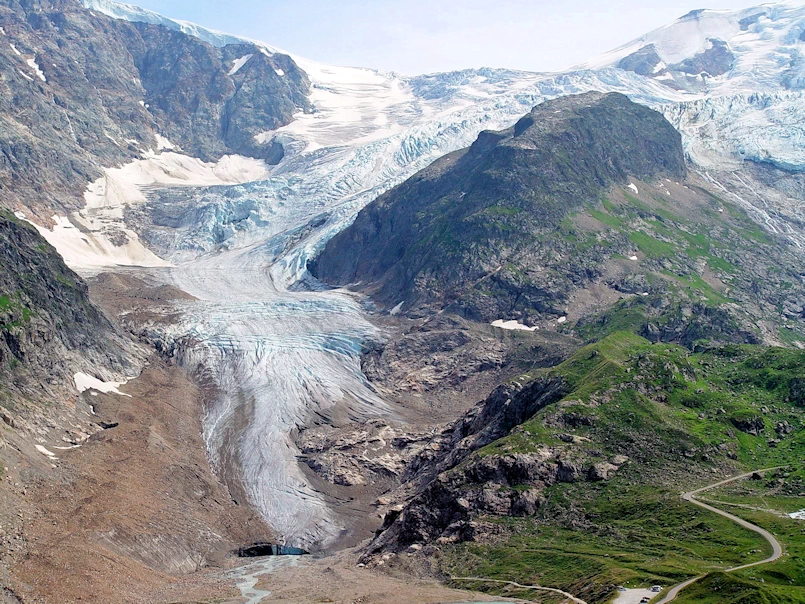 The Stein Glacier
This glacier at the top is slowly melting into Stein Lake at the bottom of that hill. And just to point out how others have also found this area to be unique, the James Bond movie "Goldfinger" was filmed in the Furka Pass area of this highway.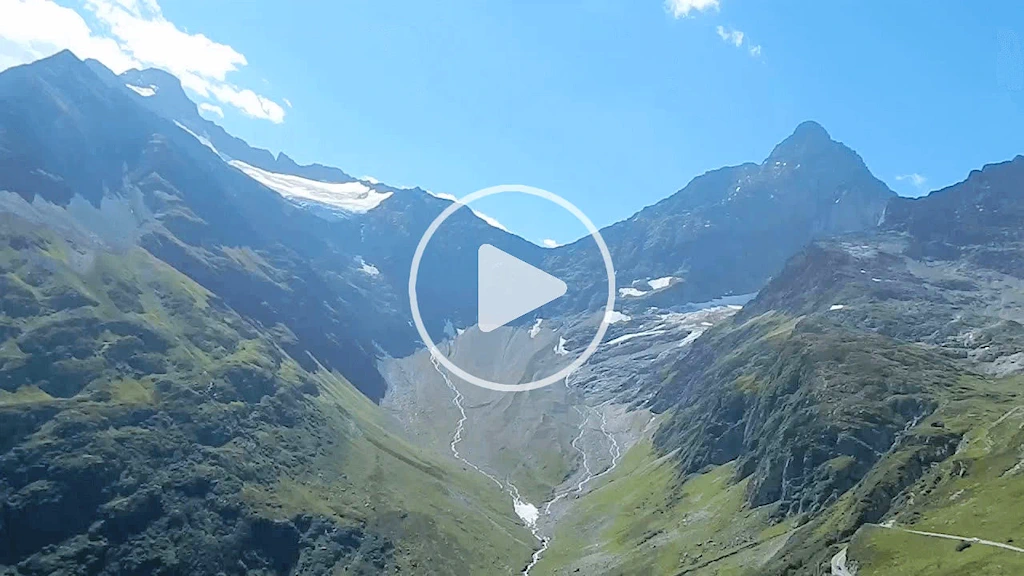 Route 11 Views
Click this image to view a video we made as we drove across route 11 to Lake Como, Italy. The switch-backs and views from this highway are amazing!
Or if you like our videos click here to subscribe to our Youtube Channel.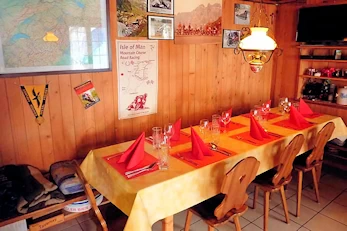 Restaurant Sustenbruggli
As route 11 descends from the summit and on one of the final major curves, we come across the Restaurant Sustenbruggli. Since most of our drive had been "white knuckle driving" we decided to stop and get something cold to drink and maybe a light lunch.
See where the highway swings away to the left? That is route 11 headed up to the summit and that is the corner of the building where we got a table. And the entire time we sat there, there were numerous bicycle riders headed up the Susten Pass towards the summit and making good speed! However, you can see by the large number of motorcycles parked here how popular this route is for that community !
After we finished lunch, we got back onto route 11 until it merged into Switzerland route 2 and headed south to the Gottard Road Tunnel - the deepest auto tunnel in the world! At 16.9 kilometers in length, it is an amazing engineering achievement & the fifth longest auto tunnel in the world.
There are a number of web cams in & around the Gotthard Tunnel, click here to see a list of them.
IMAGE CREDITS Both images are the property of the Restaurant Sustenbrüggli.

---
Disclosure: Some of the links on this page are Affiliate Links, meaning, at no additional cost to you, that we will earn a commission if you click through and make a purchase. So we would appreciate any click throughs, if you are inclined.
Note: All images on this page are the property of Just Traveling Thru, LLC unless otherwise noted.
Note: If you are interested in our European Travel Tips & Warnings, Click here. Or to take a look at our methods for Trip Planning click here.
---
To review any of our content, make suggestions and/or comments, please click the "Info" menu button at the top of this page. You will find our "Contact Us" link on that drop-down menu.