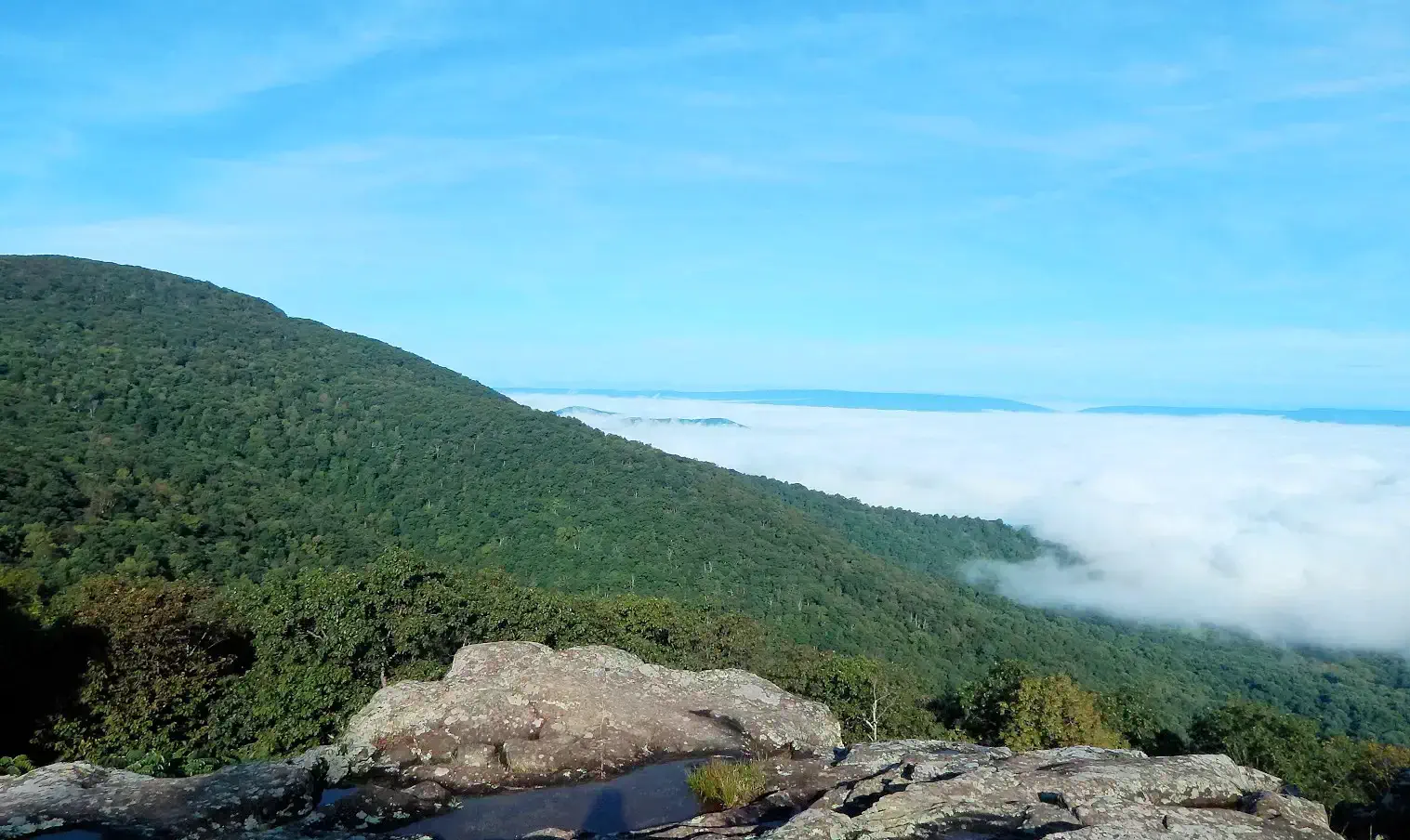 Our Blue Ridge Adventure
We decided that we needed to take a "tune-up trip" where we did as much hiking and walking as possible. We reached this decision because we are headed back to Europe in September 2018, where we expect to be doing a serious amount of walking, hiking and climbing stairs.
Our game plan was to visit Tallulah Gorge State Park north of Atlanta, then drive on to the Asheville, NC area so we could visit the city as well as Catawba Falls. From there we would visit Big Meadows Lodge in the Shenandoah National Park, VA. Each of these parks offered interesting hiking as well as beautiful geography & vistas. Better yet was the fact that we had never been to any of these places before and that our explorations would end at Lake Anna, VA where we have a cabin.
To view the details of how we plan trips, click here.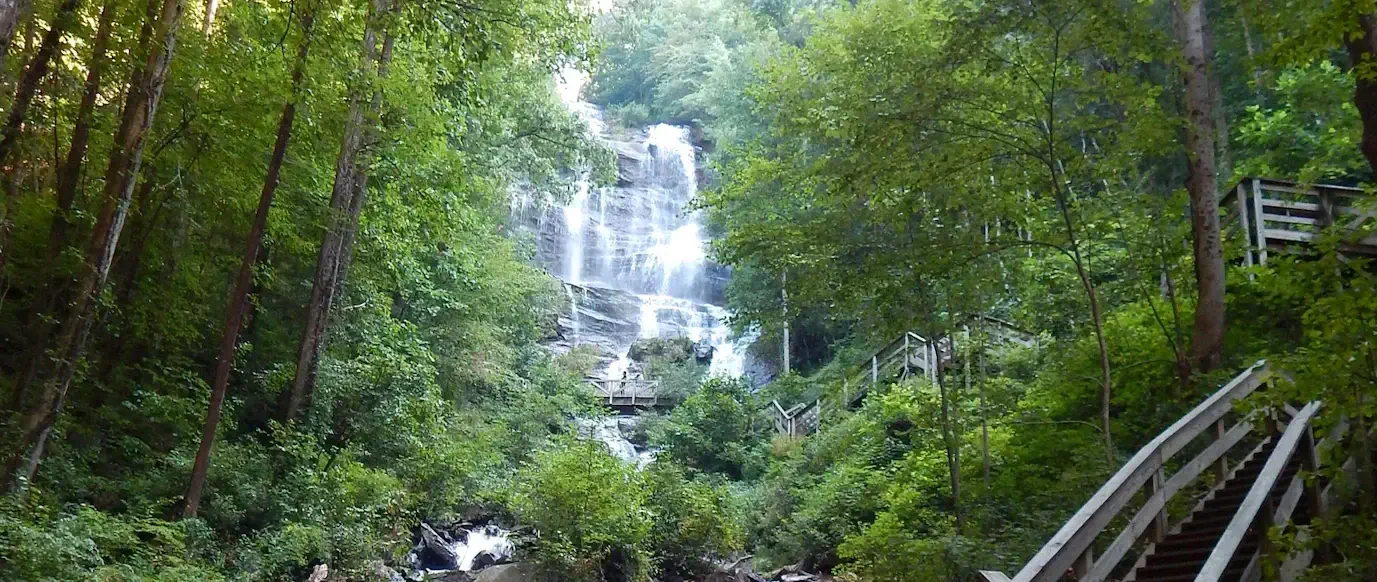 Located in the majestic North Georgia mountains, Amicalola Park is a captivating natural haven that draws visitors with its awe- inspiring beauty and abundant recreational opportunities. At its centerpiece stands Amicalola Falls, a staggering 729-foot cascade, making it the tallest waterfall in Georgia and a mesmerizing sight to behold. The park's well-maintained trails offer various vantage points, leading adventurers through lush forests and stunning landscapes to witness the falls from different angles.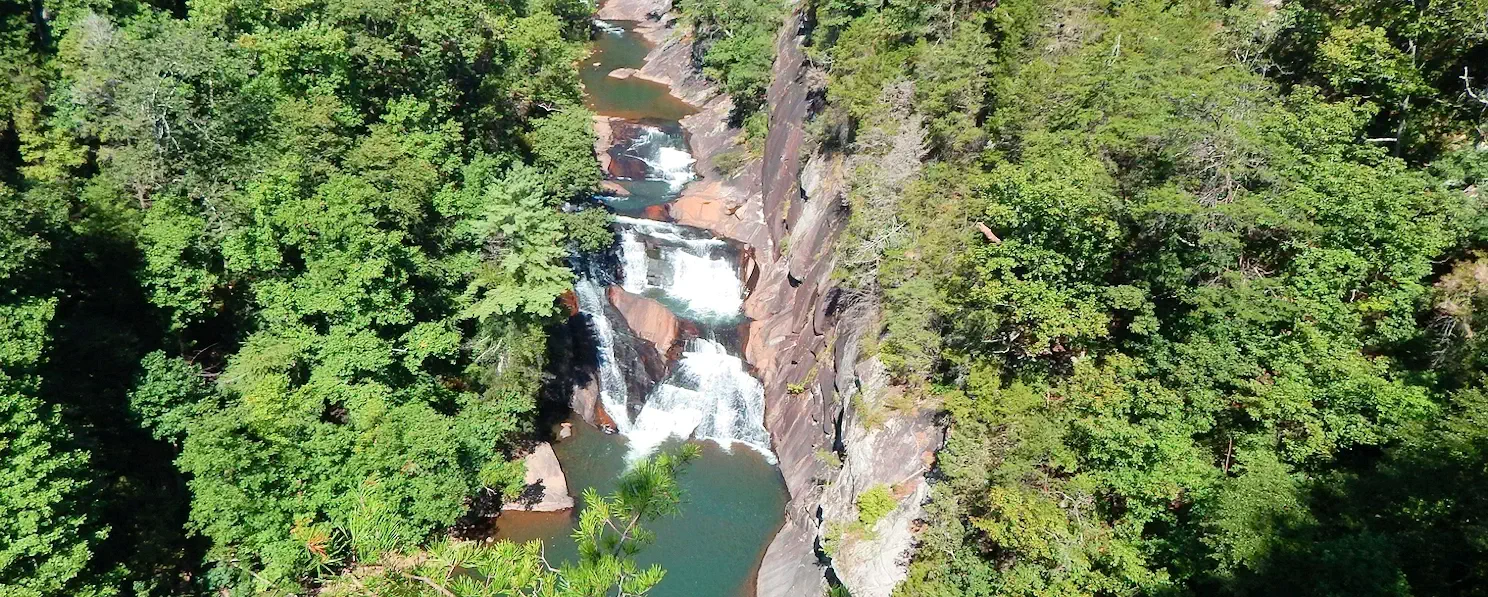 Tallulah Gorge was our next destination; This is is a beautiful natural wonder nestled in the northeast corner of Georgia, USA. Spanning over 2,700 acres, this picturesque park is renowned for its deep gorge, carved over millennia by the Tallulah River. At its heart lies the mesmerizing Tallulah Falls, a series of six stunning cascades that tumble dramatically over the rocky cliffs. The park offers visitors an unparalleled experience with its impressive suspension bridge that hangs 80 feet above the canyon floor, providing breathtaking views of the roaring waterfalls below.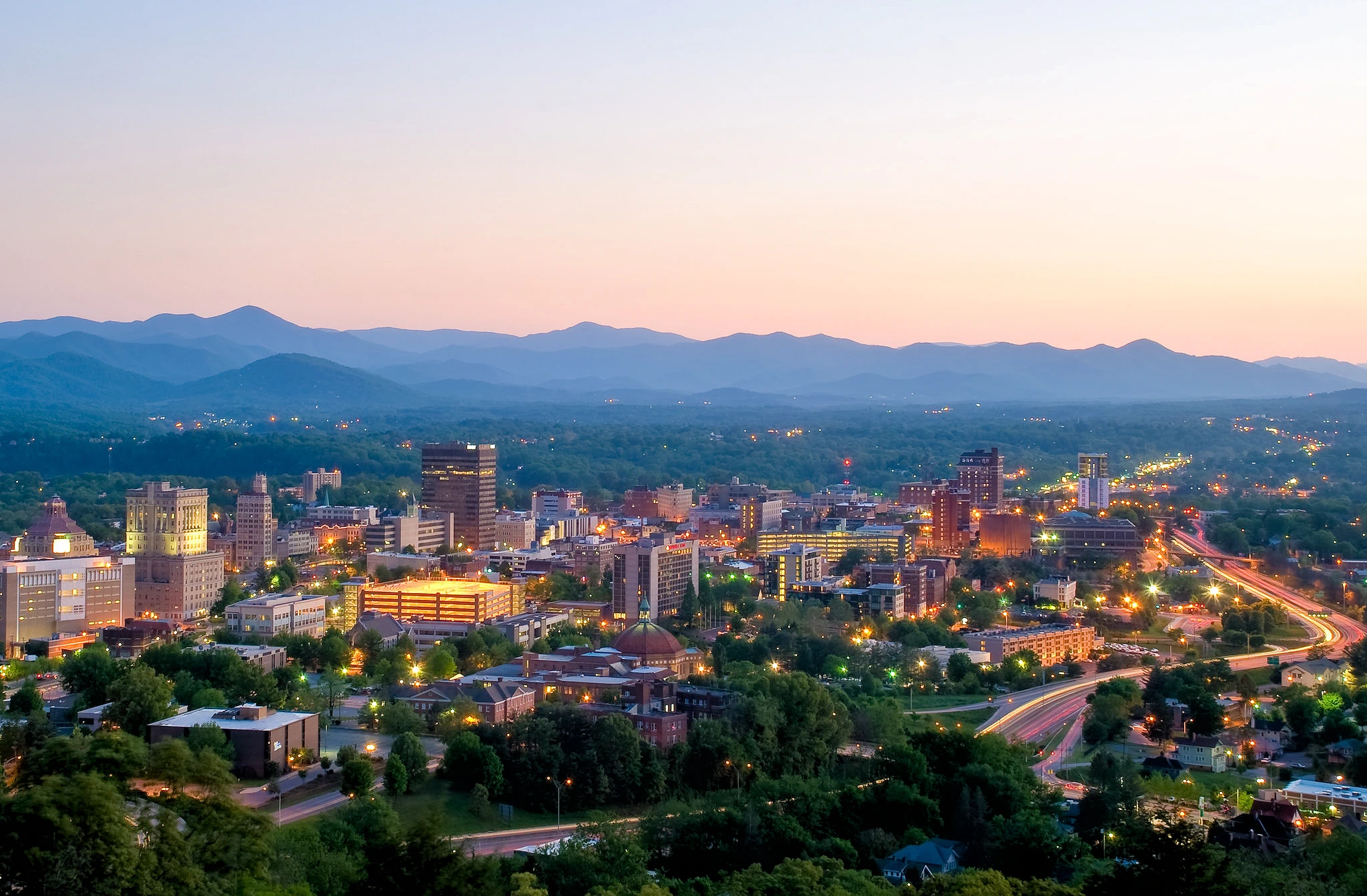 Above image is the property of Michael Tracey via Wikimedia Commons using the Public Domain license.
We picked Asheville, NC as our next stop because it is not only a pretty city, but it is located in a very pretty area of North Carolina. And the kicker was that neither of us had been here before! Some research of the Asheville area, showed us that we would be able to find some nice hiking here.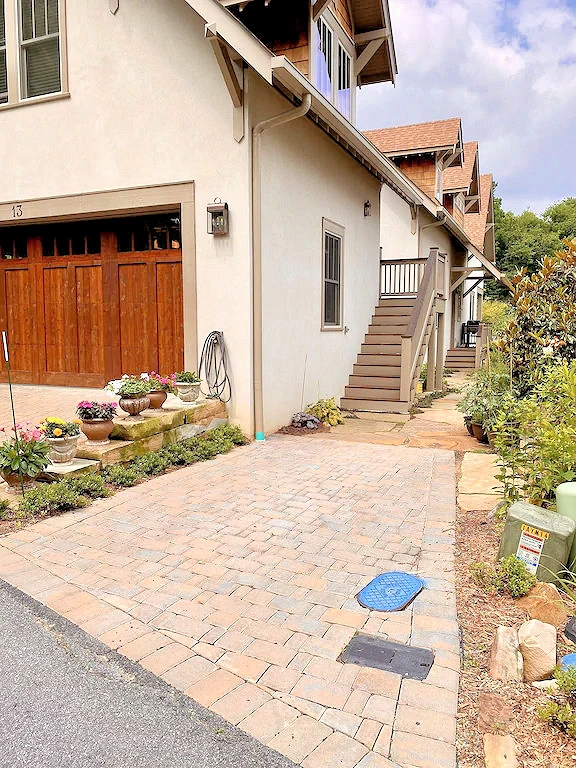 Our Asheville Rental
The rental we utilized in Cheshire Village, NC just north of Asheville. The people who we rented this from, were extremely nice, and if you are looking for a very clean & comfortable place to stay, this would be a good choice.
Click here to see this rental listing on VRBO.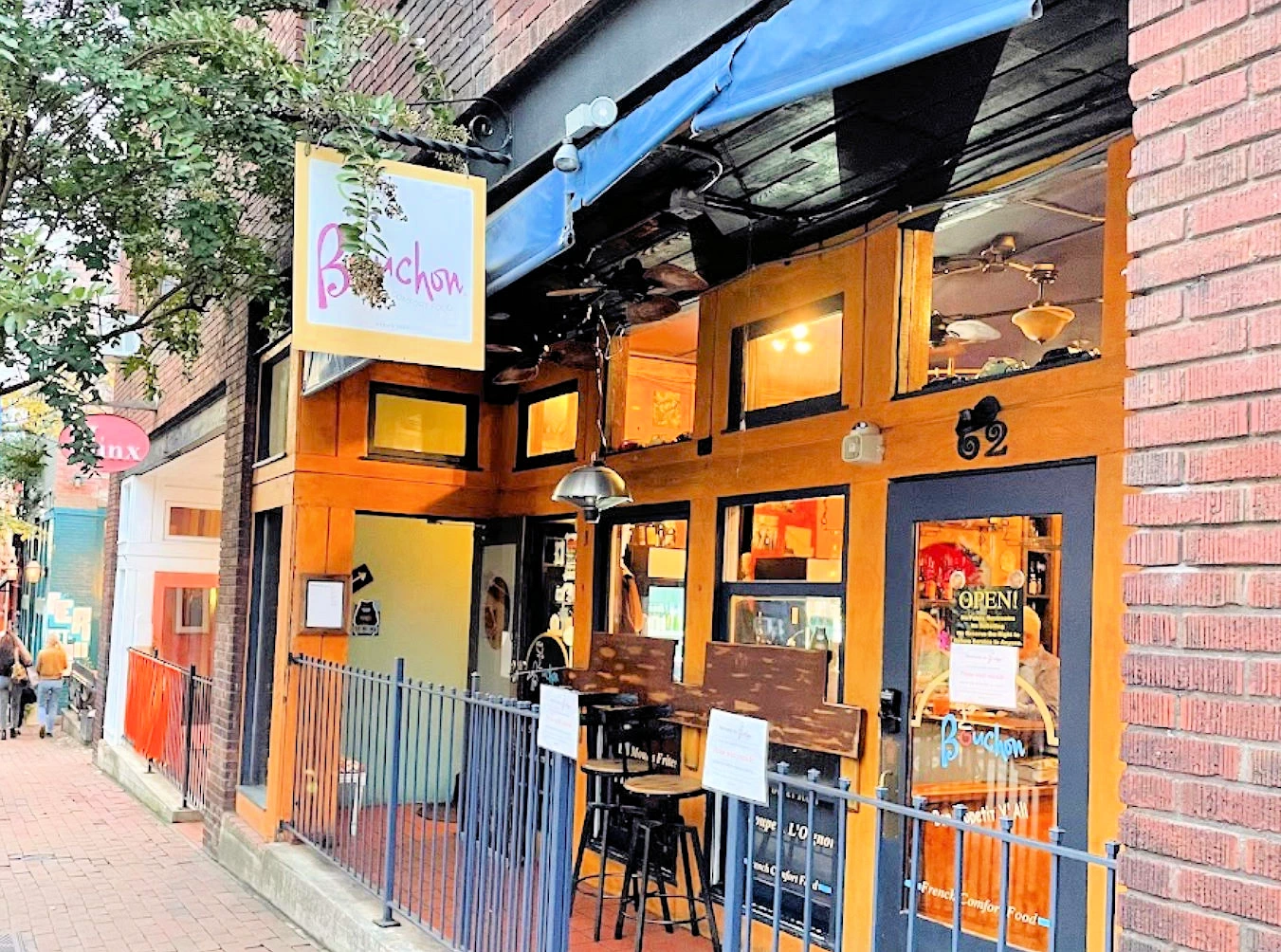 Asheville Bouchon French Bistro Restaurant
After we checked in to our rental, we drove to downtown Asheville to do some exploring and have dinner. We found this French Restaurant (62 N Lexington Ave, Asheville, NC) and decided that moules et frites would be great. The food here was very good, and they have an excellent wine list - not a large restaurant so I would suggest that if you plan to visit that you make a reservation like we did.
Click here to go to their website.
Click here for their Yelp Page. You can find their menu and more images there.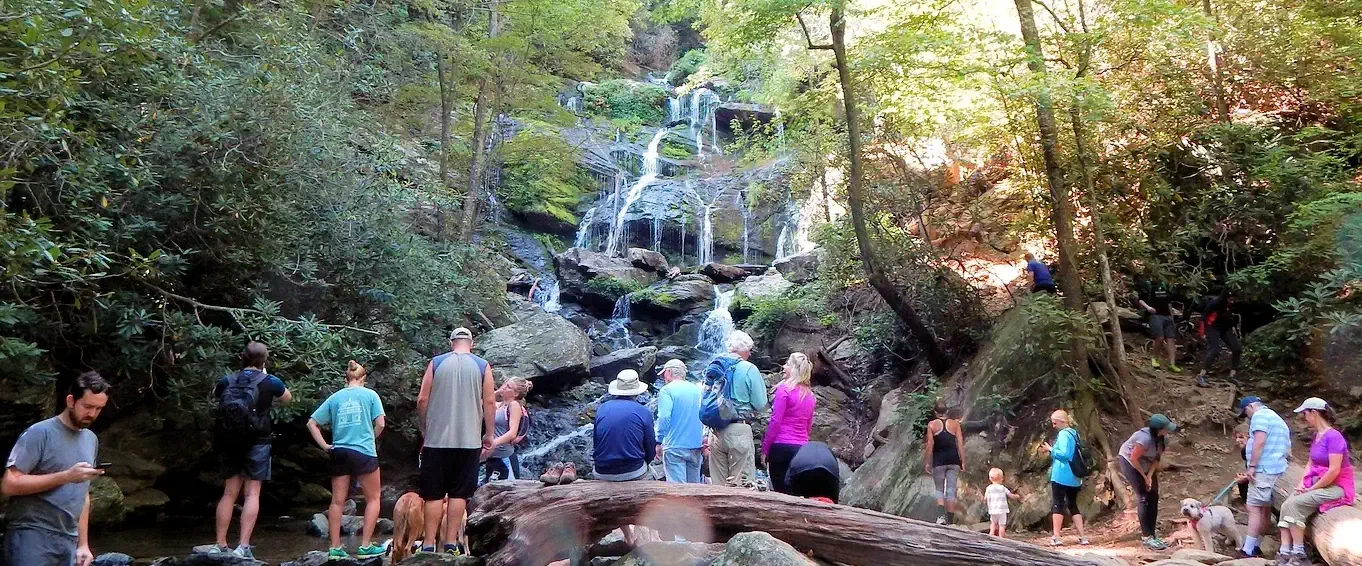 Catawba Falls State Park
After our arrival in Asheville, NC, we headed out to Catawba State Park. Our initial goal was the 1.5-mile Catawba Falls hike (3 miles round-trip) which is a steady and slightly uphill walk but it is not difficult. It follows the Catawba River, with many smaller cascades along the way. It's a beautiful trail, with sounds of rushing water and short side trails to see it.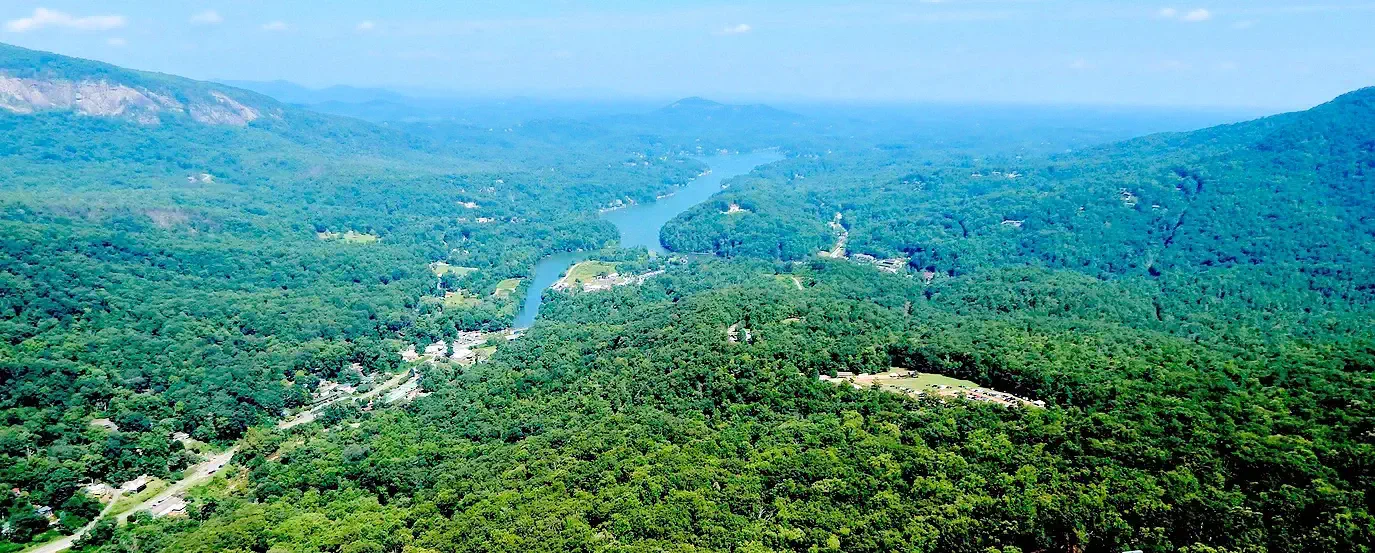 This was our next stop. And it is a breathtaking natural wonder that captivates with its awe-inspiring landscapes and stunning views. Located in the scenic Hickory Nut Gorge, the park is home to the iconic Chimney Rock, a towering 315-foot granite monolith that stands as the centerpiece of the area.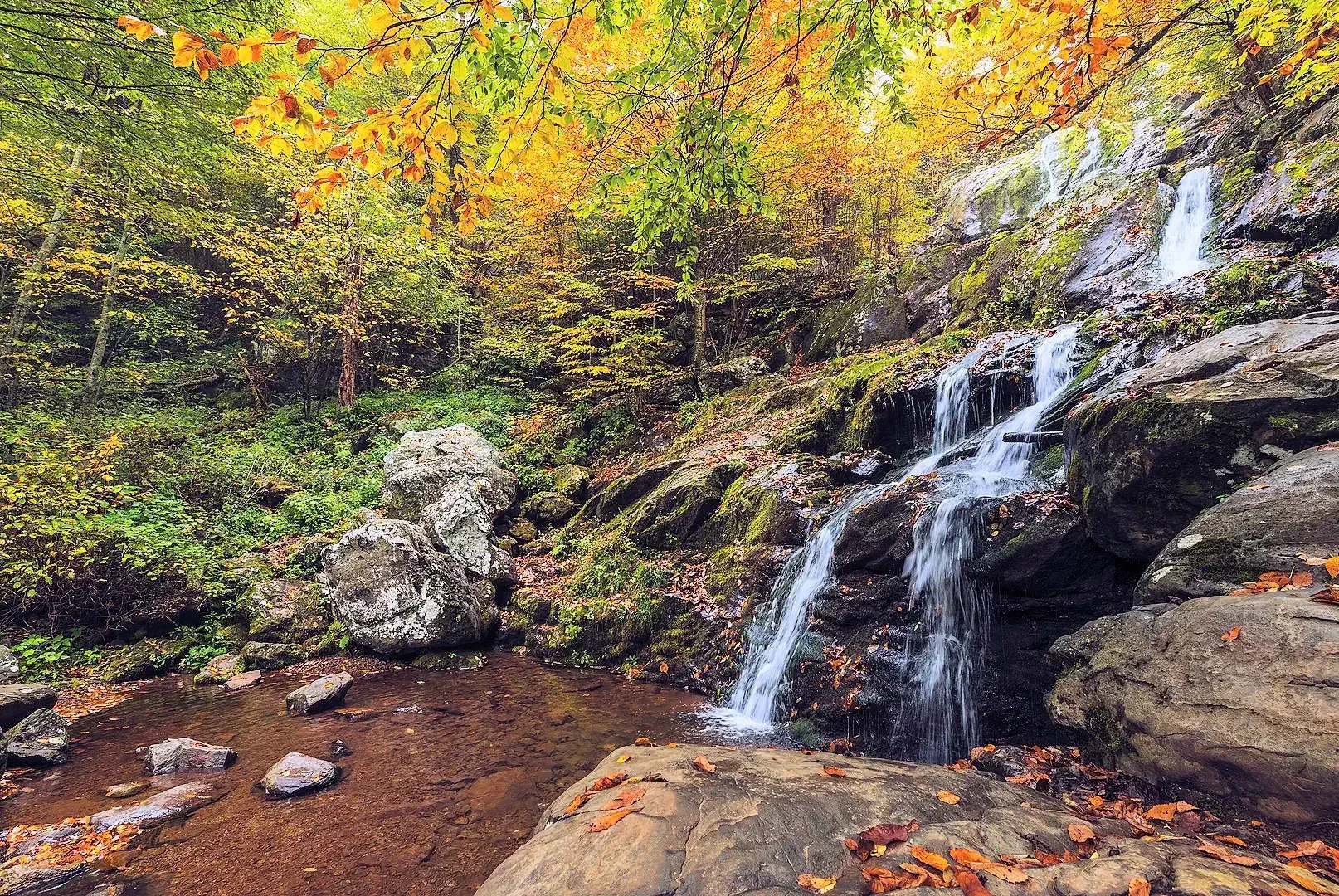 After a quick side trip to our cabin in Lake Anna, VA, we drove up to the Big Meadows area of the Shenandoah National Park.
Located in the Blue Ridge Mountains of Virginia, the park is a pristine and picturesque wilderness that captivates visitors with its breathtaking beauty and abundant biodiversity. Encompassing over 200,000 acres, the park offers a diverse range of ecosystems, including lush forests, cascading waterfalls, and serene meadows.
The famous Skyline Drive, a scenic byway that stretches for 105 miles, offers stunning vistas and opportunities for wildlife sightings. Hiking enthusiasts can explore over 500 miles of trails, each leading to unique overlooks and landmarks like Old Rag Mountain and Dark Hollow Falls.

We have been recreating at Lake Anna, VA since 1995 - for years we had a 40 foot trailer at Christoper Run Campground and then we purchased property on the "private side" of the lake in 2004 and built a cabin and a boat storage garage area for our boat.
The lake's shoreline is dotted with marinas, campgrounds, and vacation rentals, catering to visitors seeking a relaxing lakeside retreat. Additionally, the Lake Anna State Park offers hiking trails, picnic areas, and a sandy beach for families to enjoy.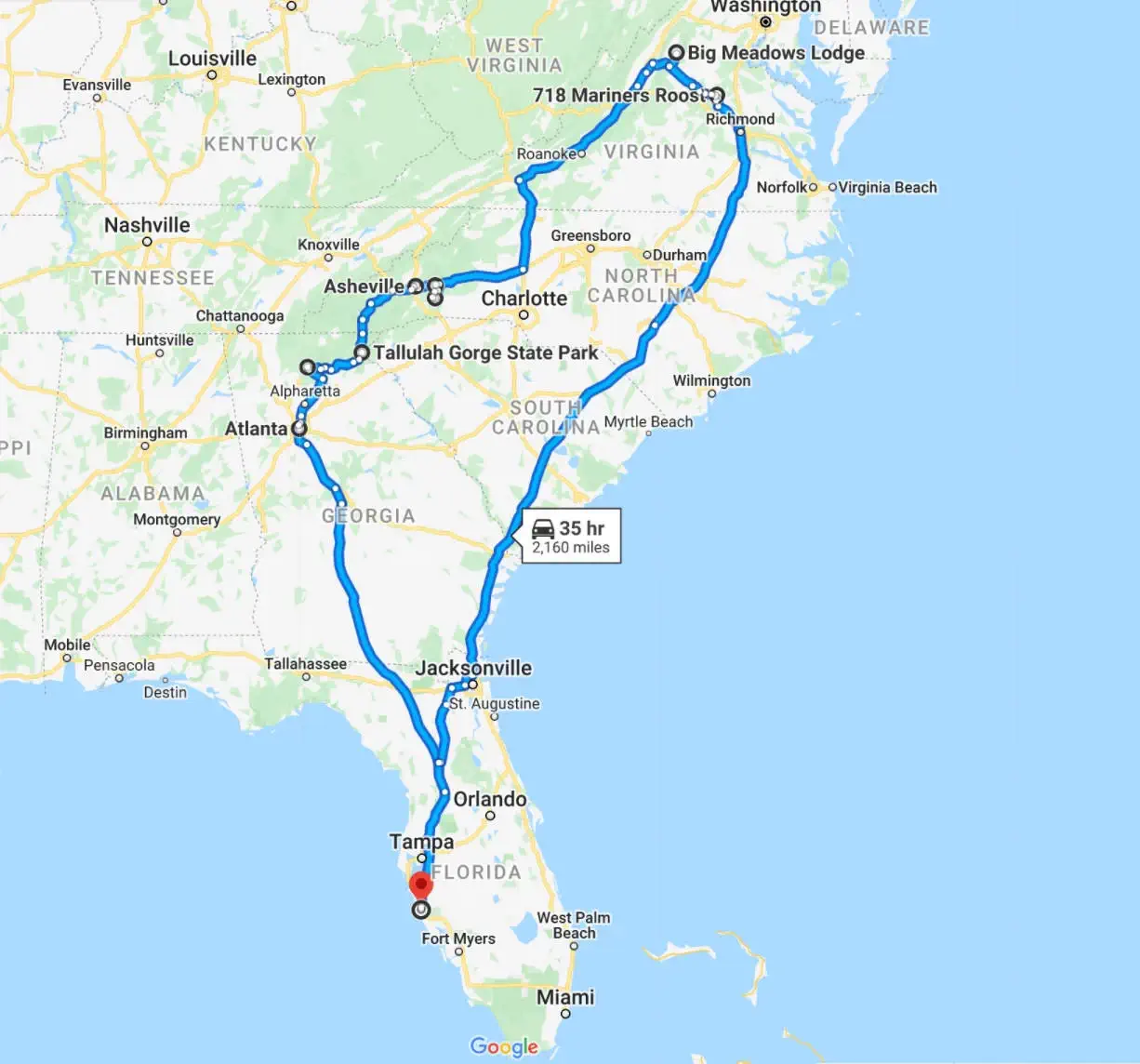 Anyone reading this who has travelled this route, are aware some of it's "good & bad" aspects, but we thought we would add a few selected comments that perhaps might be of use to some of you.

At 903 miles door to door, we have driven it "straight through" and we have split up the trip by staying overnight along I-95. There is no "perfect way" to drive that distance. Obviously, we would recommend that you bring a small cooler with drinks for you & your pet.
If you are travelling with a pet (and we always bring our dog), use the Bring Fido website to locate hotels & motels that are pet friendly.
I-95 is not as good through the South Carolina area, always two lanes and traffic tends to "clump" together making it difficult to get past. It is almost always better to time your trip to get through South Carolina at night, when the traffic is less congested. To further define "not as good", I-95 is in rough condition most of the way through the State, much more so than other States. It would also appear that tractor trailer trucks are allowed in the left lane, and this always creates a huge slow down until each truck gets back into the right lane.
Not to pick on South Carolina, but the larger towns are mostly further apart than elsewhere, which complicates pit-stops for gasoline, coffee or snacks.
Going through Jacksonville, FL and not being slowed by an some type of issue, is difficult at best. We generally go around Jacksonville by taking I-295 east to I-10 west and then going south on US Route 301 and eventually back onto I-75 in the Ocala area. The problem with that route is that it brings you through many small Florida towns, many of which operate "speed traps".
If you stay on I-95 and go through Orlando on I-4, the traffic in the Orlando area can be brutal, especially during the tourist season. As Orlando has grown, traffic has continued to increase no matter the time of day, or the time of year. You are better off if you can drive through Orlando on a weekday either early or late in the day. I-4 "improvements" have been in progress now for what seems like 5+ years.
You could try an alternate route to bypass the Orlando traffic - for example - take route 408 from I-4 west to route 429 and then go south again to I-4. Generally there is little to no traffic on 429, just depends on the time time of day.
Our more recent route is to drive on route 301 - coming south you would exit I-95 onto route 200 and drive to Callahan where you would merge onto route 301. Drive straight south to the Ocala area and then take route 40 west to get onto I-275 south. Yes that route will bring you through the "speed trap capitals of Florida" Waldo and Starke, but if you watch the speed control signs and use the "Wayz App" you won't have any problems.

---
Disclosure: Some of the links on this page are Affiliate Links, meaning, at no additional cost to you, that we will earn a commission if you click through and make a purchase. So we would appreciate any click throughs, if you are inclined.
Note: All images on this page are the property of Just Traveling Thru, LLC unless otherwise noted.
Note: If you are interested in our European Travel Tips & Warnings, Click here. Or to take a look at our methods for Trip Planning click here.
---
To review any of our content, make suggestions and/or comments, please click the "Info" menu button at the top of this page. You will find our "Contact Us" link on that drop-down menu.