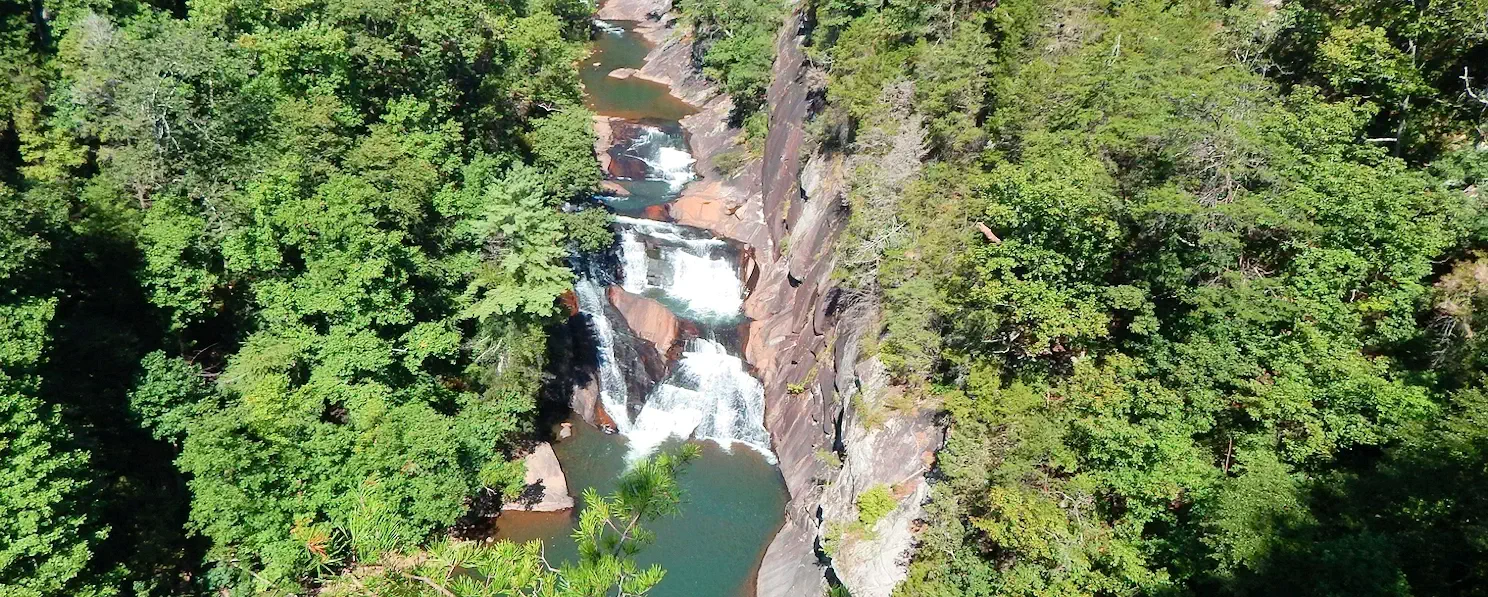 Tallulah Gorge Falls State Park, GA
This was our second stop on our Blue Ridge Adventure route, 65 miles northeast of Amicalola State Park and generally in the direction of Asheville, NC which is the bigger destination stop we are aiming at.
The Tallulah Gorge was formed by the Tallulah River cutting through the Tallulah Dome rock formation. The gorge is approximately 2 miles long and almost 1,000 feet deep. The Tallulah Gorge is located next to the town of Tallulah Falls, Georgia. Tallulah Gorge State Park protects much of the gorge and its waterfalls.
Tallulah Gorge Falls State Park contains one of the most spectacular canyons in the eastern U.S., Tallulah Gorge is two miles long and nearly 1,000 feet deep. Visitors can hike rim trails to several overlooks, or they can obtain a permit to hike to the gorge floor (100 per day, not available during water releases). A suspension bridge sways 80 feet above the Tallulah River below, providing spectacular views of the river and waterfalls.
We picked this as our next stop, because it is obviously pretty and it is on the way to Asheville, NC - our next "stay over" location.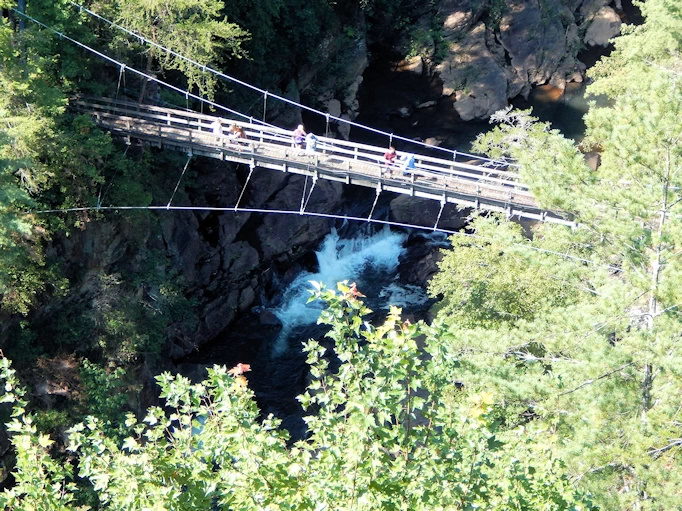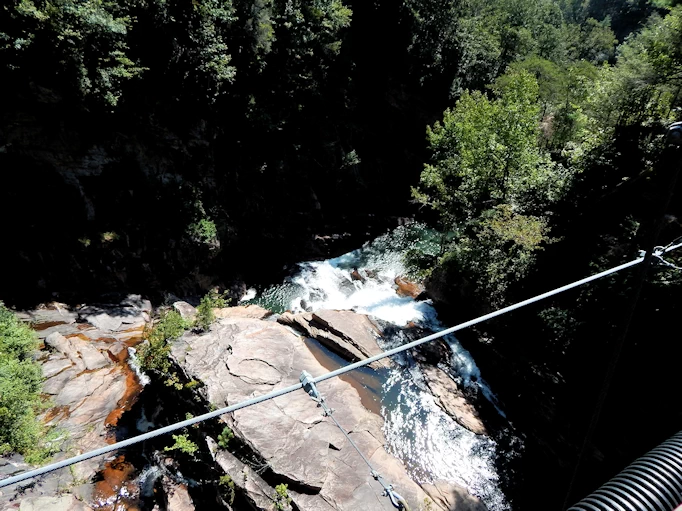 Views of the Gorge suspension bridge, taken from the rim trail. The suspension bridge is 80 feet above the Tallulah River below it, and yes, it does sway.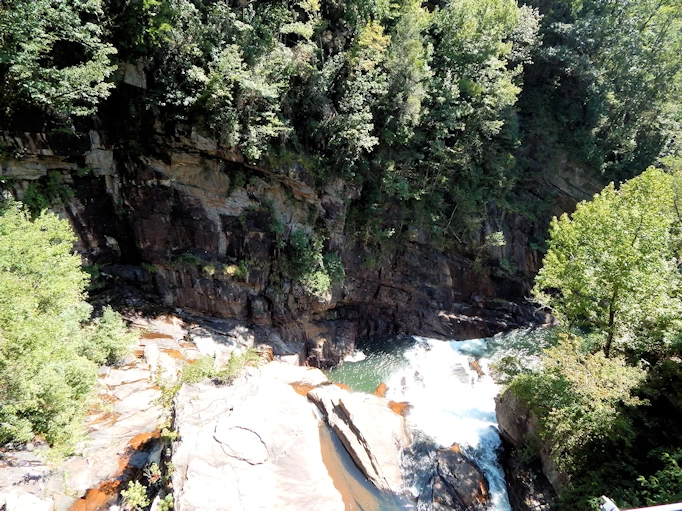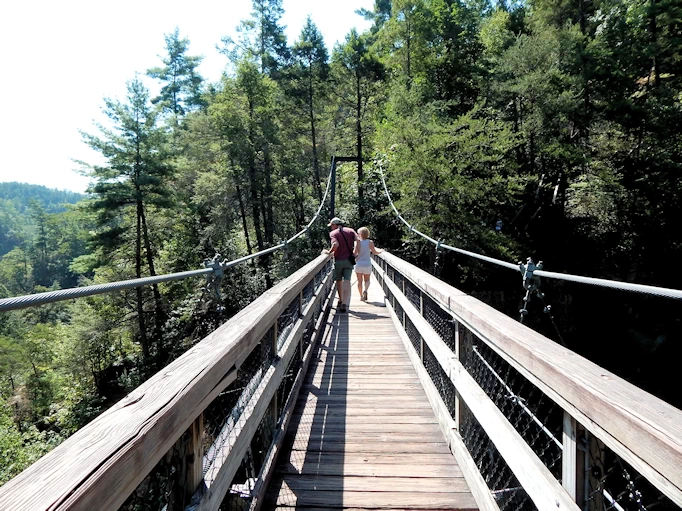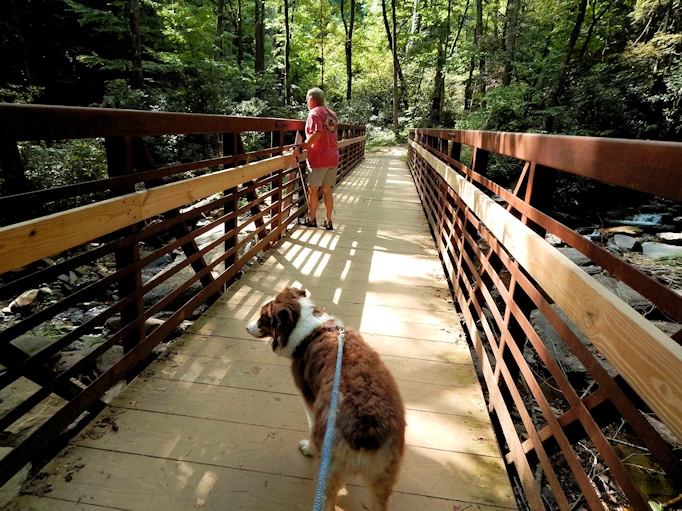 The river area, as can be seen from an observation platform on the rim above. Crossing the gorge on the suspension bridge provides a seriously good view below! You can see in image # 3 that Maggie and I were waiting for Celeste to return from a walk across the bridge, as dogs were not allowed on it.

---
Disclosure: Some of the links on this page are Affiliate Links, meaning, at no additional cost to you, that we will earn a commission if you click through and make a purchase. So we would appreciate any click throughs, if you are inclined.
Note: All images on this page are the property of Just Traveling Thru, LLC unless otherwise noted.
Note: If you are interested in our European Travel Tips & Warnings, Click here. Or to take a look at our methods for Trip Planning click here.
---
To review any of our content, make suggestions and/or comments, please click the "Info" menu button at the top of this page. You will find our "Contact Us" link on that drop-down menu.