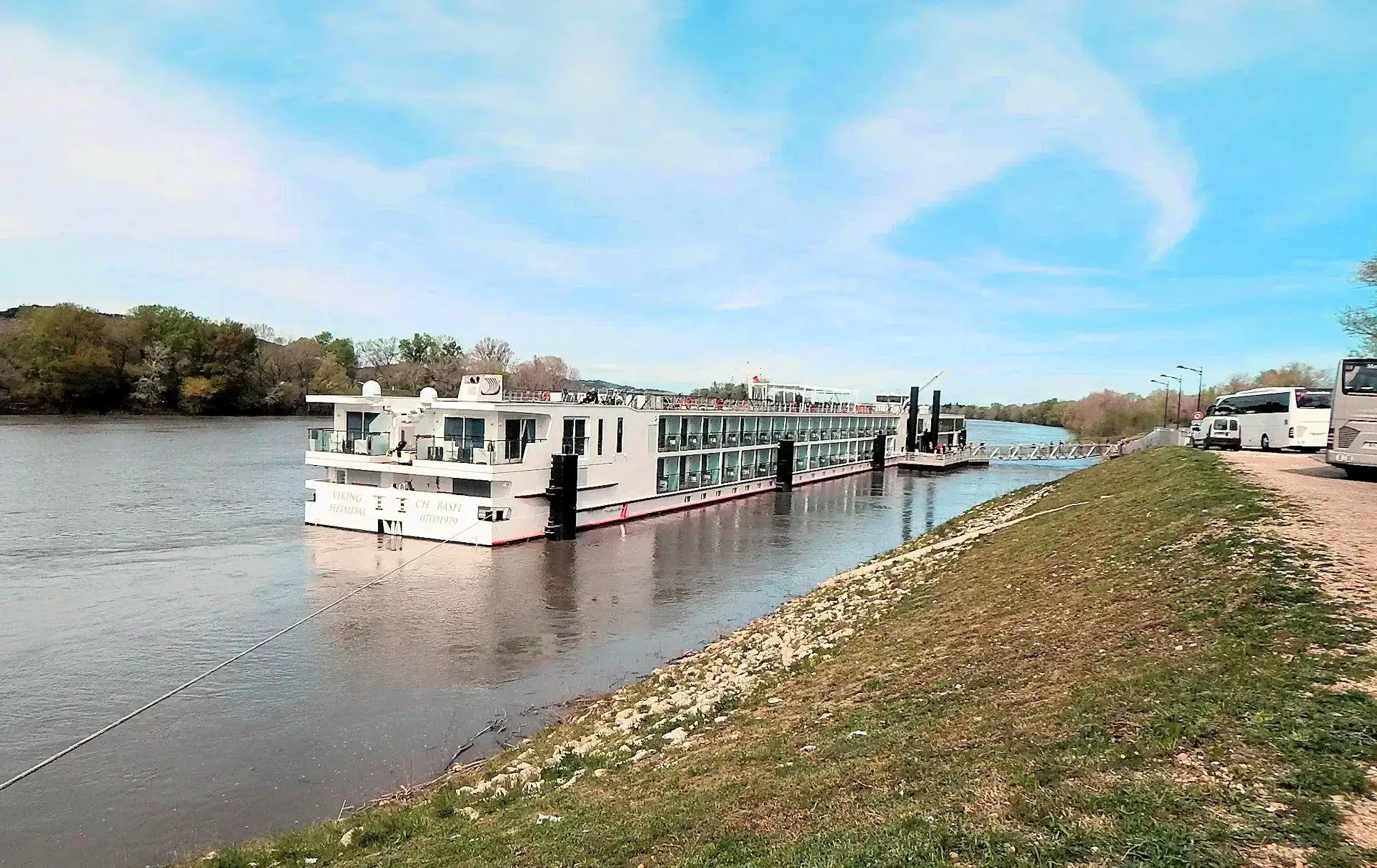 Viking River Cruise: Lyon & Provence
Because our first Viking River Cruise (Paris to Normandy) had been so enjoyable, we decided to try another one, and to see a part of France that we had driven through, but to see it more leisurely as we travel north on the Le Rhône River. Our goal was to see a different area of France, and hopefully have the same great river cruise experience we had on our River Seine Viking River Cruise.
We were again accompanied by my wife's parents, but we were unable to obtain the air tickets with the offer we had the previous year. Our prior Viking River Cruise (Paris to Normandy) was packaged with a "two for one" airline deal, but not this time. In addition, Viking made reservations with Air France, which would not have been our first choice of airline. Regardless of our concerns, the trip started out normally although we did find ourselves in a very narrow airplane seat. See the bottom of this page for what happened at the concluion of the cruise.
Because we had taken a Viking Cruise in the previous year from Paris to Normandy, Viking had continued to send us emails containing offers that kept getting better & better. At some point where we could no longer ignore the offers, we decided to go for it. Perhaps because the airfare component of the trip was "free", it turned out to be a bit different than we were used to.
Click here to view Viking's information on this cruise.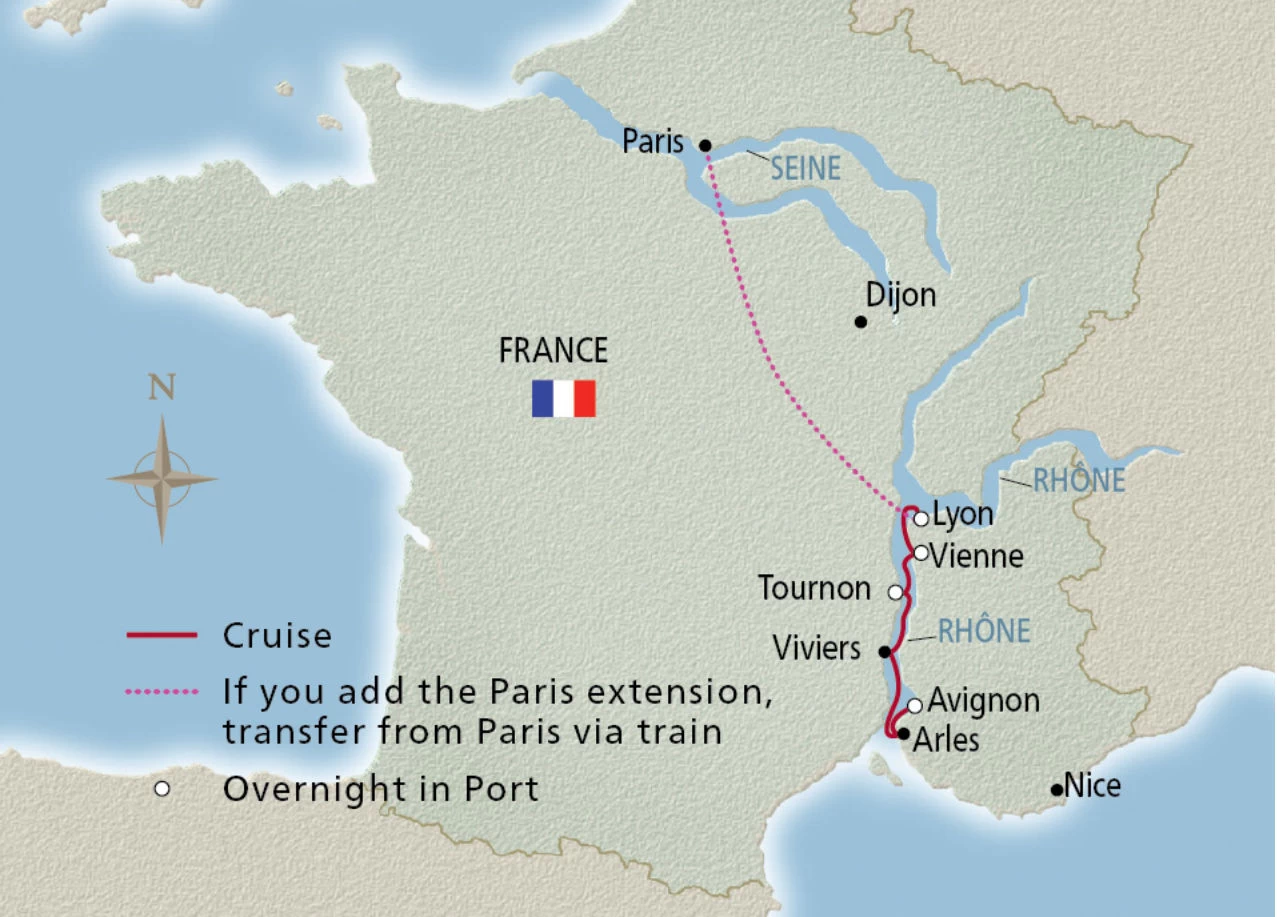 Image Property of Viking River Cruises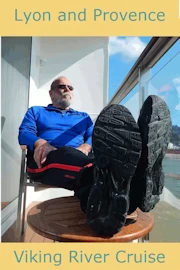 The steps we took to get to the Viking Ship were as follows;
We decided to "take" the Viking free air fare even though it placed us into economy seating. Yes, that is a very uncomfortable way to travel anywhere and we would never do this kind of thing again! If your tolerance level for uncomfortable airplane seating can be overcome by "no cost tickets", then perhaps your experience(s) might be different than ours.
Upon arrival in Marseilles, we collected our luggage and met the Viking River Cruises representative, who got us onto their bus, and took us to Avignon, France where we boarded the Viking Heimdal. The Viking Staff were friendly & efficient, ontime, and their attention to detail was appreciated, because all of us were jet lagged !
The Viking Heimdal is a relatively new ship for Viking, it was built in Avignon and launched in March 2014. At 443 feet in length, it is longer than our first Viking trip (the Viking Spirit) in 2014 (that ship is 375 feet long).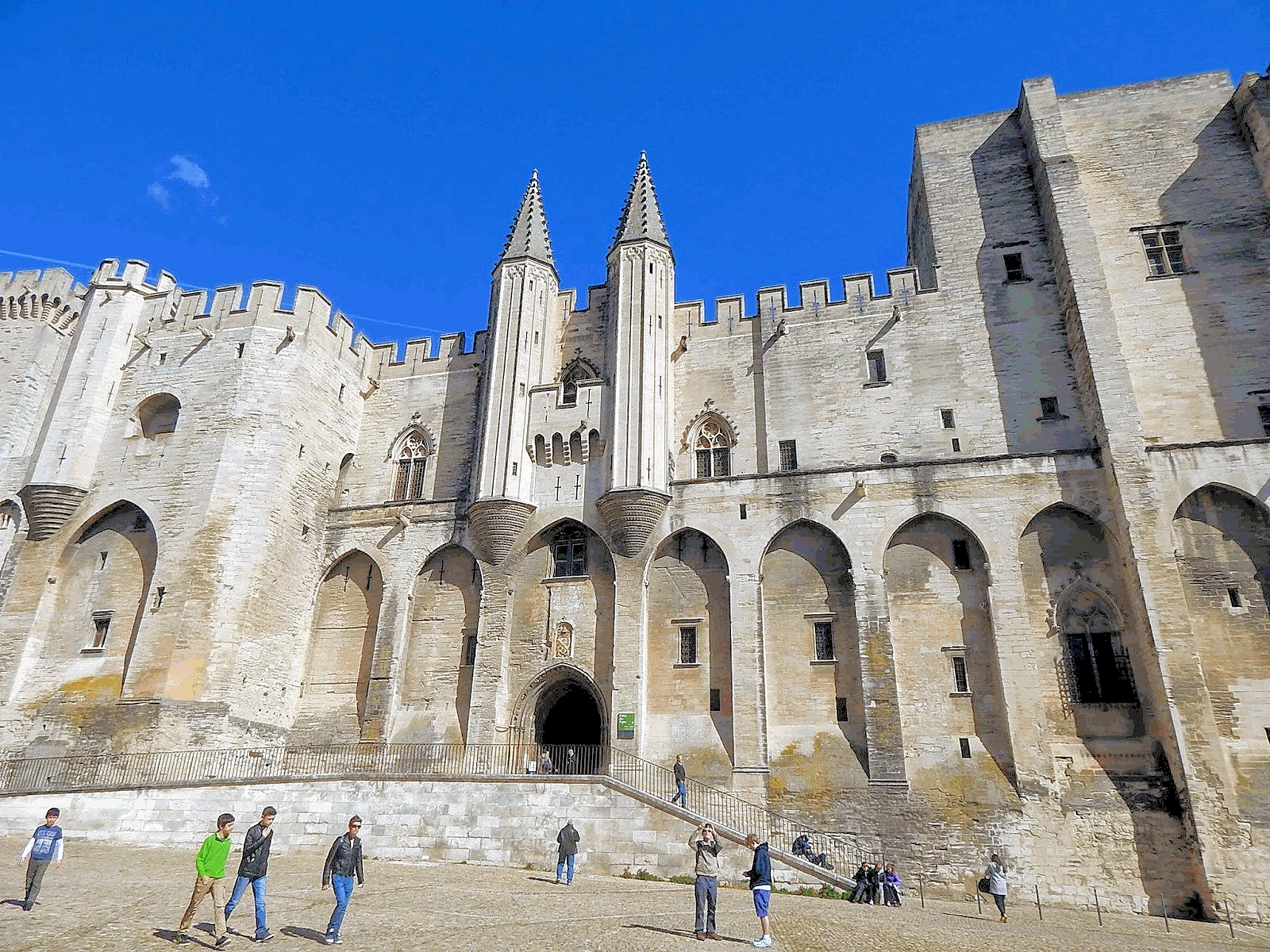 This is an interesting city, still surrounded by massive stone walls and containing the "home of the popes" during the period 1309–77 when the popes took up residence here, instead of at Rome, primarily because of the political conditions during that time.
Quick History: King Philip IV of France was instrumental in securing the election of Clement V, a Frenchman, to the papacy in 1305. This was an unpopular outcome in Rome, where factionalism made Clement's life as pope stressful. To escape the oppressive atmosphere, in 1309 Clement chose to move the papal capital to Avignon, which was the property of papal vassals at that time.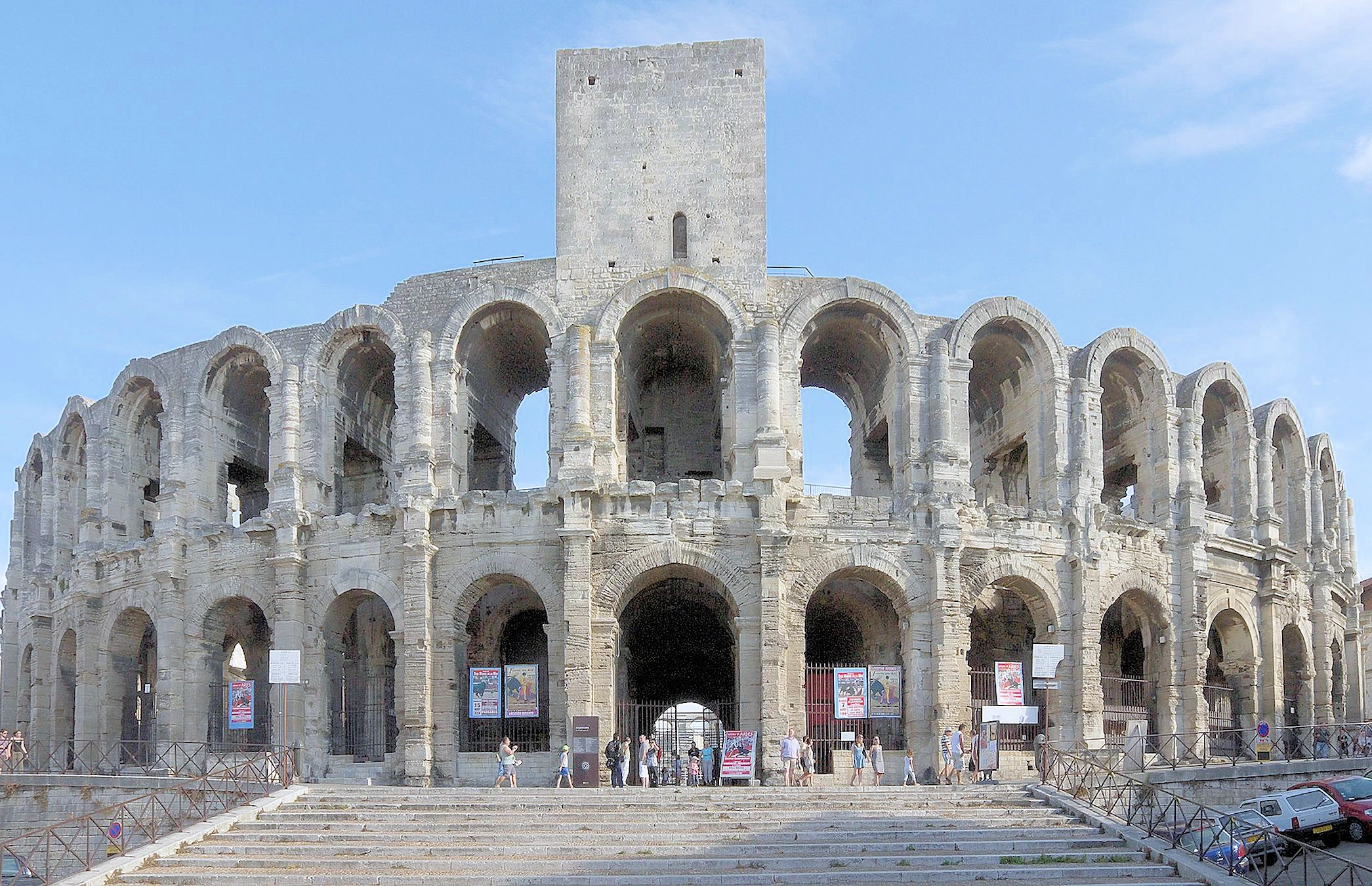 The ship moved from Avignon, south to Tarascon at 5AM (approximately 30 kilometers), which is just north of Arles. Viking was not able to moor the ship at a pier in Arles, so they utilized a mooring location on the river 15 kilometers north of Arles.
Viking offered a day trip via charter bus to Arles, so we decided to take advantage of the event. These bus tours are well organized by Viking, they are comfortable and the 15 kilometer ride to Arles did not require a long ride.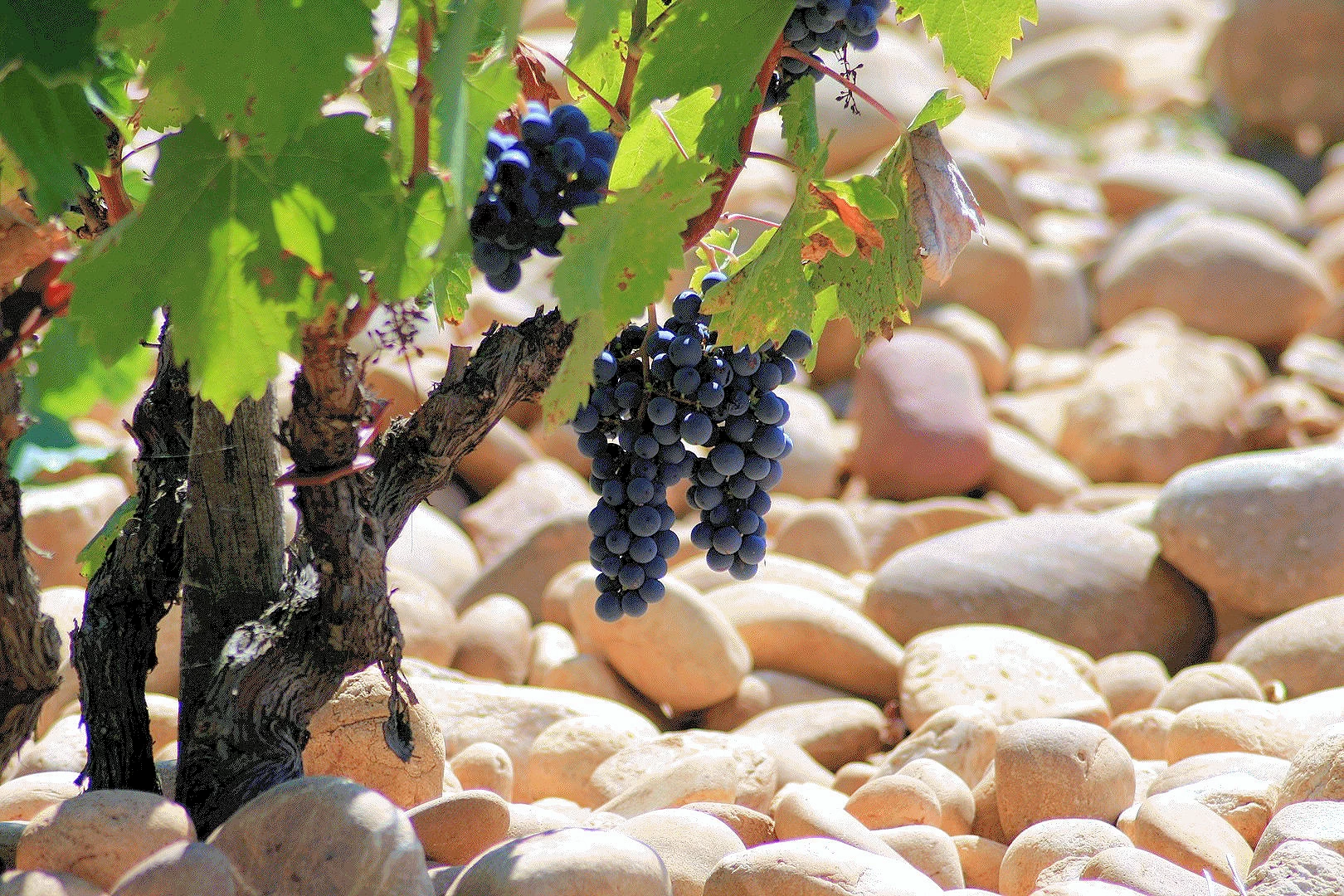 This is one of the most famous subregions of the southern part of the Rhone Valley. The vineyards are located around Chateauneuf-du-Pape and in the neighboring villages of Bedarrides, Courthézon and Sorgue between Avignon and Orange. Our visit was via a Viking Bus Tour with an english speaking tour guide, so our tour guide was constantly attempting to educate us!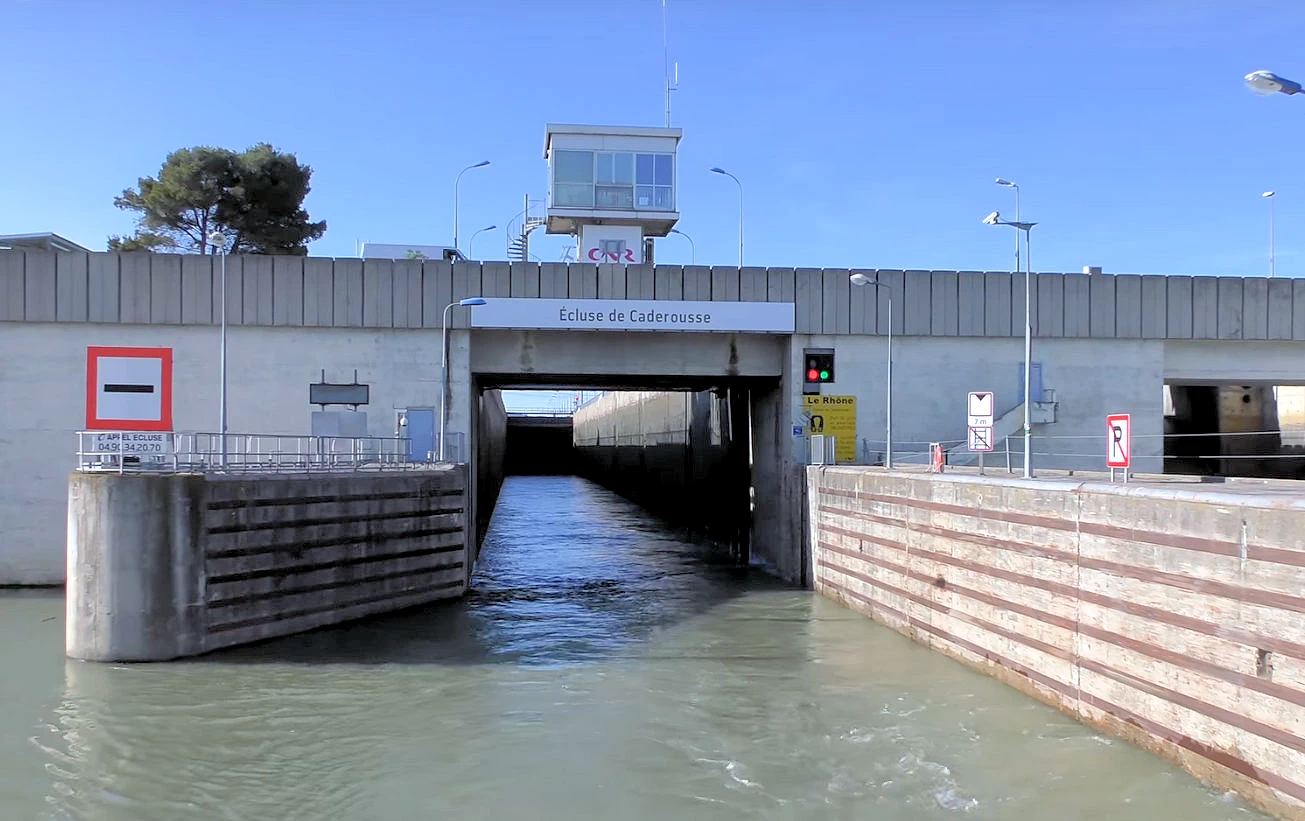 The locks are located on the Rhône River (24 kilometers north of Avignon), and as you can easily see, the limited height inside the lock is the primary reason why the River Cruise Ships on the Rhône have to leave the sun deck in the collapsed position. On our River Seine Viking Cruise the previous year, all of the locks were open at the top, so the ships could always leave their sun decks in the upright position during the entire cruise.
Our ship passed through these locks on the way to Tournon-sur-Rhône. Click here for a really good Google Image of the River and the locks.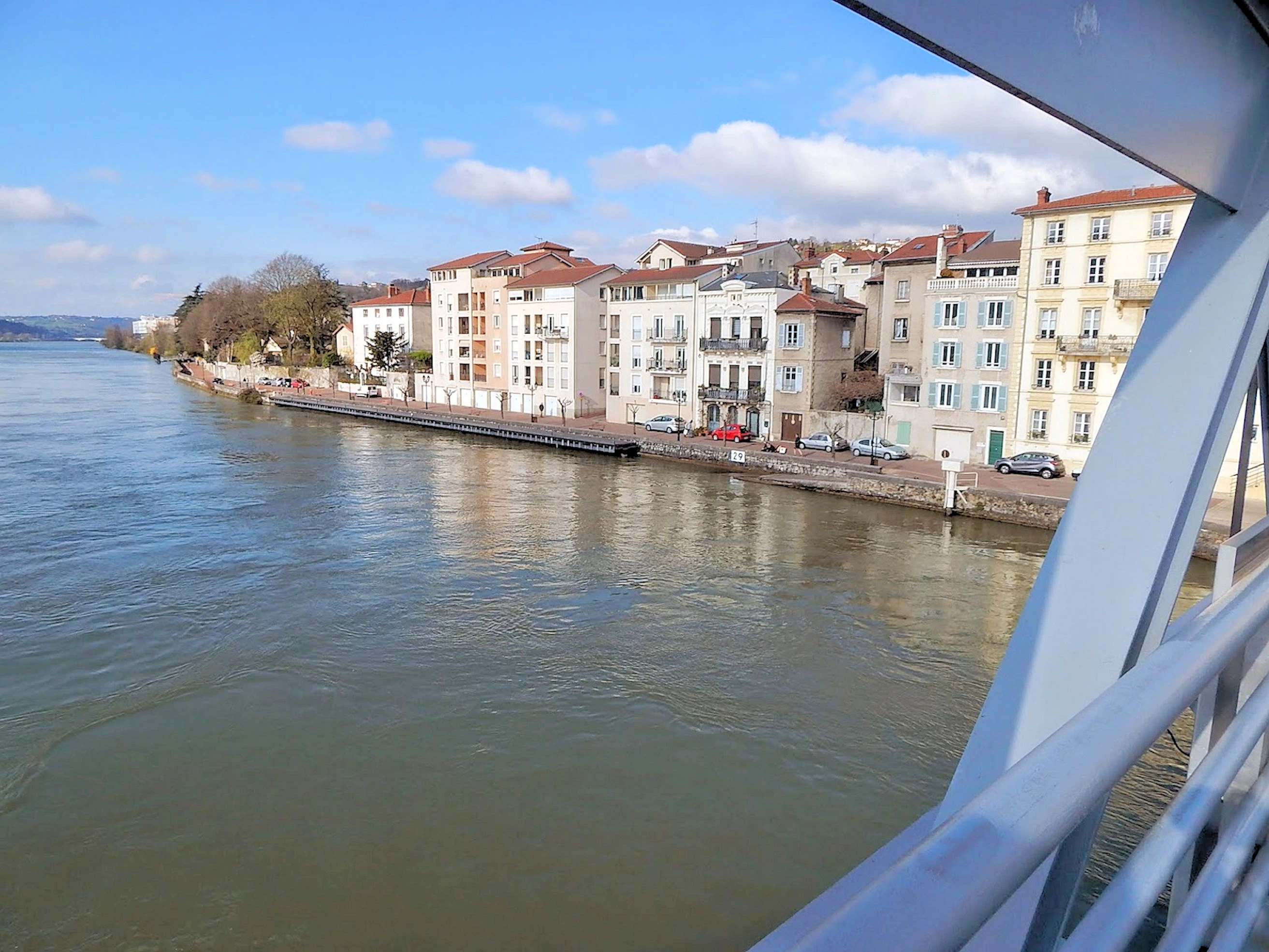 The ship departed Tournon at 7PM on day 4, set to arrive in Vienne at midnight. It is Easter Sunday, and it is not only chilly outside this morning, but most things are closed here in Vienne. The ship is docked on the west side of the River Rhône, and to get to the other side, we hiked over a pedestrian bridge.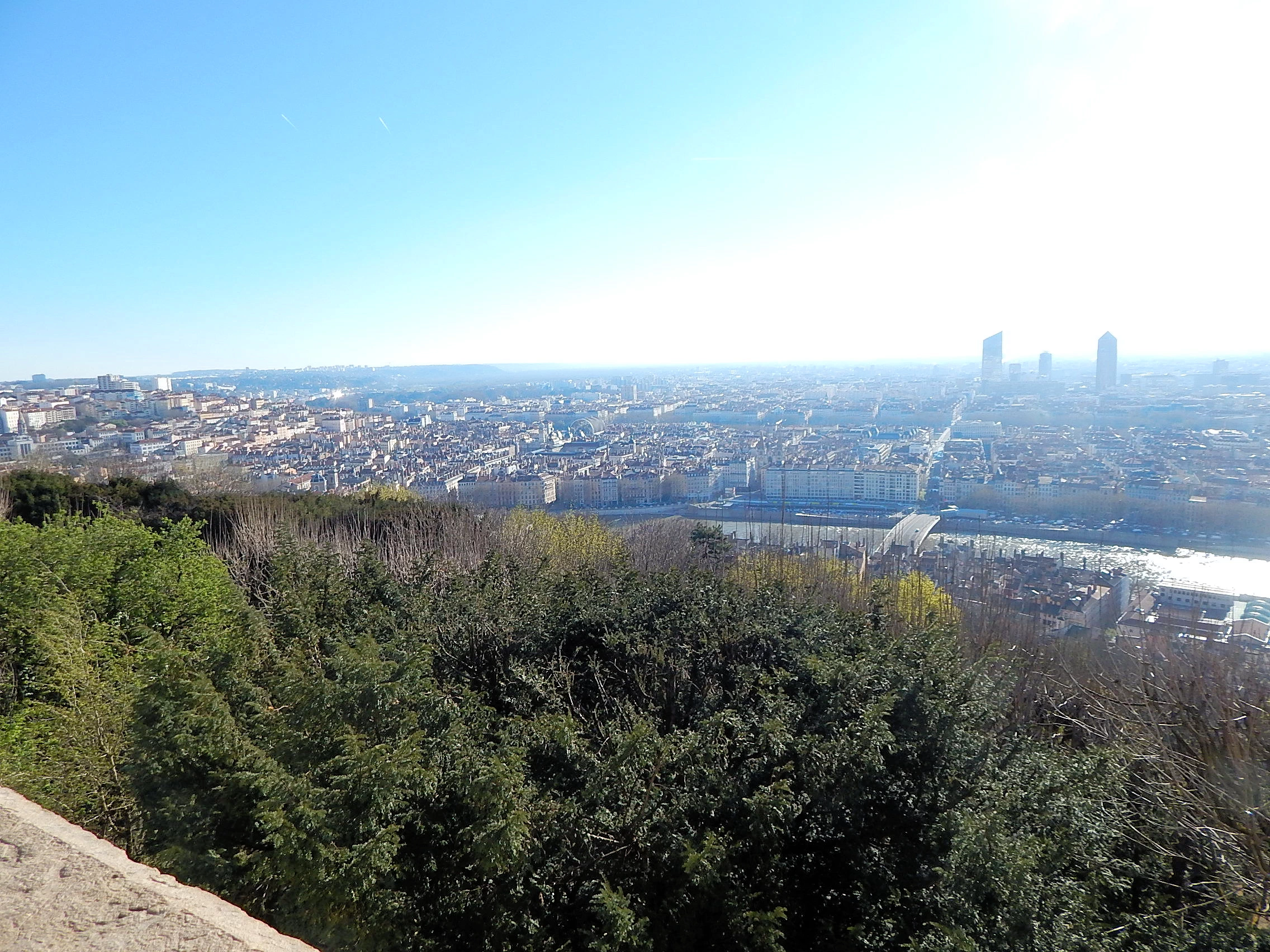 The ship arrived in Lyon at 3PM, and we initially tied up at the Quai Claude Bernard - the eastern side of the Rhône River. This is a very scenic location, adjacent to the Université Lumière Lyon and only 2.2 kilometers from the Place des Terreaux.
The Rhône River splits away from the Saône River at the southern tip of the Lyon City Peninsula and swings east on the north side of Lyon. The Saône River continues it's northward march to Vioménil, France. We were told by Viking personnel, that the Saône River was too high to allow the Viking Heimdal to proceed to it's usual location.
Since the city tour we are interested in takes place on day 7 (Tuesday), we decided to go ahead and do our "own" walking tour and so we headed off to Place Bellecour, and tramp around the Rue de Victor Hugo and Rue de la Charite. The goal was to see some of the city, walk off some of the good food being served on the Viking Heimdal, and to earn our next meal!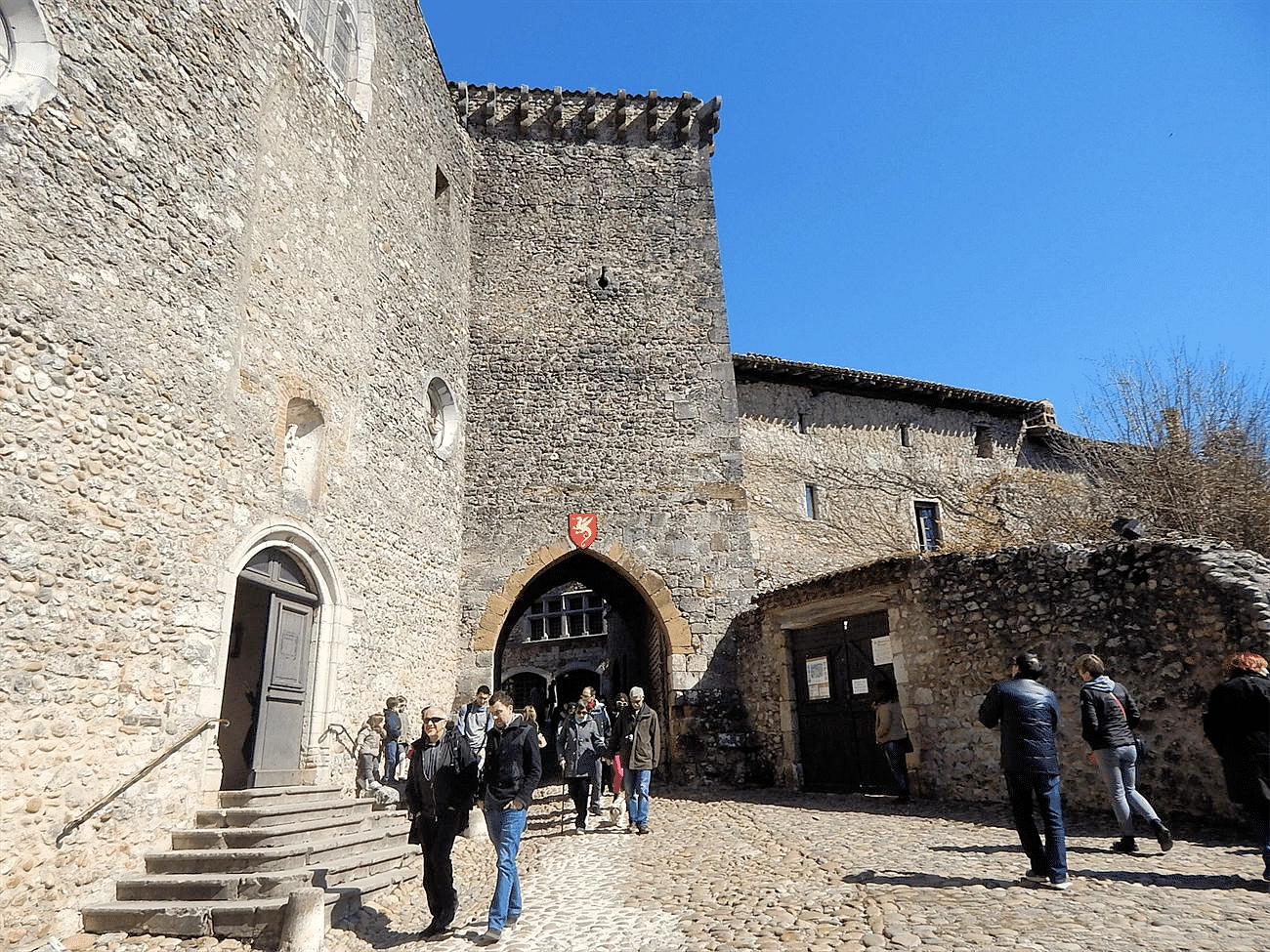 Perouges is another of those amazing medieval walled & cobblestoned little villages that are all over Europe, but each is just different enough, to where it is always interesting to visit them. It is a medieval walled town 19 miles northeast of Lyon and is perched on a small hill that overlooks the plain of the Ain River.
Our visit was organized by the Viking River Cruises team as a bus tour day trip. Perouges is only 40 kilometers from Lyon but it is as close to a "living museum" as you can get with over 80 buildings listed as historic monuments.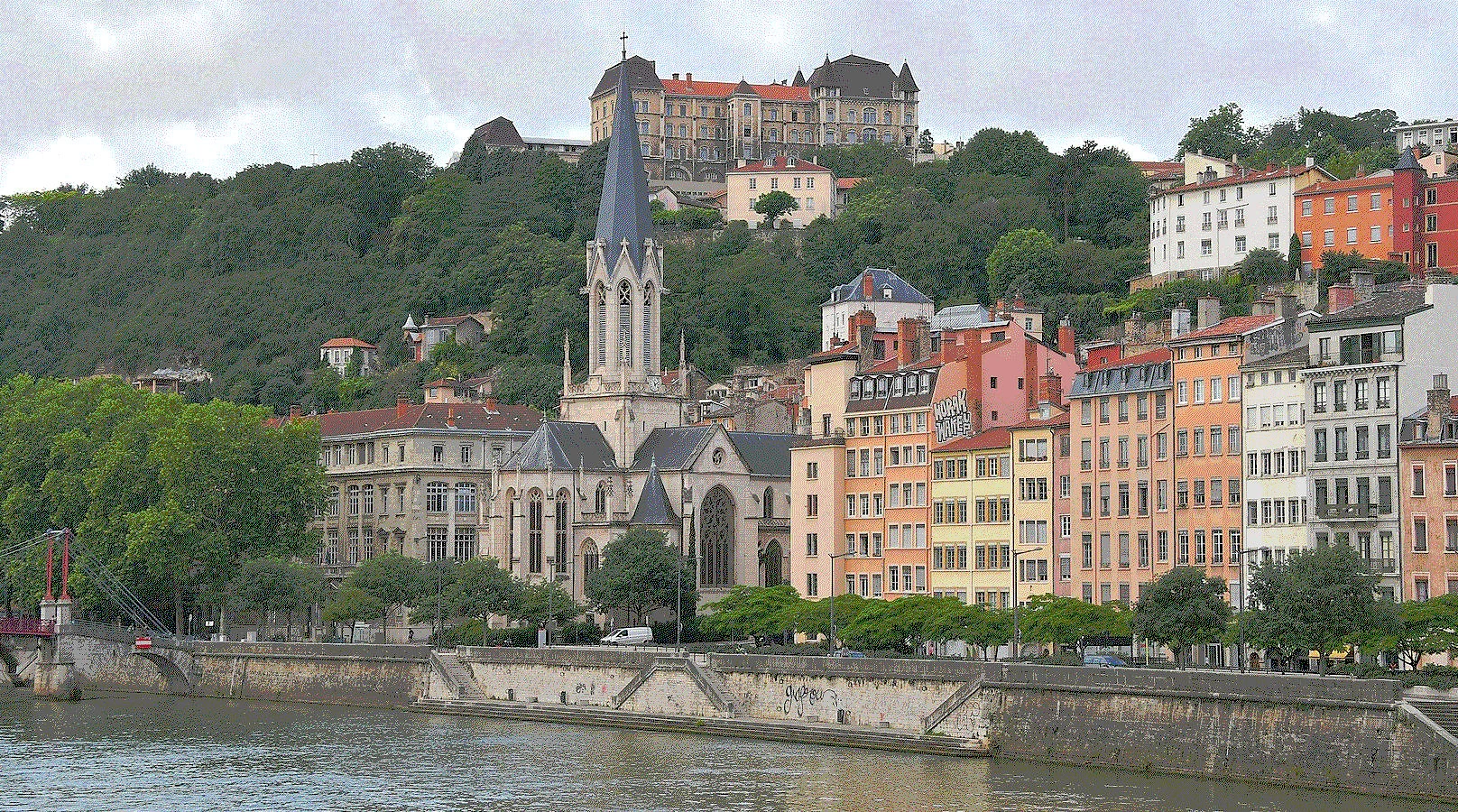 As this was the last day of the River Rhone Cruise, we did quite a bit of exploring. We hiked into the city and found a good restaurant - we were looking for a restaurant where we could all enjoy mussels & french fries - and we succeeded.
This was the "end of the cruise - departure day" and we woke up that morning to discover that not only had the French Air Traffic Controllers gone on strike sometime during the night, we also found to our horror, that the strike had caused many domestic flights to be cancelled. Including our Lyon to Paris flight, that was due to depart Lyon Airport at 1PM.
I'm not going to fully describe this part of the trip, suffice it to say that we eventually were able to get a semblance of normality restored, and we finally got back to Sarasota at 1:45AM. If it had not been for some very, very nice Air France personnel at the Lyon Airport, we would probably still be in Lyon today!
This was our second Viking River Cruise, and it is difficult to compare it to our 2014 River Seine cruise. The stops we made on this cruise were very good, however, the River locks are frequent and are quite low compared to the River Seine lock systems. The River bridges are also quite low, which meant that the sun-deck area of the ship was never open throughout the entire cruise. Considering how chilly it frequently was, the sun-deck would probably have not been utilized often. As just an example, average temperatures for Lyon, France are in the mid to lower 50's (farenheit).
The wine on this ship was as good as the River Seine cruise, but the food was not quite as good. It is difficult to put the food into perspective, it was well prepared, it was good quality, but it was not as enjoyable as what we had on the previous cruise. Bear in mind that it was not "bad", it was just not as good when you compare the two ships, perhaps due to the chef?
Viking changes various parameters of this cruise from time to time, so you should Click here to go the Viking Site and read about this cruise in more detail.

---
Disclosure: Some of the links on this page are Affiliate Links, meaning, at no additional cost to you, that we will earn a commission if you click through and make a purchase. So we would appreciate any click throughs, if you are inclined.
Note: All images on this page are the property of Just Traveling Thru, LLC unless otherwise noted.
Note: If you are interested in our European Travel Tips & Warnings, Click here. Or to take a look at our methods for Trip Planning click here.
---
To review any of our content, make suggestions and/or comments, please click the "Info" menu button at the top of this page. You will find our "Contact Us" link on that drop-down menu.