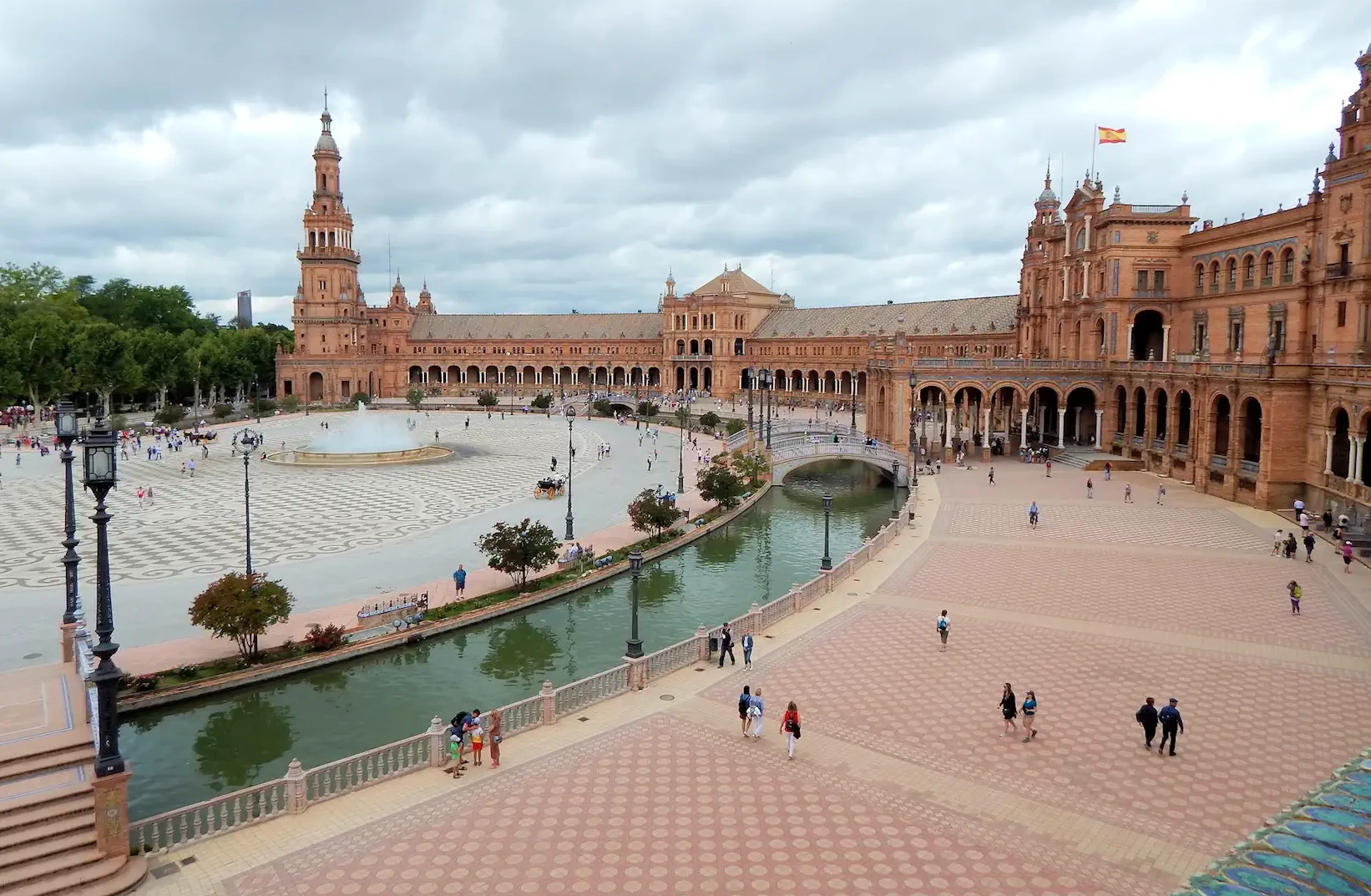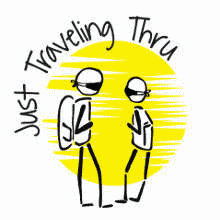 Day trip to Seville from Cadiz by Train
We were onboard the Norwegian Cruise Lines 'Epic' on a repositioning cruise from Port Canaveral, FL to Barcelona with various stops along the way - the third stop being Cadiz. Based on the historical significance of Seville and all that we'd read about it we chose to travel to Seville for the day by train instead of spending our time in Cadiz.
Cadiz is 4,456 sea miles from Port Canaveral and 637 sea miles northwest of Funchal Madeira. Cádiz is one of the oldest continuously inhabited cities in Western Europe, with archaeological remains dating back 3,100 years & was founded by the Phoenicians. It has been a principal home port of the Spanish Navy since the accession of the Spanish Bourbons in the 18th century. The city is a member of the Most Ancient European Towns Network. It is also the site of the University of Cádiz.
Caution: If you are coming here on a tour, then you can disregard this text. If you have come here via train from a cruise ship in Cadiz then read on; Seville is a large city, however, the old historic area is relatively condensed and can be easily reached from the San Bernardo Train Station. Since you will be on a schedule based upon the required time to reboard your cruise ship, you are going to have to plan your Seville exploration carefully and keep an eye on your clock!
How to day trip to Seville from a Cruise Ship in Cadiz
As soon as your Cruise Ship allows passengers to disembark, head immediately to the Cadiz Train Station at Plaza Sevila.
Your American issued credit cards may not work here, cards with chips are more likely to work. There is a ticket counter, and there are ticket machines. The machines are faster if the ticket counter is busy.
You will want to travel to the San Bernardo Seville Train station, which is much closer to the areas that you will probably want to visit (read further below).
You will want to use your mapping App on your phone once you reach Seville, hopefully you opted for the cost of using your cellular device in Europe. If not, you will need a paper map.
Trains run frequently between Cadiz & Seville, however you need to be careful about when you return to Cadiz so that you have plenty of time prior to your ship's departure.
There are more details further down this page.
Cadiz Quick History Lesson: According to a 2016 census estimate, the population of the city of Cádiz was 118,919 (the second most populated of the province after Jerez de la Frontera with 212,830 inhabitants), and that of its metropolitan area was 629,054. Cádiz is the seventeenth-largest Spanish city. In recent years, the city's population has steadily declined; it is the only municipality of the Bay of Cádiz (the comarca composed of Cádiz, Chiclana, El Puerto de Santa María, Puerto Real, and San Fernando), whose population has diminished. Between 1995 and 2006, it lost more than 14,000 residents, a decrease of 9%.
Among the causes of this loss of population is the peculiar geography of Cádiz; the city lies on a narrow spit of land hemmed in by the sea. Consequently, there is a pronounced shortage of land to be developed. The city has very little vacant land, and a high proportion of its housing stock is relatively low in density. The older quarters of Cádiz are full of buildings that, because of their age and historical significance, are not eligible for urban renewal.
Some Fun and/or interesting facts about Seville, Spain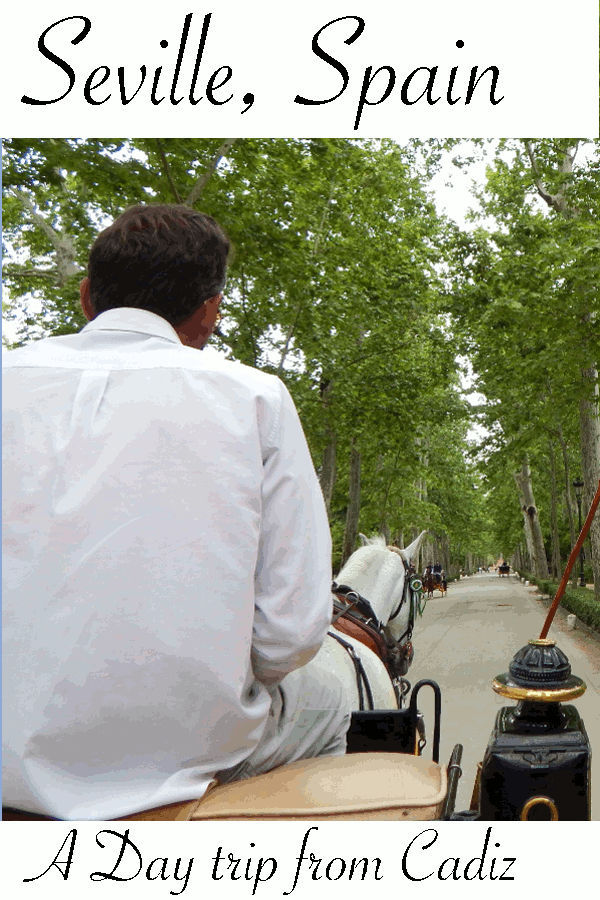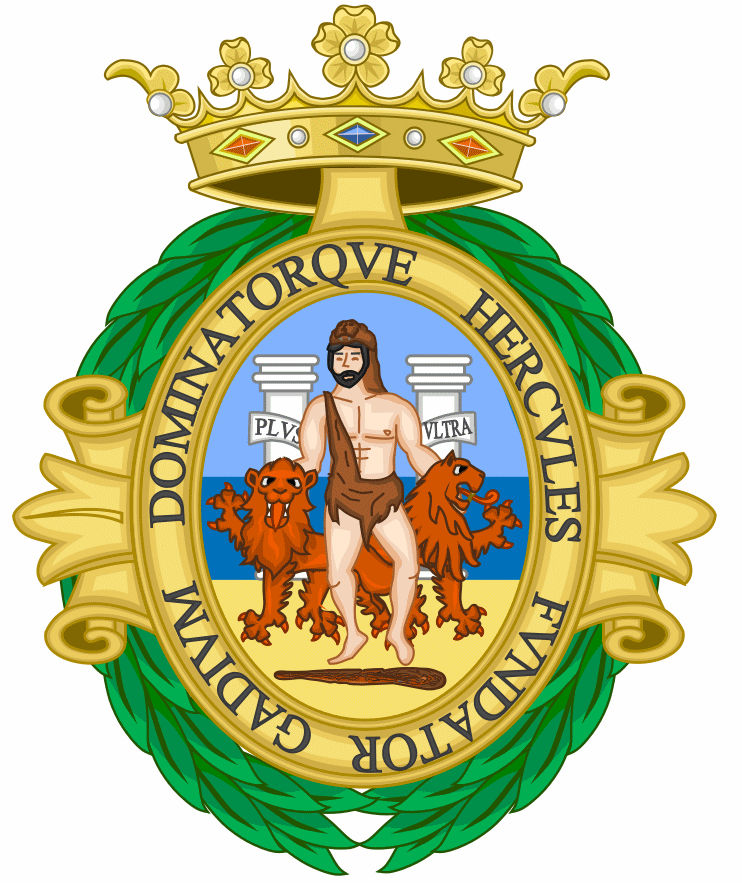 Cadiz Coat of ArmsImage is the property of Wikimedia Commons
Since the majority of this visit was about Seville as opposed to Cadiz (where we did not spend much time), from here on out everything will be about Seville.
The ship arrived in Cadiz harbor at 7AM, but passengers were not allowed to disembark until nearly 8AM (Spanish Customs, etc). We headed straight to the Cadiz Train Station (located at Plaza Sevilla) to obtain train tickets for Seville. It is only a kilometer walk from the cruise pier, but the Cadiz Port authorities required all passengers to take a shuttle bus to the Cruise Port entrance - so our walk began there. Somewhat out of our intended direction, but still just a walk down the Avenue del Puerto to the Plaza de Sevilla and the ADIF-RENFE Train Station.
The high speed train goes to the Santa Justa Seville Train station from the Cadiz Train Station, however, this leaves you with an approximately 5 kilometer walk to reach the Plaza de Espana area. So we opted to ride the "local train" so that we could exit at the San Bernardo Seville Train station (image #2 above) which gave us only a one kilometer walk.
The Cadiz Train Station (image #1) offers two methods of purchasing tickets, one being the typical "Ticket Counter" method and the other being automated ticket machines. Since we knew from previous European Travels that the automated machines might not work with American credit cards, Celeste went to see if the machine would accept our credit cards and I stayed in the ticket counter line. It was a good thing that we took this strategy, because the automated machines required a "contactless" credit card. There was no chip reader or swipe reader. Our credit cards were not contactless so they didn't work. Even the Ticket Counter card reader failed to read our card, so we wound up utilizing cash so that we could hurry and catch the train before it departed! Always carry cash is rule #1 on our European Travel Tips page
The local train is a 90 minute ride to Seville from Cadiz (several stops along the way), and of course a 90 minute return ride. Make sure you have enough time for the train ride and arrive back in Cadiz well before the departure time for your ship. Fortunately our ship was not scheduled to depart until 7:30PM so we had more than enough time to do a "just traveling through" adventure in Seville! We saved a lot of money by not taking the ships shore excursion. The train ride was only €23.50 per person for the round trip - compare that to the ship excursion prices where the least expensive was €119 and the most expensive was €329 per person round trip. Yes, the ship excursions were done by bus, but when we inquired at the excursion desk as to what was included in those prices, they were not able to tell us!
Once you arrive in Seville, the local train stops at the Seville Metro Stations as well as the central train station. Santa Justa is the main train station, however we left our train at the San Bernardo train station (image #2) because it is much closer to the areas of Seville we wanted to visit.
Which Carriage?
Lets Ride!
Everybody is Departing
Maria Luisa Park
Museum of Arts and Traditions of Sevilla
Carraige Central
Archivo General de Indias
Híspalis Fountain
Royal Alcázar of Seville
Once we had explored the main building and reviewed the map of the area, we realized that there was a lot to see and we didn't have much time... So we decided to take a horse drawn carriage tour. It was a little pricey at €50 for the two of us but it was fun to relax and ride in the carriage and gave us a beautiful view of the parks and major sites. The tour guide provided some info about the area as we rode however his english wasn't great so the information was limited.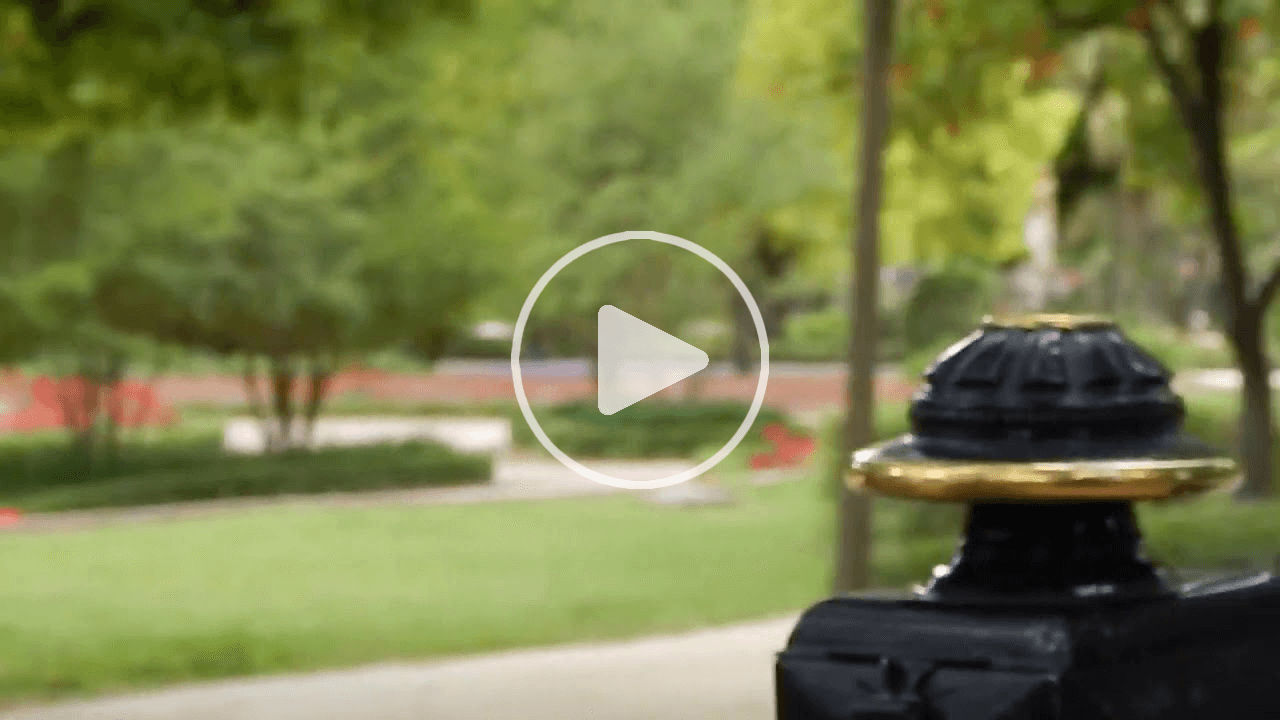 YouTube Tip
Click either of these video images to start that video playing, and then when the YouTube "video controls" appear at the bottom of the video, then click the "square" in the lower right corner of the video to make the video appear "full screen" & then click the "play" button.
Once the video has completed, push your computer's "escape key" to minimize the video again.
Or click here to subscribe to our Youtube Channel.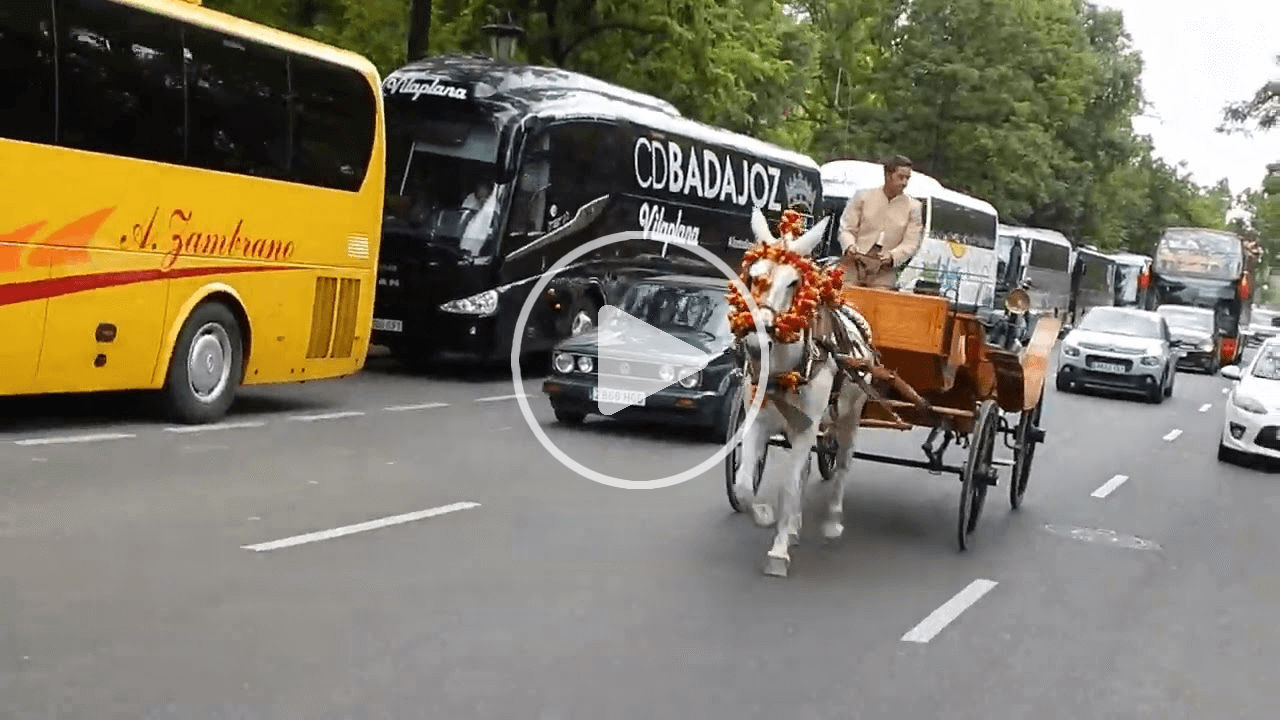 Puerta del Leon ("Lion Gate")
Puerta del Leon from the Joaquin Murube
Walking the Joaquin Romero Murube
We exited the horse drawn carriage near the Real Alcázar of Seville (Royal Palace), but found that the waiting line to get into the palace went completely around the block. In hindsight, we should have gotten our tickets in advance. We broke our own rule by not investigating this before we sailed!
From the Royal Palace, we hiked over to the Plaza del Triunfo and then onto the Avenue de la Constitucion. As you can see in the above images, this area is a mixture of old and new architecture. The entire area is a mix of commercial and private enterprises, restaurants, pubs, etc. Interesting area in that it gave us a view of the real Seville as opposed to the historic Seville.
Image #2 is the Seville Metro route which runs down the center of Avenue de la Constitucion, which made the comparison between old & new even more distinct than just the buildings themselves!
With no specific destination in mind, we walked along the Avenue de la Constitucion, people watching, exploring shops, unique buildings, and taking in some street performance art. Check out the guy seeming to float in mid-air (image#2). We still aren't sure how he did that, and everybody passing by couldn't figure it out either!
We turned back and headed towards the Cathedral and the Royal Palace, as we knew that we had to be at the Santa Justa Train Station allowing sufficient time to return to Cadiz. We wound up wandering east through some interesting areas and once we reached the Calle José María Moreno Galván we realized that we had to find a taxi as the train station was still a few more miles, and we were running out of time.
---
Disclosure: Some of the links on this page are Affiliate Links, meaning, at no additional cost to you, that we will earn a commission if you click through and make a purchase. So we would appreciate any click throughs, if you are inclined.
Note: All images on this page are the property of Just Traveling Thru, LLC unless otherwise noted.
Note: If you are interested in our European Travel Tips & Warnings, Click here. Or to take a look at our methods for Trip Planning click here.

To view our entire set of images from Cadiz Spain, click here
---
To review any of our content, make suggestions and/or comments, please click the "Info" menu button at the top of this page. You will find our "Contact Us" link on that drop-down menu.