Bird Key Park Sarasota, FL
Bird Key Park is a serene oasis nestled in the vibrant city of Sarasota, Florida. Covering a picturesque area of lush greenery and shimmering waterfront views, this park is a haven for nature enthusiasts and leisure seekers alike. As its name suggests, Bird Key Park is renowned for its abundant birdlife, making it a popular destination for birdwatchers. The park's well-maintained walking trails wind through a variety of habitats, providing ample opportunities to observe local and migratory avian species in their natural habitat.
Visitors can relish the peaceful atmosphere as they meander along the pathways, enjoying the gentle rustling of palm trees and the soothing sounds of nearby water. The strategically placed benches invite contemplation and relaxation, making it an ideal spot for picnics or quiet reflection. Additionally, the park features waterfront picnic areas where families and friends can gather and savor a day in the great outdoors.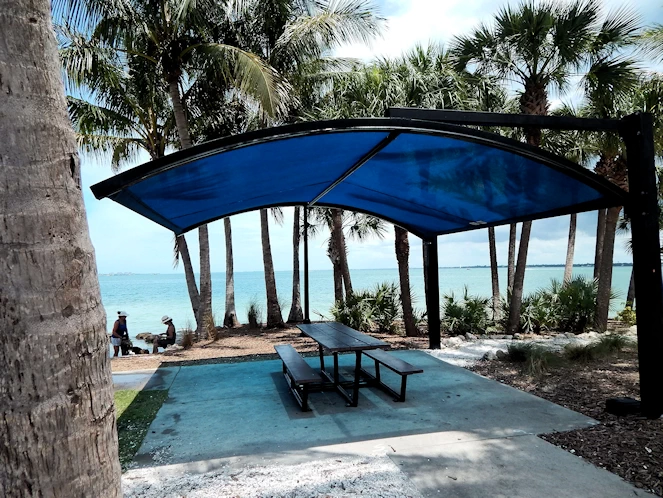 Park Amenities
Cycling
Dog Friendly
Water Fountains
Fishing
Kayak/Canoeing
Pavilion
Picnic Tables
Rental Venue
Transportation
Walking Path
Bird Key Park Hours
Although located adjacent to the John Ringling Causeway, it is surrounded by the Ringling Bridge Causeway Park. The first traffic light you arrive at on the southern side of the Causeway Bridge is where you will need to turn right to enter the parking lot.
Great Views of Sarasota Bay
This park is a popular location to fish, bike, enjoy the sunset, launch a canoe or kayak or walk your leashed pet. Located just before you exit the south side of the John Ringling Causeway. It also has two pavilions, and picnic tables.

---
Disclosure: Some of the links on this page are Affiliate Links, meaning, at no additional cost to you, that we will earn a commission if you click through and make a purchase. So we would appreciate any click throughs, if you are inclined.
Note: All images on this page are the property of Just Traveling Thru, LLC unless otherwise noted.
Note: If you are interested in our European Travel Tips & Warnings, Click here. Or to take a look at our methods for Trip Planning click here.
---
To review any of our content, make suggestions and/or comments, please click the "Info" menu button at the top of this page. You will find our "Contact Us" link on that drop-down menu.