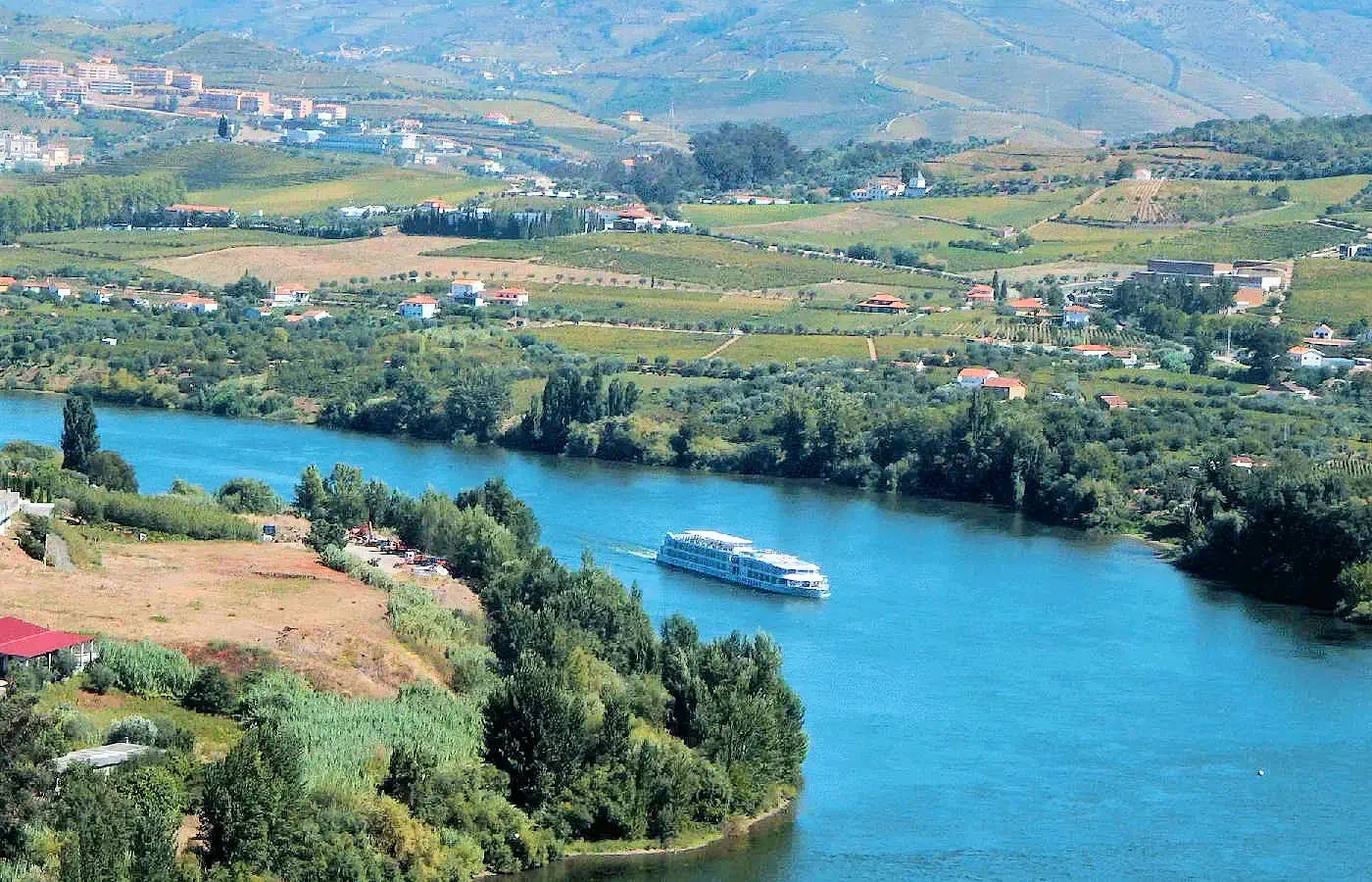 Douro River Valley, Portugal
This was our first major "target" for our week in Portugal; neither of us had ever been here before, we have Portuguese immediate family members & relatives, and we wanted to explore everything we could! We wanted to see as much of Portugal as possible, so our planning of where to go, how long to stay there, and the routes necessary for each of the next destinations took some time to put togeher. The single biggest hurdle was mapping our "want to see list" to the time span we had available!
We flew into the Airport Francisco Sá Carneiro in Porto, on the Atlantic Coast from Madrid & collected our rental car from Auto Europe. The route was straight forward; we drove on the N13 & N15 straight east into the valley. Once we reached the N2, we drove south and crossed the river on the Ponte Rodoviaria da Regua. A pleasant drive through rolling hills, vineyards and small villages.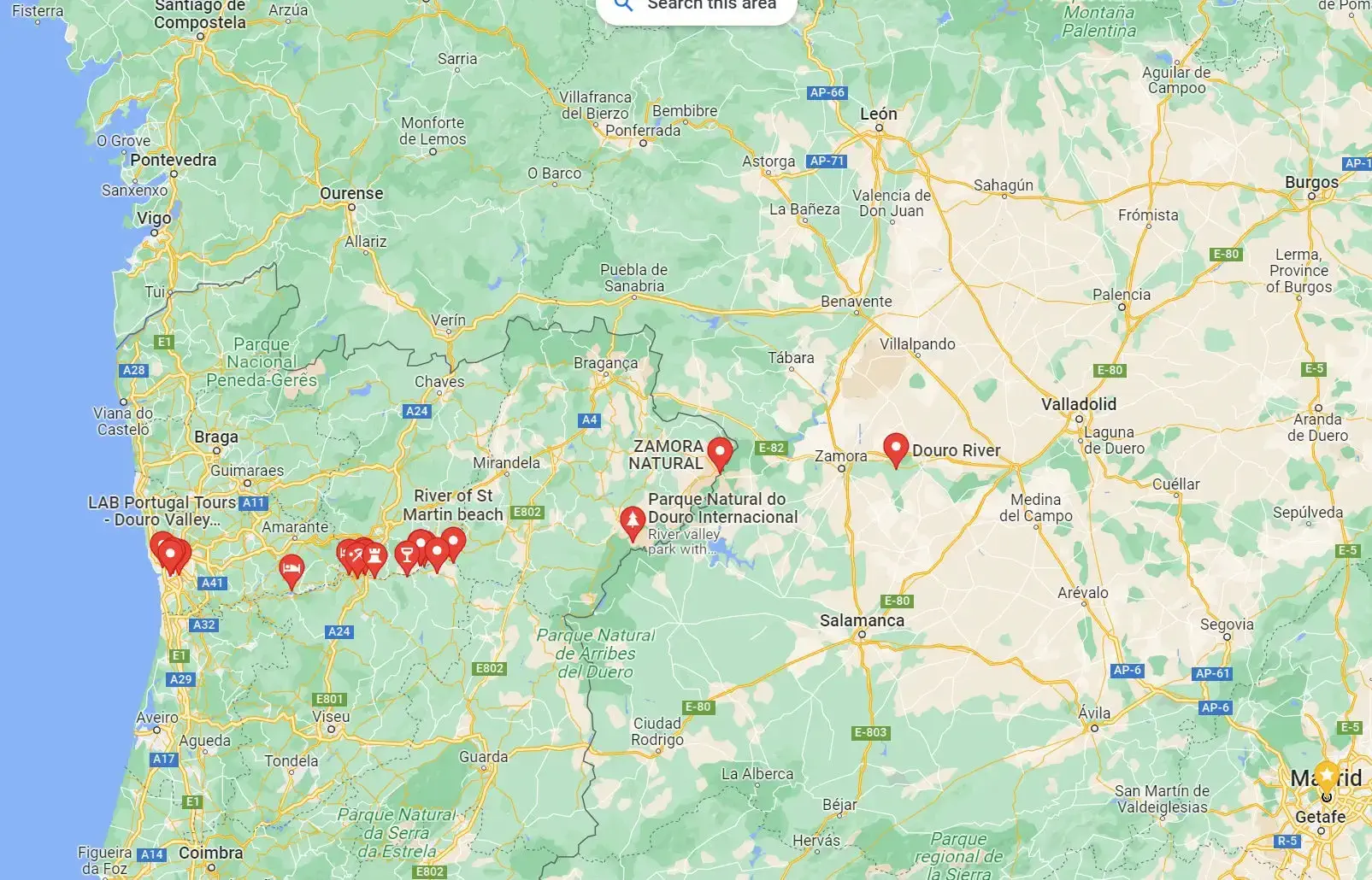 Click Image to view larger Google Map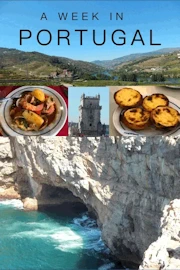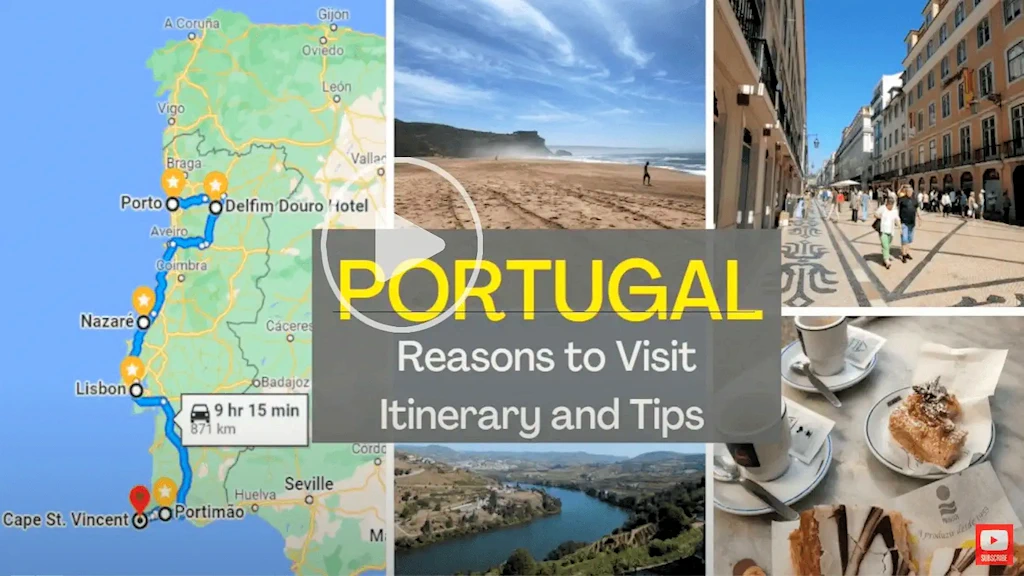 Check out our video for a overview
of our trip through Portugal and for some interesting information. This video is the property of Just Traveling Thru, LLC.
If you enjoy our videos click here to subscribe to our Youtube Channel.
Besides our Portugal motivations from our family's heritage, here are some other incredible reasons why we wanted to visit Portugal;
Perhaps now you can understand our enthusiasm for spending a week in Portugal, exploring it from North to South?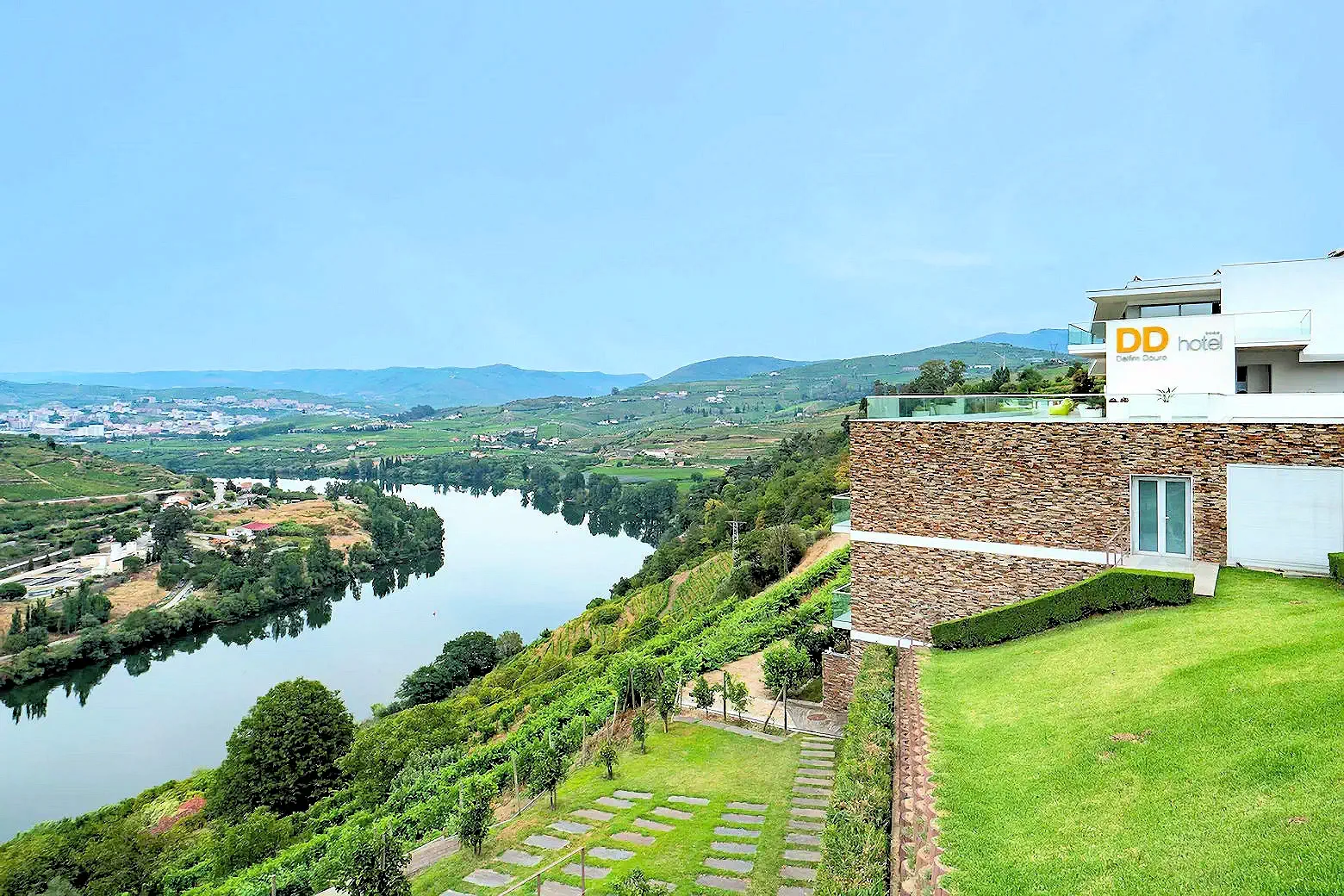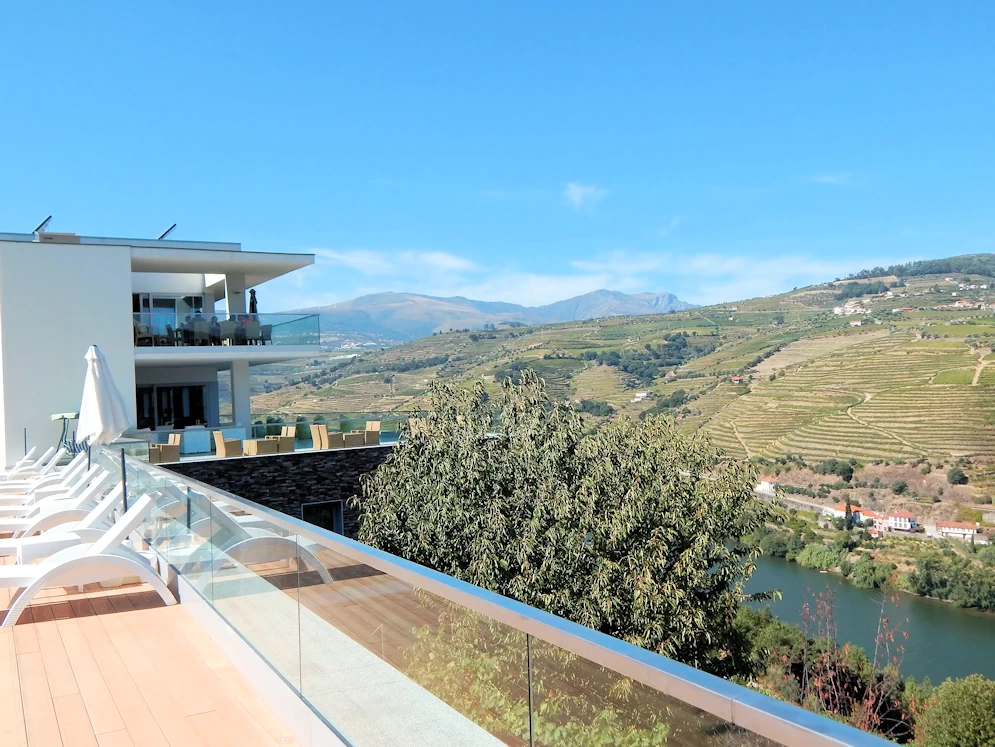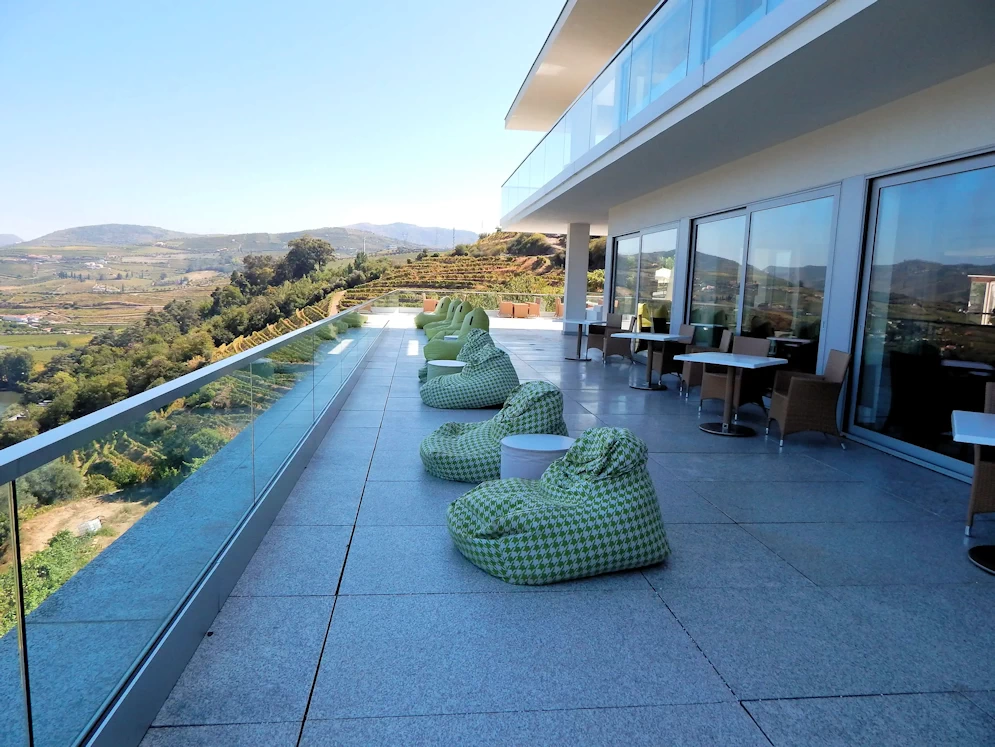 Delfim Douro Hotel
We had originally intended to check into the hotel, and then drive and find a local vineyard to visit or tour, but the hotel was so inviting, and occupies such a beautiful location on the hill above the River Douro, that we decided to spend a few hours in the pool and do the vineyard tour before dinner.
The pool area was very comfortable with a stunning view of the Douro River down the slopes of the hill that the hotel was situated upon. You could not possibly come up with a better location for a hotel!
See that left-most door in the hotel? That leads directly into the bar area if one felt the need for an adult beverage.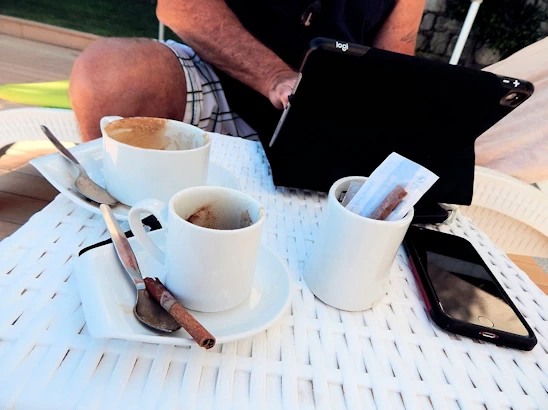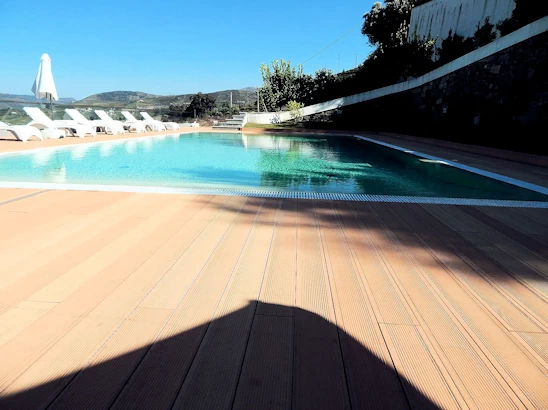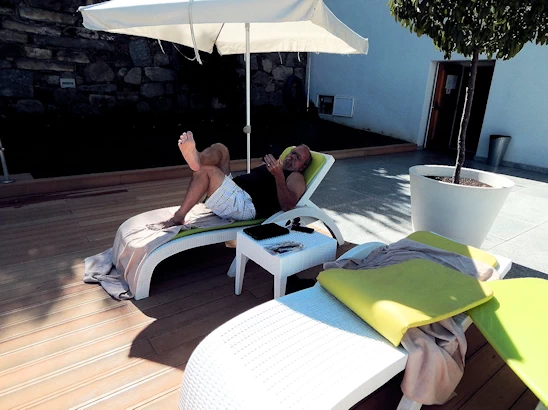 Delfim Douro Hotel: Poolside Lunch
The decision to hang out for a while was also driven by the fact that we had departed Madrid at a very early hour, flew to Porto, hopped into a rental car and then drove to the hotel (125 kilometers). So the concept of relaxing at the pool after a quick lunch, was a very easy decision to make.
As you can see in this, after lunch we had a cappuccino and caught up with what was going on in the world since we had departed Madrid. Nice way to relax prior to driving to the vineyard tour.
You can see that the sky was nearly cloudless that day, beautiful bright sunny day, and yet another reason why we decided to hang out at the pool!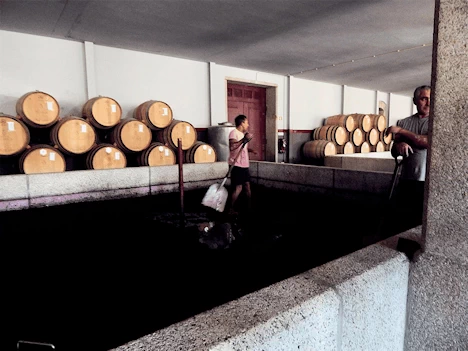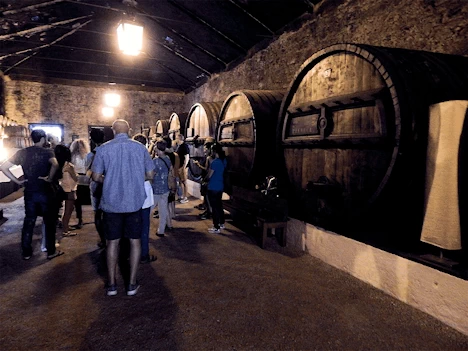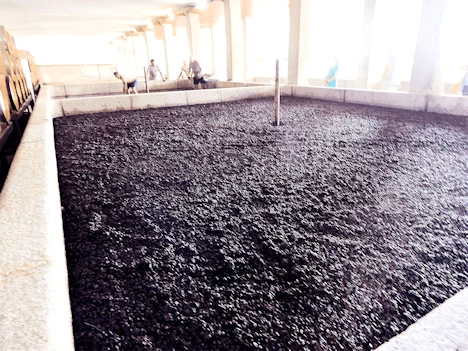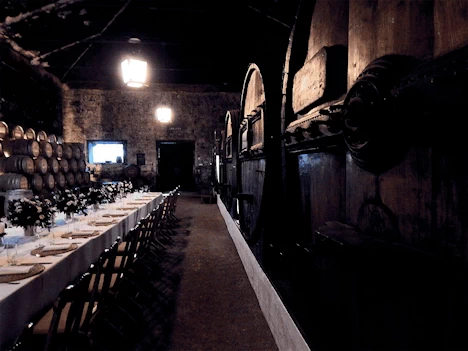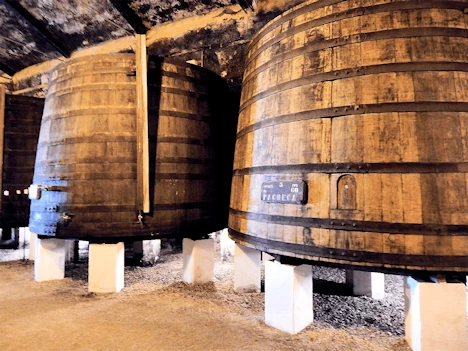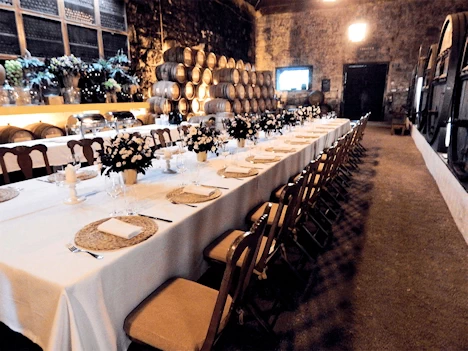 Grape Vats/Grape Processing
In image # 1 one of the wine workers is shoveling the grapes into a barrel delivery tube. This is how the grape juice is transferred to the vats below this level of the building.
These gray stone vats are used to hold the destemmed grapes and where the grapes are pressed ("grape stomping"). The grapes are then stored in the vats for several days.
After the grapes have been processed, the results are stored in these massive barrels (image # 2), to allow the wine to mature ("primary fermentation"). After primary fermentation, the wine will be transferred from the fermentation barrels to another vessel for aging.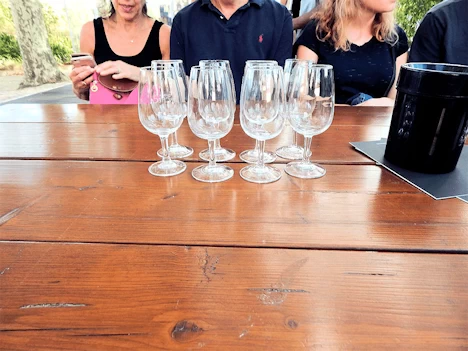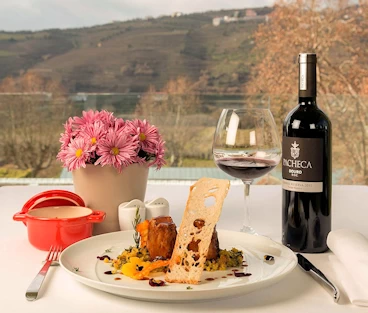 Group Wine Tasting
After our tour guide had taken us through the various stages of processing, we then were taken to a port & tawny port tasting. If the name "port wine" or "tawny port" doesn't ring a bell with you, click here to learn about Port Wines.
This was an entertaining part of the tour, as we got to sample various types of wine they produce. Speaking as a person who enjoys good wine, I'd have to say that Port Wine is perhaps an "acquired taste". NOTE: Image # 2 (right side) property of 'Portugal by Wine'
NOTE: Below are some useful links where you can find even more information about the areas we have described on this page. There are of course, many other useful websites & pages, so for something specific, we would suggest using Google Search.

---
Disclosure: Some of the links on this page are Affiliate Links, meaning, at no additional cost to you, that we will earn a commission if you click through and make a purchase. So we would appreciate any click throughs, if you are inclined.
Note: All images on this page are the property of Just Traveling Thru, LLC unless otherwise noted.
Note: If you are interested in our European Travel Tips & Warnings, Click here. Or to take a look at our methods for Trip Planning click here.
---
To review any of our content, make suggestions and/or comments, please click the "Info" menu button at the top of this page. You will find our "Contact Us" link on that drop-down menu.