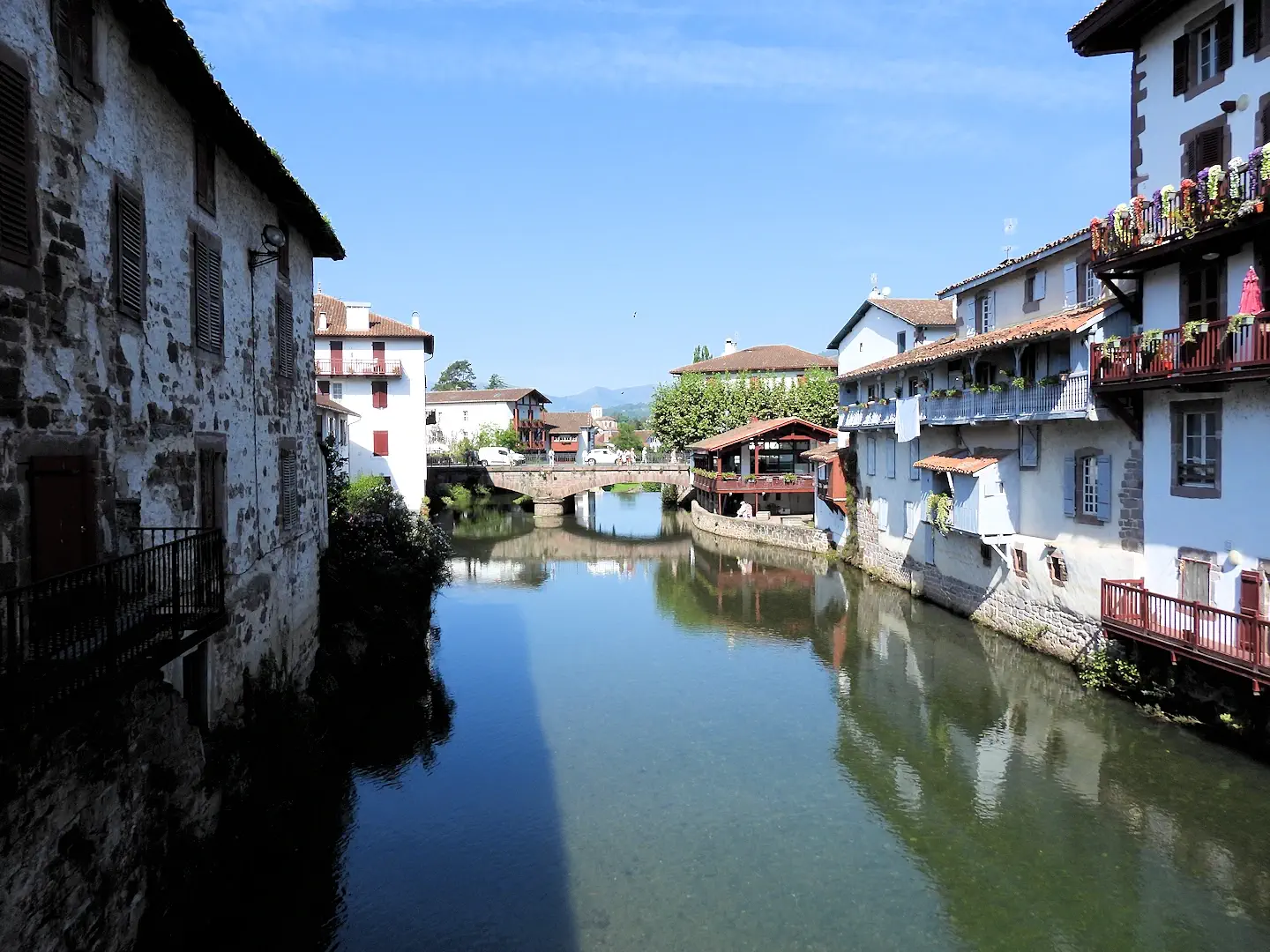 Exploring Northern Spain
A Journey Through the Hidden Gems of the Region
After our exploration of Saint-Jean-Pied-de-Port (SJPP), France we drove to Logroño, Spain. The route from SJPP south was on the N-135 through Pamplona and then the A-12 to L ogroño. The N-135 just may be the most switchbacks we have ever driven, and it constant turns as it came down from the Pyrenees.
The N-135 is considered to be one of the "Basque Circuit" highways and specifically the route between Pamplona, Spain to Saint-Jean-Pied-de-Port, France. Perhaps not as well known as the Switzerland or Northern Italy "great drives" but it is challenging and pretty as well.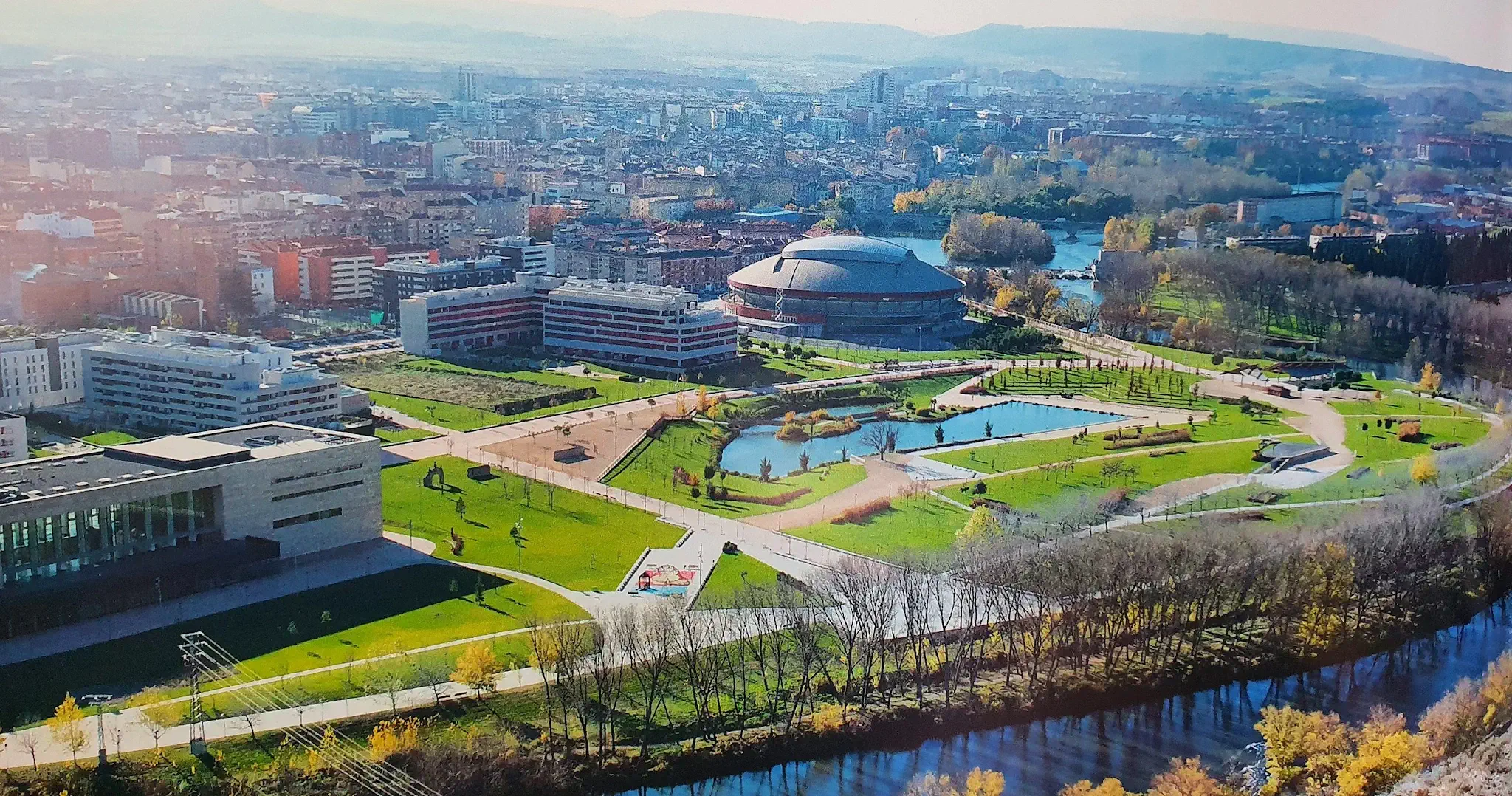 We spent the morning exploring Saint-Jean-Pied-de-Port, and then headed south on the N-135 highway. The N-135 highway, also known as the Carretera de Navarra, is a picturesque and vital route that winds its way through the northern region of Spain, connecting Saint-Jean-Pied-de-Port to Logroño. This journey along the N-135 is a driving enthusiast's dream, offering a wide array of scenic vistas and cultural experiences - as well as numerous switchbacks that are really "u-turns".
As our drive to Logroño took most of the afternoon, by the time we arrived and got settled into the AC La Rioja Marriott Hotel, it was nearly dinner time and we knew we had a long drive ahead of us the next day. So we decided to drive into the old town area, find a Tapas Pub and just do a light dinner and have some Rioja wine. We did not take our camera equipment, which was a pity because this was a picturesque city and as you can see in the above image banner, our hotel was perhaps 3 blocks from the Plaza de Toros de La Ribera (bull fighting ring).
Just for anyone who might be interested in visiting Logroño, the AC La Rioja Marriott Hotel was very comfortable and had underground secure parking. It is located not too far from the old town area and it is quite modern.
The above Logroño image is the property of Despotismo Ilustrado y Barroco via Wikimedia Commons using the Creative Commons CC BY-SA 4.0 license.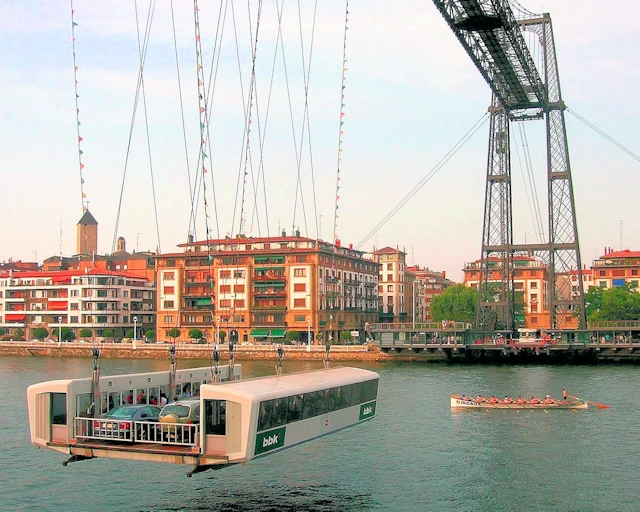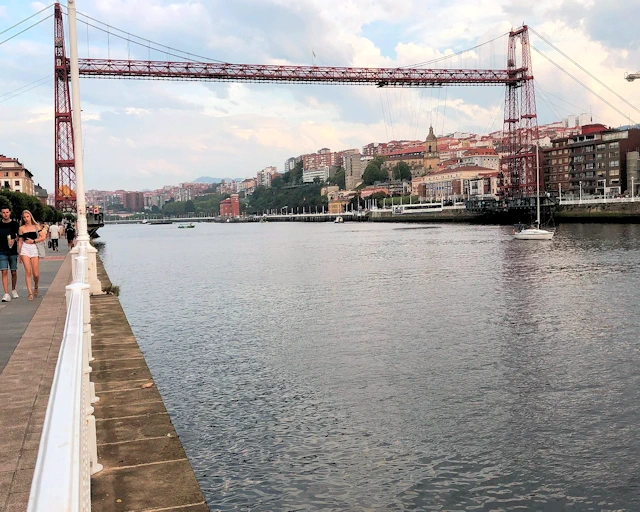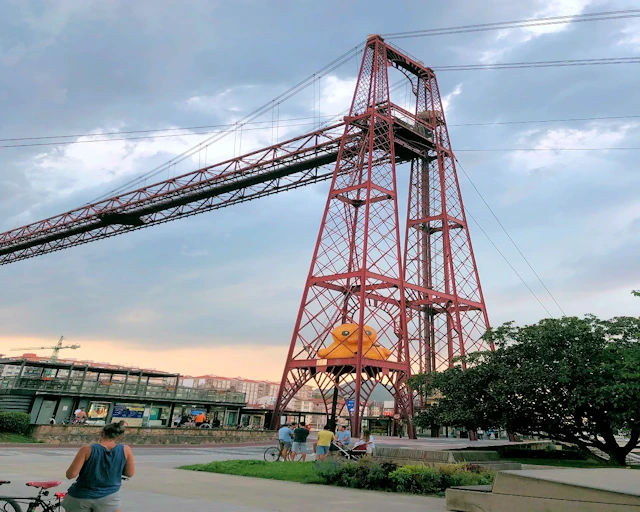 Vizcaya Bridge
The Vizcaya Bridge is a transporter bridge (located approximately 1.2 kilometers south of our hotel) that links the towns of Portugalete and Las Arenas (part of Getxo), crossing the mouth of the Nervion River (same river that flows past the Guggenheim Museum). People in the area, and even the official website, commonly call it the Puente Colgante (literally "hanging bridge", used for suspension bridge in Spanish), although its structure is quite different from a suspension bridge. The gondola can transport six cars (see image # 1 above) and several dozen passengers in one and a half minutes. There is a walkway on the very top of the structure, reachable via elevator in the towers (see image # 4 above).
The Vizcaya Bridge was built to connect the two banks which are situated at the mouth of the Nervion River. It is the world's oldest transporter bridge and was built in 1893, designed by Alberto Palacio, one of Gustave Eiffel's disciples.
---
Disclosure: Some of the links on this page are Affiliate Links, meaning, at no additional cost to you, that we will earn a commission if you click through and make a purchase. So we would appreciate any click throughs, if you are inclined.
Note: All images on this page are the property of Just Traveling Thru, LLC unless otherwise noted.
Note: If you are interested in our European Travel Tips & Warnings, Click here. Or to take a look at our methods for Trip Planning click here.
To review any of our content, make suggestions and/or comments, please click the "Info" menu button at the top of this page. You will find our "Contact Us" link on that drop-down menu.