A Chateau-Infused European Sojourn
From London to the Loire Valley and Beyond
Our 21-day European sojourn was nothing short of a grand adventure, seamlessly blending the iconic landmarks of London with the exquisite chateaus of France and the vibrant charm of Basque Country in Spain. This journey took us on a captivating exploration of Europe's diverse tapestry, where history, culture, and natural beauty converged in a symphony of experiences.
Our expedition commenced amidst the hustle and bustle of London, a city steeped in history and modernity. From its iconic landmarks to its thriving arts scene, London set the stage for our European escapade.
The heart of our adventure lay in the enchanting Loire Valley, a region renowned for its magnificent chateaus and lush vineyards. As we wandered through the opulent corridors and manicured gardens of these architectural wonders, we couldn't help but feel transported to a world of fairy tales.
Continuing our journey southward, we found ourselves immersed in the medieval charm of the Dordogne region, where ancient towns, prehistoric caves, and meandering rivers beckoned us to explore. The Dordogne revealed secrets of a bygone era, where history whispered through cobblestone streets and ancient cave paintings.
Our pilgrimage then led us to the hallowed path of the Camino Frances (a historic pilgrimage route leading to the shrine of St. James in Santiago de Compostela, Spain), where we followed in the footsteps of countless seekers. Although we didn't traverse the trail on foot, we saw pilgrims starting their journey in the historic St. Jean-Pied-du-Port, and traversed the Pyrenees mountains on our way to Logrono; another stop on the historic Camino Frances trail.
Venturing into Basque Country, our senses were enraptured by the rugged beauty of Biarritz's coastline, the artistic vibrancy of Bilbao, and the spiritual aura of Lourdes in France. Basque Country, with its unique blend of traditions and landscapes, provided the perfect crescendo to our European symphony.
Join us as we embark on a narrative through London's modernity, the regal chateaus of France, and the enchanting spirit of Basque Country.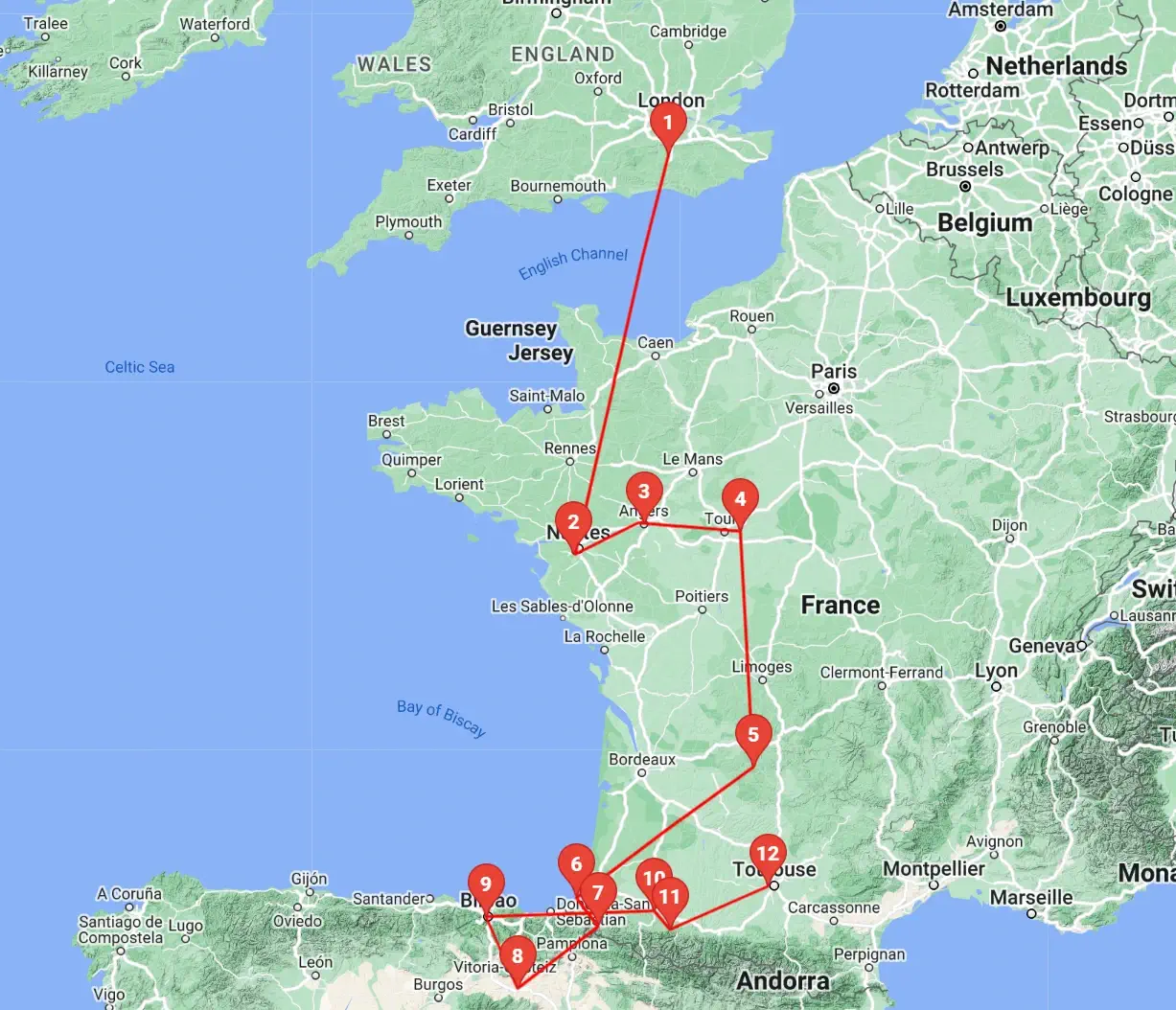 Click above Image to view larger Google Map
As you can see in this static map, we had a number of destinations (as well as a number of side trips) that would require a considerable amount of driving. Fortunately, we were able to break up the driving portions with frequent stops.
Locations / End point is Heathrow International Airport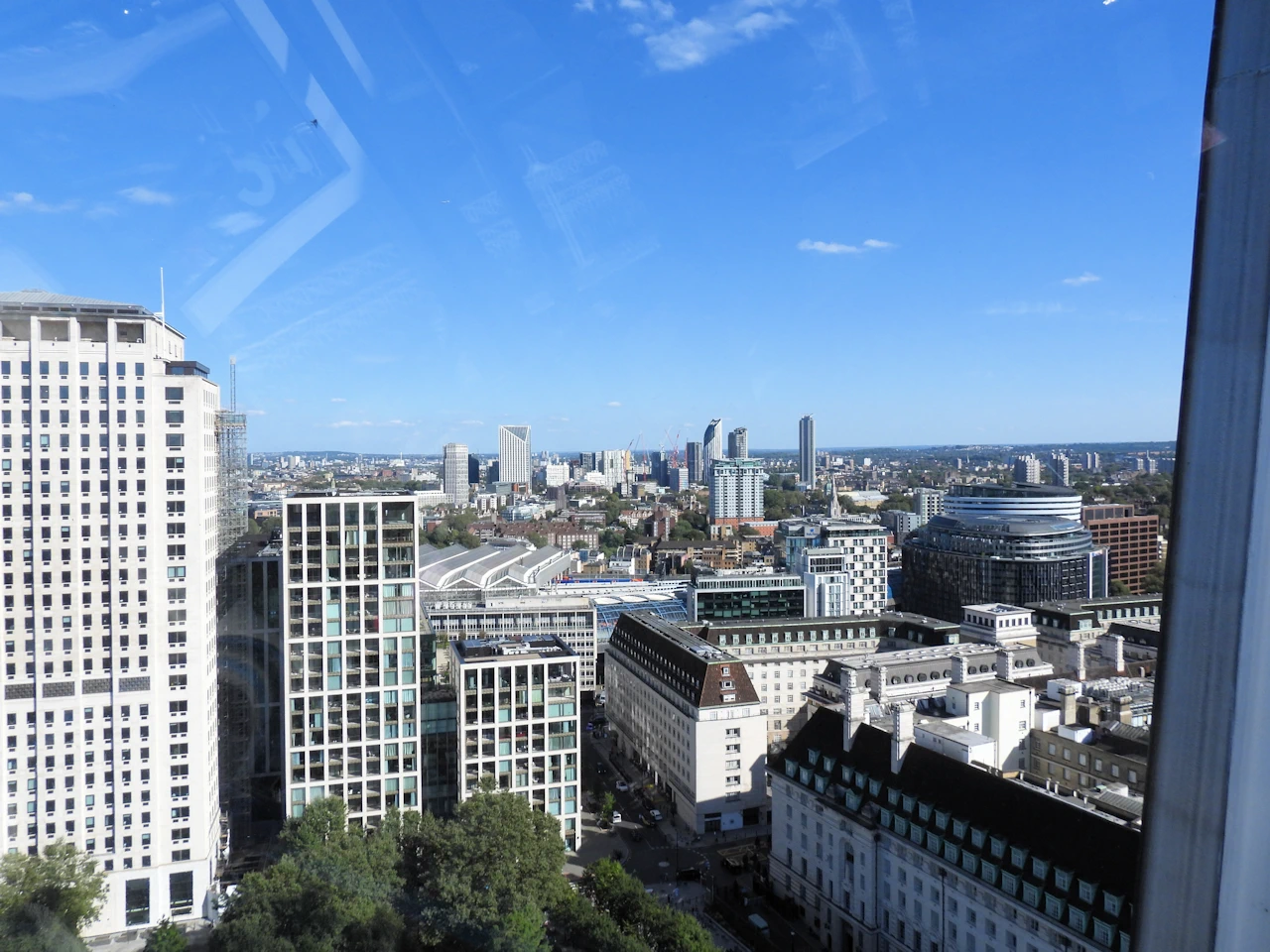 There were several good reasons why we selected to start our trip in London, the principle reason being we were able to use United Airlines miles to fly there! The secondary reason was that the last time we were there, we took a lot of really good imagery and then our camera was stolen in Paris. We lost all of that imagery, and we wanted to replace it. And yes, London is a very interesting place to visit.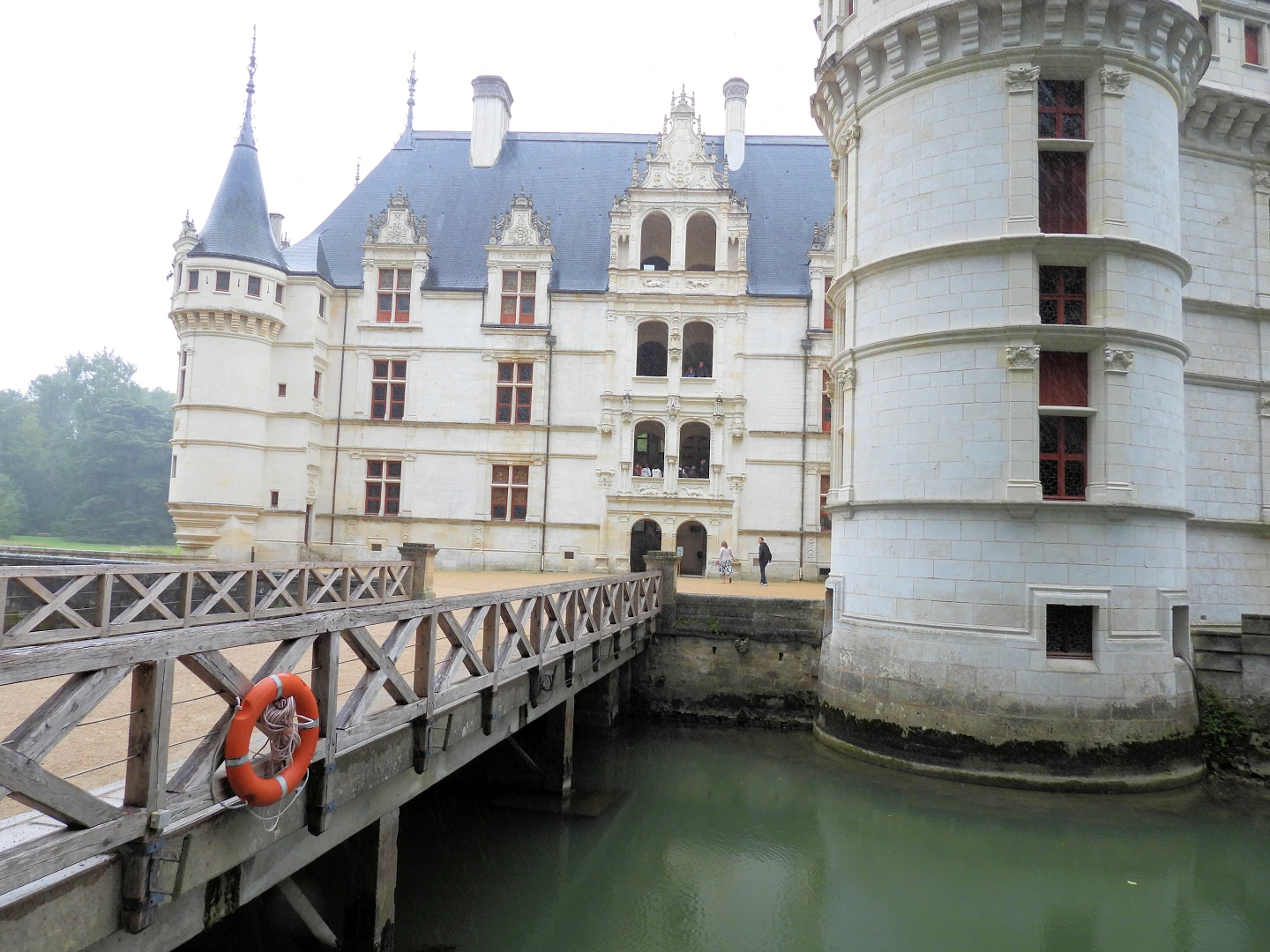 The Loire River Valley in France is a picturesque and historically significant region that captivates visitors with its natural beauty and cultural richness. Stretching approximately 280 kilometers through the heart of France, this iconic waterway meanders through lush vineyards, charming villages, and magnificent châteaux.
What truly sets the Loire Valley apart is its extraordinary collection of châteaux (over 300). From the fairy-tale spires of Château de Chambord to the elegant gardens of Villandry, these architectural wonders showcase centuries of French history and artistic achievement. Each château tells a unique story, allowing visitors to step back in time and explore the grandeur of France's past.
Renowned also for its wine production, the Loire Valley boasts some of France's finest vineyards, producing a diverse array of wines, from crisp Sauvignon Blancs to fruity Cabernet Francs. The valley's fertile soils and temperate climate make it a viticultural paradise.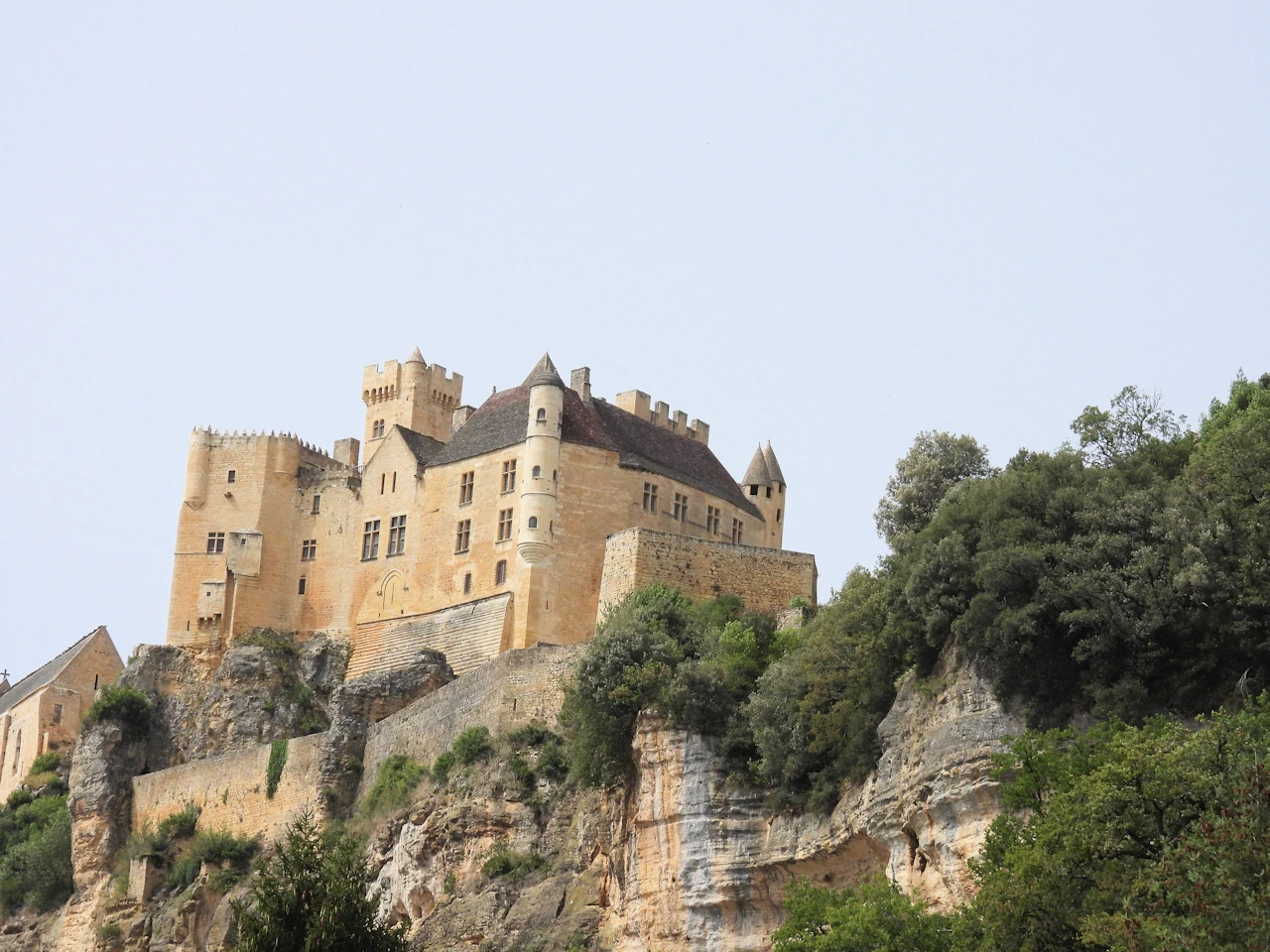 The Dordogne River Valley in France is a captivating region known for its breathtaking landscapes, prehistoric treasures, and timeless charm. Flowing for approximately 483 kilometers through southwestern France, the Dordogne River has carved a picturesque valley that enchants visitors with its rolling hills, lush forests, and serene waterways.
The Dordogne Valley is also celebrated for its gastronomy. It is a paradise for food enthusiasts, boasting exquisite truffles, foie gras, and regional wines like Bergerac and Cahors. Local markets burst with fresh produce, inviting visitors to savor the authentic flavors of French cuisine.
We had decided during our trip planning, that we would utilize Sarlat-la-Canéda as our "home base" for the majority of our Dordogne Valley explorations. It is a remarkably well-preserved medieval town that transports visitors back in time. Its stunning architecture, cobblestone streets, and charming squares make it a captivating destination. We rented a really nice (via VRBO) apartment in the middle of old town that also provided garage parking.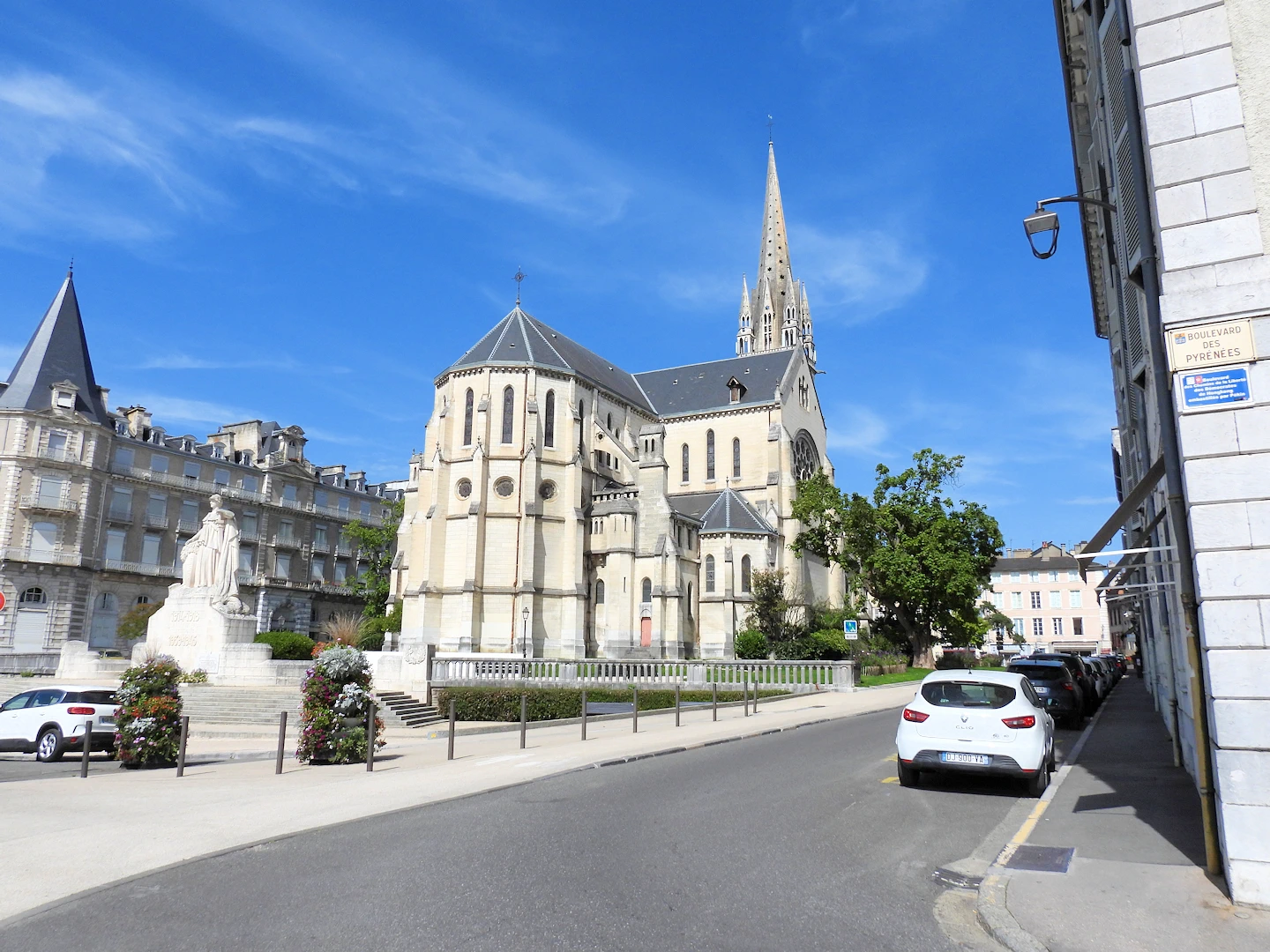 Our motivation for visiting Basque Country was based upon us completing our explorations of the Loire & Dordogne Valleys and then to continue to explore other areas that we had never visited previously. Biarritz was selected because it was somewhat on the route we planned to take into Spain, and because it is obviously a beautiful coastal city.
The southwestern region of France encompassing Saint-Jean-Pied-de-Port, Pau, and Lourdes is a captivating tapestry of natural beauty, historical significance, and spiritual devotion. Saint-Jean-Pied-de-Port serves as a picturesque starting point for the Camino de Santiago pilgrimage, with its cobbled streets and centuries-old buildings exuding medieval charm.
Pau, often called the "Gateway to the Pyrenees," is a city nestled against the backdrop of the majestic Pyrenees Mountains. Its elegant boulevards, well-preserved châteaux like Château de Pau, and lush parks offer a perfect blend of culture and nature. The view of the Pyrenees from Boulevard des Pyrénées is simply breathtaking.
Nearby Lourdes, world-famous for its Sanctuary of Our Lady of Lourdes, attracts millions of pilgrims and tourists alike. The grotto where Bernadette Soubirous reportedly saw visions of the Virgin Mary is a site of profound spiritual significance, surrounded by candlelit processions and healing waters.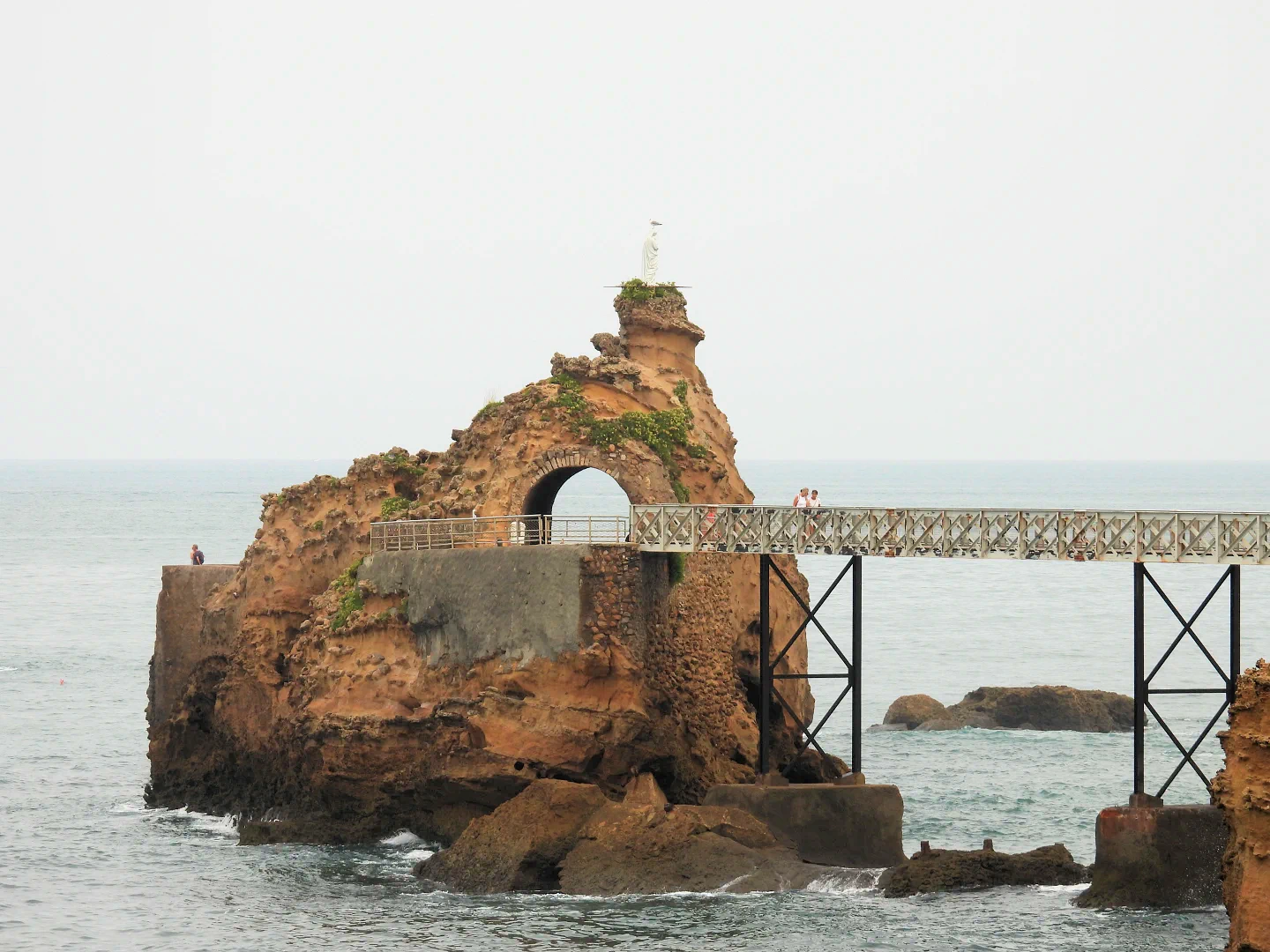 The Logroño and Bilbao areas in Spain offer a captivating blend of culture, cuisine, and stunning landscapes in the northern region of the country. Logroño, the capital of La Rioja, is a charming city renowned for its wine culture. It's at the heart of Spain's celebrated wine-producing region, offering numerous wineries, where you can sample world-class Rioja wines. The historic center of Logroño, with its narrow streets and vibrant tapas bars, provides a delightful gastronomic experience.
Bilbao, on the other hand, is a dynamic metropolis nestled along the Bay of Biscay. It's known for its contemporary architecture, including the iconic Guggenheim Museum designed by Frank Gehry. Bilbao seamlessly blends modernity with tradition, boasting a rich Basque cultural heritage. Visitors can savor Basque cuisine in local pintxos bars, explore the charming Old Town (Casco Viejo), or admire the city's riverside scenery.
Getxo, situated on the northern coast of Spain in the province of Biscay adjacent to Bilbao, is a picturesque seaside town that offers a delightful blend of natural beauty, cultural charm, and recreational opportunities. It's part of the greater Bilbao metropolitan area, making it easily accessible for those exploring the Basque Country.
---
Disclosure: Some of the links on this page are Affiliate Links, meaning, at no additional cost to you, that we will earn a commission if you click through and make a purchase. So we would appreciate any click throughs, if you are inclined.
Note: All images on this page are the property of Just Traveling Thru, LLC unless otherwise noted.
Note: If you are interested in our European Travel Tips & Warnings, Click here. Or to take a look at our methods for Trip Planning click here.
To review any of our content, make suggestions and/or comments, please click the "Info" menu button at the top of this page. You will find our "Contact Us" link on that drop-down menu.