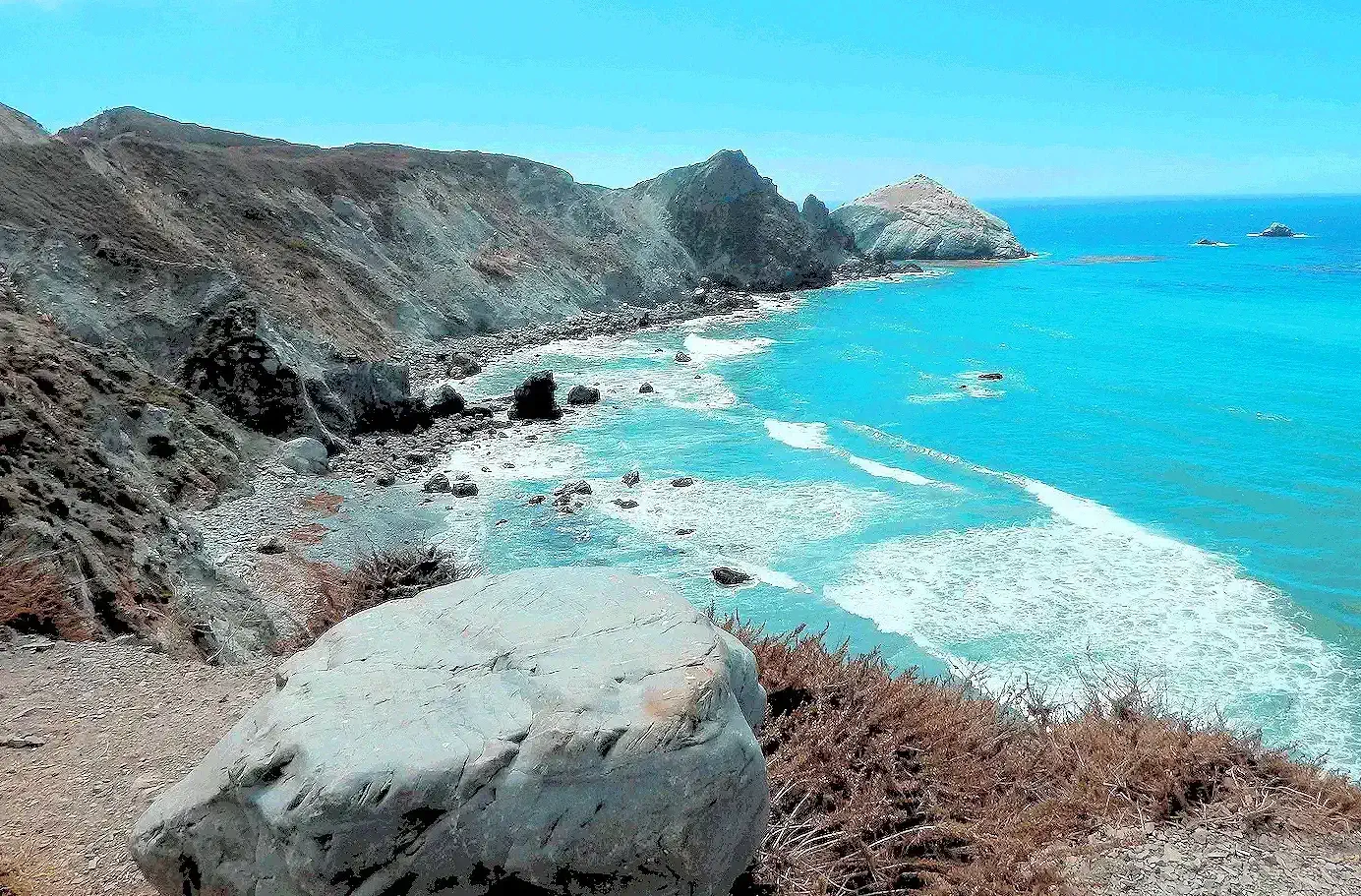 Pacific Coast Highway and the Big Sur
One of the Most Romantic Drives in the USA
This is a drive that everyone should take at least once in their life - it is a beautiful way to see just how diverse California geography can be! From our hotel in Santa Barbara to our next hotel in Monterey Bay was a distance of 234 miles (see our route map below) - but the twists and turns that this highway goes through on the way to Monterey just have to be seen to be believed! It is also the perfect trip to take with your significant other. Get in your car, pack a picnic lunch or get reservations for a romantic restaurant along the way.
Please be aware that this highway is known by several names, ie; Pacific Coast Highway (PCH), Cabrillo Highway, Shoreline Highway, or Coast Highway. Within this page, we will refer to it as "Pacific Coast Highway".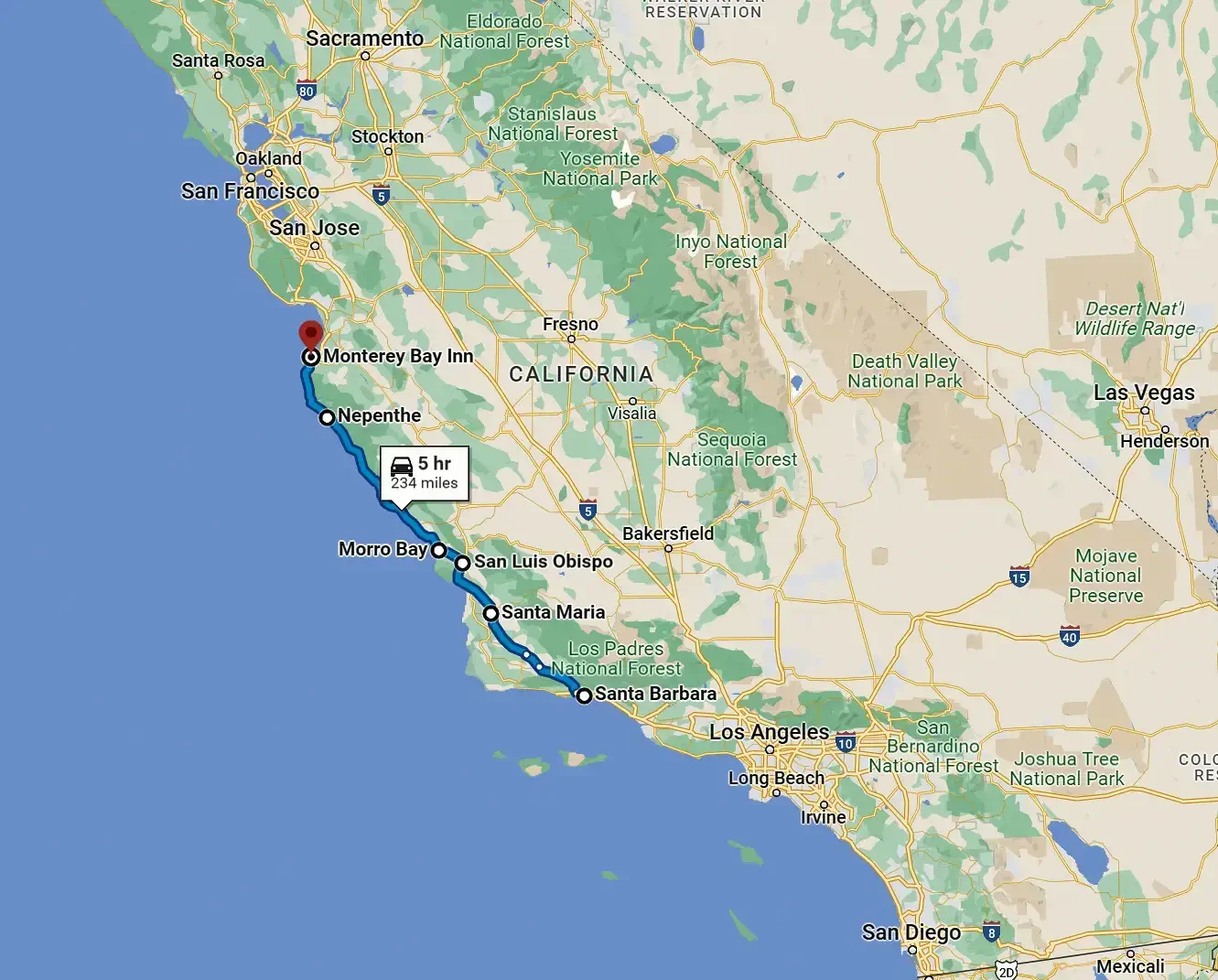 Click above Image to view larger Google Map
The complete history of this highway can be found here (Wikipedia Page) This is an interesting story, and it covers the history of this highway thoroughly.
Our end goal of this drive was to drive to Monterey, but the concept of driving north along this beautiful coastline was just too good to ignore. Yeah, we could have gone north on I-5 or any of the other routes that would have brought us to Monterey, but California SR-1 is a unique route that is just amazing and you get to drive by Hearst Castle and numerous beautiful bays.
Driving Tips for California SR-1
Avoid a Weekend visit - traffic becomes difficult!
Fill your gas tank in Morro Bay or San Luis Obispo, there are no stations on SR-1 until you get close to Carmel. If you have internet access, use the excellent GasBuddy.com website to find the cheapest gas wherever you are.
Make sure your car is in good working order because you wouldn't want to break down along the way.
Stop when the mood strikes, there are a number of turn-outs and parking areas, take advantage and get some pictures or enjoy the views.
Don't forget to stop and appreciate your partner, spouse, date and kiss!
Consider a restaurant reservation - the Nepenthe Restaurant has indoor & outdoor seating with great views of the Ocean below. But do not forget - reservations are essential due to it's popularity.
Consider stopping for a hike along the way. Click here for a good list of hiking trails & suggestions.
There are some great beaches and seaside towns that require you to get off the highway and explore them.
Always have snacks and water in the car, and a cool-bag to put them in. It can get pretty hot in places in the summer, and water's essential.
Our route to Monterey from Santa Barbara was simple; straight north on the 101 to Morro Bay, and then north on route 1 until we got to Monterey. Along the way, our intent was to stop at whatever looked interesting, and that wound up being Morro Bay. We stopped briefly in San Luis Obispo for an iced coffee and a snack and then drove on to the coast.
After enjoying Morro Bay and stretching our legs, we rejoined SR-1 and headed north again. Along the way to Ragged Point, are several beautiful beaches and the views from SR-1 are outstanding. Ragged Point is considered to be the southern boundary of the Big Sur. Halfway there and you will pass San Simeon, home of the Hearst Castle.
You won't be able to see it in the smaller image, but if you click image # 1 you should be able to see Hearst Castle at the top of the Santa Lucia Mountains, 1,600 feet above the Pacific Ocean. Unfortunately for us, the access road from route 1 to the Hearst Castle was still undergoing repairs from storm damage - so the image here is as close as we got. The Castle had been part of our overall plan but one cannot argue with road damage.
I had seen it years ago but Celeste has never been. Hearst Castle is something that should be on your list if you take the drive. It's a fascinating castle.
---
Disclosure: Some of the links on this page are Affiliate Links, meaning, at no additional cost to you, that we will earn a commission if you click through and make a purchase. So we would appreciate any click throughs, if you are inclined.
Note: All images on this page are the property of Just Traveling Thru, LLC unless otherwise noted.
Note: If you are interested in our European Travel Tips & Warnings, Click here. Or to take a look at our methods for Trip Planning click here.
To review any of our content, make suggestions and/or comments, please click the "Info" menu button at the top of this page. You will find our "Contact Us" link on that drop-down menu.