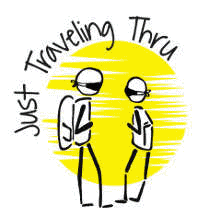 Muir Woods & Area, CA
I love trees and seeing the majestic Redwoods and Sequoias was a major draw for our visit to California. Muir Woods National Monument was at the top of our list along with Yosemite National Park for seeing the giant trees.
While visiting we learned that Muir Woods National Monument protects 554 acres of which 240 are old growth coast redwood trees. The majority of the trees (in this park) are between 600 and 800 years old and even though redwoods can grow up to 380 feet in height, the tallest tree in Muir Woods is 258 feet in height. There is a section of a Redwood tree in the park showing a tree that dates back to 900 AD!
Congressman William Kent and his wife bought 611 acres of redwoods and mountains to protect the forest. It came down to a legal battle in 1907 when a water company wanted to flood the land. Kent donated 295 acres of redwoods to the government which stopped the court battle.
In 1908 President Theodore Roosevelt created the first national monument from donated land.
The first name suggested for the national monument was Kent Monument but Kent preferred that it be named after John Muir instead.
There is a wooden statue at the Muir Woods National Monument depicting John Muir.
Muir Woods National Monument is considered to be one of the most popular tourist attractions in the San Francisco Bay Area. More than 750,000 people visited the site in 2005 alone.
The tallest redwood in Muir Woods National Monument is 258 feet tall. Redwoods can grow as tall as 380 feet.
The majority of the trees located in Muir Woods National Monument are between 500 to 800 years old but the oldest tree in the protected forest is over 1,200 years old.
Wildlife living in Muir Woods National Monument includes Sonoma chipmunks, western gray squirrels, shrew moles, deer, an occasional black bear, 11 species of bats, sea otters, owls, woodpeckers, and fish such as coho salmon and steelhead.
There are not many insects in Muir Woods due to the tannin in the trees which acts as a natural repellant. The canopy created by the trees also limits the growth of fruits and flowers. These factors contribute to the fact that only about 50 bird species are found in the national monument.
Current entrance fee is $15 per person (16 years and older), fee information can be found here. Note that reservations are required, as the number of visitors is limited each day.
Muir Woods reservations can be acquired here. Note that Muir Woods is open 365 days per year.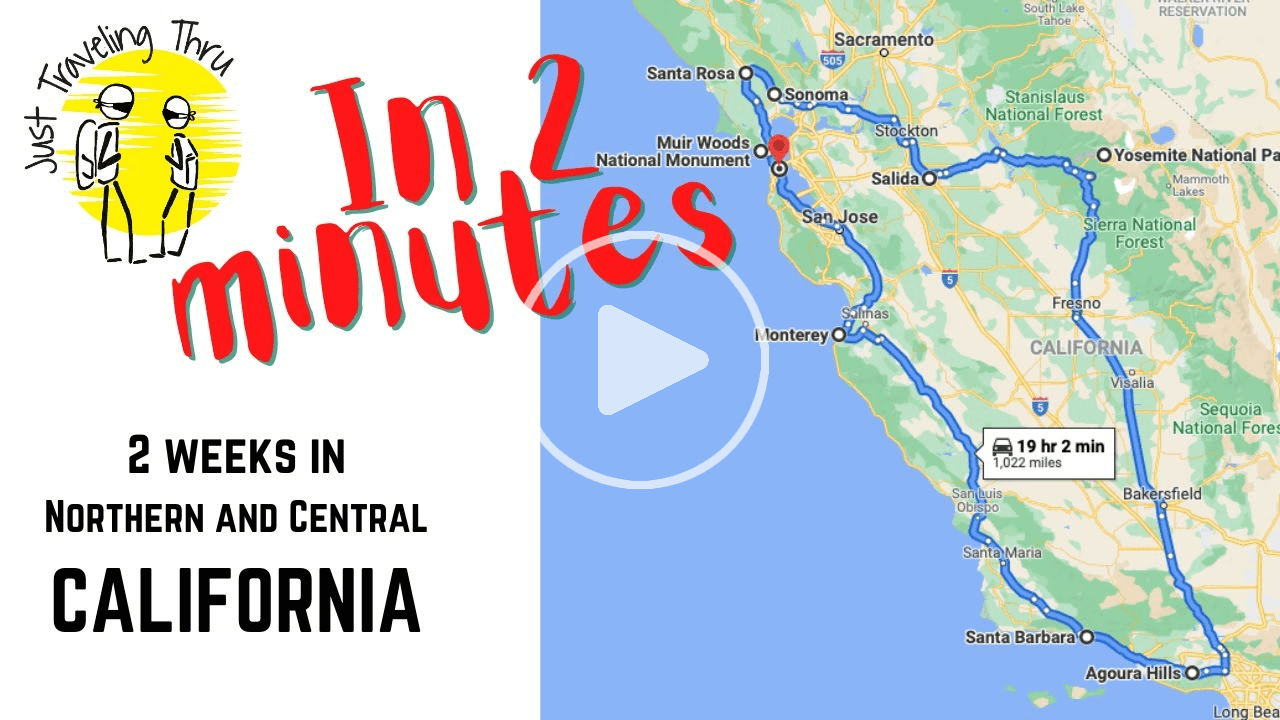 Click this image to watch a great overview video of our California trip. This video is the property of Just Traveling Thru, LLC.
If you enjoy our videos click here to subscribe to our Youtube Channel.
Muir Woods is named after the naturalist John Muir. The story of how that came about is interesting and we suggest that you read the Wikipedia Article about this story by clicking here. Saving these beautiful trees from greed & politics took some doing! Check out our video on Youtube if you are interested in some more information as well.
Click here to go to our Muir Woods Video on this page.
Muir Woods is an easy 16.8 mile drive from San Francisco so you do need a car to get there or you could take a day tour from the city. There are a number of Bus Tour Companies that will transport you to & from the park. Click here to do a Google Search for Muir Woods Tours.
If you do drive on your own you can stop at Fort Baker and catch views of the Golden Gate Bridge from the other side of the bay and you can visit the Bonita Point Lighthouse and stop in Sausalito for breakfast or lunch.
Parking reservations are required to park at Muir Woods (note that there are only 232 parking spaces). When reserving your spot you select the date and it then will show you available arrival times. Due to the reservation system finding a parking spot is pretty much guaranteed when you get to the park. Regular cars are $9 as of this writing and electric vehicles are $12 and they offer charging connections for electric vehicles. Longer vehicles are allowed but must be shorter than 35' total length ($30-$45).
The park entrance fee is separate from the parking fee, and obviously they are trying to avoid conflicts in the parking lot by requiring reservations to park. It is a National Park so the national park passes are honored. As we've mentioned before, if you plan to visit more than one or two National Parks it's worth it to get a National Park Pass. We have enjoyed using the Senior Lifetime Pass for many years now. We are frequently delighted when we realize that we don't have to pay the entrance fee. Currently, a day pass is $15 and kids under 15 get in for free. You can also get an annual pass just for Muir Woods.
We made our reservations for early in the morning to avoid afternoon crowds and traffic and this worked out well for us.
There is a gift shop at the park which has some snacks and t-shirts and other touristy items which can get pretty crowded during the day. In addition, Muir Woods Cafe, serves a variety of food; sandwiches, soups, beverages including coffee, and baked goods, etc.
If you want to avoid crowds you might want to get your food before entering the park. Consider finding something in Manzanita, CA which is the U.S. 101 exit for the park.
Muir Woods Park is at the bottom of a canyon once known as "Redwood Canyon"; a long twisty road with numerous switchbacks as it descends to the parking lot area. The switchbacks provided us with excellent views of the canyon, although, we have to confess that Terry's attention had to be on the road more than the scenery! I was the lucky one getting to enjoy the views on the way in.
There are a small number of trails in the park, the trail that we walked is named the "Redwood Creek Trail". See the National Park Service website for information on the other trails. The popular trails are an easy walk and can get crowded so if you like to avoid crowds you may want to venture off onto one of the lesser utilized trails.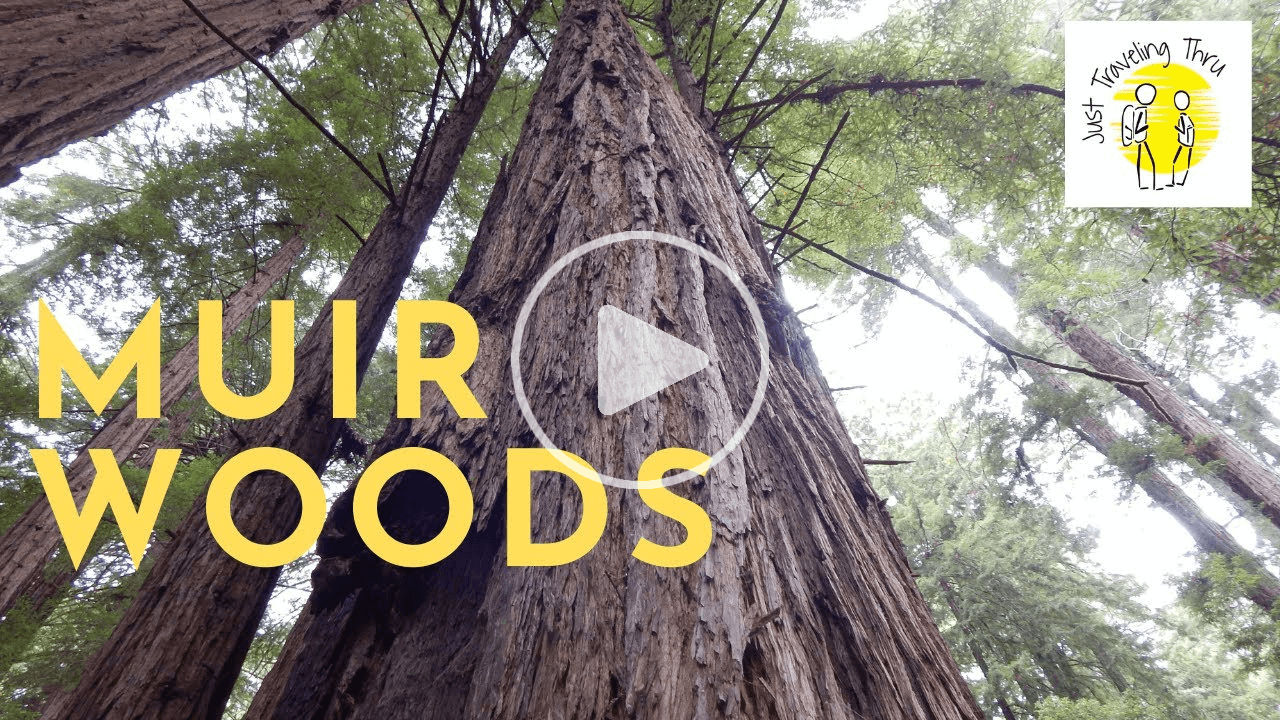 Check out our video for a detailed walk through the park and for some interestings facts. This video is the property of Just Traveling Thru, LLC.
Or click here to subscribe to our Youtube Channel.
---
Disclosure: Some of the links on this page are Affiliate Links, meaning, at no additional cost to you, that we will earn a commission if you click through and make a purchase. So we would appreciate any click throughs, if you are inclined.
Note: All images on this page are the property of Just Traveling Thru, LLC unless otherwise noted.
Note: If you are interested in our European Travel Tips & Warnings, Click here. Or to take a look at our methods for Trip Planning click here.

To view our entire set of images from our 2021 Muir Woods visit, click here
---
To review any of our content, make suggestions and/or comments, please click the "Info" menu button at the top of this page. You will find our "Contact Us" link on that drop-down menu.