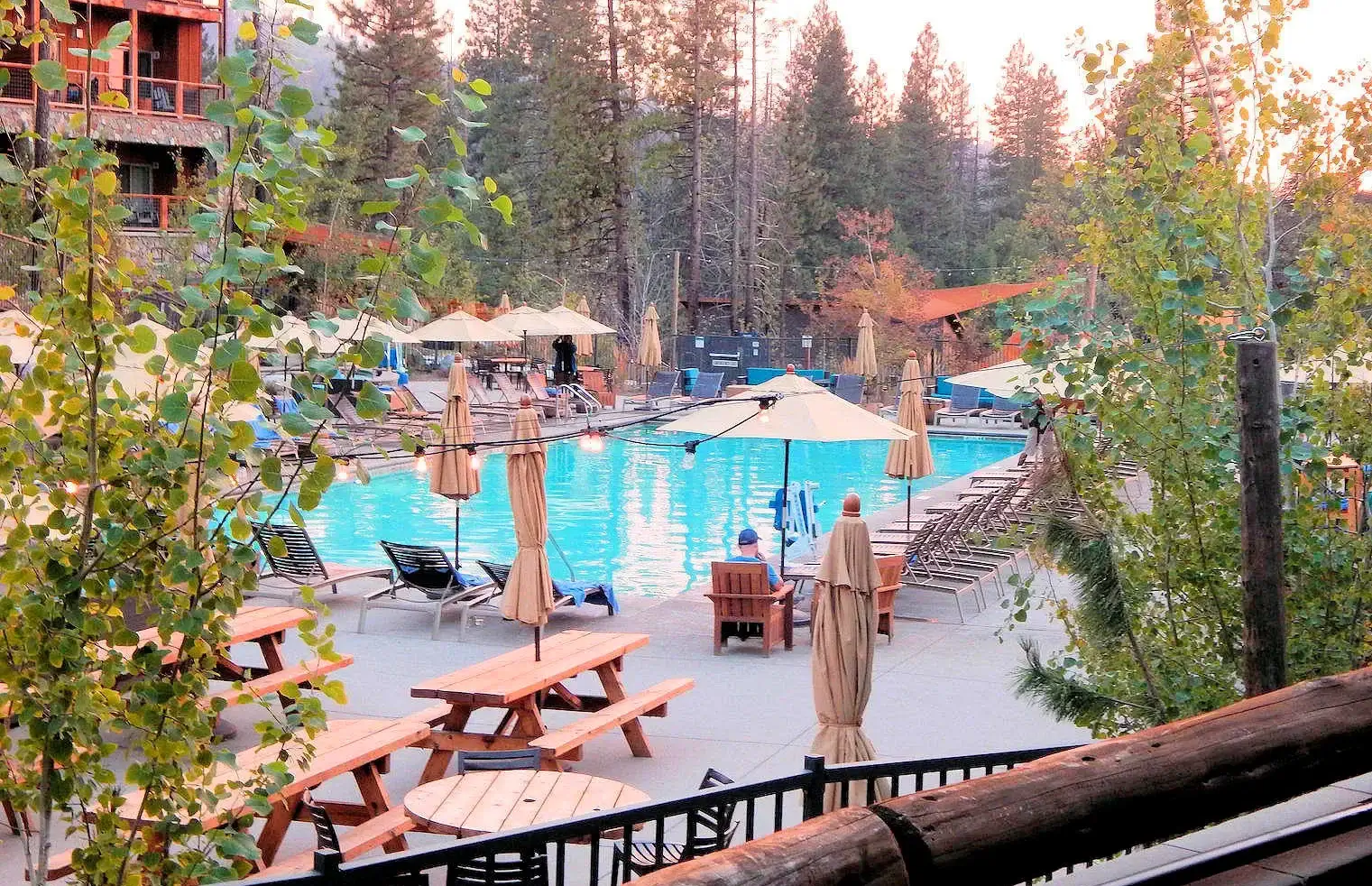 Rush Creek Lodge Yosemite
Visit Yosemite and Experience Rustic Luxury at Rush Creek Lodge
Rush Creek Lodge & Spa sits just outside of the park on highway 120 and it is the newest lodge in or near Yosemite. We chose it since lodging in the park was not available and this was the closest we could get. Since there can be significant driving in the park on curvy and winding roads, traveling to the various sites can take a bit of time so being close was important to us. Please note that we have NOT received any compensation for this review.
The lodge is both rustic and luxurious. It has a collection of room types and the main lodge offers good size rooms with couches and each has its own porch which was perfect for hanging out on after a long day of hiking. The grounds are welcoming and beautiful. In fact, we stayed an extra night when Sequoia National Forest closed due to forest fires. The lodge offered the best option for us to spend the day relaxing.
There is a large heated pool and two salt water hot tubs (no chlorine smell). There is a bar by the pool for afternoon drinks and the lodge has a tavern which is open for lunch and dinner. In the main check-in entrance there is a general store that has most of your daily needs covered. We ate breakfast there one day (pretty good latte's & good egg sandwiches) and picked up charcuterie fixin's in the store one day for lunch when we didn't feel like a big meal. The Tavern restaurant had a varied menu including, charcuterie, flatbreads, salads, small plates, sandwiches and entrees. The fried cauliflower looked amazing although we didn't try it. We had the wings, brisket tacos, salmon melt and the Rush burger and they were well prepared and it was nice to sit down for something to eat and drink after a long day in Yosemite.
NOTE: Breakfast is also served in the main dining room each day, so if egg sandwiches and good lattes don't do it for you, go to the dining room. Breakfast is served there from 7:00am till 11:00am daily.
Tavern Bar: the tavern was a nice setup, and was well stocked with a wide range of liquors, wines and a small number of good beers on tap as well as a wide selection of beers in the bottle or can.
Game Room: equipped with billiards and board games, with plenty of seating and tables for playing. There are various activities around the pool like ping pong, corn hole, shuffle board, etc. In the evening the staff lights the fire pits around the tavern and event room and the pool bar area. They have kids activities each day and even have "smores night" to top off the evening.
Laundry Room: The hotel has coin operated washer and dryers available to take care of your dirty clothes (change machine in the room). We had been on the road for over a week so the laundry was a welcome sight. When the laundry & the store ran out of clothes soap, the Lodge gave away their own soap to guests !
Pool & Hot Tub: The pool is nice sized, and the hot tub next to the pool is oversize and warm. Plenty of seating and lounges around the pool, towels are available from the towel shack.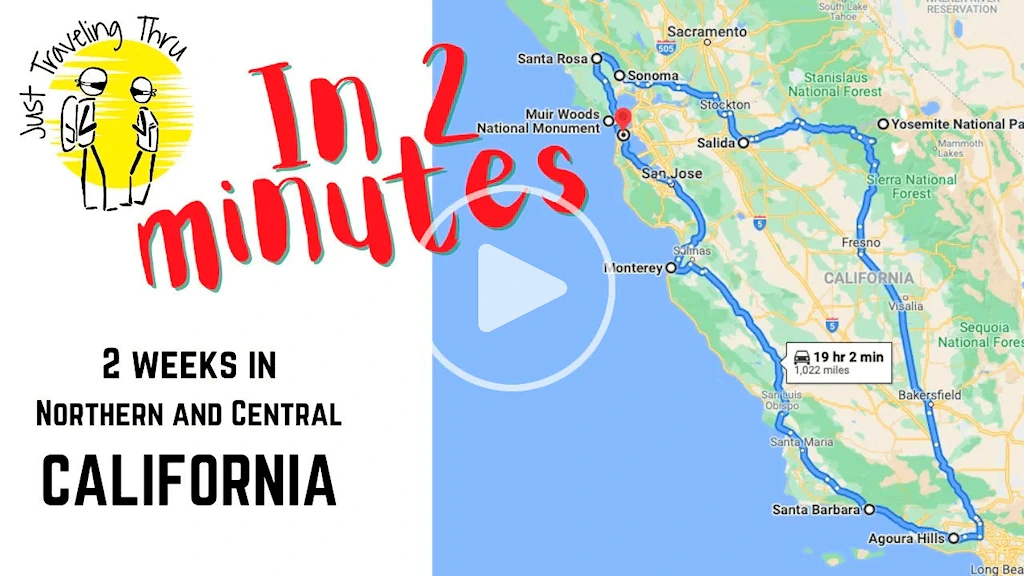 Click this image to watch a great overview video of our California trip. This video is the property of Just Traveling Thru, LLC.
If you enjoy our videos click here to subscribe to our Youtube Channel.
The restaurant's commitment to sustainability is evident in its farm-to-table approach. Many of the ingredients are locally sourced, ensuring that each dish is fresh and bursting with the essence of the Sierra Nevada. Whether you're indulging in a hearty breakfast before a day of hiking, savoring a gourmet lunch, or enjoying a sumptuous dinner, the restaurant's offerings are a delightful journey for the palate.
The dining experience is enhanced by the breathtaking panoramic views of the surrounding forest and the pristine Rush Creek. The floor-to-ceiling windows and outdoor seating options allow guests to immerse themselves in the park's natural beauty while savoring a carefully crafted meal.
For additional information and to view the Rush Creek Lodge restaurant menu, click here to go to their website restaurant page.
The centerpiece of the pool area is the inviting saltwater pool, which offers a refreshing escape, particularly during the warmer months. Whether you're lounging poolside, taking a refreshing dip, or enjoying the surrounding vistas of the evergreen forest, the pool area exudes a tranquil ambiance that perfectly complements the park's atmosphere.
Comfortable lounge chairs and shaded cabanas provide ample opportunities for relaxation, while the heated pool and hot tub make it possible to enjoy this space throughout the seasons. It's a perfect place for families to splash around, friends to gather, or couples to enjoy a quiet, romantic interlude.
The menu at the snack bar is thoughtfully curated to cater to a variety of tastes. From refreshing drinks and ice-cold beverages to mouthwatering snacks and light meals, you can indulge in a range of delectable options. Whether it's a crisp salad, a juicy burger, or a freshly made sandwich, the offerings are designed to satiate your cravings.
We found that it was very relaxing to enjoy the hot tub after a long day of hiking in Yosemite National Park. Most of the trails in the park are steep, and there is nothing more soothing than time in a hot tub after a long uphill/downhill hike! There is a choice of two tubs; a large family-friendly hot tub, plus another hot tub just for quiet and relaxation.
As can be seen in these images, the grounds and facilities at the Lodge were always very clean, in fact, we would frequently see hotel staff walking about sweeping and picking up any debris on the grounds. This took place every day we were there, they make certain that the grounds remain as clean as possible.
Note that the rooms did not have TV's and this definitely enhanced the experience for us and made us feel like enjoying the facilities, or perhaps an adult beverage! The building where the tavern is located has a large "game room" where there are games, puzzles, etc, where people can enjoy themselves. All guest rooms are supplied with games and radio streaming for entertainment as well as an Alexa.
They offer periodic night time entertainment, with live bands, theme parties, and Karaoke! You'll receive a copy of the calendar upon check-in, and remember to visit their Recreation Desk for more updates.
On their website, they offer a "daily activities" list displaying a list of complimentary activities that you can enjoy. They also offer advice about where to go/what to do in Yosemite and they have adventure gear rental if you need it.
The parking lot is large and occupies two levels in front of the lodge, where the lower level can accommodate tow vehicles & trailers. The tavern/restaurant area is large and they have a reasonable selection of wines, beers and various liquors. There is a gift shop/deli where you can purchase t-shirts, wine, coffee and breakfast items in the mornings. We had coffee and egg sandwiches one morning and they were very good.
All of the staff we dealt with were friendly, helpful and attentive to your needs. As is done at other hotels during the Pandemic, house cleaning is available only upon request.
Overall we LOVED Rush Creek Lodge and would definitely stay here again. The price is a bit beyond our normal range but for a trip like this it is worth splurging for a memorable time at Yosemite.
Just for the record - if you are a member of "Trip Advisor" (and we are) you are going to find several reviews that are nasty and out of sync with the majority of all other reviews. As we said already, our experience was great and we would stay there again.
---
Disclosure: Some of the links on this page are Affiliate Links, meaning, at no additional cost to you, that we will earn a commission if you click through and make a purchase. So we would appreciate any click throughs, if you are inclined.
Note: All images on this page are the property of Just Traveling Thru, LLC unless otherwise noted.
Note: If you are interested in our European Travel Tips & Warnings, Click here. Or to take a look at our methods for Trip Planning click here.
To review any of our content, make suggestions and/or comments, please click the "Info" menu button at the top of this page. You will find our "Contact Us" link on that drop-down menu.