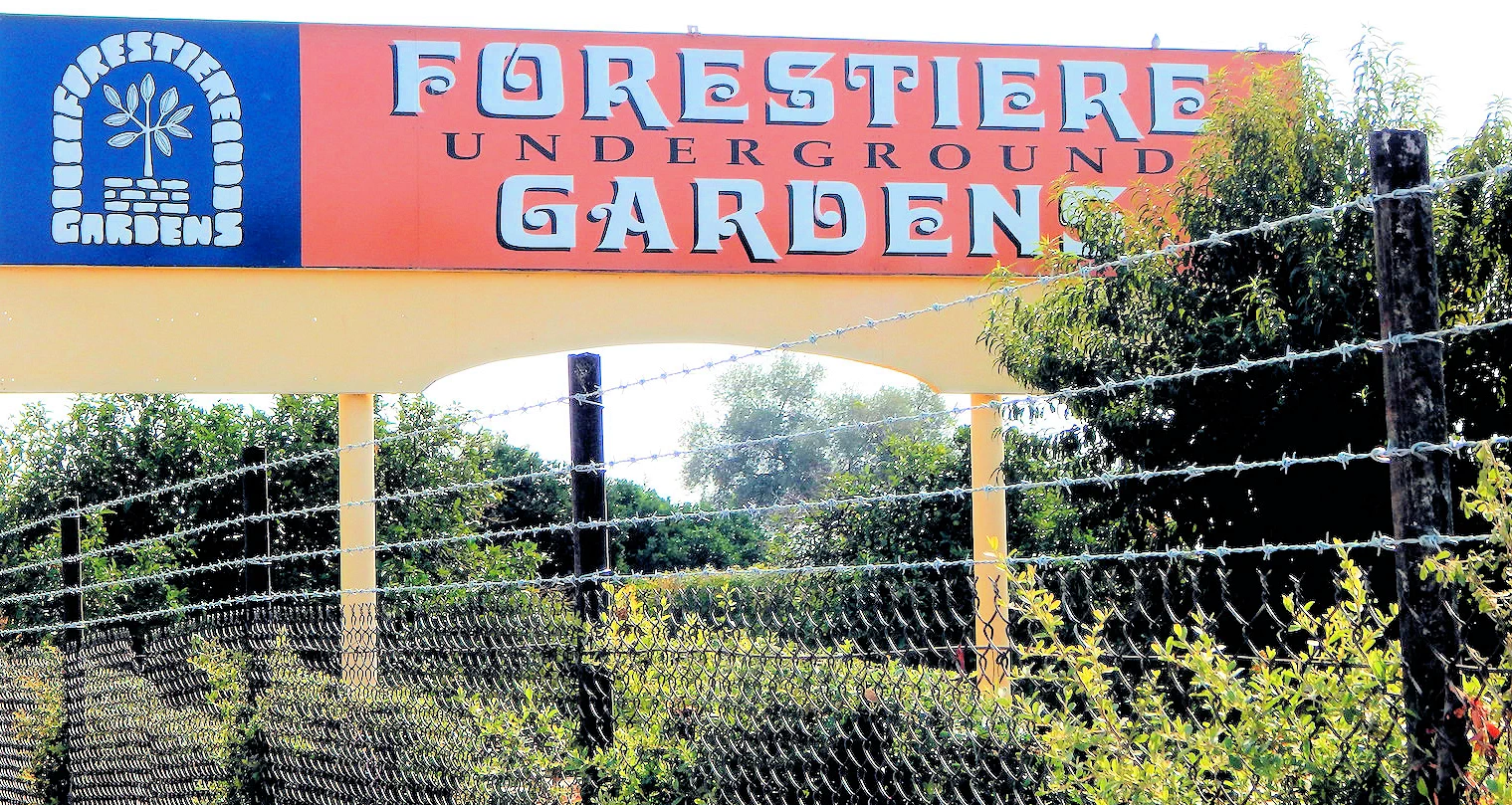 Forestiere Underground Gardens, CA
Since we had driven mostly back country roads from the Rush Creek Lodge to the Fresno area (approximately 140 miles), it was now getting close to "needing a break time". Celeste began to do some online research of what would be entertaining to see or do in the Fresno area and she discovered the Forestiere Underground Gardens. After we discussed it, we decided that it would be an entertaining way to spend some non-driving time and then get lunch after we saw the gardens tour.
The Forestiere Underground Gardens, located at 5021 West Shaw Avenue in Fresno, California, are a series of subterranean structures built by Baldassare Forestiere an immigrant from Sicily, over a period of 40 years from 1906 to his death in 1946. The history of the Underground Garden is interesting, ie; Baldassare Forestiere immigrated to the United States in 1901 and eventually moved to the Fresno area to accumulate enough money to purchase land where he wanted to grow citrus. As someone with limited skills, he worked as a day laborer digging ditches, etc. He accumulated sufficient funds to allow him to purchase 80 acres (one dollar per acre) in 1906 and he worked on his underground complex for the next 40 years until his death in 1946.
Bear in mind that this really isn't a "garden" in the true sense of the word, it is comprised of various citrus trees (as well as some exotic fruits) located in numerous underground rooms. His dream was to be a citrus grower and he worked tirelessly at developing techniques for caring for various types of citrus trees. The trees have been grafted to bear more than one kind of fruit, allowing for a larger variety to be grown throughout the space.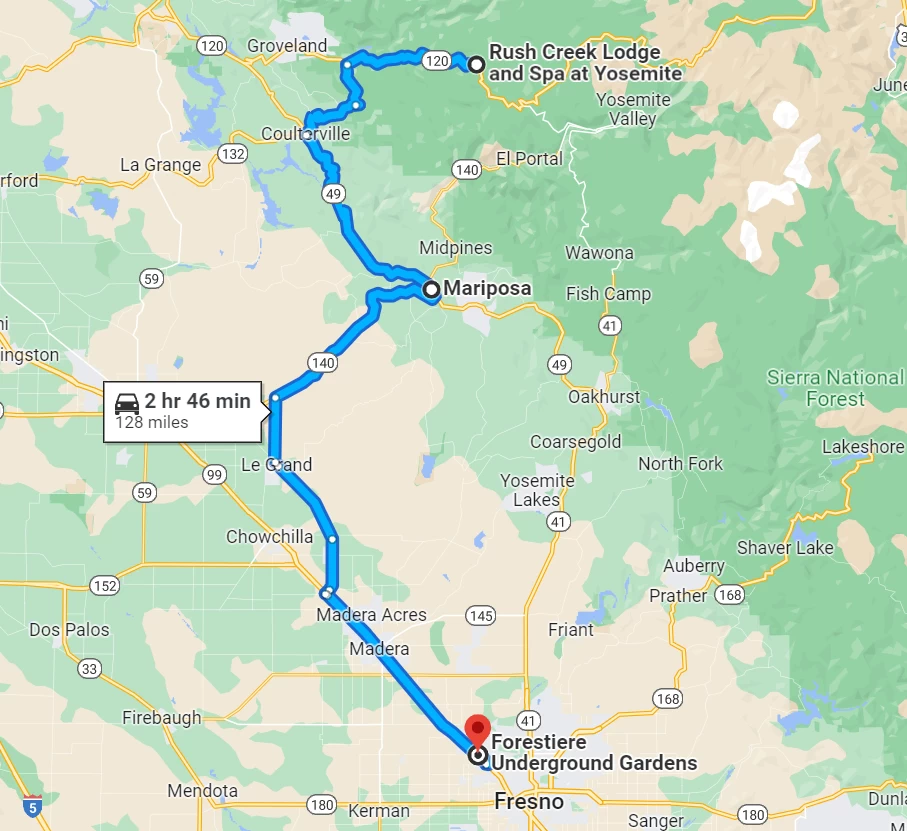 Click the map to view a larger Google Map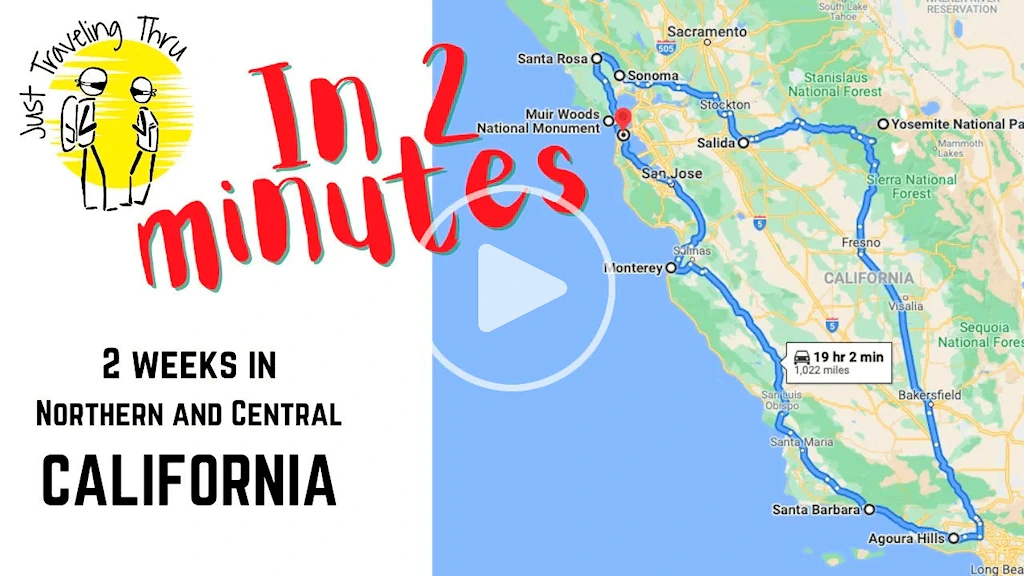 Click this image to watch a great overview video of our California trip. This video is the property of Just Traveling Thru, LLC.
If you enjoy our videos click here to subscribe to our Youtube Channel.
After doing some map research, we had decided to take a somewhat different route to Santa Barbara from the Rush Creek Lodge, ie; we drove west on route 120 to Groveland and then turned south on route 49 through Mariposa. On the way to Mariposa, we passed through an area known as "Bear Valley" (not the ski resort) where the famous John C. Fremont used to own several gold mines.
On February 10, 1847, Frémont purchased seventy square miles of land in the Sierra foothills, called Las Mariposas, through land peculator Thomas Larkin, for $3,000. Las Mariposas had previously been owned by Juan Bautista Alvarado, former California governor, and his wife Martina Caston de Alvarado. Frémont had hoped Las Mariposas was near San Francisco or Monterey, but was disappointed when he found out it was farther inland by Yosemite, on the Miwok Indian's hunting and gathering grounds.
Frémont's ownership of Rancho Las Mariposas coincided with the height of the California Gold Rush. He recognized the potential for gold mining on the property and invested in mining operations, particularly in the rich Mariposa Mine. This investment brought considerable wealth to Frémont, who became known as the "Prince of the Gold Mines."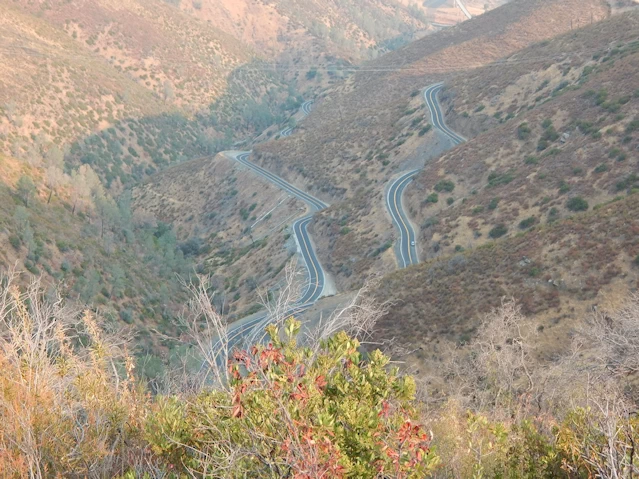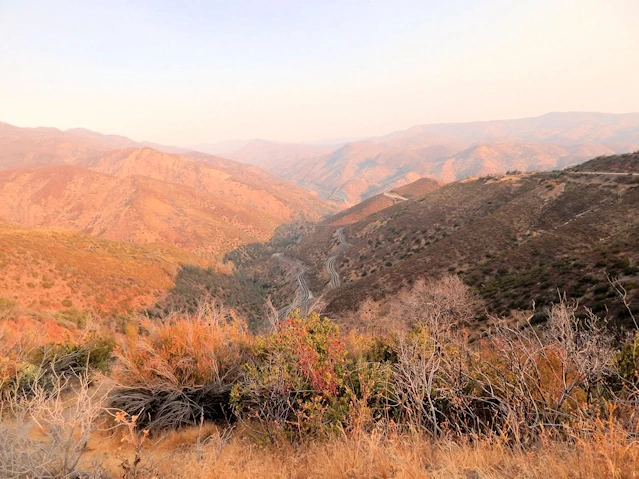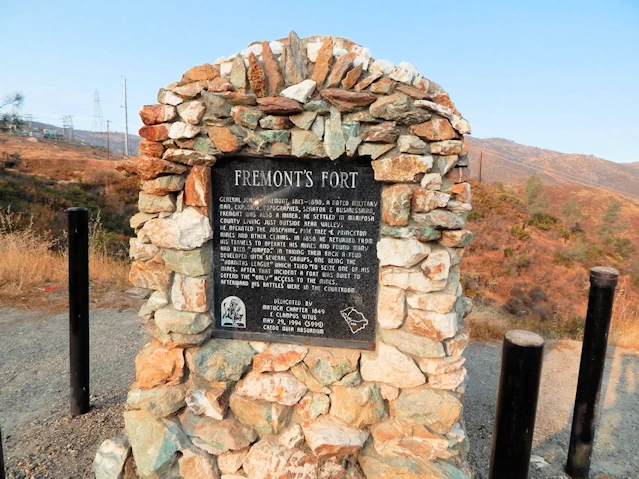 As you can see in these images, this part of California is desolate and the marker (State Highway 49 milepost 29.2) for the Fremont Fort marks the location where John C. Fremont built a fort to protect his gold mines. This part of California history is fascinating, click here to read the full story on Wikipedia.
Click here to read the John C. Fremont Wikipedia Page, as this person was a very successful explorer & adventurer and was intensely active in California's history.
Our original idea for breakfast was to stop in Groveland on route 120 before we turned south on route 49. However, we discovered that either we were there way too early, or COVID had closed everything up - so we kept driving until we got to Mariposa.
As can be seen in these images, Mariposa is not a large town (population 1,186) but they have one of the best donut shops we've been to in a while! Donuts A-Go-Go has excellent coffee and a nice range of donuts and other pastries. The staff we interacted with were very nice and fun to talk to !
Quick History: When California was formed in 1850, Mariposa County was one of the original 27 counties and covered one-fifth of the entire state. The County was reapportioned to create all of parts of 11 other counties giving rise to the nickname the "Mother of Counties."
Once we had our donuts & coffee and checked the rental car over, we pushed on towards Fresno on route 99 with the goal of reaching Santa Monica by late afternoon.
The traffic on route 99 was brutal and by the time we got to the Fresno, CA area, it was approaching lunch time. Celeste began researching what was available in Fresno in terms of eateries and anything else that might be interesting to see. As she researched, she ran across information pertaining to the underground garden. And as she read further, she discovered how it was built - after a quick discussion, we decided to combine lunch with a trip through the Underground Garden. Located east of the Route 99 freeway (.3 mile) on Shaw Avenue (exit 140) and surrounded by several fast food eateries and a Starbucks - it was an idea stopping point for us.
The icing on the cake was when we discovered that there was a In & Out Burger shop just a block away from the Underground Garden!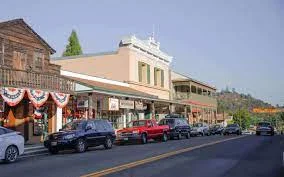 There are so many amazing facts about Baldassare Forestiere and how he created this underground garden, but you have to first remember that this entire excavation was created while he wasn't at his day job. Fresno's day time temperatures are generally high, and even though his excavations took place at night, remember that he was working in the evening, tired and by himself.
The underground gardens feature nearly one hundred chambers, passageways, courts and patios. Fruit-bearing trees planted below the ground protrude through openings at ground level. Forestiere resided here, benefiting from cooler temperatures during the high heat of the California Central Valley in summer as well as warmer conditions within the ground during winter.
The dirt that Forestiere excavated was moved to create the large structure was utilized elsewhere to fill planters, create stones placed within the catacombs, and to level out other parts of the land. The pathways and rooms were constructed with various widths to help direct airflow by creating pressure as it moves through narrower portions and maintain movement as it bounces off the slants and curves of the cavernous walls. The conical skylights allow for the hot air to be pushed out more quickly and the cool air to remain below.
One interesting note to remember - Forestiere had no formal training with plants, or citrus farming or tunneling! Combine that thought with the fact that he was illiterate, so everything he learned was from "try it and see" or via discussions with other growers.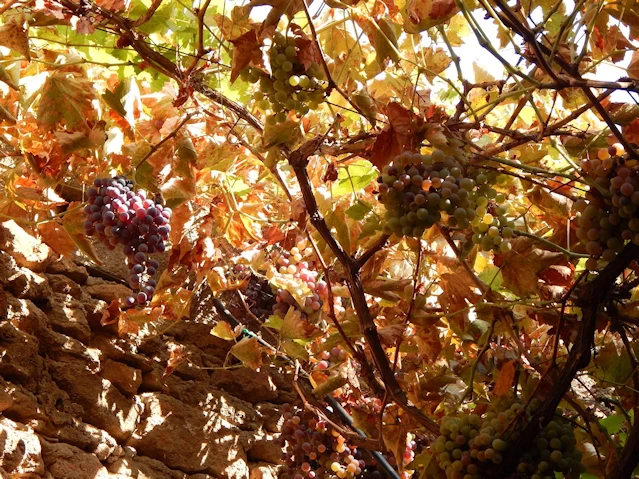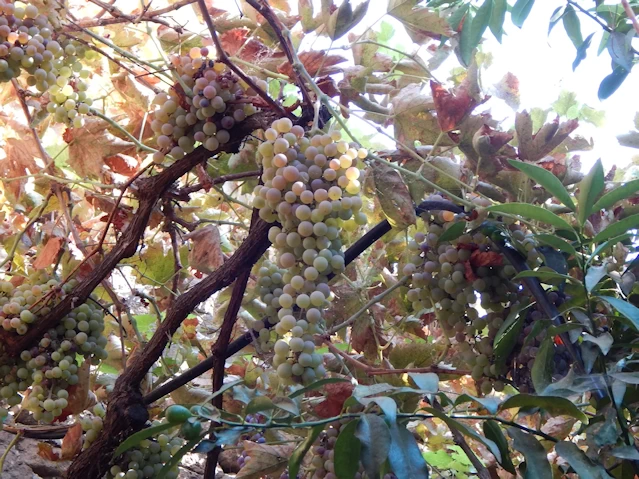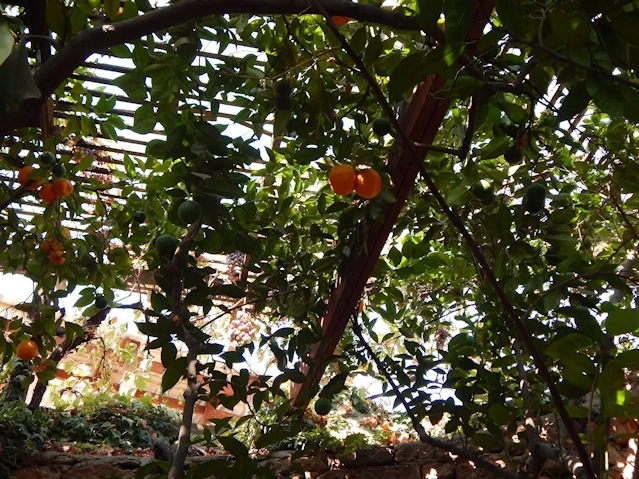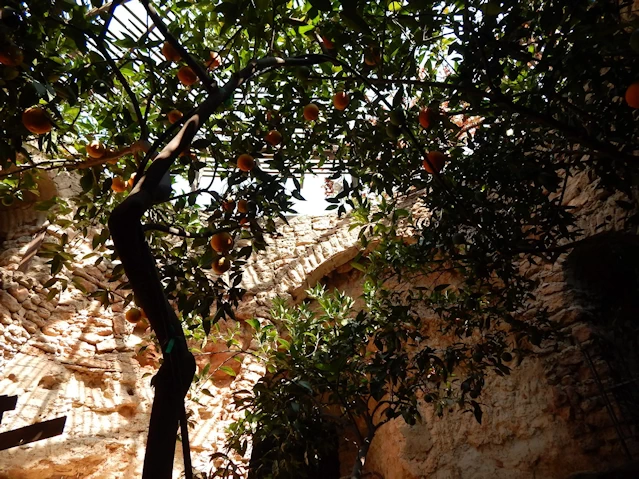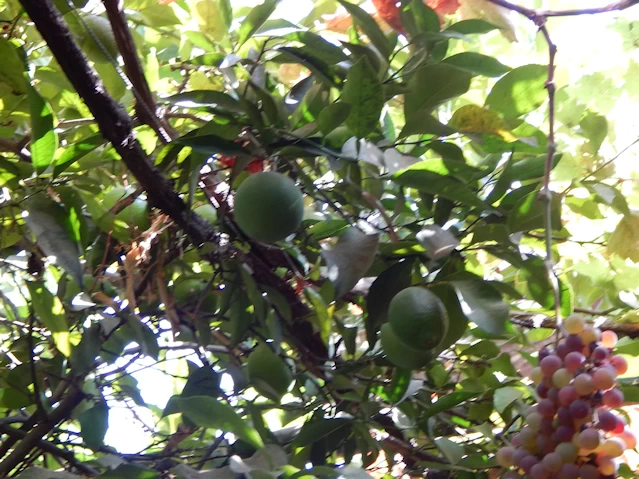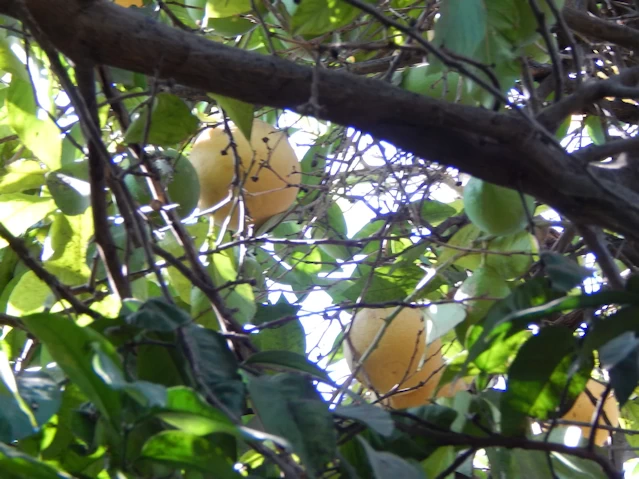 The garden's plants and trees, some of which are over 100 years old, are protected, by virtue of construction, from the frost in the winter months. Each level was planted at different times, so they bloom in succession, in order to lengthen the growing season. The garden houses a variety of fruit ranging from citrus and berries to exotic fruits like the kumquat, loquat, and jujube. The trees have been grafted to bear more than one kind of fruit, allowing for a larger variety to be grown throughout the space. Trees and vines were also planted above the dwelling, acting as insulation and forming canopies that provide protection from the elements.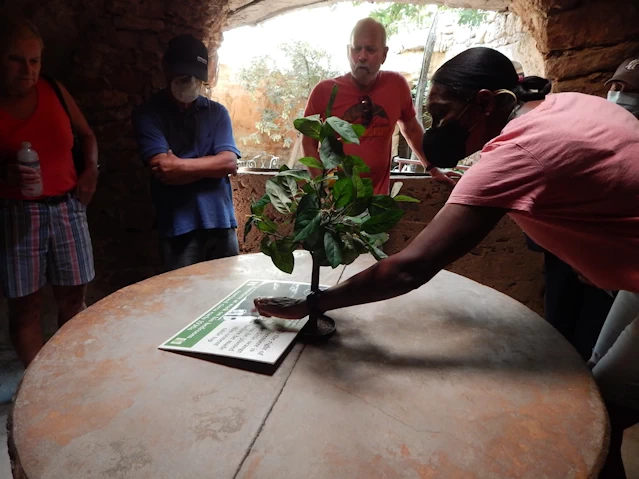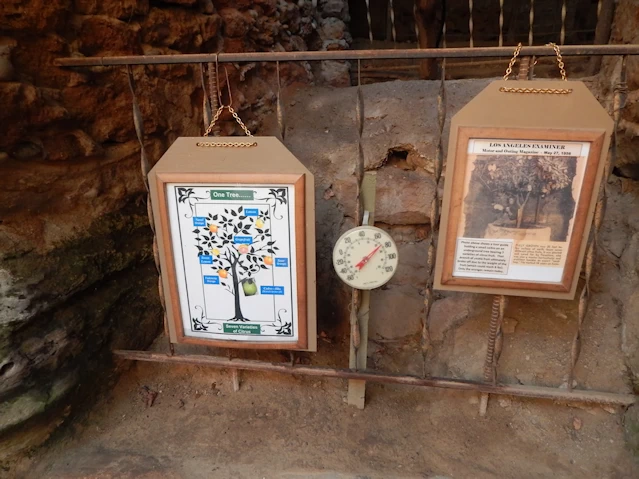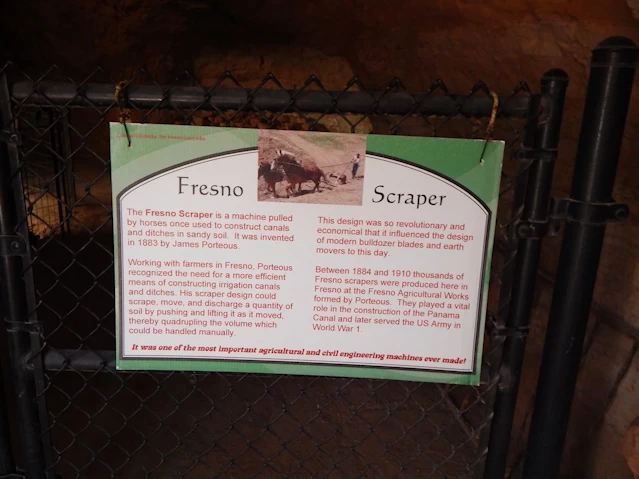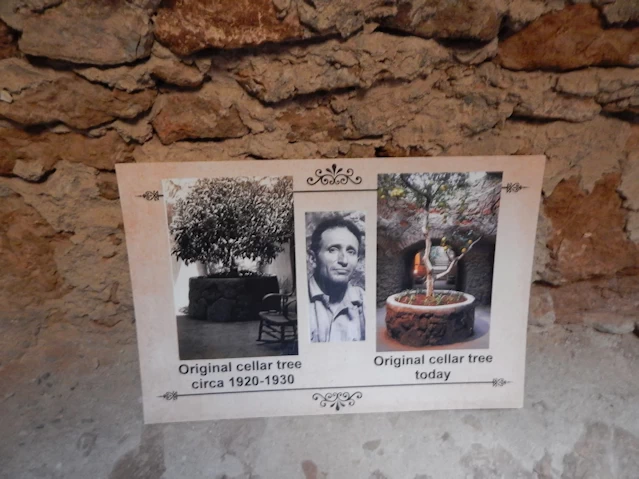 The Garden Tour requires reservations, and once your group is taken inside to the shop, you will then be taken to the main ballroom where the tour guide will give you the history of Baldasare Forestiere and his amazing underground garden. The tunnel goes through his living areas and many of the plants growing areas as well. The tour & guide was very informative and you will be glad you came there.
The Forestiere Underground Garden is listed on the National Register of Historic Places, and is also registered as No. 916 on the list of California Historical Landmarks.

---
Disclosure: Some of the links on this page are Affiliate Links, meaning, at no additional cost to you, that we will earn a commission if you click through and make a purchase. So we would appreciate any click throughs, if you are inclined.
Note: All images on this page are the property of Just Traveling Thru, LLC unless otherwise noted.
Note: If you are interested in our European Travel Tips & Warnings, Click here. Or to take a look at our methods for Trip Planning click here.
---
To review any of our content, make suggestions and/or comments, please click the "Info" menu button at the top of this page. You will find our "Contact Us" link on that drop-down menu.