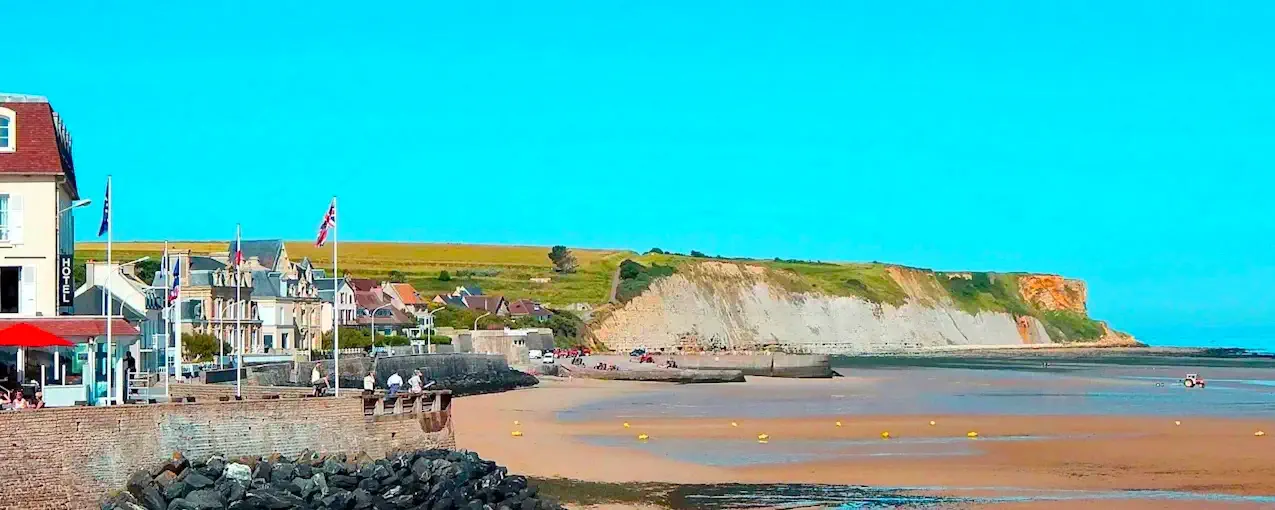 Arromanches-les-Bains France
After yet another delicious Viking River Cruise breakfast (onboard the Viking 'Spirit'), we piled onto tour buses and departed for the invasion beaches at 8:00AM. First stop was to be "Gold Beach sector", the British invasion point, which lies between Le Hamel and Ver sur mer, France.
From an historical perspective, this was just an amazing tour, to see and stand and walk on the same beaches, that the invasion forces landed upon, it felt like we were walking inside a history book! Several interesting points were made that I was not aware of, ie;
The overall invasion area was approximately 45 miles in width. The idea was that by hitting France in such a wide range of locations, the Germans would not be able to centrally attack the invasion forces. Obviously, this approach worked very well.
German strong points (aka; pill boxes & larger artillery) were scattered out on the bluffs overlooking the beaches, and were comprised of long range cannon (155mm) and shorter range cannon (100mm) designed to hit either the beaches, or the invasion force ships. All of these "strong points" were also heavily defended by German troops with machine guns and anti-armor weapons.
The temporary harbors constructed by the Allies (aka; mullberry units) consisted of two locations, one in the Gold Beach British sector, and the other at the Omaha Beach American sector. The Omaha Beach temporary harbor, was destroyed in a storm shortly after D-Day, and the caissons that were not destroyed, were towed to Gold Beach, and re-used to re-build that temporary harbor.
Many of the mulberry caissons are still sitting in the water off Gold Beach, a credit to the people that built them, for lasting over 70 years now.
There are 9,387 soldiers buried in Colleville-sur-mer cemetery. This is a beautiful site, overlooking Omaha Beach, and the people buried there are the true heroes of WWII. There are a total of 24 American cemeteries in France, and a quick Google search will show you how well they are maintained.
Omaha Beach was approximately 7,500 yards in width, with sheer cliffs that arise shortly after the sandy beach. Where there were not "sheer cliffs", there were 100 foot tall bluffs that were covered in heavy vegetation.
It is entirely possible, that if the German Army main focus had not been on Russia, that the invasion would have failed. The Russian Front was eating up German soldiers and armor, at an incredible pace, and Hitler would not release to the German Commanding General (Erwin Rommel) the armored units that Rommel needed to repulse the invasion.
There was a point in time, where the American Invasion Commander, briefly considered telling Eisenhower that he was going to remove the American invasion force and retreat. This was caused by the enormous loss of American lives during those first few hours, but he eventually was convinced to put ashore the second wave of the invasion forces, and the rest is history.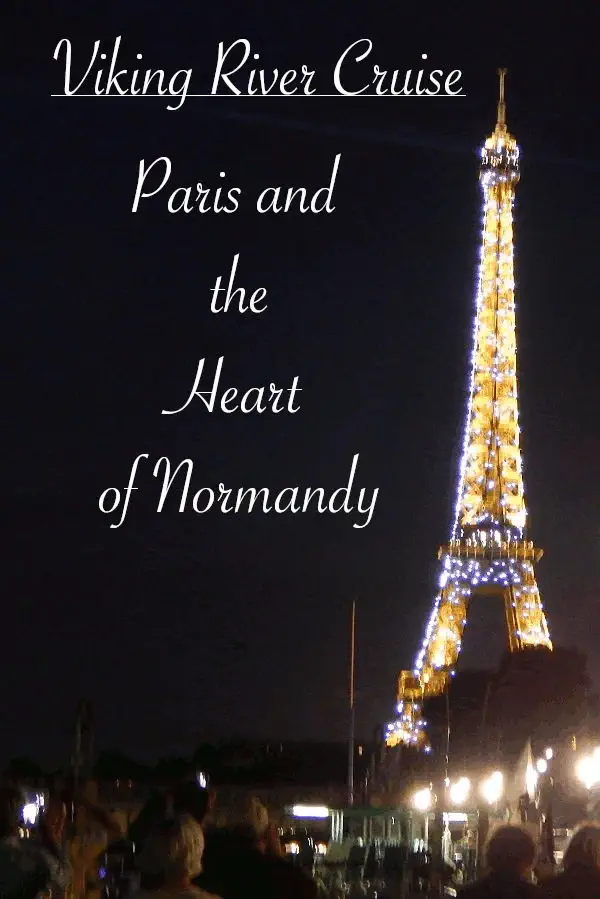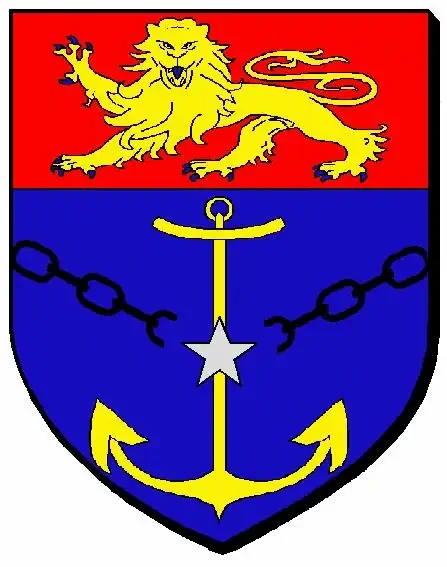 Click above image to view a larger Google Map
As can be seen by the above map, Rouen is 163 kilometers from Arromanche. Viking had arranged for a number of buses to take our tour group to the Arromanche area. Embarking on a day trip by bus from Rouen to Arromanches, France offers a delightful blend of history, picturesque landscapes, and coastal charm. As you leave the medieval city of Rouen behind, the bus journey reveals rolling countryside adorned with charming villages and lush green fields. Upon reaching Arromanches, we were transported back to a significant moment in history — the D-Day landings of World War II. We explored the remnants of Mulberry Harbor, a remarkable engineering feat!
The WW2 Invasion of Europe landing area code-named Gold Beach was more than 8 kilometers wide and included the coastal towns of La Rivière and Le Hamel. On the western end of the beach was the small port of Arromanches, and slightly west of that port was the town of Longues-sur-Mer.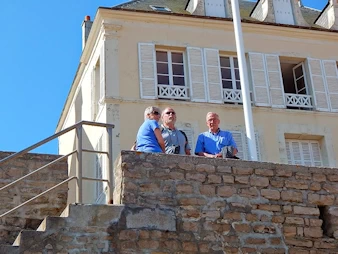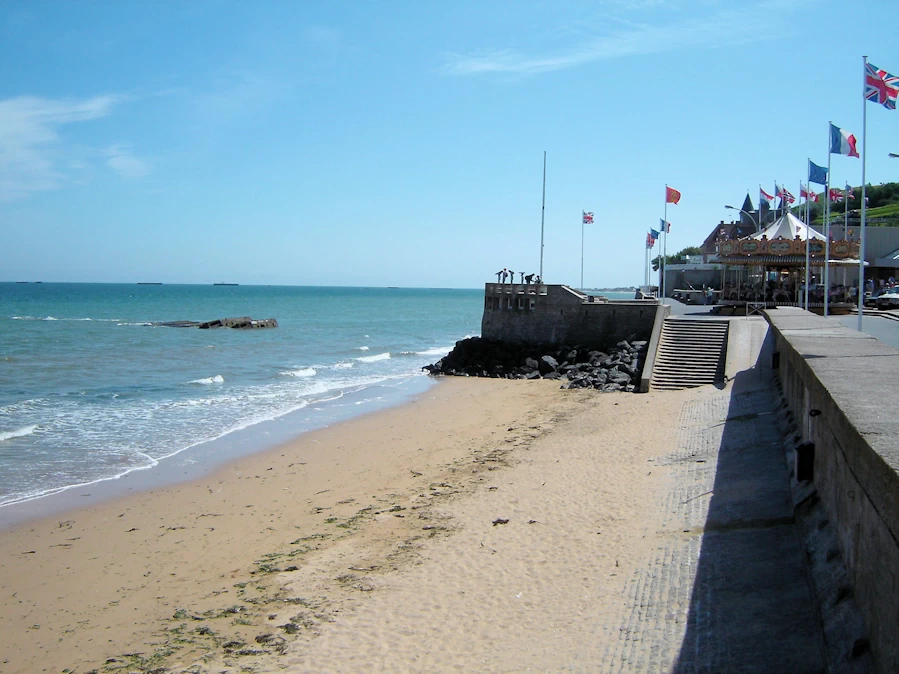 Image # 1 (left side) gives you an example of the tidal variations that occur at Gold Beach. I am standing on the sea wall with Ron and Elaine, and Celeste took this picture from the beach below.
This was morning low tide, and the water was approximately 200 yards out from the sea wall (Celeste hiked out to the water, just to be able to say she stood in the English Channel). The height of the sea wall is because not only does the tide rise considerably, but a storm will bring the water blasting against it ! Tidal variation here range between 3 to 6 meters (9+ to 18+ feet) in height.
Image # 1 (left side) was taken in front of the Hôtel De La Marine in Arromanches-les-Bains and is the property of Just Traveling Thru, LLC.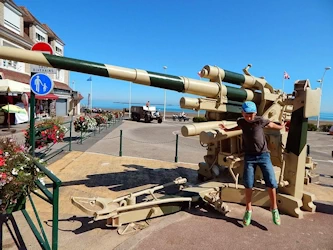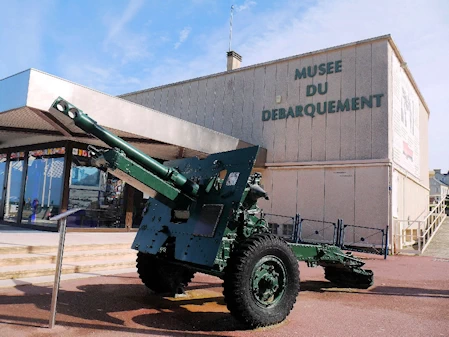 This museum was next to the parking lot in Arromanches, and contained quite a bit of military equipment from the invasion. This gun was a German 88mm, which was one of their more effective tank killers and also used as anti-aircraft. As you can see in this image, it was a magnet for the small boys playing there that day. The museum is located along the Place du Six Juin 1944 street, Click here for their website.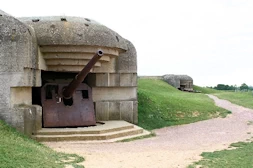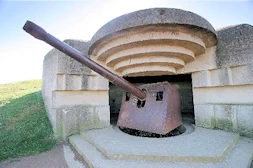 After lunch, the tour bus took us to the Longues-sur-Mer Artillery Battery, six kilometers from Arromanche.
This was a World War II German artillery battery constructed near the French village of Longues-sur-Mer. The battery was sited on a 60 meter (200 foot) cliff overlooking the sea and formed a part of Germany's Atlantic Wall coastal fortifications. It was located between the Allied landing beaches of Gold and Omaha and shelled both beaches on D-Day (6 June 1944). These were 150mm large guns with a range of 20 kilometers and a rate of fire of six to eight shots per minute.
NOTE: For more information, click here to go to the Wiki Page.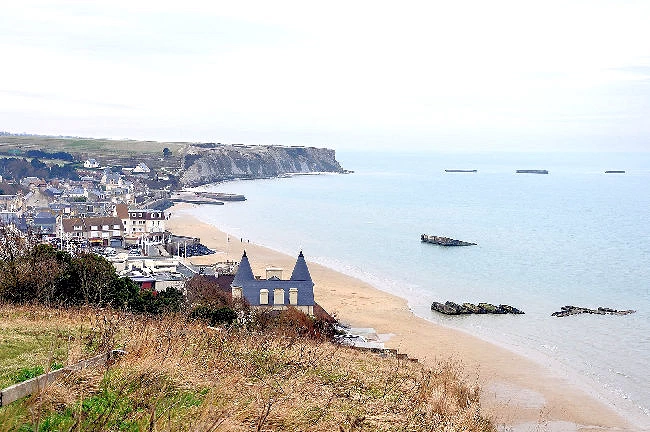 Image is the property of Myrabella via Wikimedia Commons.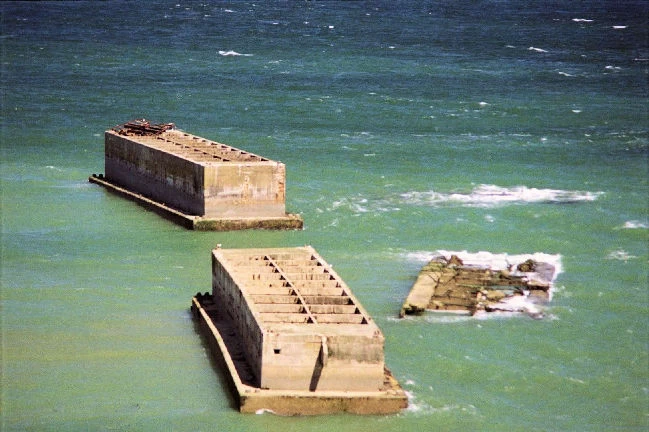 Image is the property of Oxyman via Wikimedia Commons.
Mulberry Units were used to construct "Mulberry Harbours" or temporary portable harbours developed by the United Kingdom during the Second World War to facilitate the rapid offloading of cargo onto beaches during the Allied invasion of Normandy in June 1944.
After the Allies successfully held the beachheads following D-Day, two prefabricated harbours were taken in sections across the English Channel from UK with the invading army and assembled off Omaha Beach (Arromanches). The fact that they are still intact is a testament to their sturdy construction.
NOTE: The history of these WW2 Mulberry Units is fascinating, click here to go to the Wiki Page to read more about them.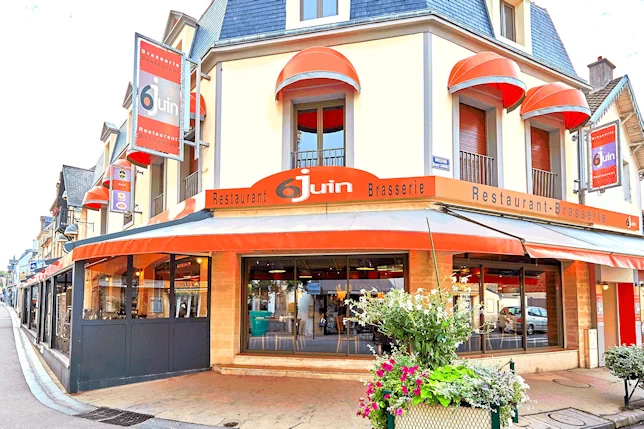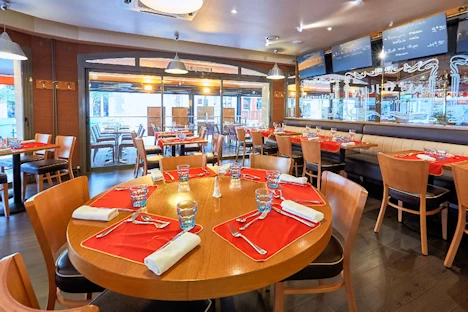 After a nice lunch at the Bar du Six Juin in Arromanches, we all piled back onto the tour buses for a stop at the Longues-sur-Mer Artillery Battery before we headed off to the Colleville-Sur-Mer cemetery.
WARNING: Our entire tour group ate lunch here, and even though Viking had given them a "head count", because Americans like to "spread out" and as we were the last people to enter the pub, we nearly did not get a seat! Moral of the story is to not be the last people to enter on these types of tours.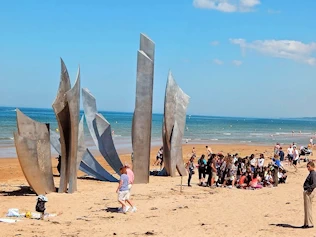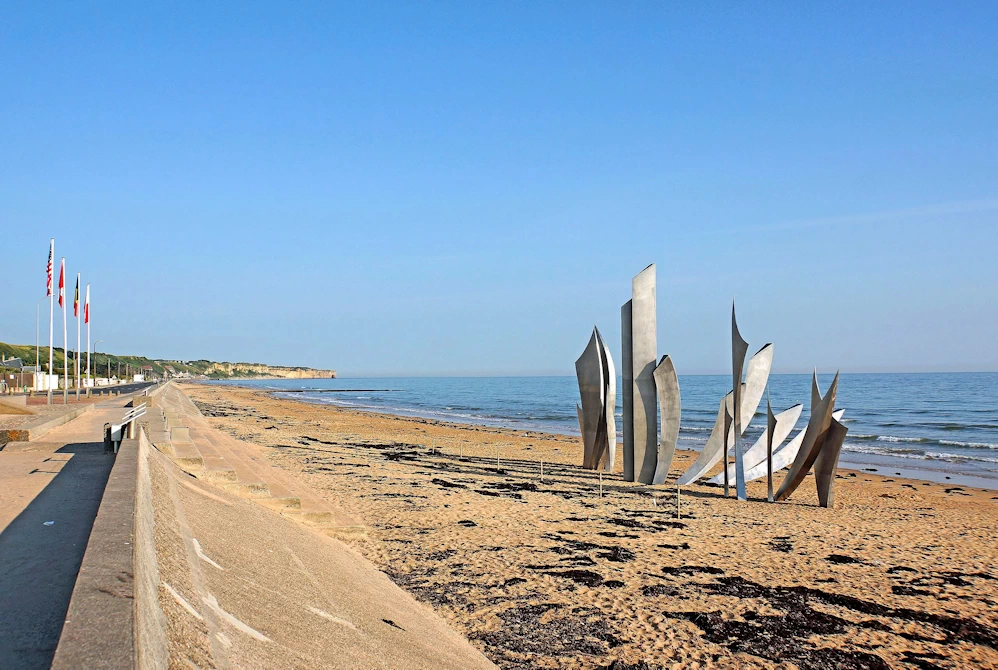 This memorial on Omaha Beach was our next stop, and it looks very much like a "plow shares constructed from swords" kind of thing.
The Memorial Monument is located in the centre of Omaha Beach in Normandy, France. The monument consists of three elements: 'The Wings of Hope', 'Rise, Freedom!' and 'The Wings of Fraternity'. An explanation of the monument stands on the Boulevard of Omaha Beach.
Click here for a more in depth description of the monument and a good video.
NOTE: Below are some useful links where you can find even more information about the areas we have described on this page. There are of course, many other useful websites & pages, so for something specific, we would suggest using Google Search.

---
Disclosure: Some of the links on this page are Affiliate Links, meaning, at no additional cost to you, that we will earn a commission if you click through and make a purchase. So we would appreciate any click throughs, if you are inclined.
Note: All images on this page are the property of Just Traveling Thru, LLC unless otherwise noted.
Note: If you are interested in our European Travel Tips & Warnings, Click here. Or to take a look at our methods for Trip Planning click here.
---
To review any of our content, make suggestions and/or comments, please click the "Info" menu button at the top of this page. You will find our "Contact Us" link on that drop-down menu.