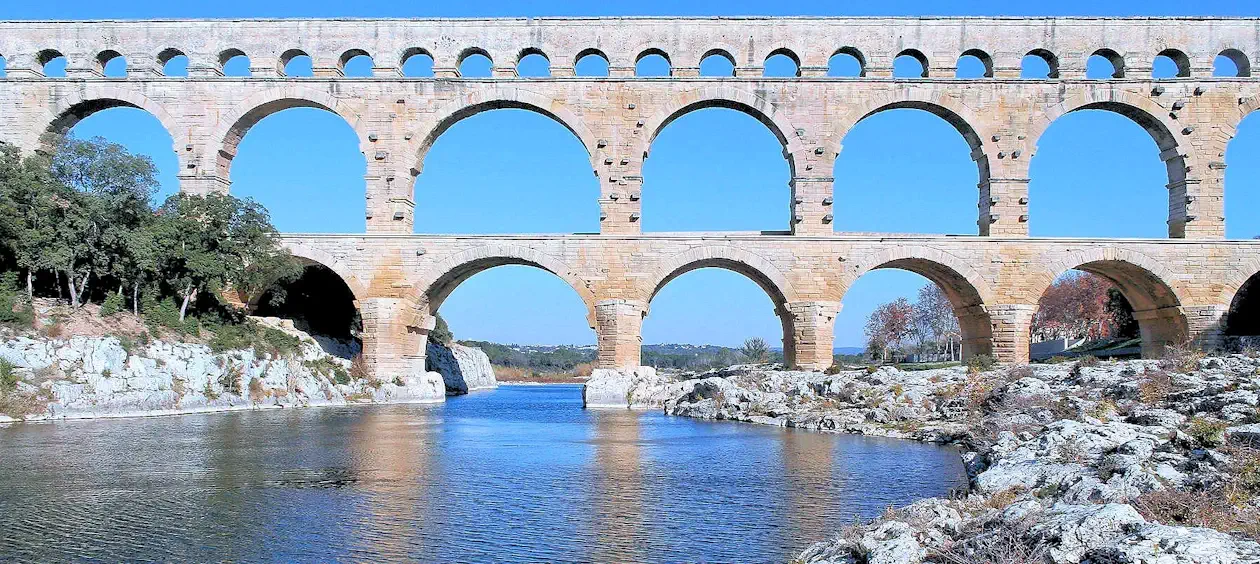 Above Image is the property of Roberto Ferrari via Wikimedia Commons using the CC BY-SA 2.0 license.

Pont du Gard, France
After some further adventures in and around Carcassonne & Rustiques, we repacked the Renault, and headed off to Annecy. This was easily the longest drive so far, at 560 kilometers, we knew we had to get out on the autoroute early.
The drive from Rustiques to the Pont du Gard was 227 kilometers via the A9 auto route. We had researched this destination and knew that stopping to see the Pont du Gard was well worth the time, so we made a very early departure from Rustiques.
This is a huge structure, 160 feet in height, 20 feet in width and was constructed by Roman Engineers nearly 2,000 years ago to carry water from Fontaine d'Eure to the Roman colony at Nimes, France.
We've been to Rome, and have explored a number of Roman ruins in various countries, but this aqueduct is such a great example of Roman engineering, it just had to be seen to be believed. Each stone in the structure has the appearance of having been cut & shaped precisely for where it sits without much of a gap at all!
Obviously, we had to walk across the bridge just below the aqueduct, and as you walk along and look at how well the stones were cemented into place, you realize that the Romans were incredible engineers. What it took to construct the aqueduct are impressive: over 21,000 cubic metres of rock, weighing 50,400 tons! The gap between the arches is one of the largest in the Roman world of constructions at 25 meters.
This was a beautiful day, and there were a large number of French visitors either swimming in the river below, or having a picnic on the beach.

---
Disclosure: Some of the links on this page are Affiliate Links, meaning, at no additional cost to you, that we will earn a commission if you click through and make a purchase. So we would appreciate any click throughs, if you are inclined.
Note: All images on this page are the property of Just Traveling Thru, LLC unless otherwise noted.
Note: If you are interested in our European Travel Tips & Warnings, Click here. Or to take a look at our methods for Trip Planning click here.
---
To review any of our content, make suggestions and/or comments, please click the "Info" menu button at the top of this page. You will find our "Contact Us" link on that drop-down menu.