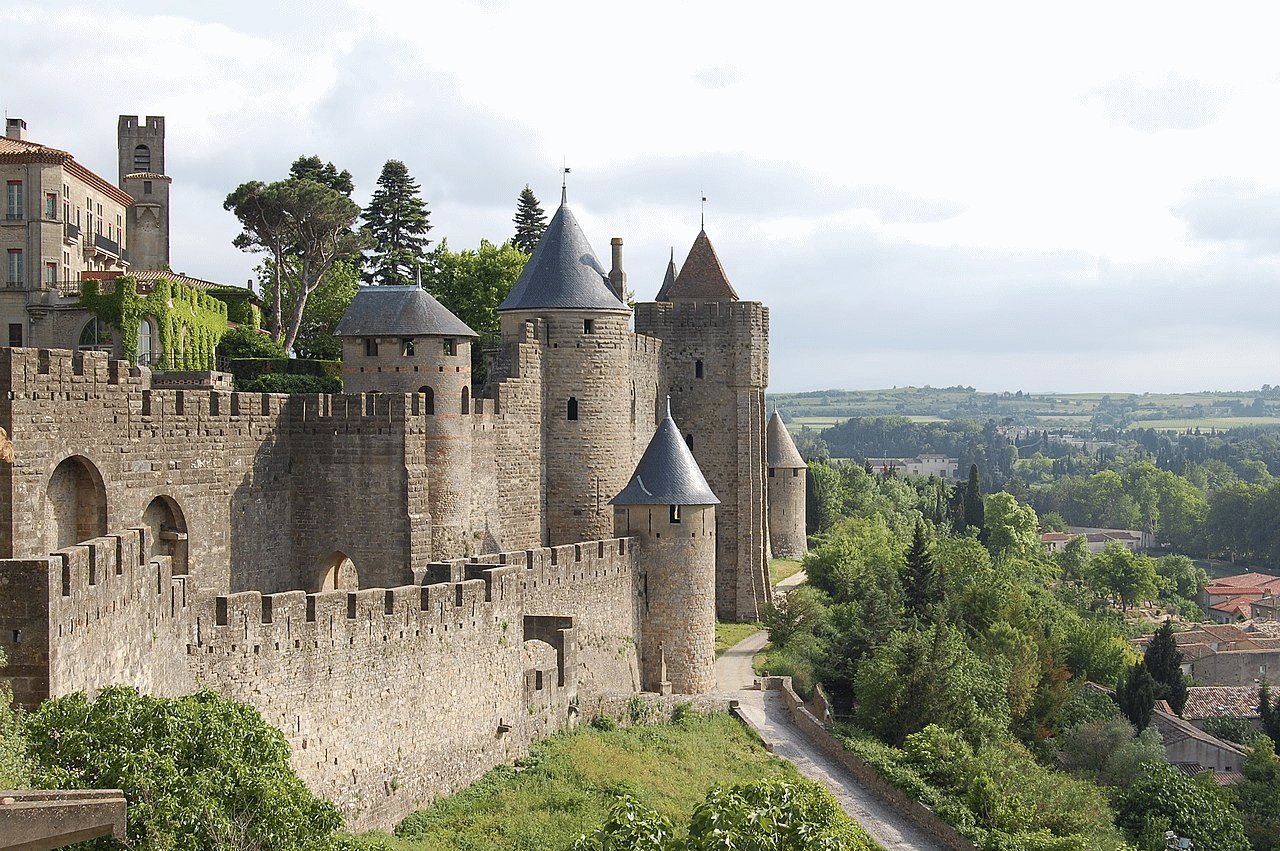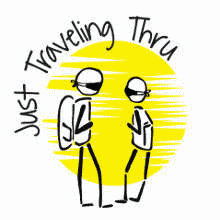 In & Around Carcassonne, France
After departing Bordeaux, this was our next major stop on our 2013 European Trip and our game plan was to explore several Cathar Fortresses, the Carcassonne Fortress, Trebes and the Canal du Midi and of course Rustiques, where our rental unit was located.
We drove from Bordaux on the A89 to Bergerac, then south on the A61 auto route from Toulouse to Carcassonne, and as Rustiques is only a few miles east of Carcassonne, we knew that we were going to have to rely upon "Suzette" (our Tom-Tom map device voice) to get us to our house rental.
While pondering the map of Rustiques, we saw that we would not only cross the L'Aude River, but also the Canal du Midi, which is an interesting piece of history all by itself, ie; it was constructed starting in 1667, contains 328 structures (locks, aqueducts, bridges, tunnels, etc.) and was meant to provide a navigable route from the Mediterranean to the Atlantic Ocean and thereby blocking the English from attacking and destroying French ships. Construction required 12,000 laborers and over 15 years to complete.
The Canal du Midi was inscribed as a UNESCO World Heritage Site in 1996, because of its outstanding engineering and artistic design, and it was designated as an International Historic Civil Engineering Landmark in 2016.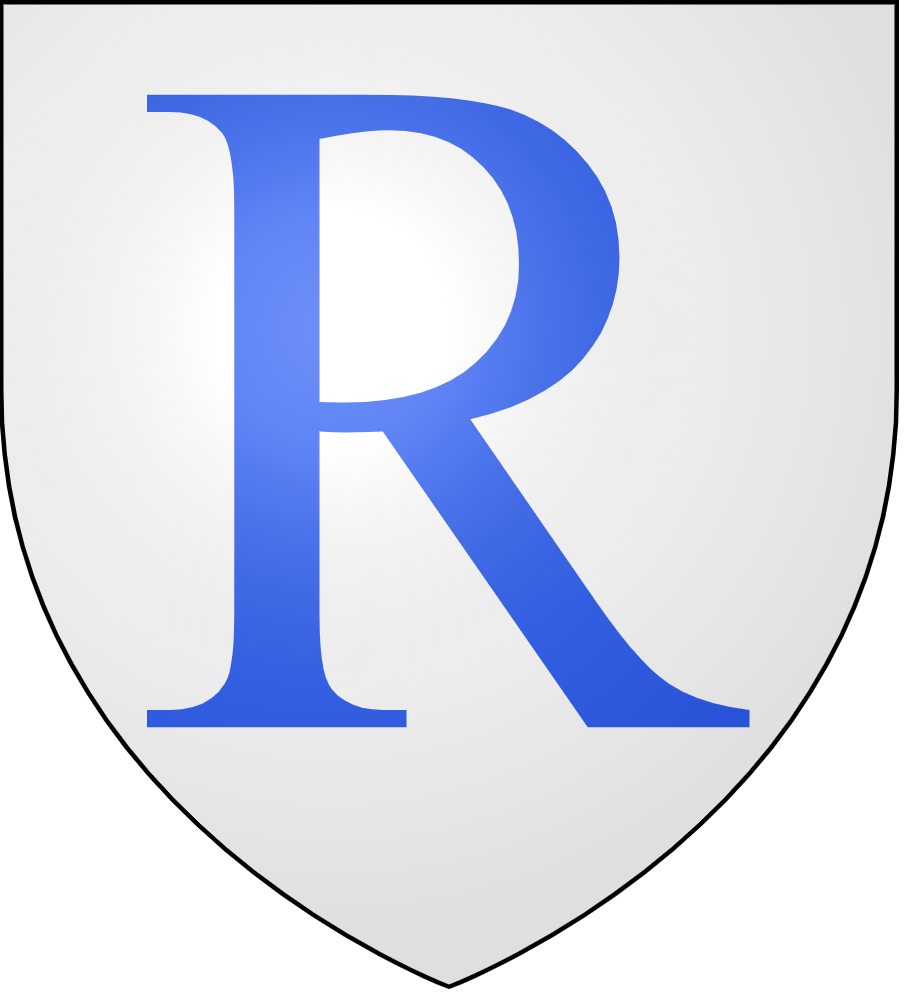 Rustiques Coat of ArmsImage is the property of Anno16 via Wikimedia Commons and the Public Domain license.
Image # 1: With Suzette (our Tom-Tom map device) navigating, we were able to reach our Rustiques house rental, and unpacked the car. As can be seen in this picture, we had to park our car in a court yard perhaps a block away, and carry everything down this alley to our house rental. This building had to be 600 years old, however, the interior had been completely redone and was very comfortable. We had a bit of trouble getting in with an unusual locking system but we eventually worked it out. Between that and a frozen pizza that fell through the grates in the kitchen oven, we racked up two more failures for our "FAIL" list. I spent over an hour cleaning the pizza dough off the bottom of the oven before we departed.
Image # 2: Here is the other end of that alley, which opens out onto the "main street" of Rustiques. Not a lot of traffic in this little village, as it is surrounded by acres and acres of grapes. With a 2021 population of 326, traffic isn't an issue for this little village, mostly people who commute to Carcassonne, or who have a vacation house here.
Image # 3: Rustiques is located in the urban area of ​​Carcassonne, and is located 10 km east of Carcassonne. Carcassonne is twice listed as a UNESCO World Heritage Site for the Medieval City and the Canal du Midi.
The town of Trèbes (6,000 inhabitants) is barely 1.5 km away and provides all the local shops (supermarkets, shops, medical centers, pharmacy, secondary school).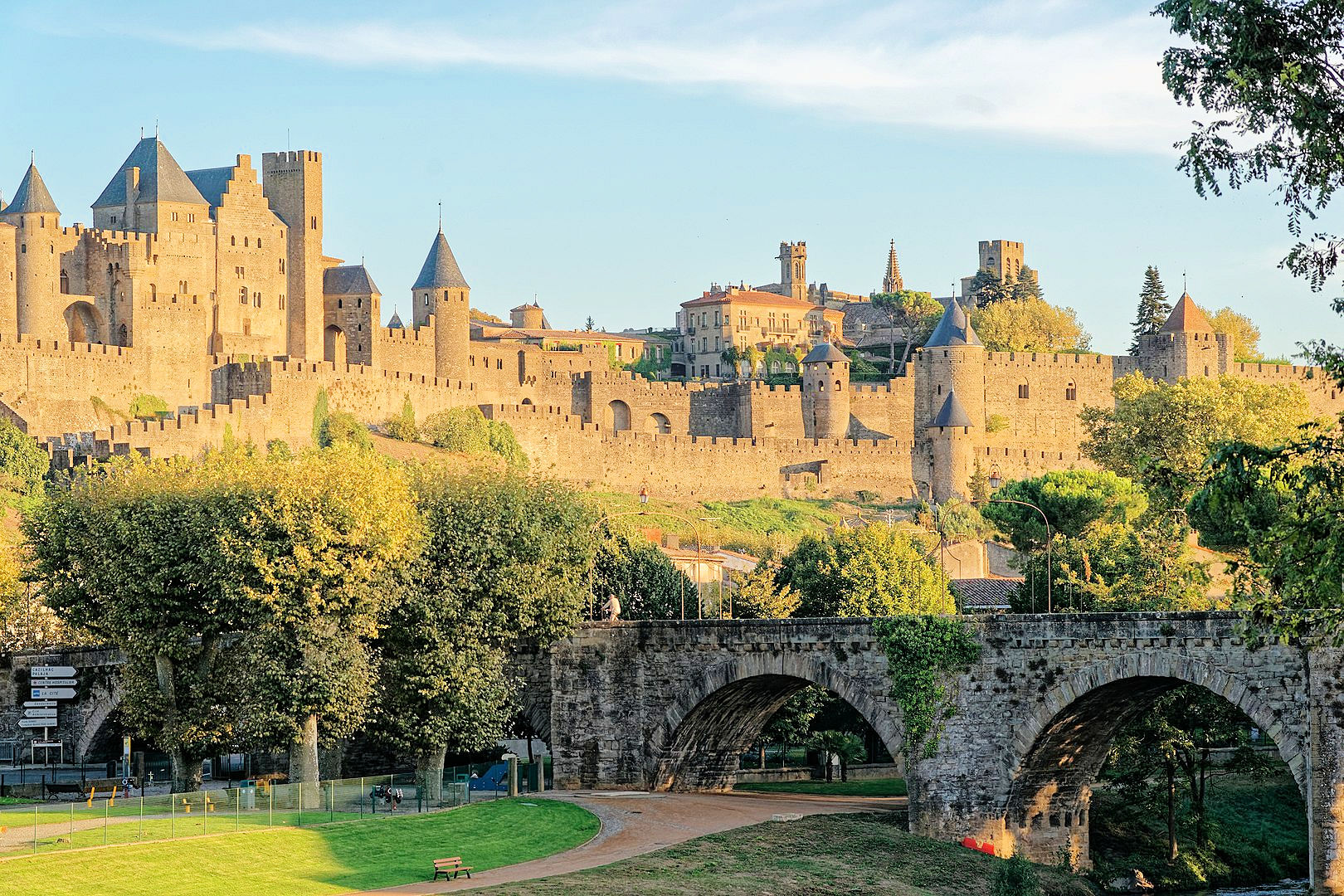 Carcassonne Fortress
The fortified city consists essentially of a concentric design of two outer walls with 53 towers and barbicans to prevent attack by siege engines. The castle itself possesses its own drawbridge and ditch leading to a central keep. The walls consist of towers built over quite a long period. One section is Roman and is notably different from the medieval walls, with the tell-tale red brick layers and the shallow pitch terracotta tile roofs. One of these towers housed the Catholic Inquisition in the 13th century and is still known as "The Inquisition Tower".
Our day trip here from Rustiques, was directed only at the fortress because we knew that it would take most of the day to fully explore it - so our plan was to explore it all and eat lunch here as well.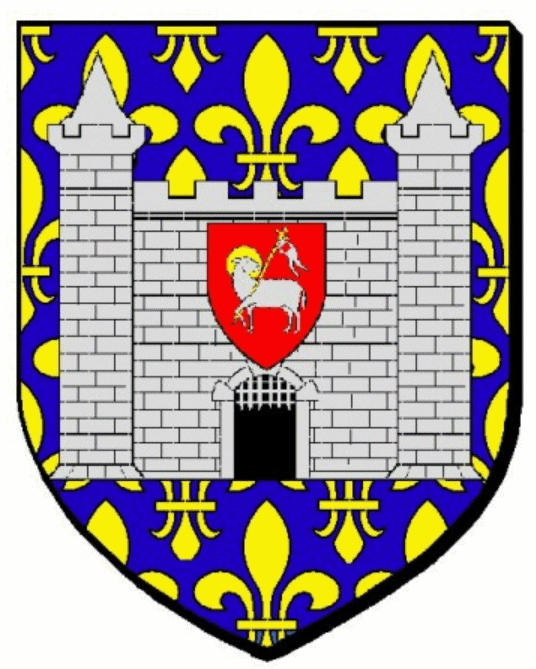 Carcassonne Coat of ArmsImage is the property of Heraldry of the World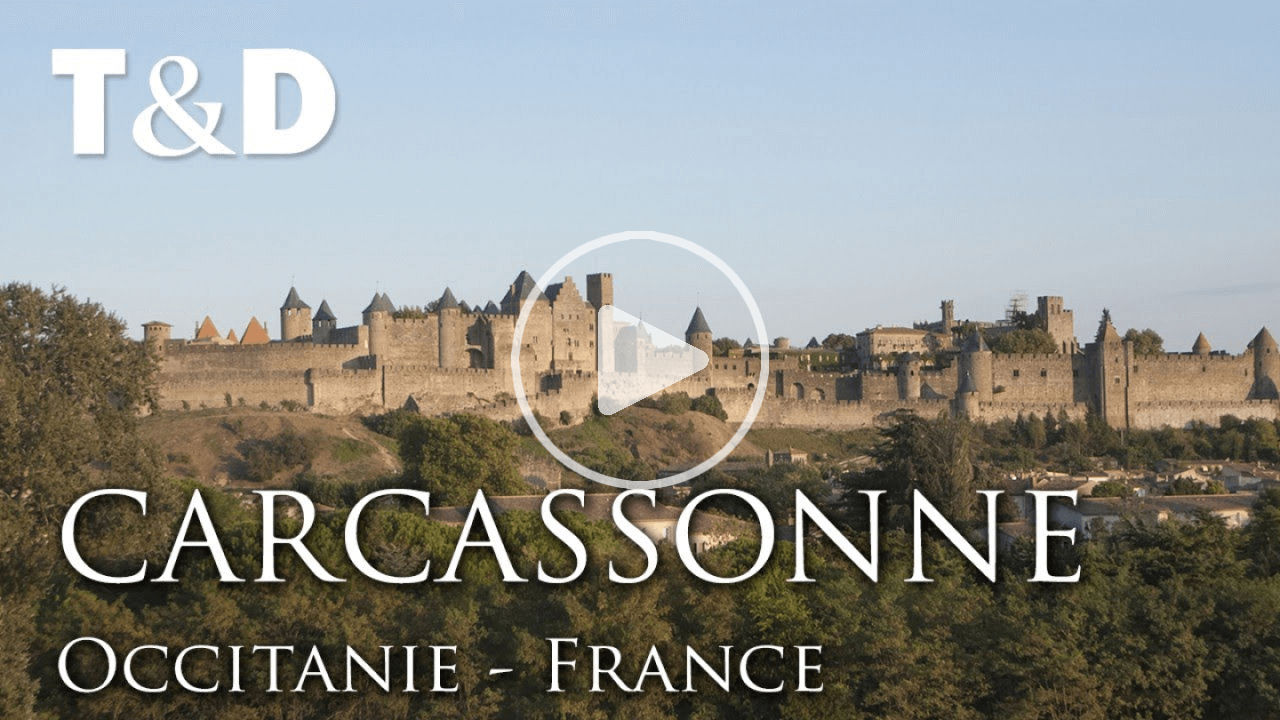 Since the Carcassonne Fortress was only 10 kilometers away from Rustiques, and it is one of the largest completely walled fortresses in Europe, we decided that a day trip there was a good idea. It has been a UNESCO World Heritage site since 1997.
Video is the property of the Carcassonne City Guide, and is included here because it is a good overview of the city & fortress.
Click here to go to their website.
NOTE: Click image to launch video.
Carcassonne Fortress
This is an amazing castle, as it is very well preserved, and the interior is so large (city walls are 1.9 miles long), that it contains shops, stores, restaurants, and other boutiques to help you spend your money.
We drove to Carcassonne early, as we knew that tourists would be out & about early, and they would grab all the parking spots. We found an excellent spot two blocks from the castle, and hiked over and up the hill to explore the castle interior.
As you can see from these images of the Carcassonne Castle, it is huge! It takes quite a while to explore the various Castle buildings, shops, boutiques, and restaurants.
Because Rustiques is only 8 kilometers away, we decided to drive over to the Canal du Midi, and explore the area along the waterway.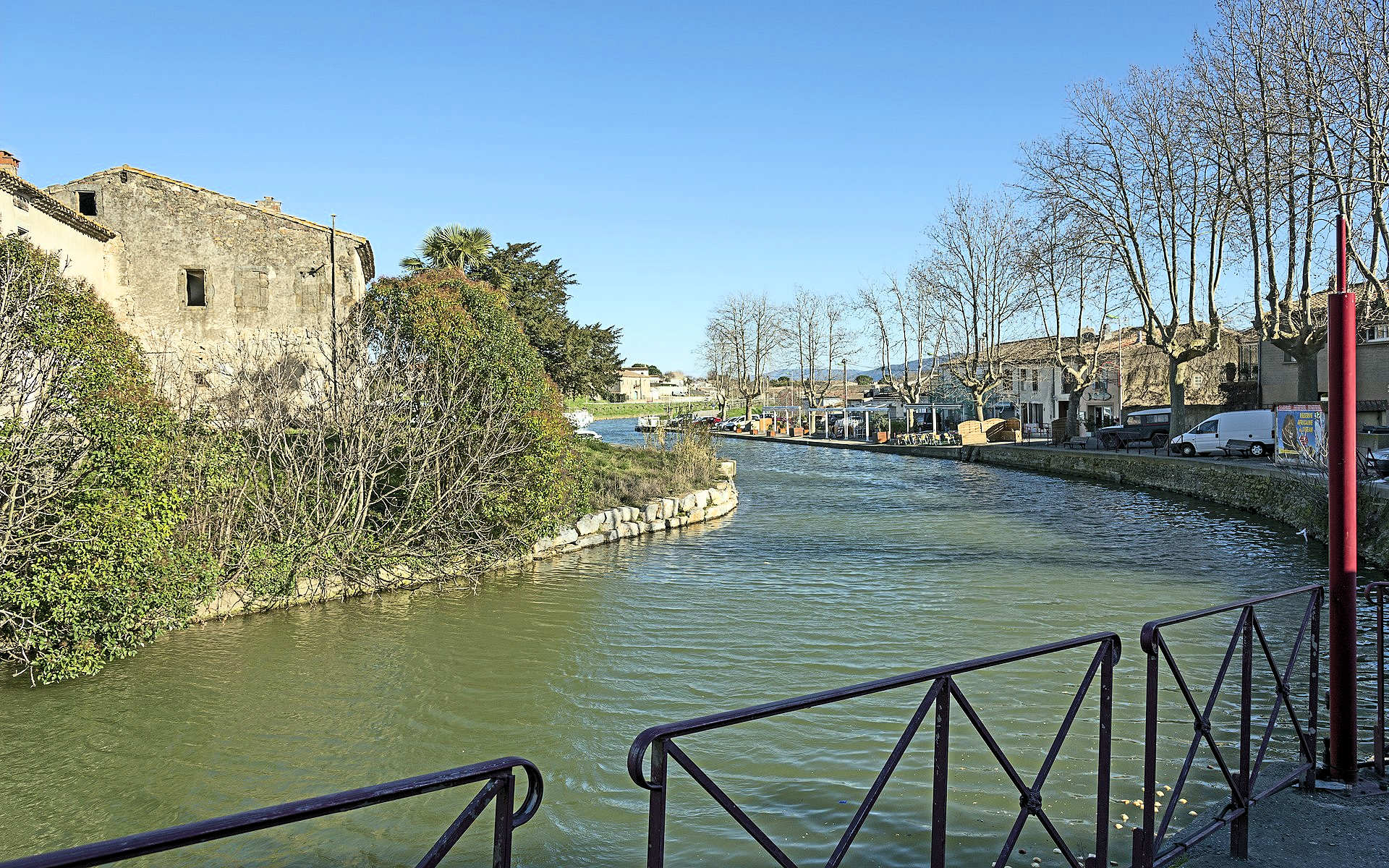 Standing on the bridge looking east back at the village of Trebes. This is a small village, 7 kilometers east of Carcassonne and 3 kilometers southwest of Rustiques. This is (at least when we were there) the closest grocery store to Rustiques.
Canal du Midi as it flows through Trèbes
The above images are of the Canal du Midi, as it crossed beneath the Pont de Trèbes sur l'aude bridge in the little town of Trèbes.
As you can no doubt discern, Rustiques is not large enough to have a grocery or other stores, so all of our provisioning came from trips to Trèbes. It was only a 3 kilometer drive, through some pretty countryside.
Image # 2 is the south bank of the River Aude (AKA "Canal du Midi") and you can see all of the establishments that cater to the boating public. Lively section of the village ! You can also see the docking and sidewalk restaurant areas in image # 2. Lots of places for people who are traveling up & down the canal, to stop, buy groceries, or have a meal.
This was a very scenic spot, and even though it is early afternoon, there were a number of people already enjoying a glass of wine in the sidewalk cafes.
IMAGE CREDITS: Image # 2 above is the property of Kathleen Tyler Conklin via Wikimedia Commons using the CC-by-2.0 license.
All other images are the property of Just Traveling Thru, LLC unless otherwise noted.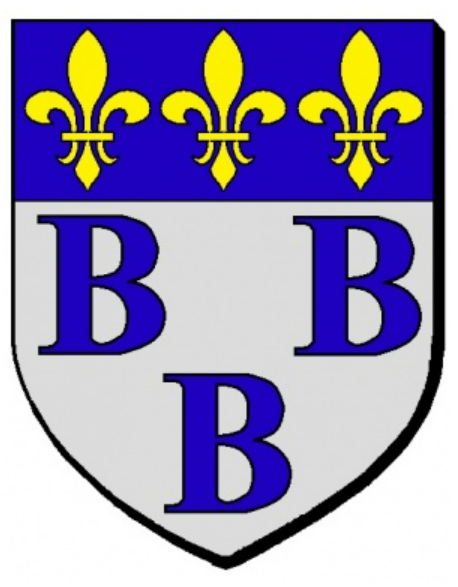 Trebes Coat of ArmsImage is the property of Heraldry of the World
---
Disclosure: Some of the links on this page are Affiliate Links, meaning, at no additional cost to you, that we will earn a commission if you click through and make a purchase. So we would appreciate any click throughs, if you are inclined.
Note: All images on this page are the property of Just Traveling Thru, LLC unless otherwise noted.
Note: If you are interested in our European Travel Tips & Warnings, Click here. Or to take a look at our methods for Trip Planning click here.

To view our entire set of images from Nuremberg, Germany, click here
---
To review any of our content, make suggestions and/or comments, please click the "Info" menu button at the top of this page. You will find our "Contact Us" link on that drop-down menu.