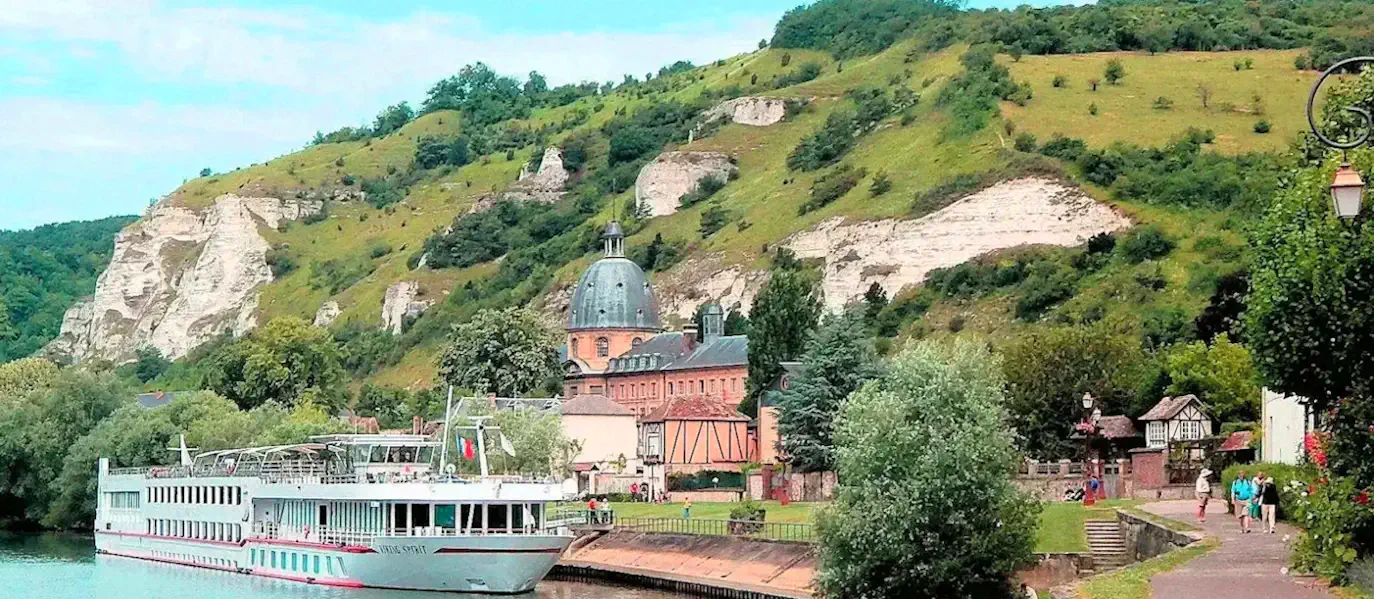 Viking Cruise: Les Andelys, France
The Viking 'Spirit' departed Rouen at 6:30AM, so we were able to have breakfast and watch the ship depart. These river cruising ships do not require a large "shore crew", they have a few guys to handle the ropes and to insure that nothing gets snagged by the ship, the ship casts off and away we go.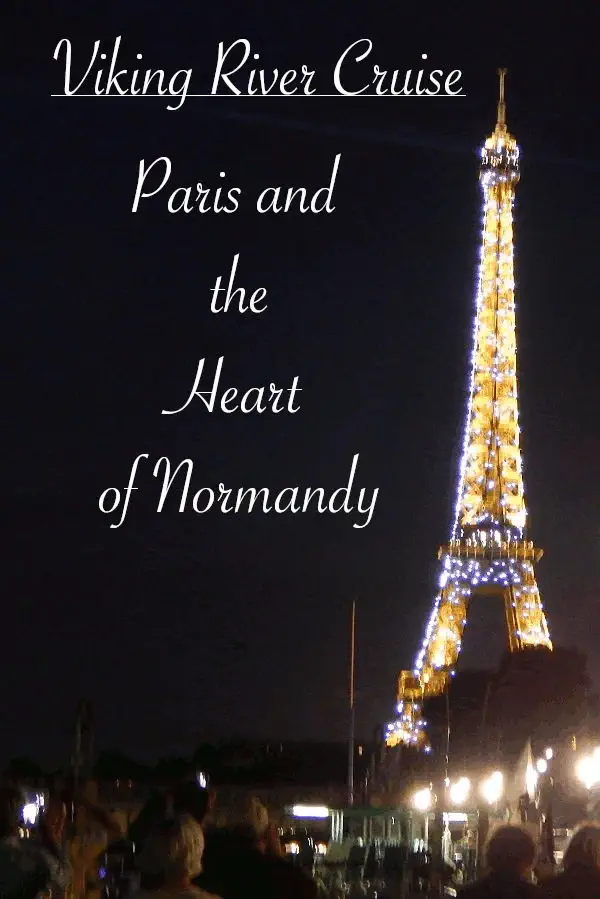 Our destination today, was Les Andelys, where Richard I of England, feudal Duke of Normandy, better known as Richard the Lionheart, constructed Château Gaillard to block the French King (Phillip II) and Army from coming up the River Seine to attack Normandy. Richard had it constructed high on a hill overlooking Les Andelys.

Richard the Lion Heart started construction of Château Gaillard in 1196, and it was completed in two years. This was remarkable construction speed, considering that it sits high on a hill, and everything had to be hauled up to the site, everything including; blocks of stone, cannon, other weapons for the troops stationed there, food for the troops, gun powder, etc, etc..
Château Gaillard was attacked (and seized) by Phillip II in 1204, which meant that it did not have much of a useful life for the English King. Small reward for King Richard, who thought that Normandy could remain an English possession, as long as Château Gaillard blocked the French from marching up the River Seine valley. By the end of 1204, Phiilip II had subjugated all of Normandy, Rouen took the longest to fall requiring 40 days of siege by the Army of France.
Click here to go to the Chateau Gaillard's Wikipedia Page and read more about it's interesting history.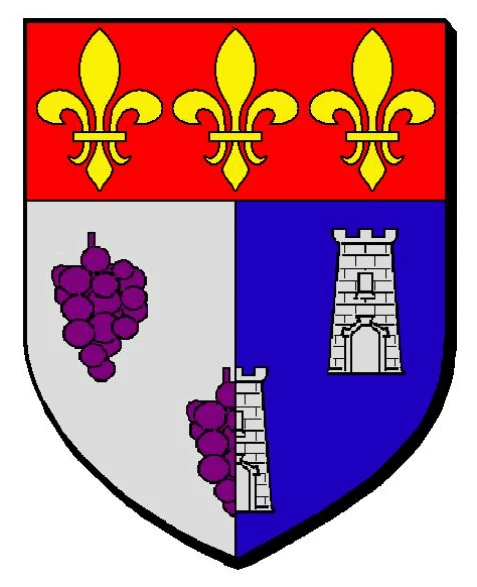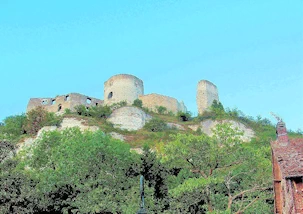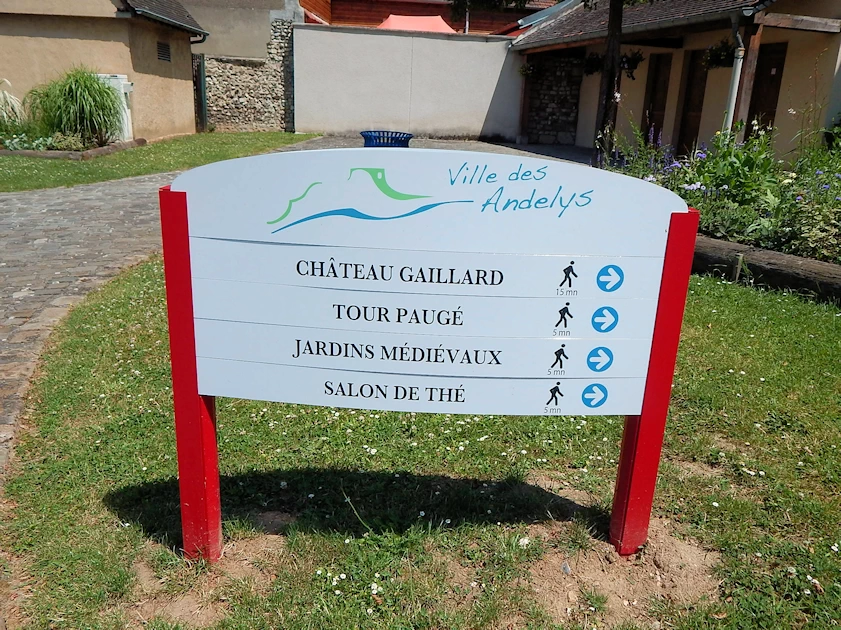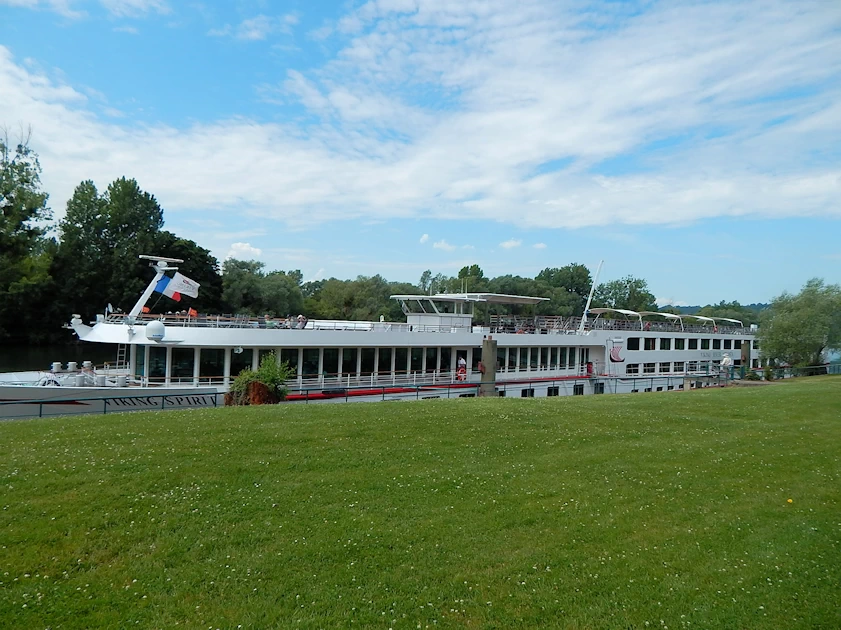 The Viking Spirit docked along the Quai Grimoult, and as we could see the Chateau from the ship, we thought that it would be an easy hike. We wound up walking through the Parc du Petit Andelys and then on to the Parc de repos (approximately 600 meters) because we assumed that we would see a sign that identified a trail up to the Chateau. We eventually found a trail, but found out later that there was a substantially simpler walk if we had just walked up the Chemin du Château de la Gaillard.
When we departed the Chateau, we walked back to Les Andelys via the Chemin du Château de la Gaillard. This was a much simpler route, flat and it brought us into the village near the Villa Aliénor.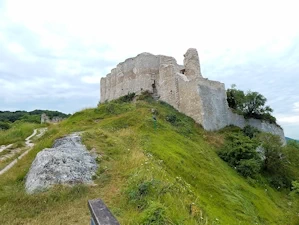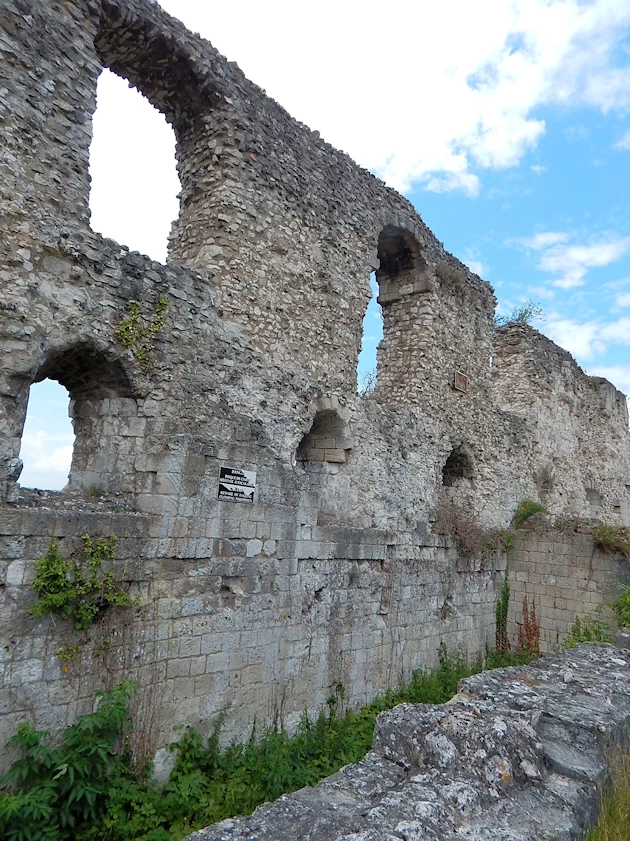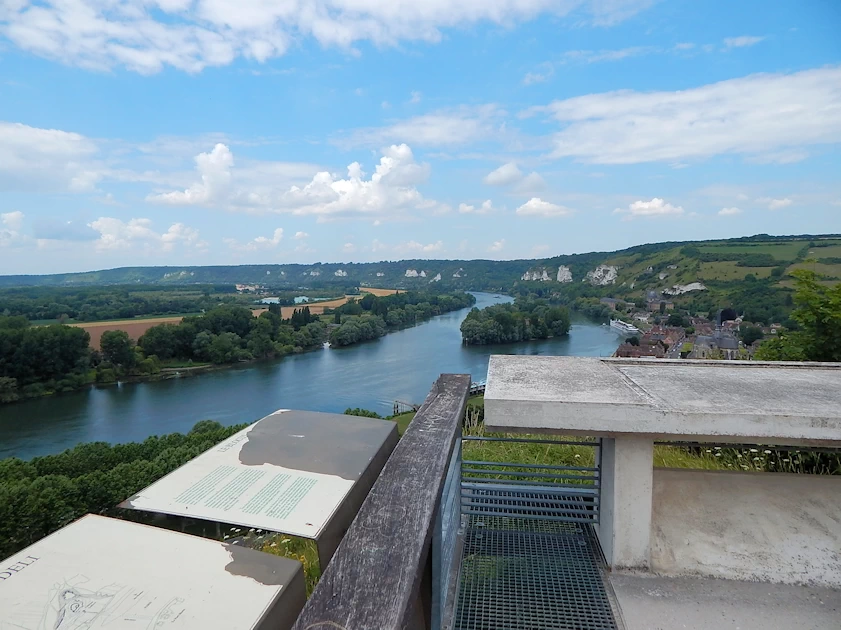 Remains of Château Gaillard
As you can see in this picture, it is now in ruins, as it was destroyed a number of times by the French Army. Phillip II was determined to deny the English such an imposing blockage of the River Seine.
This picture also gives you a better idea of how steep the trail was to get up there !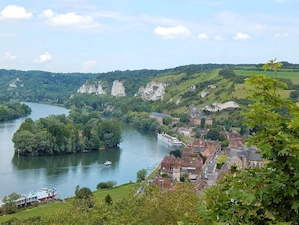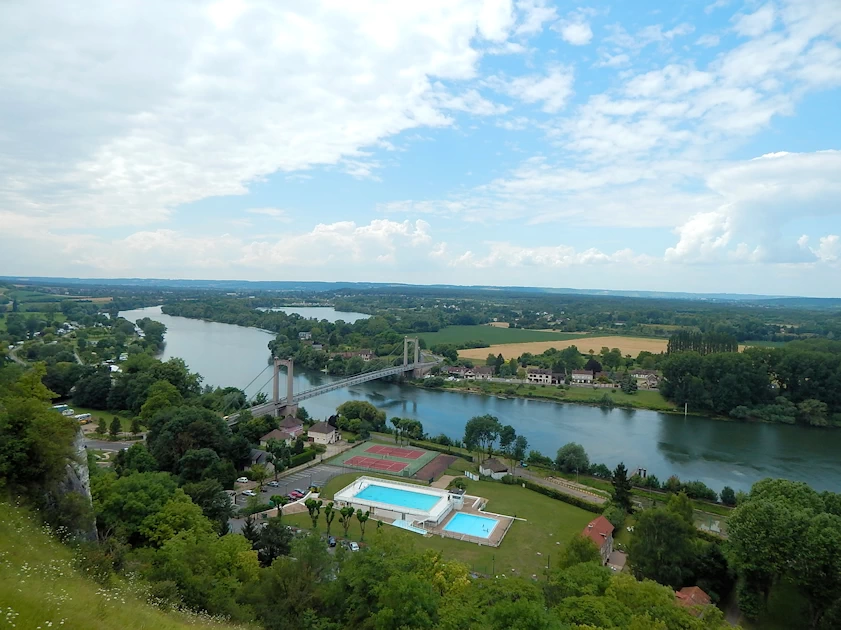 River Seine from Château Gaillard
These pictures (taken from the ramparts of the Castle), gives you a better idea of the commanding view of the River Seine from the Castle. The view of the Seine River and the village below, were excellent.
Some of these views are also utilized by various Viking brochures, so it might be familiar to any of you who have any of them.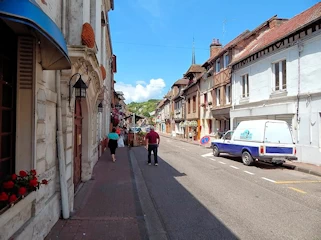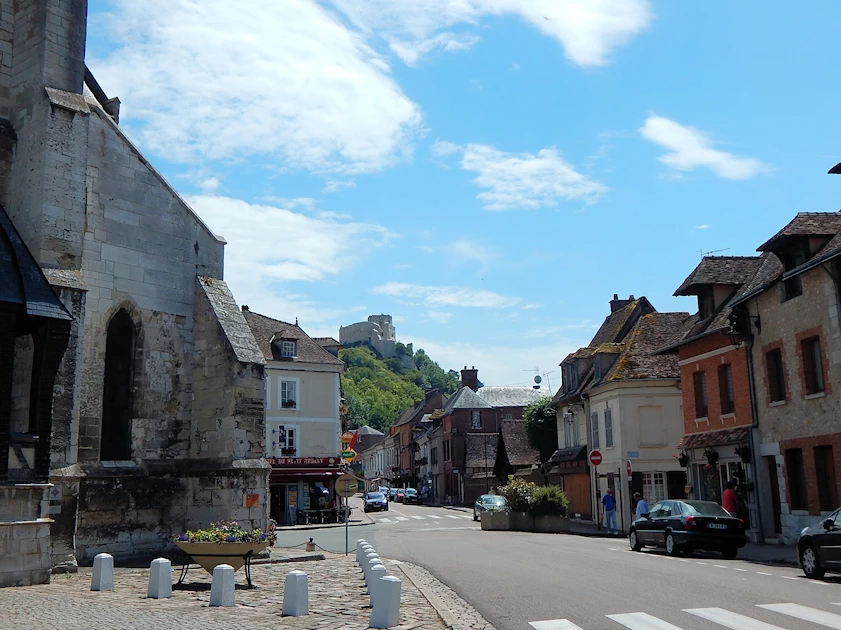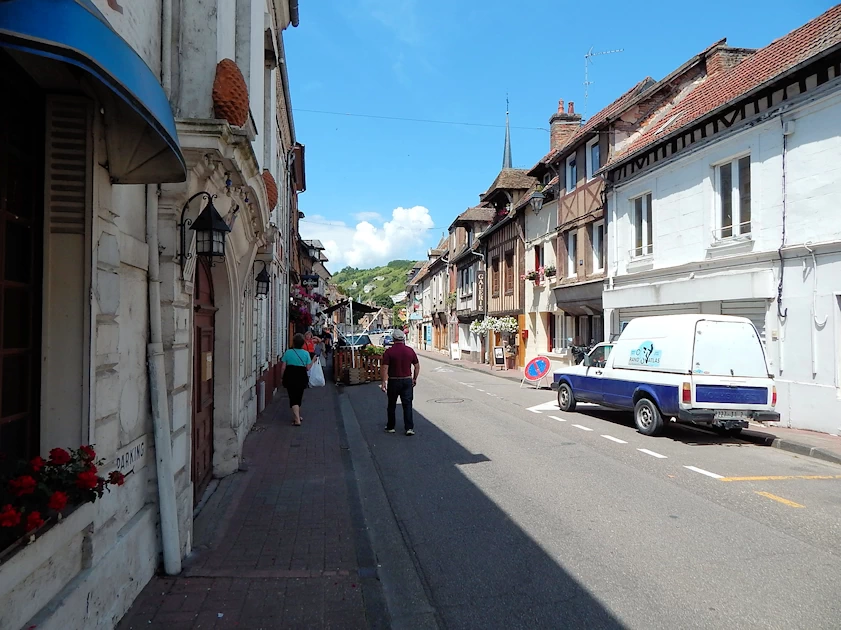 Hiking to Les Andelys from Château Gaillard
After we hiked back down the Castle trail, we strolled about Les Andelys village, as it is a neat example of a French village. A number of small shops, pubs, and various stores offering various types of merchandise.
Since the Viking Spirit was docked less than a block from the village center, there was no urgency to our exploration of Les Andelys. So we strolled from one end of the village, to the other.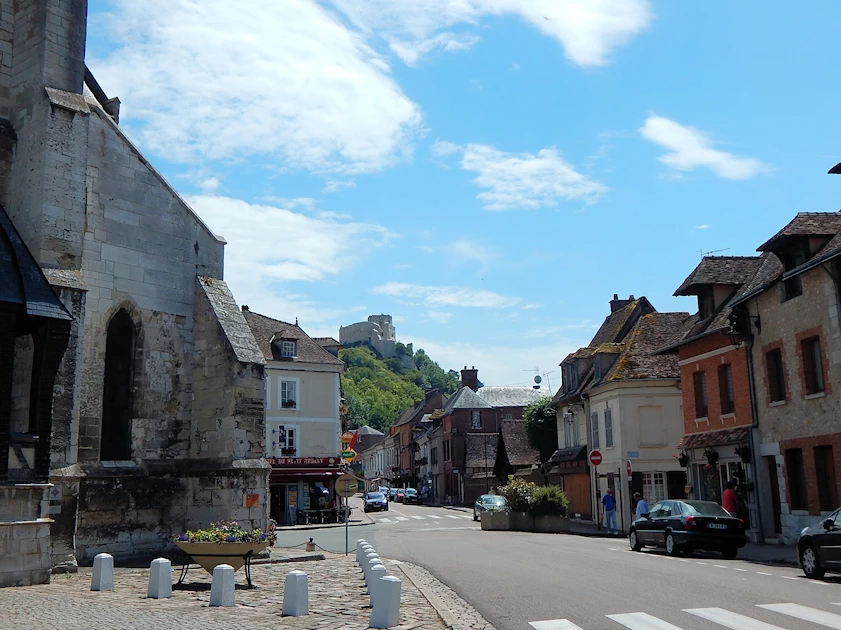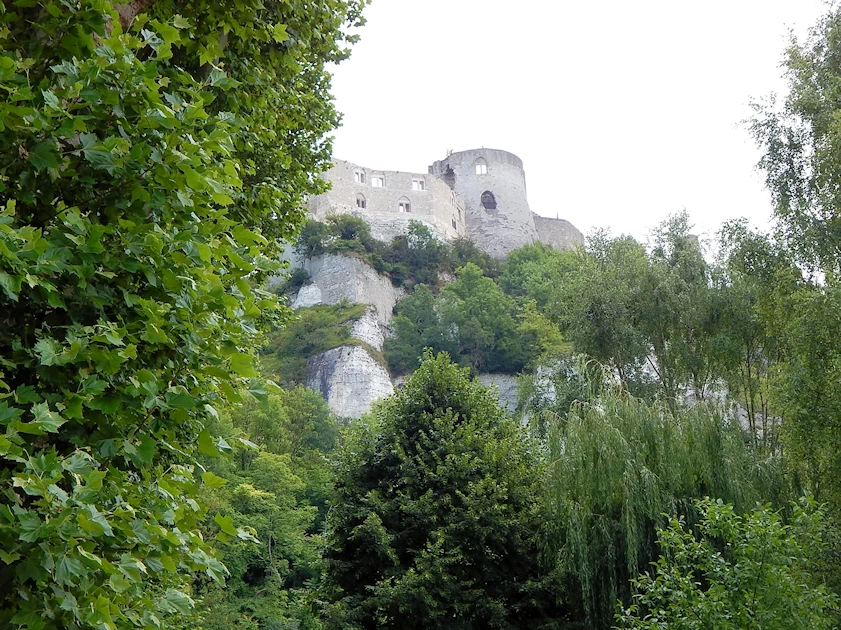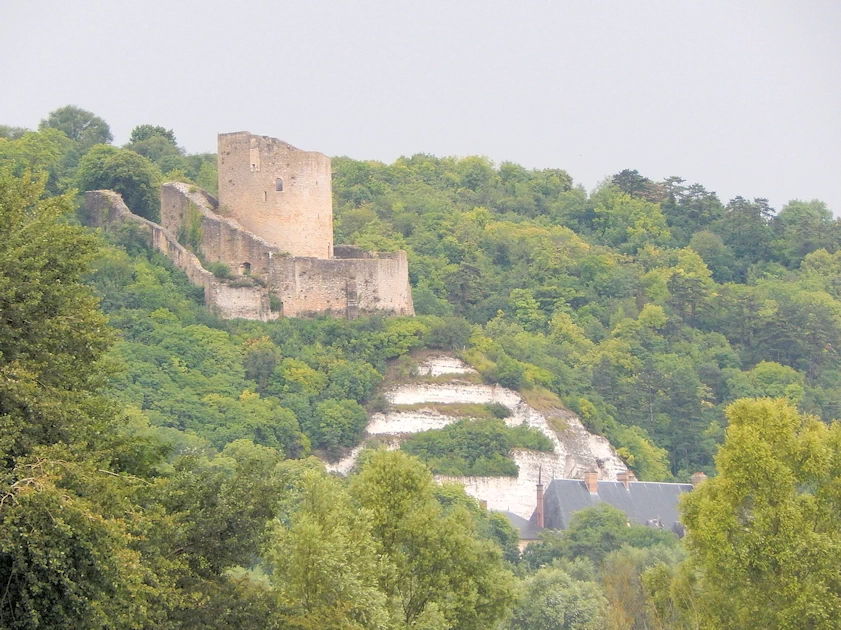 Views of Château Gaillard from the Village
As we started to walk through the village, Celeste turned around and saw what a great picture of the castle was waiting to be taken!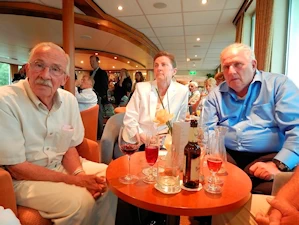 Meeting Good Friends on the Cruise
Before I forget to mention it, this is a picture of some very nice people (Bernie and Joanne) who we met onboard the ship.
In an extreme example of "weird coincidence", when Bernie told me that he was born & raised in Philadelphia, I told Bernie that I used to hang out there when I was in the Navy. He asked me where, and when I told him the location, it turned out that Bernie grew up not two blocks away! In fact, he attended the same church that my good friend's family attended - just an amazing coincidence !

---
Disclosure: Some of the links on this page are Affiliate Links, meaning, at no additional cost to you, that we will earn a commission if you click through and make a purchase. So we would appreciate any click throughs, if you are inclined.
Note: All images on this page are the property of Just Traveling Thru, LLC unless otherwise noted.
Note: If you are interested in our European Travel Tips & Warnings, Click here. Or to take a look at our methods for Trip Planning click here.
---
To review any of our content, make suggestions and/or comments, please click the "Info" menu button at the top of this page. You will find our "Contact Us" link on that drop-down menu.