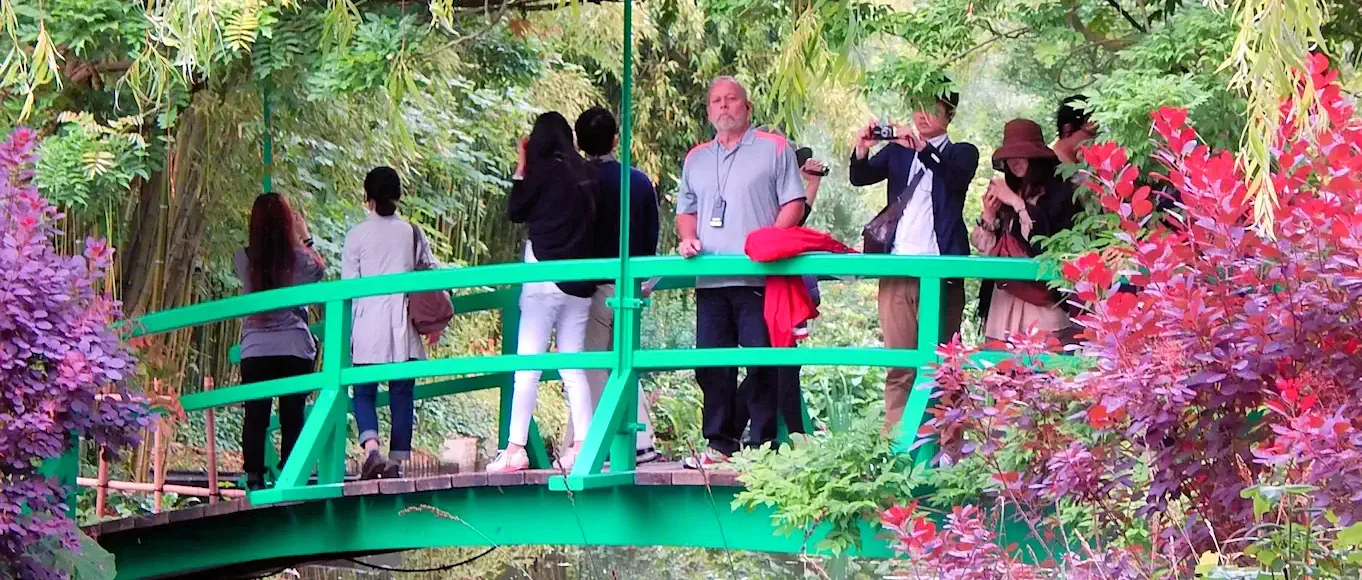 Viking Tour to Vernon France
The Viking Spirit arrived in Vernon at 6AM, and we docked such that the shore excursion to Giverny, could begin at 8:45AM. We were excited to be able to visit Monet's home and famous garden!
After yet another delicious breakfast, everyone proceeded to the tour bus. Viking does a great job of allocating passengers to each tour bus, so as you turn in your cabin key (so they know you are off the ship), they give you a receipt for the keys and also provide you with a "bus number" key, which identifies which tour bus you are assigned to.
The drive from Vernon to Giverny was brief (5.6Km) and once we arrived, there was a short stroll through the village of Giverny to Monet's Garden.
The images below are presented in an "image gallery" presentation, click any image to start a "slide show". We did it this way because the entire Monet Garden Estate is so beautiful and so representative of what Monet enjoyed, that we could not assign "image titles" to anything - we just wanted you to enjoy them all.
See that green foot-bridge in the above images? That is the famous "Japanese Bridge", also known as the "Water Lily Bridge", which stands elegantly over a meandering pond adorned with water lilies and other aquatic plants. This arched wooden bridge with its vibrant green hue is a striking contrast against the surrounding foliage and blooming flowers. Monet meticulously designed the bridge, incorporating Japanese architectural elements and capturing the essence of the East in his Western garden.
The bridge serves as a focal point, drawing the viewer's gaze towards the tranquil water surface, where reflections of the bridge, plants, and the sky merge harmoniously. It is a symbol of tranquility, serenity, and the connection between man and nature that Monet cherished and sought to convey through his art.
it is estimated that Monet produced over 250 paintings focused on his water lilies series as a whole, many of which include the iconic Japanese Bridge.

---
Disclosure: Some of the links on this page are Affiliate Links, meaning, at no additional cost to you, that we will earn a commission if you click through and make a purchase. So we would appreciate any click throughs, if you are inclined.
Note: All images on this page are the property of Just Traveling Thru, LLC unless otherwise noted.
Note: If you are interested in our European Travel Tips & Warnings, Click here. Or to take a look at our methods for Trip Planning click here.
---
To review any of our content, make suggestions and/or comments, please click the "Info" menu button at the top of this page. You will find our "Contact Us" link on that drop-down menu.