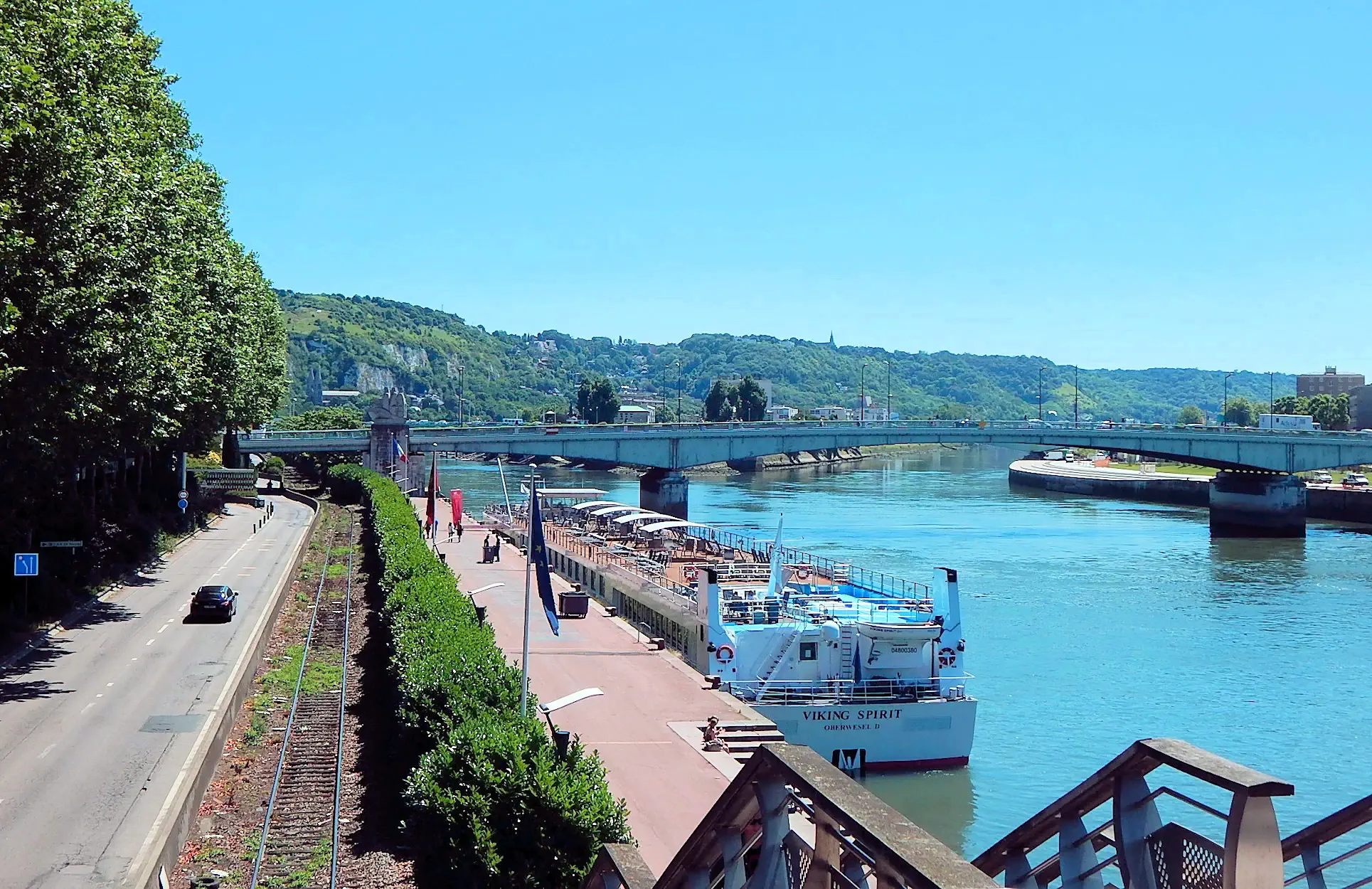 Image is the property of Just Traveling Thru, LLC

Viking Cruise: Rouen, France
This was as far west as our Viking River Cruise travelled during our "Paris & the Heart of Normandy" cruise. Our goal here was a day trip to the WW2 Gold & Omaha Invasion Beaches, as well as some free time in the city, which we put to good use!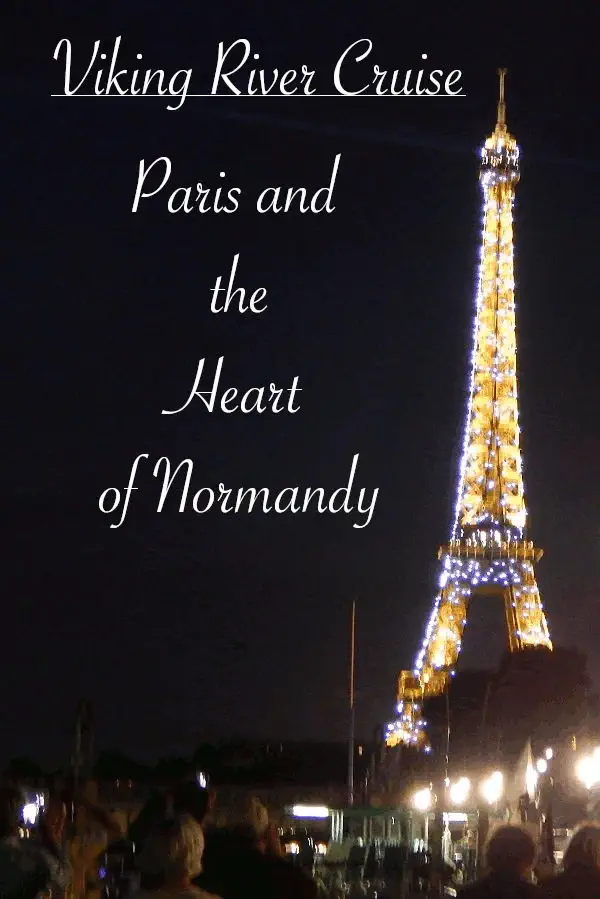 Quick Rouen Overview: Rouen is the capital of the Haute-Normandie (Upper Normandy) region in northern France in the department of Seine-Maritime. It lies on the River Seine and is the historic capital city of Normandy. Rouen and 70 suburban communes of the metropolitan area form the Agglomeration Community of Rouen-Elbeuf-Austreberthe (CREA). The city has a population of 110,000 and its metropolitan area includes 500,000 residents who are known colloquially as Rouennais. It is approximately 90 minutes (135km) drive northwest from the centre of Paris. A thriving industrial and commercial centre, Rouen is the third largest port in France.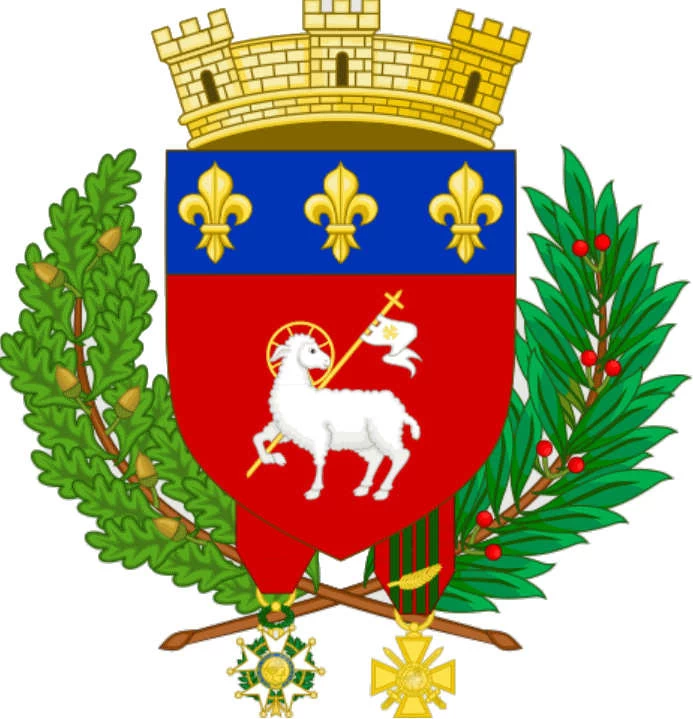 One of the things that Rouen is perhaps most famous for, is being the city in which Joan of Arc was executed (in 1431 during the 100 years war). For those of you not familiar with Joan's demise, she was captured by a French unit loyal to the English Army, and sold to the English. The English brought Joan to trial as a heretic, because she claimed to speak to God and she wore pants (considered by the Catholic church to be heretical).
Although Joan initially confessed, and was sentenced to life imprisonment, she recanted her confession three days later, and the English then promptly had her burned at the stake. England had lost Normandy to King Phillip II in 1204, and the 100 years war was all about England wanting to recapture parts of France (if not all of it).
For a much more complete story of Joan, click here to go to the Wikipedia Site.
Click here to view the Viking River Cruises Website page for their "Paris & the Heart of Normandy" Cruise.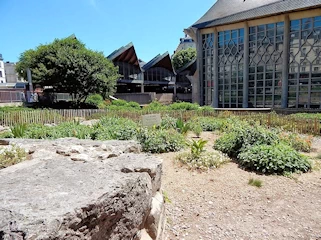 Joan of Arc Execution Site
This is the actual site (the sign marks the spot) where Joan of Arc was burned at the stake. In fact, the entire area is a memorial to Joan, who is now considered a saint.
It was odd to think that such a thing could have been done to a true French patriot, as well as a woman. But the English were eager to remove Joan from the war with the French, and the French King was convinced that he should not ransom Joan, so her doom was concluded at this very spot.
If you are interested in the Joan of Arc story, click here for the short version in Wiki. If you have ever seen any of the "Joan of Arc" movies or read any of the books, then visiting this site is fascinating, as it brings history to life!
NOTE: The building on the right of this image is the Catholic Church of St Joan of Arc.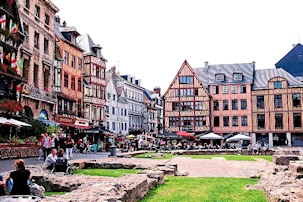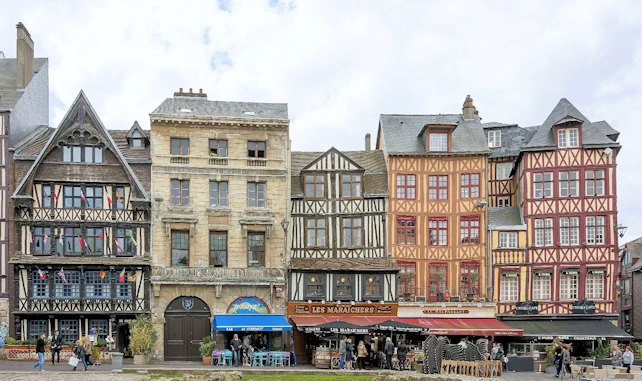 Place du Vieux Marché ("Old Market Square")
This area is directly across the street from the Joan of Arc execution site and the Catholic Church, the area has several eating establishments (Cayman's in the center of image # 1 for example) as well as several take-out shops. Many people will purchase their lunch in one of these shops, and then sit on the stones to enjoy their meal.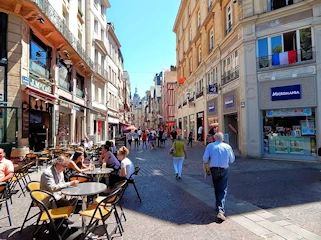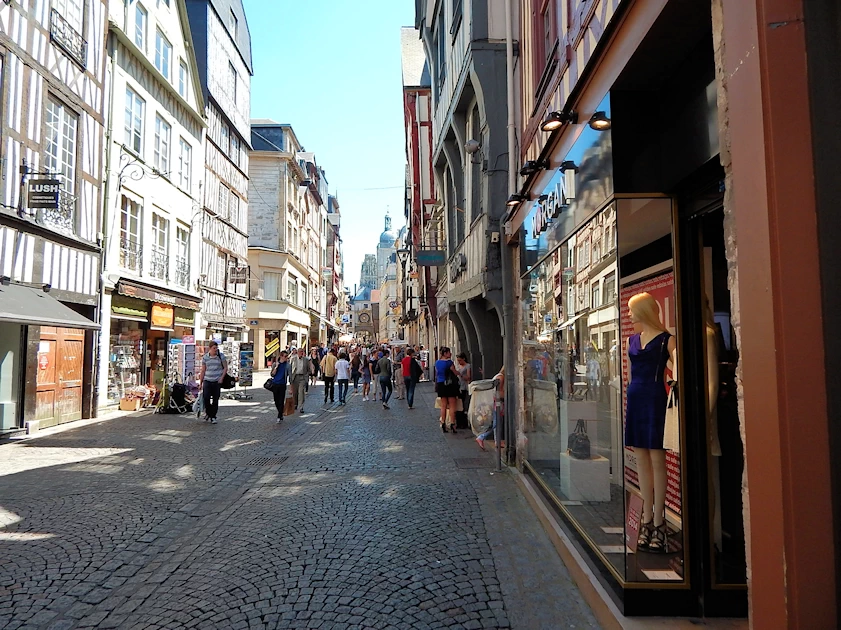 Rouen Pedestrian Zone
Here we are walking up the Rue du Gros Horloge (one of the many scenic streets in Rouen), you can also easily discern that this is a "pedestrian only" street, and it is equipped with a number of sidewalk cafes, pubs, shops, etc.
Rouen is a very walkable city, and on a nice day (like we had) we easily covered the entire downtown pedestrian area in a matter of hours.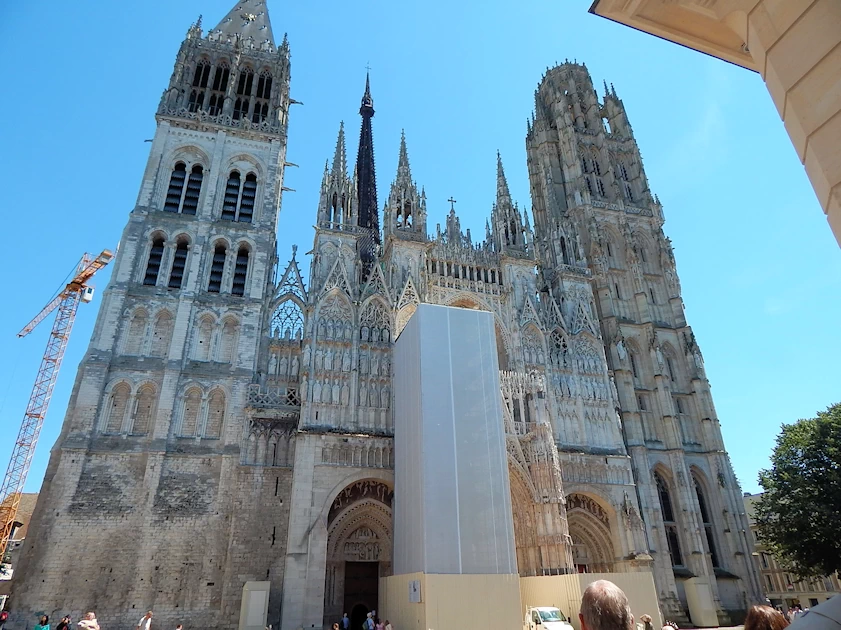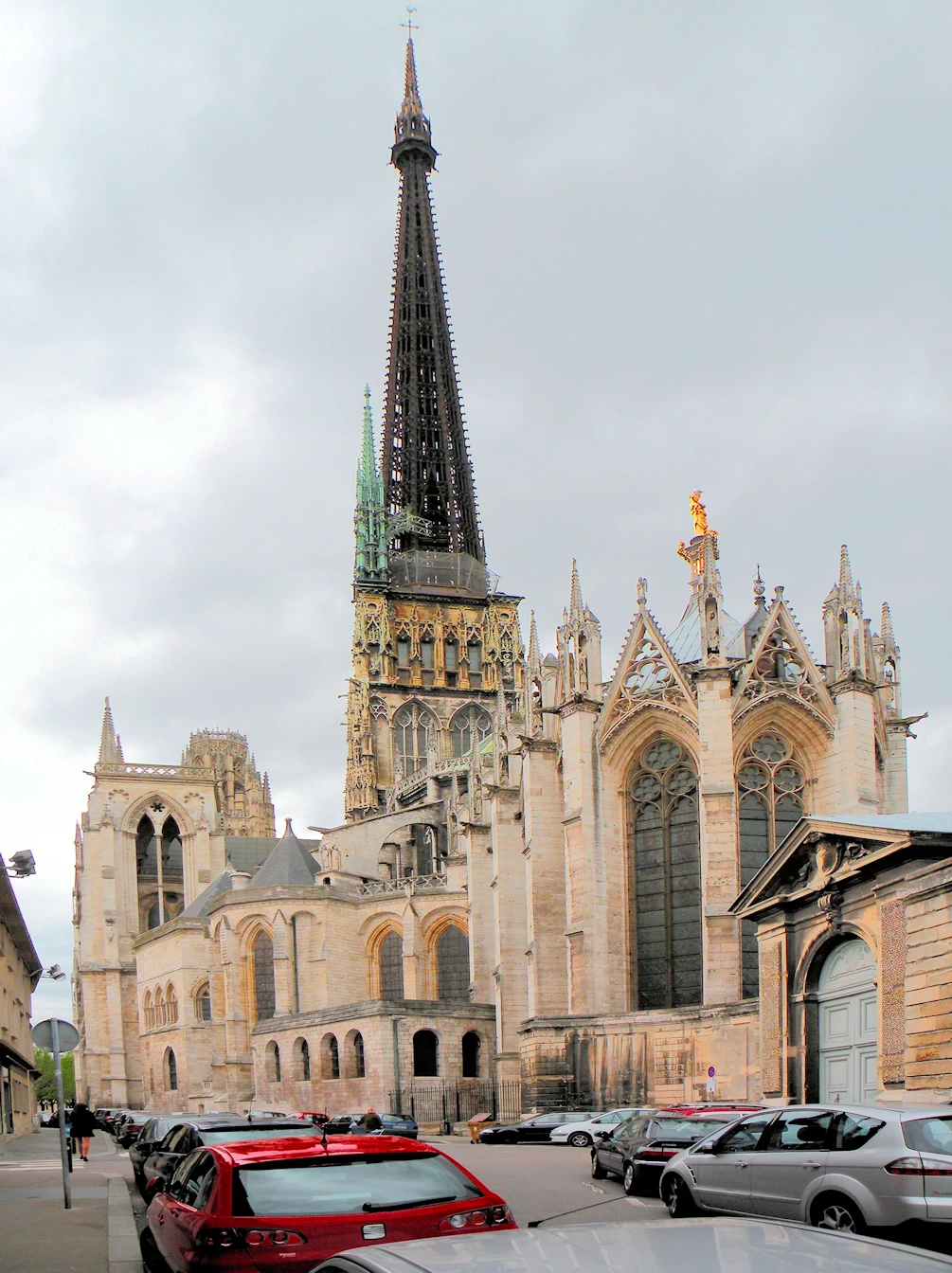 Rouen Cathedral
Image # 1 is the front side of the Cathedral, and image # 2 is of the rear-side of the Cathedral.
Even though the Rouen cathedral had some exterior work being performed, you can still see how beautiful it is. Very similar architecture to Notre Dame in Paris, and in fact, a similar interior layout as well. However, the Rouen Cathedral has the distinction of being the tallest in France
A church was already present at the location in the late 4th century, and eventually a Cathedral was established in Rouen as in Poitiers. It was enlarged by St. Ouen in 650, and visited by Charlemagne in 769.
All the buildings were destroyed during a Viking raid in the 9th century. The Viking leader, Rollo, founder of the Duchy of Normandy, was baptised here in 915 and buried in 932. His grandson, Richard I, further enlarged it in 950. St. Romain's tower was built in 1035. The buildings of Archbishop Robert II were consecrated in 1065. The cathedral was struck by lightning in 1110.
Construction on the current building began in the 12th century in Early Gothic style for Saint Romain's tower, front side porches and part of the nave. The cathedral was burnt in 1200. Others were built in High Gothic style for the mainworks: nave, transept, choir and first floor of the lantern tower in the 13th century; side chapels, lady chapel and side doorways in the 14th century. Some windows are still decorated with stained glass of the 13th century, famous because of a special cobalt blue colour, known as "the blue from Chartres". The north transept end commenced in 1280.
Click here to go to the Wikipedia Page for the Rouen Cathedral where you can find more facts, history, dimensions, etc. Note that this is the tallest cathedral in France at 151 meters, in comparison, Notre Dame Paris is 96 meters tall.
This is a very large cathedral; 144 meters in length, 61.6 meters wide, central spire is 151 meters in height, the other two towers are 75 and 82 meters in height. There was quite a bit of damage from WW2 bombings, and over the previous five centuries, damage has been done from other wars - including damage from a hurricane in 1683!
NOTE: The second image (rear of Cathedral) is the property of Giogo via Wikipedia.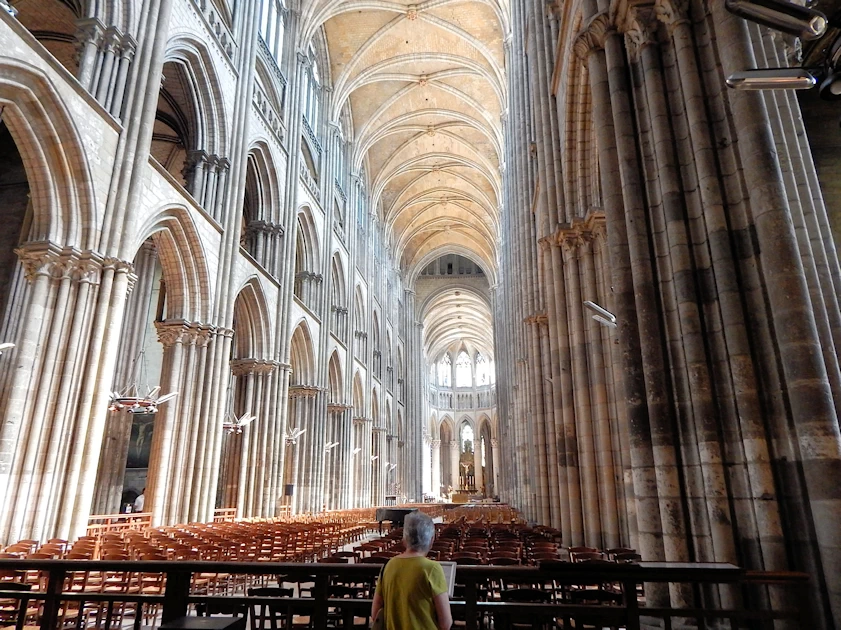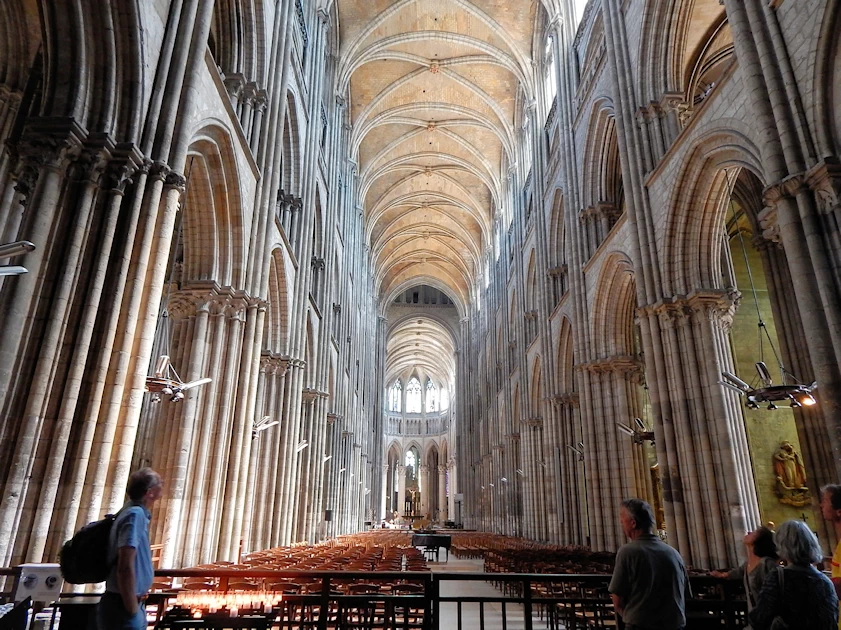 Rouen Cathedral Interior
These pictures should give you a wee bit of an idea how large the Rouen Cathedral interior is, and how similar it is to Notre Dame de Paris.
The Rouen cathedral is substantially newer than the Notre Dame de Paris, as it was opened in 1876 - however, it is important to note that there has been a church there for many years and the current church was consecrated in 1063. In comparison, Notre Dame de Paris construction was started in 1176 and it was completed & opened in 1345.
Click here to view a set of beautiful Google Images of the Cathedral.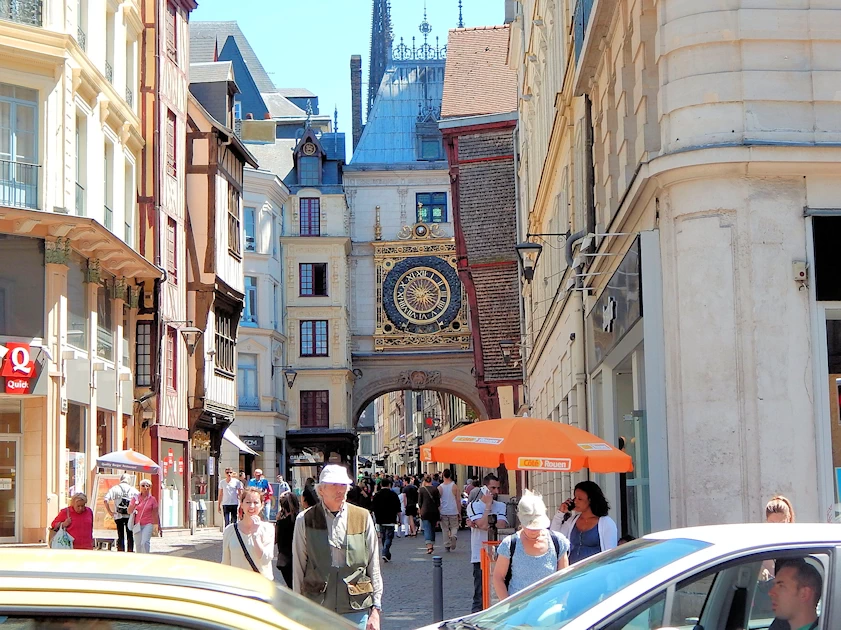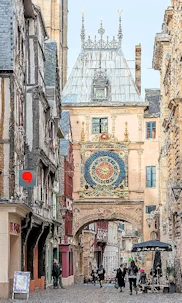 Le Gros Horloge (aka "The Big Clock")
This clock is set in a Renaissance street-arch, a beautifully decorated astronomical clock. Known as Le Gros Horloge, the mechanism was made in 1389, making it one of the oldest, working clocks in Europe.
The clock's movement was made in 1389, and installed in the adjacent belfry that was constructed at the same time. The bells in the belfry were the first set of municipal bells in Rouen. At this time there was no dial to the clock. With the construction of the arch between 1527 and 1529, the clock was moved to the arch and attached to two identical dials – one on each side of the arch. Each dial is about two and a half meters in diameter.
This pedestrian walkway is named the Rue du Gros Horloge and will eventually take us to the Rouen Cathedral.
IMAGE CREDITS: Image # 1 (left side) is the property of Just Traveling Thru, LLC. Image # 2 (right side) is the property of DXR via Wikimedia Commons.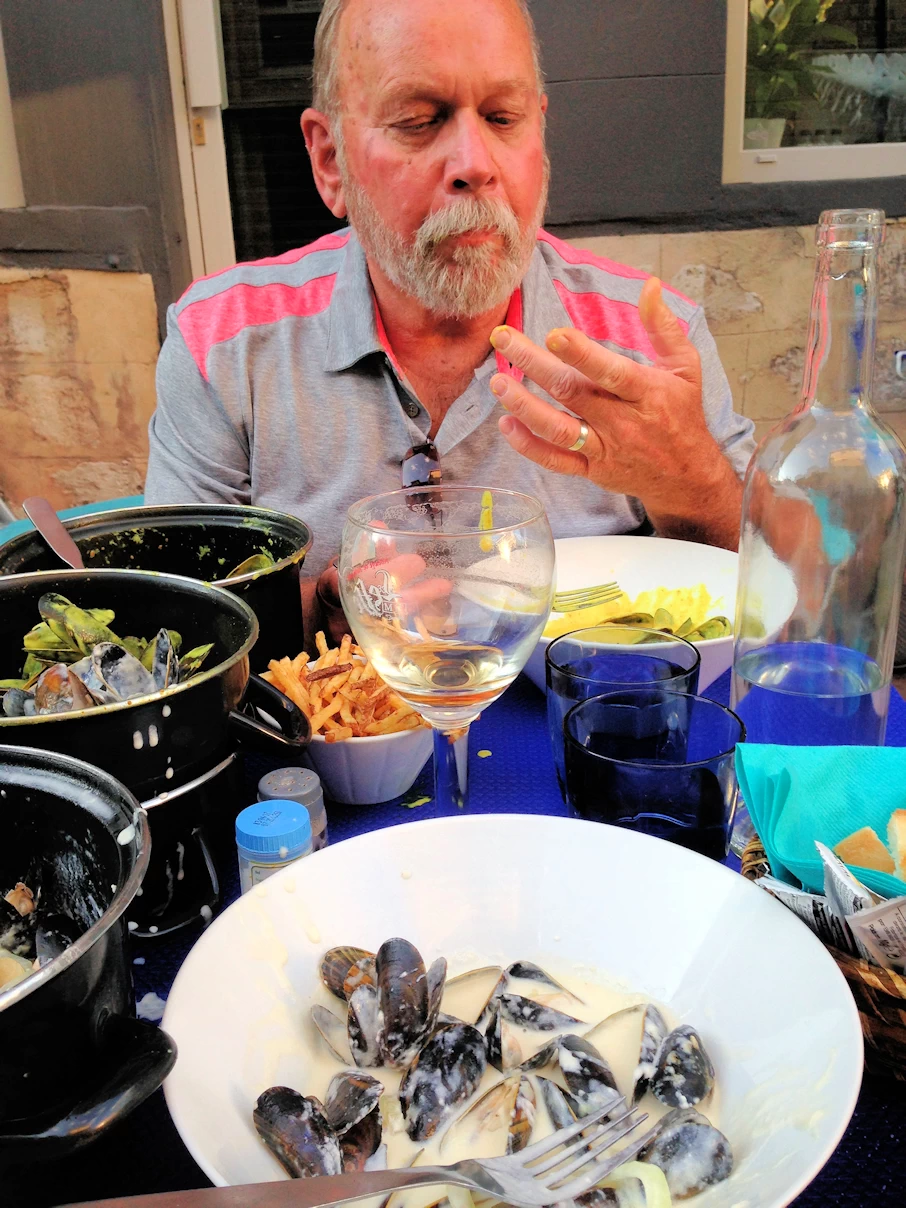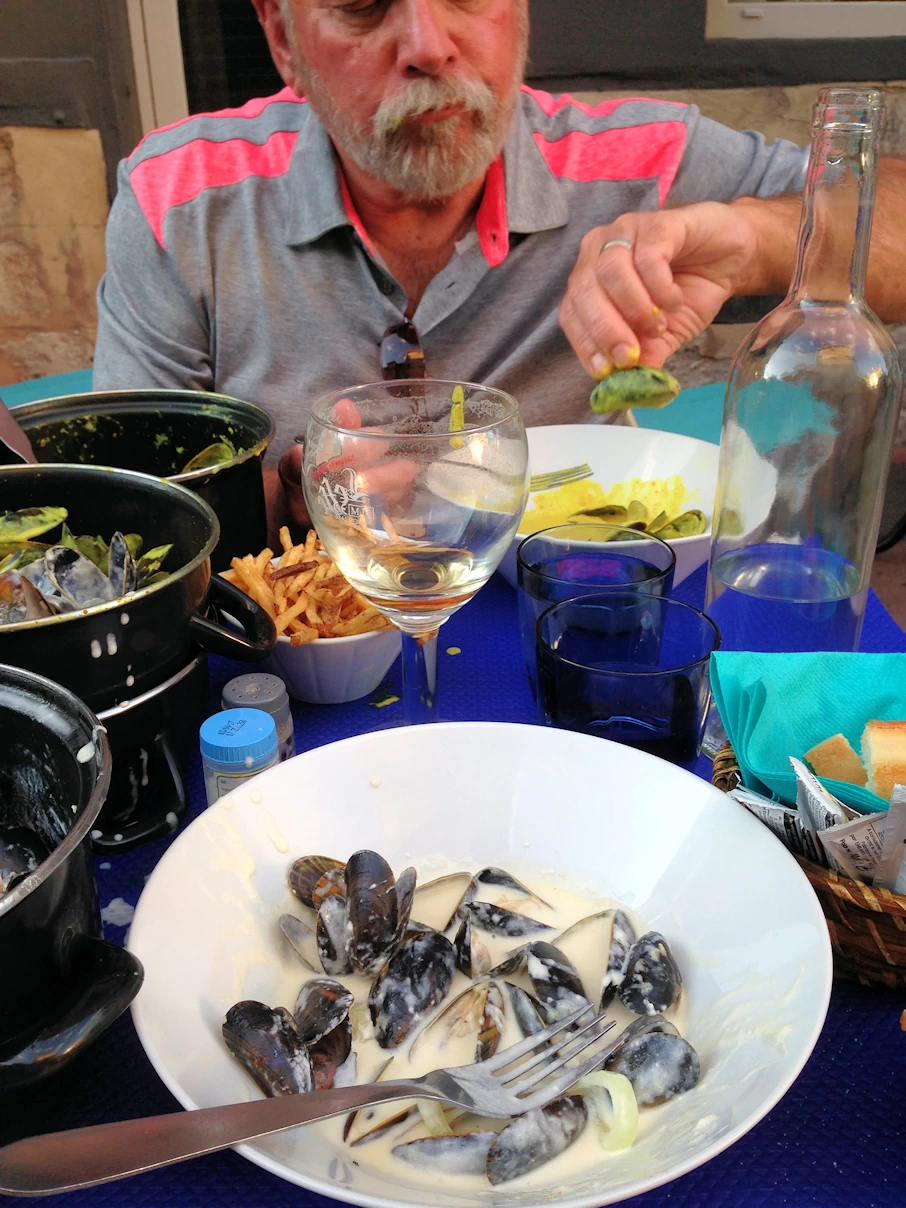 Dinner in Rouen
Celeste and I decided that for our last night in Rouen, that we had to go ashore and find ourselves a sidewalk restaurant that served mussels, french fries & beer. This was not a negative response to the food on the ship, it was consistently quite good, but we wanted to have a real French sidewalk cafe experience with "real" French cuisine.
We found Le Rocher on Yelp, and when the concierge on the Viking Spirit confirmed that she knew of it as well, we decided to hike over there and give it a try.
To say that it was good does not really do it justice, it was excellent, we had a great sidewalk table, it was a beautiful evening and we enjoyed having a romantic dinner together! Not sure what the name of the beer was, but it was bière ala pression (beer on tap) and it was the perfect complement to our meal.
POST EDIT: In an absolutely amazing coincidence, we found that the people that owned the Le Rocher Restaurant had relocated to Nice, France and we wound up eating dinner there on a subsequent trip to France. You will find images and a description of that visit on our Nice, France page.
NOTE: Please note that there is no link to their previous location in Rouen, as they are now located in Nice, France. Therefore, the link we have here is for their new location.

---
Disclosure: Some of the links on this page are Affiliate Links, meaning, at no additional cost to you, that we will earn a commission if you click through and make a purchase. So we would appreciate any click throughs, if you are inclined.
Note: All images on this page are the property of Just Traveling Thru, LLC unless otherwise noted.
Note: If you are interested in our European Travel Tips & Warnings, Click here. Or to take a look at our methods for Trip Planning click here.
---
To review any of our content, make suggestions and/or comments, please click the "Info" menu button at the top of this page. You will find our "Contact Us" link on that drop-down menu.